Fit bodies, celebrity guests, life-changing seminars and an incredible networking opportunity…you will not want to miss this! Hailed as one of the most anticipated events in the fitness industry, FitCon Texas 2016 is coming to Plano May 19–21 and will feature some of the biggest YouTube names in bodybuilding, powerlifting, CrossFit and more. Come see and hear the journeys of world-class athletes, their obstacles, their setbacks, their victories and experience their sheer love of fitness and health. Prepare to be inspired and motivated by these incredible competitors.
We sat down with the creator of FitCon, Jason "Big J" English, and co-partner of this event, Greg McCoy, of DESTINATION DALLAS, TEXAS to find out more.
Welcome to Intensityville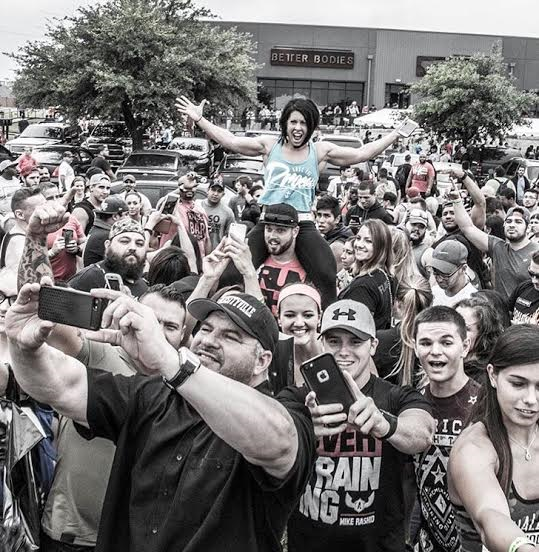 The conception of FitCon began 20 years ago at Big J's Extreme Fitness gym in a small town called Red Oak, Texas. The gym didn't have fancy equipment or central air and heat—it was rugged—but it had everything needed to build a big-time chiseled physique. Big J would invite guest speakers to discuss good benching techniques, heavier squats, and other motivational topics. Although it wasn't called FitCon until later, he held these events every May at his gym for 12 years. About 5 years ago, Big J began making YouTube videos that were full of intensity, positivity and shear strength. From training style to educational videos on how to perform the exercises safely, he became an inspiration to many. Along the way, he encountered other inspirational and motivational type channels and his idea for FitCon was born… a fitness convention for YouTuber's only.
The first official FitCon Texas began in 2013 at Big J's gym in Red Oak. In its third year, 2015, he teamed up with…DESTINATION DALLAS, TEXAS in Plano. DESTINATION DALLAS is renowned for its experienced staff, top-of-the-line equipment, and on any given day, you will see numerous IFBB Pros…maybe even bump into Mr. Olympia himself. Greg McCoy said, "Our big ambition is to build a community of like-minded people, so this event is perfect. FitCon is a platform for people to meet each other and really do the social side of fitness. We talk about how to get in shape, build bigger arms and form relationships." He adds, "It is oriented toward the new social media generation, which is an exciting audience. They view fitness in a more fun and energetic way than a traditional competitive athlete would."
Last year's event featured a large host of YouTubers, including some of the biggest names in bodybuilding: Rob and Dana Linn Bailey, C.T. Fletcher, Mike Rashid, Mark Lobliner, Shane Fazen, Rich Piana, and others. More than 3,000 people showed up in the pouring rain. Big J described it as "a Woodstock, like back in the '60s…everybody just having a good time."
Now in their second year with …DESTINATION DALLAS, FitCon 2016 will kick off Friday afternoon May 20 with a VIP meet-and-greet. Only 50 people will be allowed. Saturday will be an all-day event at a Comfort Inn nearby. Shuttles will be going back and forth between the two all day.
What can fans expect at FitCon?
"…An amazing time," said Big Jay. "Fans will feel like they know these professionals and are on a personal level with them. They will be able to have a one-on-one conversation with them." He added, "These YouTuber's love their fans. They are very approachable and their physiques, goals, lifestyles, and dreams are attainable. We want to continue to influence you guys in a positive manner whether it is by powerlifting, bodybuilding, cross training, CrossFit, biking, or any type of fitness."
Your favorite YouTube personalities will have booths set up and a stage where they will conduct seminars in 30-minute intervals. There will be approximately 30-40 vendors including supplement companies, athletic apparel, lifting gear and more. Although not yet on sale, tickets will be available at eventbrite.com.
Can you tell us who will be there this year?
Big J, smiling, said, "It's kind of a secret. I can say everyone that came last year has verbally said they are planning on coming in 2016." As time gets closer, they will make announcements.
Who is "Big J"?
Jason "Big J" English has made a name for himself in the fitness industry for over 30 years. He earned his nickname with his physique and training style. Big J is also known as "Mr. Intensity" for his extreme and enthusiastic workout style. He spent 10 years in the U.S. Army while earning a degree in Automotive Engineering. There he took college courses on physiology and kinesiology and began a fitness career spanning bodybuilding, martial arts, powerlifting, and boxing. For 19 years, he has worked in law enforcement including private contracting, which has carried him around the world.
His YouTube channel, BigJsExtremeFitness, is a major part of his life. He still opens and closes his gym everyday and continues to work in law enforcement as well. And if that's not enough, he also has a supplement line, Big J's Extreme Supplements, which includes a pre-workout and an amino acid compound.
Now nearing 50 years old, Big J looks back at his 20s and says, "there was always that older gentleman (in his 40-50s) that was twice as strong or had twice the endurance, a positive guy. That was who I always wanted to be when I got older. Here I am now, fulfilling that destiny."
Come meet Big J and some of the biggest YouTuber's in the fitness industry. If you are a fitness enthusiast, this will be a networking event you don't want to miss.
Hungry for more?
Check out this announcement video for FitCon 2016:
FitCon 2016

When: May 19–21
Where:
Destination Dallas
2655 Premier Dr
Plano, Texas 75075
Tickets: Although not yet on sale, tickets will be available at eventbrite.com.
Instagram: @bigj_extremefitness
Web:
More details coming soon!
Photos courtesy of Destination Dallas.