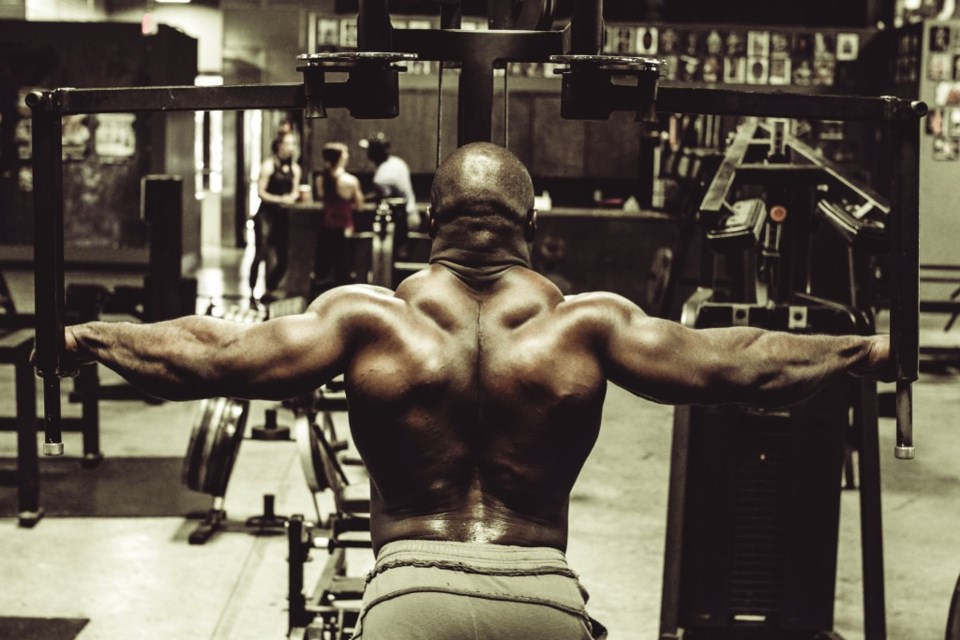 Eyes intensely focused, his hands grip the bars, his chest inflates and his rock-hard biceps curl. IFBB Pro Kevin Ofurum is muscle and more.
Dr. Kevin Ofurum appears to be a man who has it all…good looks, a successful job and a growing family. Surprisingly though, the bodybuilder, chiropractor, and father of three is unpretentious. He's the Kai Greene in the Plano bodybuilding scene: humble, yet fierce, and if you know anything about Kai Greene or the top ranking Mr. Olympians—Lee Haney, Ronnie Coleman, Phil Heath and Arnold Schwarzenegger—this story's for you.
An IFBB Pro (International Federation of Bodybuilding and Fitness), Kevin trains at a Plano gym called…Destination Dallas. Serious athletes with serious fitness regimens workout here. The music is pumping, iron weights are clanking, and no one is checking Facebook. Distractions are minimal. Workouts are intense: higher rep ranges, mind-muscle connection and isolation training. This gym is stocked with equipment you won't find in your typical fitness center chain; it suits both professional and aspiring champs, like Kevin.
Becoming an IFBB professional bodybuilder is extremely hard. You have to place in the top two at a national qualifier, then, as of 2012, win first or second at a national contest. Kevin began competing at a national level in 2008, but it wasn't until 2012 when the idea of becoming a professional bodybuilder was realistic. He recalls, "I came in third place at a competition where first and second place earned their pro status, so I realized, maybe I can do this."
In July of 2013, about eight months later, Kevin did it. He earned his pro card by claiming 1st in the Light Heavyweight division at the NPC USA Championship—the highlight of his bodybuilding career.
Kevin never set out to be a professional bodybuilder. "I always say bodybuilding found me in the gym. I worked out for the ladies, as most guys do," he laughs, "and this guy asked if I ever thought about bodybuilding. Over time, I kept hearing the buzz in my ear…"
At 5' 6" and 215 pounds, Kevin competes in the 212-lb. division. (There are two men's divisions: an open division, which is 213 lbs. and above with no weight limit; and a 212-lb. division, which is 212 lbs. and below.) His first competition was the Southwest Natural Classic on August 5, 2000 in Forth Worth. "I'll never forget it. Out of 17 guys, I won 1st in the Novice Lightweight division…and the rest is history."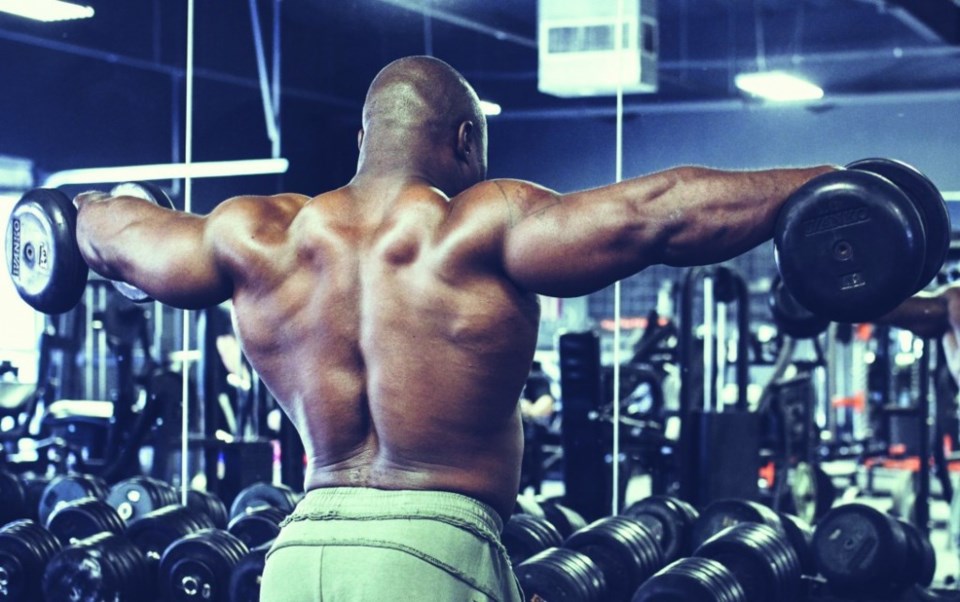 Like any professional bodybuilder, Kevin's ultimate goal is to be on the Mr. Olympia stage. He compares it to the NFL Super Bowl—the best of the best. "In the past two or three years, the qualifications to get there have become more difficult," he says, "which is good; I'm always up for a challenge, but if I make it to Mr. Olympia, I'd have accomplished everything I wanted as a bodybuilder."
The first Mr. Olympia goes back 50 years when Larry "the Legend" Scott won the inaugural event. Since, 12 other men have etched their names into bodybuilding history. Mr. Olympia catapulted Arnold Schwarzenegger to fame when he won the contest seven times from 1970–1975 and 1980. The two bodybuilders who've won the most titles—eight to be exact—are Lee Haney (1984–1991) and Ronnie Coleman (1998–2005).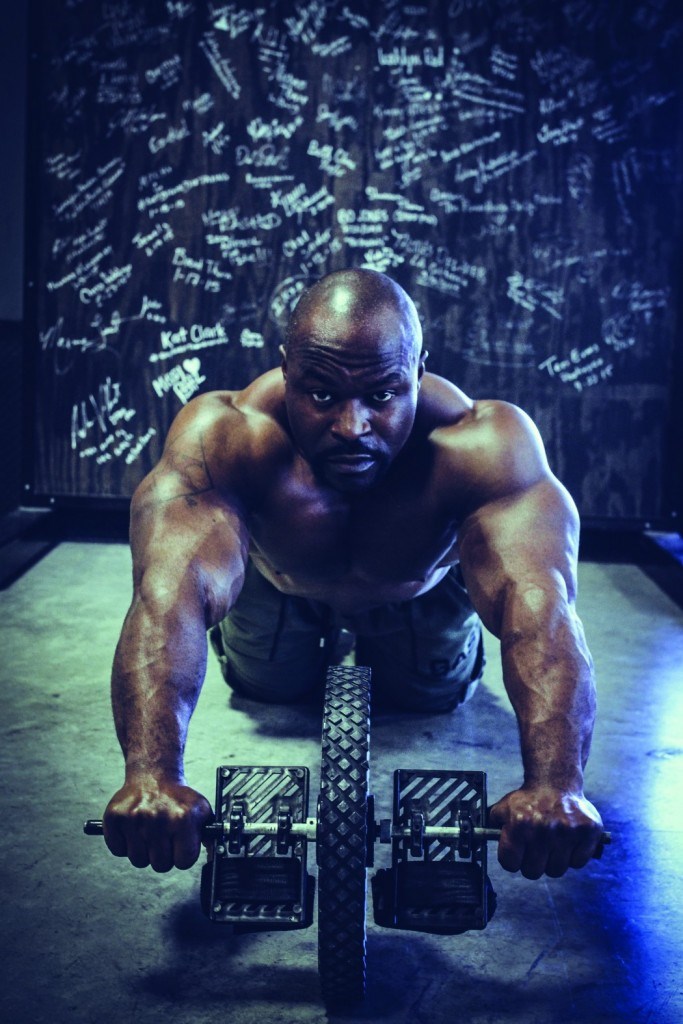 Kevin used to train with Ronnie Coleman. "Ronnie Coleman has a supplement company called Ronnie Coleman Signature Series, and he was a sponsor of mine up until mid-year (2015). He was someone I looked up to when I first started out, and in my opinion, he's the greatest that's done it."
Kevin trains five to six days a week, no matter if it's competition season or not. "This is a lifestyle," he says, " When you're off season, if something comes up, you can work around it. In season though, no matter if you have to work out at 9 p.m. in the evening—you get it done."
Recently, Kevin's been able to get only four or five days of training in, because he and his wife had a baby. Together, they have three daughters, ages 12, 8, and 8 months old. People often ask Kevin how he juggles it all. "It is a balancing act," he shares, "but it's doable. It takes structure, and if you're a competitive bodybuilder, you definitely have to have structure; that [discipline] bleeds into other areas of your life."
Diet and proper nutrition is just as important in a bodybuilder's fitness regimen; however, Kevin calls himself an "anomaly" when it comes to counting calories. "I don't count calories…to give a rough estimate, it's probably close to the 4,000 range, especially during competition season when I'm actually getting all my meals in and I'm focused on what I'm doing. It may be pushing the 5,000 range daily," he explains.
You can have the best body in the world but if you don't pose well, you're not going to win. Bodybuilders are judged on symmetry, muscularity and conditioning. Sucking in your abs, flexing certain muscle groups, flattering your best attributes and minimizing your shortcomings—it's a balancing act of energy and poise—and it takes practice. When it's time to take the stage, you face the additional pressure of the judges and the thousands of people watching, all the while not letting the physiques of others intimidate you.
Not to mention the additional pressure from your family. While Kevin's wife is on board with his bodybuilding endeavors, his mom is not a fan of it. If only she knew about all the athletes who approached Kevin at the gym for a picture or an autograph, or if she witnessed the way he so humbly handled the attention…. "People tell me that I inspired them to do this or that, which is flattering, but I don't call myself a role model or a mentor," says Kevin. "I guess sometimes it just comes with the territory."
Striking a Chord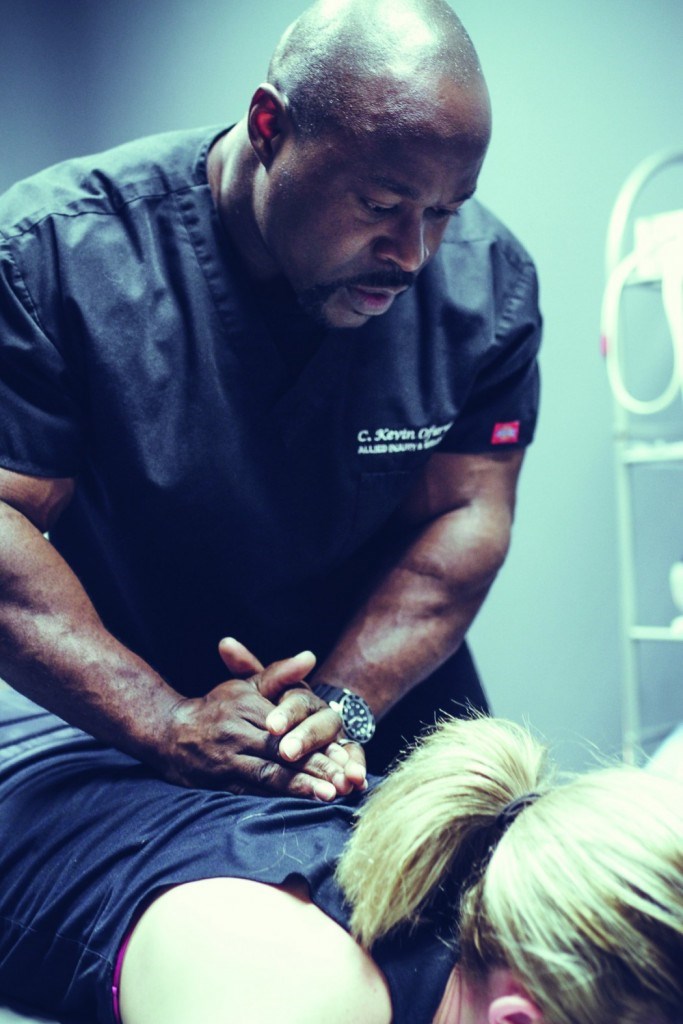 Born in Baltimore, Maryland, but Nigerian by blood, Kevin is the only son of four children, so perhaps Mom dreamed up a very specific road map for Kevin. She, in fact, was the one who influenced his chiropractic career. She was suffering from pain in her neck and lower back and had to undergo surgery, and during her recovery, Kevin learned that she visited a chiropractor. "It seemed to help her so I started looking into it, not knowing that one of the best chiropractic schools in the country is in my backyard."
Kevin received his doctorate, as well as his Bachelor of Science in Human Anatomy, from Parker College of Chiropractic in Dallas. He also received a Bachelor of Science in Biology from the University of North Texas in Denton. It was about the same time he started chiropractic school that he hit the gym and eventually pursued bodybuilding.
Kevin has two chiropractic care offices, one inside the Destination Dallas gym, and another actually in Dallas, called Allied Injury & Wellness Center, Inc. He admits that there are a few skeptics out there, but "most of the time, for people who have lingering problems and/or issues that haven't resolved with Western medicine, usually chiropractic care helps out. People say, 'Oh, I should have been doing this from the beginning.'"
He continues, "We're not masking the problem with medication. Some people have results after one session and I never see them again. Some people are looking for instant relief. Others, who hurt for so long, the pain almost becomes normal, and once I shift them back, they realize, 'Wow, this is how I'm supposed to feel.' You can't please everybody. You win some; you lose some."
Just like in bodybuilding? Kevin laughs, "Just like in bodybuilding."
Photography by Ken Wesley of Supreme Dream Photography
Mr Olympia
The first Mr. Olympia was held on September 18, 1965, at the Brooklyn Academy of Music, New York City, with Larry Scott winning his first of two straight titles. He walked away with a $1,000 in prize money. The competition is currently held in Las Vegas every year.
Eugene Sandow, namesake of the Sandow trophy, was the first famous bodybuilder and by the time of his death in 1925, Sandow had made bodybuilding a profitable enterprise.
Female bodybuilder Iris Kyle won eight Ms. Olympia titles in a row from 2006–2014 and 10 overall wins. She won more Olympia titles, male or female, than any other bodybuilder, and announced her retirement in 2014, which was also the final Ms. Olympia competition.
Last year, five-time reigning champion Phil Heath walked away with a record $400,000 in prize money.
Mr. Olympia divisions include Men's Bodybuilding and Physique, as well as Women's Physique, Fitness, Figure, and Bikini.