Getting your home ready for entertaining
Cooler temperatures signal the beginning of the entertaining season. Friends and family will be coming over to watch football games, enjoy Thanksgiving meals, maybe spend a few days during the holidays. Are you ready?
The first consideration is typically the house. You want it to be comfortable and look its best. So we asked experts on a variety of topics to offer tips that will help you achieve just that—a comfortable, beautiful home that is ready for entertaining.
1. Choose furniture for entertaining & everyday life
Once you determine how a room will be used and how often, select furniture to fit a room for normal use, not for entertaining, advises Dee Frazier of Decorating Den. "The room should be balanced but not cluttered. Do not fill every wall."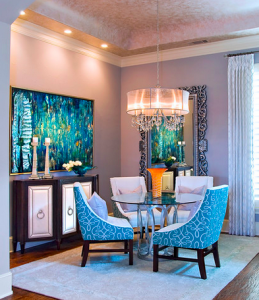 When you do need more seating for company, Dee has some great tips, beginning with versatile ottomans. "Small ottomans in coordinating fabrics can slide under an open console in a foyer, or under an open-base sofa table. If you have an open concept, you can use accent chairs behind your sofa instead of a sofa table. Consider a cocktail table with four small ottomans made to slide under it, or have a grouping of two or four small ottomans rather than a coffee table.
"Is there a hallway wide enough to have a great bench—maybe even one with arms? There are also large poufs and floor cushions, if folks are sitting on the floor. These can be in the game room and brought into other spaces. And always think about ways you can add accent seating in a bedroom that is easy to move to another room."
Another challenge for entertaining is having convenient surfaces for guests to set drinks and plates. Dee notes, "Small accent tables are perfect near a chair where you would not fit an end table. These are truly accent pieces and make a fun statement in a room. Garden stools make wonderful small tables to set by chairs, and pretty trays can be placed on ottomans for additional food bowls for snacking. Perhaps move a console table from a foyer and place it behind a sofa for the day."
Dee concludes, "When having large parties during this time of year, it is all about using small furniture and other pieces from around your home to place in the room where the entertaining will take place. There are endless possibilities!'

EXPERT: Dee Fraizer, Decorating Den, interior designer. In a national, company-wide competition judged by writers from Traditional Home, House Beautiful, Design NY, and Arabella magazines, her master bedroom design won 2nd place. From among 20,000 voters on the online People's Choice awards, her bedroom design took first place.
[email protected]
deefrazier.decoratingden.com
972.867.2000
---
2. Your kitchen needs to be more than just beautiful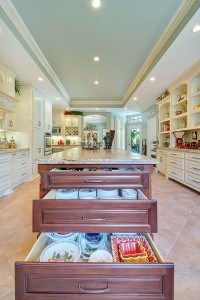 A functional kitchen makes entertaining easier. You also want your kitchen to be inviting and attractive because let's face it, everybody ends up in the kitchen eventually!
So if you've been thinking about remodeling, do it now so you can enjoy it during the holidays or to start the new year.
Plus it's a good investment if done properly. Remodeling magazine's annual "Cost vs. Value Report for 2014" states that a kitchen remodel can add 82.7 percent of the project's cost back to the home's value.
One of the best known remodelers in Collin County is John Todd of Elite Remodeling. His award-winning team remodels kitchens in different styles, giving him insight about current trends and entertaining spaces that work for everyday life, too.
"Kitchens continue to be the focal point for the family room areas," Todd says. "As a result, islands are now becoming not only the entertainment area, but also the food prep and the home work area. Many of our customers use the island and a lower section of it for laptops, ipads, etc. to work from. This keeps them connected to the family unit."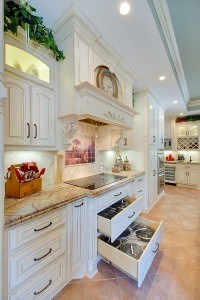 Another trend is improving storage areas and accessibility. Todd describes, "Large pot and pan drawers near the cooktop is important. Storage for cookie sheets and flat serving pieces is a must. Spice racks continue to be a hot item, and they can be configured either in pull-out spice racks near the cooktop, or converted pull-out trays with tilt brackets so all labels are face up and visible."
What about décor trends? "We are seeing more customers mixing and matching stained woods and painted woods, along with mixing and matching countertop surfaces. For example, use a quartz-type product near the food preparation area, but a granite top on the cosmetic tops—or visa versa based on customer choice. It's a nice combination of colors and textures."
The kitchen is considered the heart of the home, so make sure you and your guests love it!

EXPERT: John Todd, owner of Elite Remodeling, was named Dallas Builders Association Remodeler of the Year, 2008, 2009, 2011, 2013; Best of Frisco, 2008-2014; and Best of Houzz 2012-2015.
[email protected]
elitehomeremodeling.com
972.334.9800
---
3. Replace fogged, rusty-screened windows
New windows make an immediate impact on the appearance and comfort of your home. Replacement windows make a home look fresh and updated.
HGTV.com has reported that among home improvement projects that pay off, good replacement windows are high on the list, on average returning 80 percent or more at resale. The key is to find attractive windows that complement the décor of your home.
Gary Fanelli, owner of Storm Tight Windows of Texas, has a beautiful line of replacement windows. He explains, "The windows are custom designed with a 'European' beveled exterior to make the home stand out in appearance and increase the value of the home. They come in any color the homeowner would desire on the interior and exterior to match the décor."
New windows that are energy efficient help keep guests more comfortable and keep your energy bills down. Fanelli says the windows he sells in this region are not necessarily storm windows, but they are very strong and energy efficient. "Our windows will keep you 40 percent more comfortable than your current windows in temperature and energy bills. And the windows are made 40 percent stronger than safety glass."
New windows make your house look years newer, while adding comfort and beauty for years to come. This is a home investment definitely worth looking into.
EXPERT: Gary Fanelli, Owner, Storm Tight Windows. This Energy Star Rated company is among the Qualified Remodeler's Top 500 with an outstanding record with the Better Business Bureau. Windows are made in the U.S.A.
[email protected]
stormtightwindows.com
570.339.3374
---
4. Floral arrangements make a great first – and lasting – impression
If you don't have the time or money to redecorate your house right now, consider adding new floral arrangements. It's amazing how that simple addition can impact and update a room, especially during the entertaining season.
"Arrangements provide an excellent opportunity to introduce warmth, color and depth into a space," says Kelli McMullen of Holiday Warehouse. "They can set the tone for the event's atmosphere and are easy to customize. Pops of color create focus and draw the eye to different points in a room."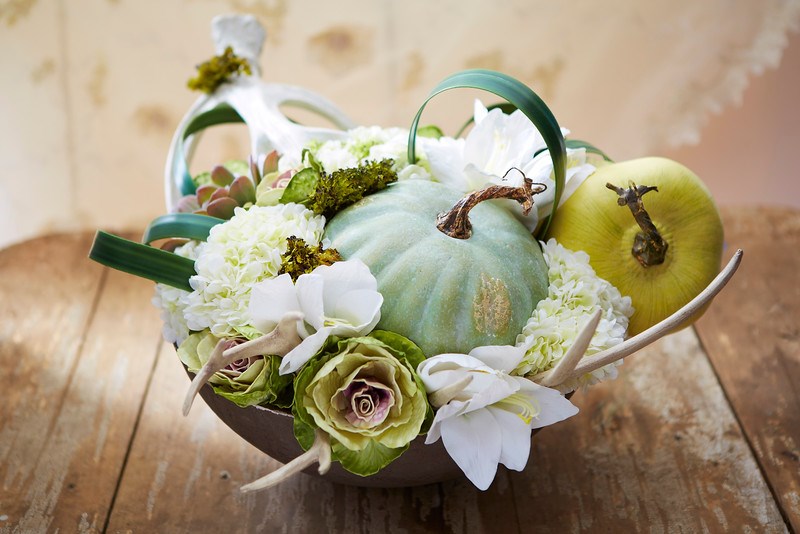 With a few changes, arrangements can go from one season into another. Kelli explains, "The key to making something multi-seasonal is in the color choices. Create arrangements using reds and golds that can easily be altered to transition from fall to Christmas. Simply remove oranges and yellows and replace them with ornaments and holiday florals. This is an easy way to keep the piece current."
When entertaining, make serving areas distinctive. Kelli advises, "Plan out your serving area before you add any décor. Utilize serving pieces like cake plates to create height and still have room to add pieces without taking away table space. Using pick sets with simple greenery as a base allows you to outline trays or create the look of a runner. Great options are cedar picks as a base, then add floral to certain areas to create interest. As always, never be afraid to try something new and different. Décor is a way to showcase your creativity and personality!

EXPERT: Kelli McMullen, Holiday Warehouse Marketing Director, decorates homes of high-profile families and commercial locations particularly for the holidays. She coordinates events and weddings, and stylizes décor.
[email protected]
holidaywarehouse.com
1.844.8.FLORAL
---
5. Welcome your guests warmly with a glowing fireplace
A glowing fireplace warms the room and warms the soul. People are naturally drawn to calming, beautiful flames that flicker in a fireplace hearth.
Not only do fireplaces add beauty to your home, they add value. According to the National Center for Real Estate Research, fireplaces can increase the value of the average home by 6–12 percent.
If you have a wood-burning fireplace but have grown tired of storing and bringing in wood, cleaning up the ashes, and the smell that can linger in the house, consider installing gas logs.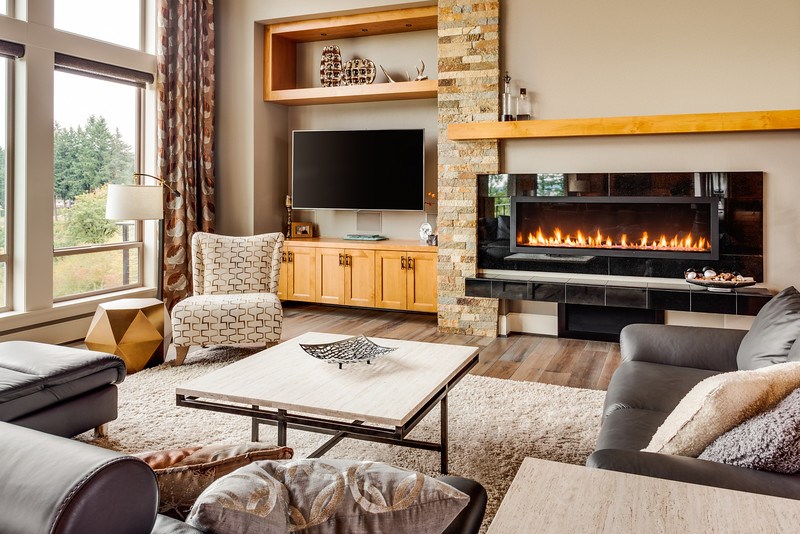 Contrary to what you may think, well-maintained gas logs are fairly inexpensive to operate. Based on national averages, a natural gas fireplace consuming 27,000 BTUs/hr will cost less than 20 cents an hour to enjoy. (Source: heatnglo.com)
If you've had your gas logs a long time, you might be surprised how a new set can improve the appearance and functionality. Mike Hands, owner of Flames Fireplaces & Gas Grills advises, "If your gas logs don't provide the heat output you desire or you've burned them for so long there is black from carbon deposits, you may want to consider a new set."
Now is a great time to re-evaluate your fireplace hearth. This is the season for cold weather and good friends to be arriving. Greet both with a cozy, warm fire.
EXPERT: Mike Hands, owner of Flames Fireplaces & Gas Grills. Mike has been in the industry for over 36 years and prides himself on his extensive knowledge of fireplaces, gas logs and grills
[email protected]
flamesoftexas.com
214.618.2301
---
6. Make sure rooms and features accommodate entertaining
If you are buying a new house, there are things to look for that make entertaining more enjoyable.
"Spacious kitchens with beautiful cooktops, large islands, and breakfast nooks that open to the family rooms make it easy to have gatherings with friends and family," says Gary Rae, President of M/I Homes DFW Division. "Also backyard outdoor living spaces, media rooms that are open to game rooms, and large secondary bedrooms give you even more options."
Entertaining and a leisurely family lifestyle is very important to homeowners in this area. Gary said, "Probably one of the greatest things about our launch in the DFW market was coming in with an architect who designed our series of homes specifically for Dallas area home buyers, with strong consideration of how we live in our homes and how we use them to entertain."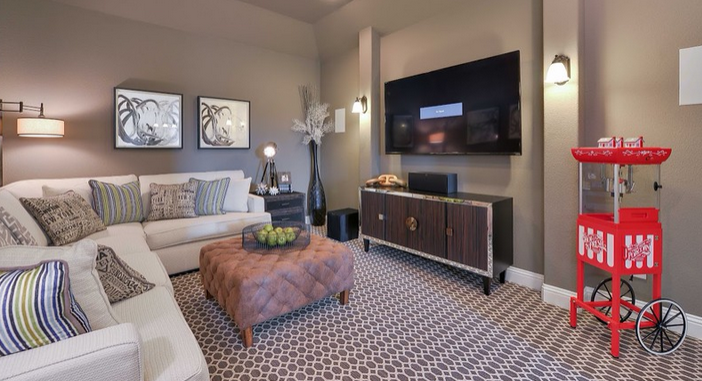 Media rooms and game rooms remain popular. Of the M/I Home designs, Gary explains, "Spaces are open with a great flow, with options to add built-in desks or work areas, high ceilings, and nearby powder baths for the convenience of your guests."
After the party you want easy clean up, which is the hallmark of granite countertops. Other features that homeowners enjoy are hand-scraped wood floors and oversized tile in bathrooms and kitchens, which makes cleaning a breeze.
Your home should be a place of comfort for you and your guests. Getting it right from the start helps you achieve that.

EXPERT: Gary Rae, President of M/I Homes DFW Division, has 35 years of national and international experience in real estate and development. M/I Homes, Inc. is one of the nation's leading builders of quality single-family homes, building more than 90,000 homes since its foundation in 1976.
[email protected]
972.544.6114