Debbie Staley isn't afraid to leave some Christmas decorations up all year long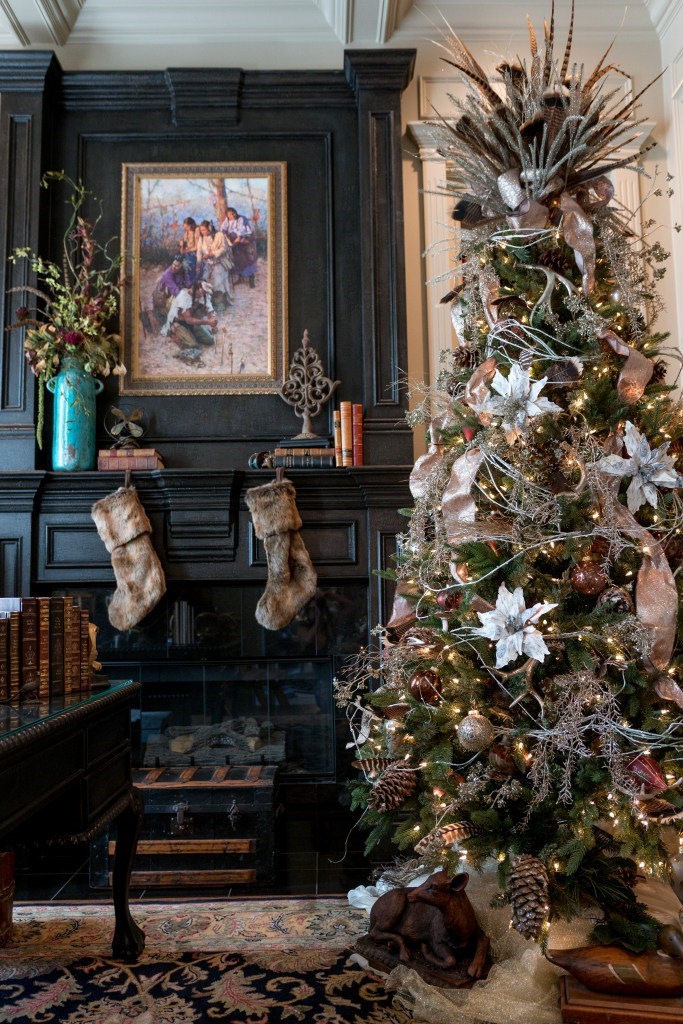 In the formal living room of Debbie Staley's house, vaulted ceilings and a grand staircase allow her to play around with yard after yard of garlands, ribbons and twinkling lights. A Christmas tree decked out in glittering, teal poinsettias and peacock feathers sits in the corner next to a piano magically playing Christmas music. I like to imagine it's one of the Ghosts of Christmas Eve banging on the white and black keys.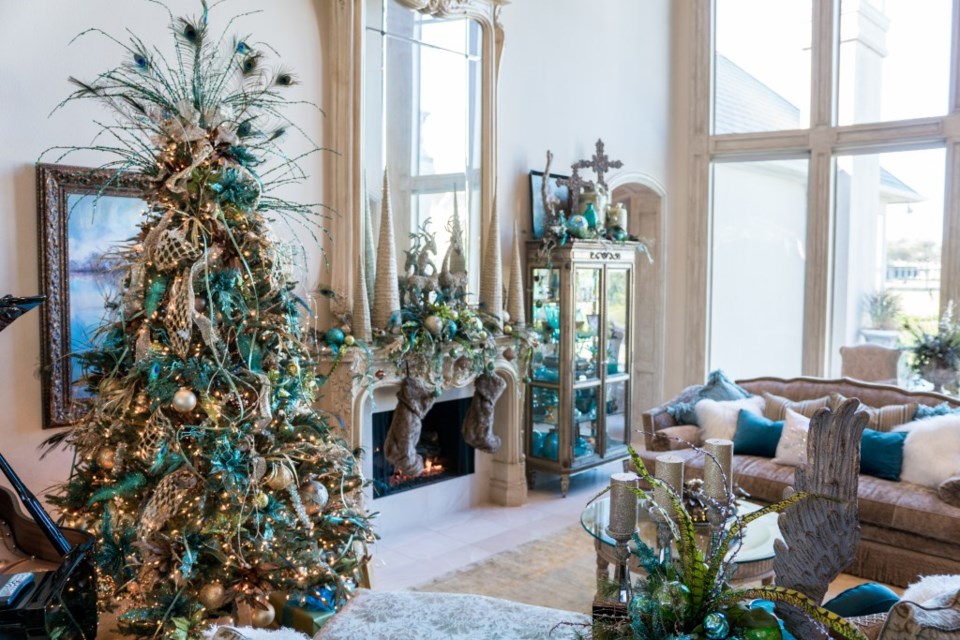 The Christmas decor perfectly complements Debbie's jewel-toned home. If you visit around Christmas, you'd never know that some of the holiday decor—the garland on the staircase and atop the cabinets in the kitchen—is actually there all year long. She'll be the first to tell you that she really dislikes taking down decorations.
"I tell my friends and family, it's your house. You're the one who lives there. Your house should be what you like. You can update it, but you don't have to go with the trends. You're the one living there 99 percent of the time," she says. Debbie doesn't like the simple cream and white trends of today's interiors, preferring to live in rich, deep colors.
Debbie and her family moved to Plano from Louisiana several years ago, which is apparent from her classic Southern drawl and her warm hospitality.
"The reason for Christmas is Jesus," she says, explaining her love of the holiday. "We get caught up in so much hoopla, but it's fun getting the house decorated and spending time with family."
Crosses, a couple of Nativity scenes and a "Christ is Born" sign are carefully placed around the house. A life-size angel dressed in white with feathered wings stands on the second floor benevolently looking down upon us. Debbie bought the angel from a charity auction in memory of her husband's sister who passed away from cancer.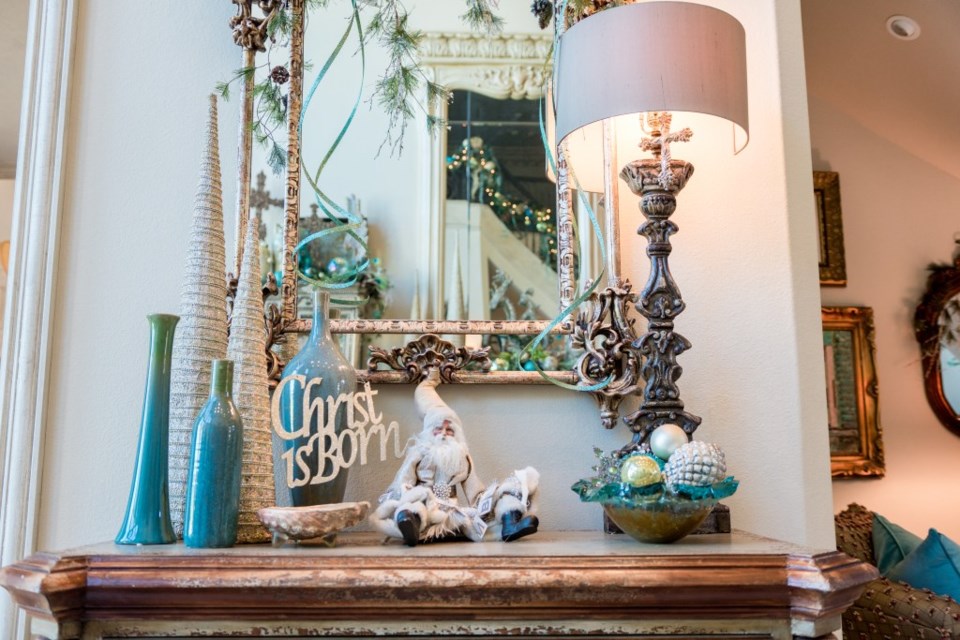 Debbie has spent years collecting large pieces and small trinkets from thrift stores like the Salvation Army and neighborhood estate sales, as well as consignment stores and antique shops like Frisco Mercantile. Before moving to Plano, she even worked part time at a consignment store because she was shopping there so frequently. "Basically I paid them to let me work there," she laughs.
On one shelf in her dining room, rose bowls from her daughter's wedding sit among vases filled with ornaments and Christmas lights. Behind them stand wooden snowflakes that Debbie painted and coated in glitter for her son's prom. Nearly every knickknack has a personal story.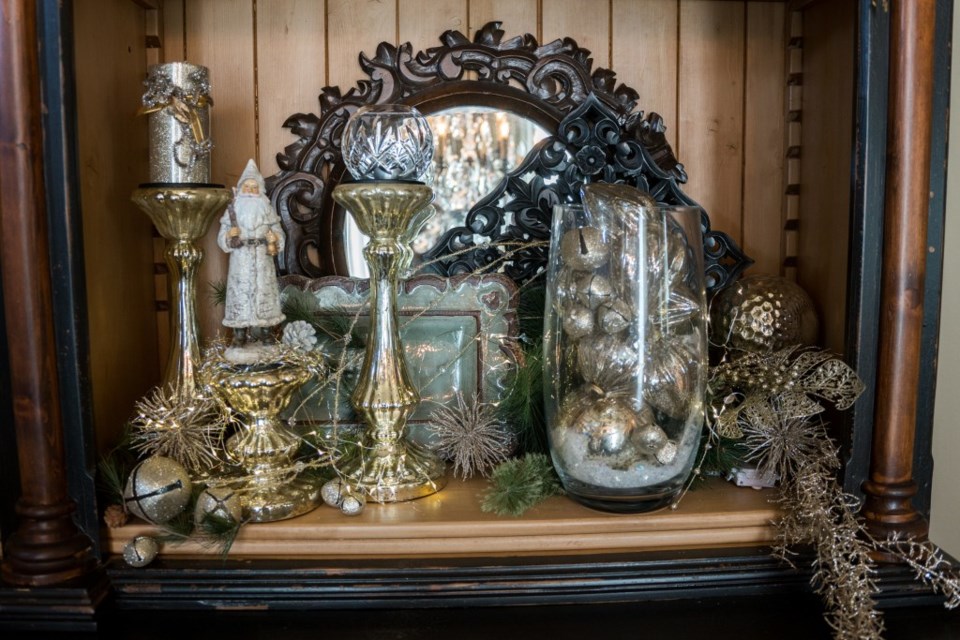 Another tree stands in her husband's study but instead of cool teal and green, it's warm with gold ribbon and glitter. On top sits a bouquet of turkey and pheasant feathers he acquired on hunting trips. Faux-fur stockings line the fireplace.

Some of her other favorite places to get home-good accessories include TJ Maxx, her sister-in-law's store in Sherman, Interior HomeStore, and believe it not, Costco where she found beautiful white fur pillows for around $25.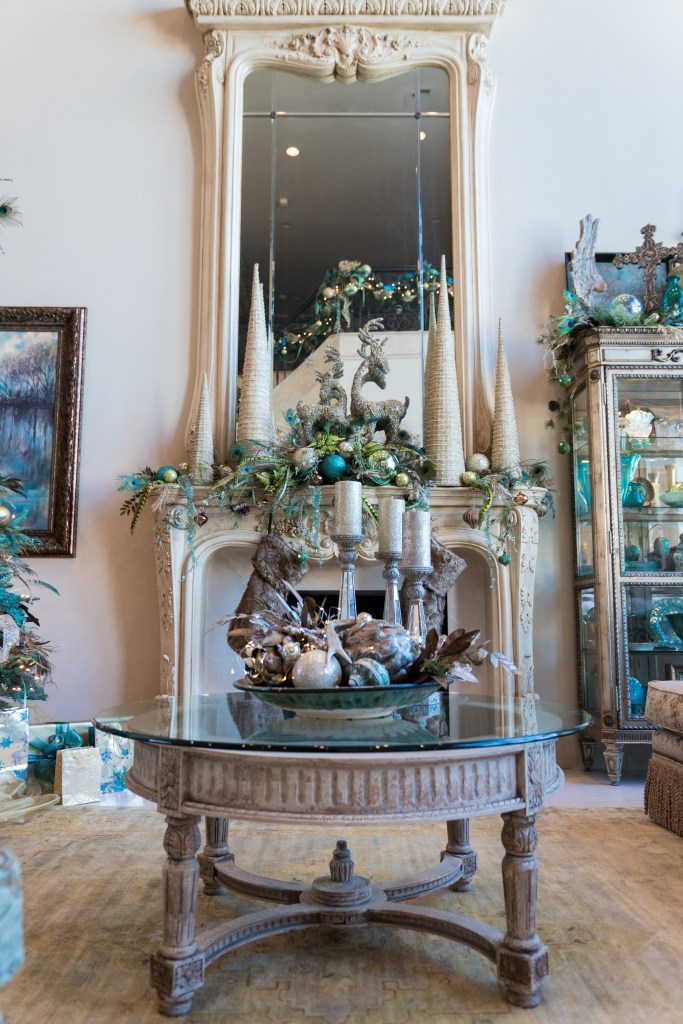 "I look for stuff all year long. I think, 'Oh that's cute. It's $2, and it's really pretty.' But I'm kind of done. I have too much stuff. That's enough teal," Debbie laughs.
She'll often have vintage items re-purposed like the beautiful blue mid-century lamps she found at a consignment store.
"I didn't need another lamp, but I loved the bases. So I took them to Royal Touch, the best place for lamp repair and shades. We made them into urns, and I think they just look really pretty," she says.
While some might consider her year round Christmas decor eclectic, Debbie is right at home in her hand-picked hodge podge of treasures, bursting with cheer and Christmas spirit.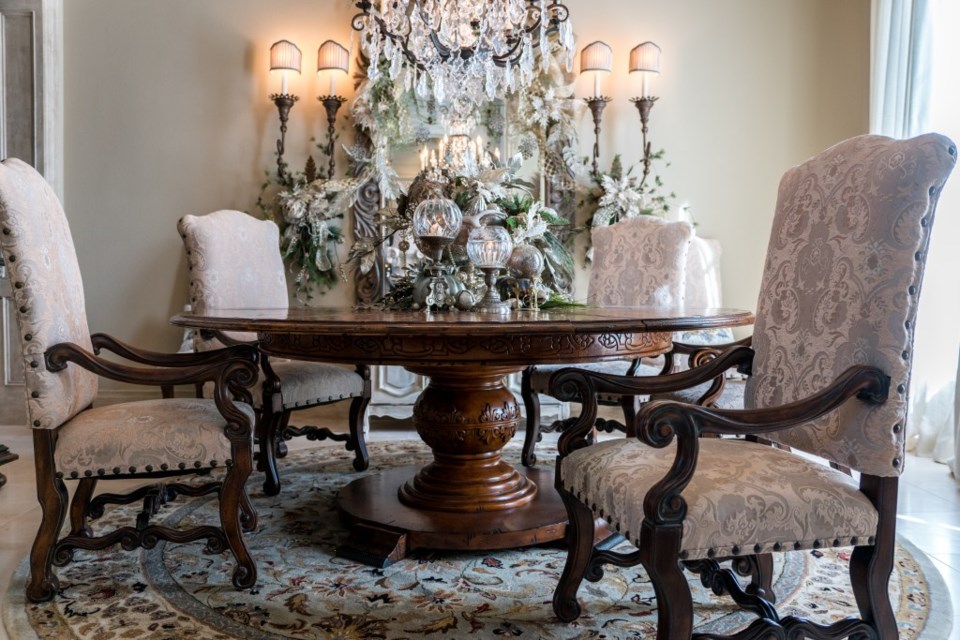 Get tips on how to set a festive tablehere.