Prosper may have a lot of farmland, but there's nothing country about this home.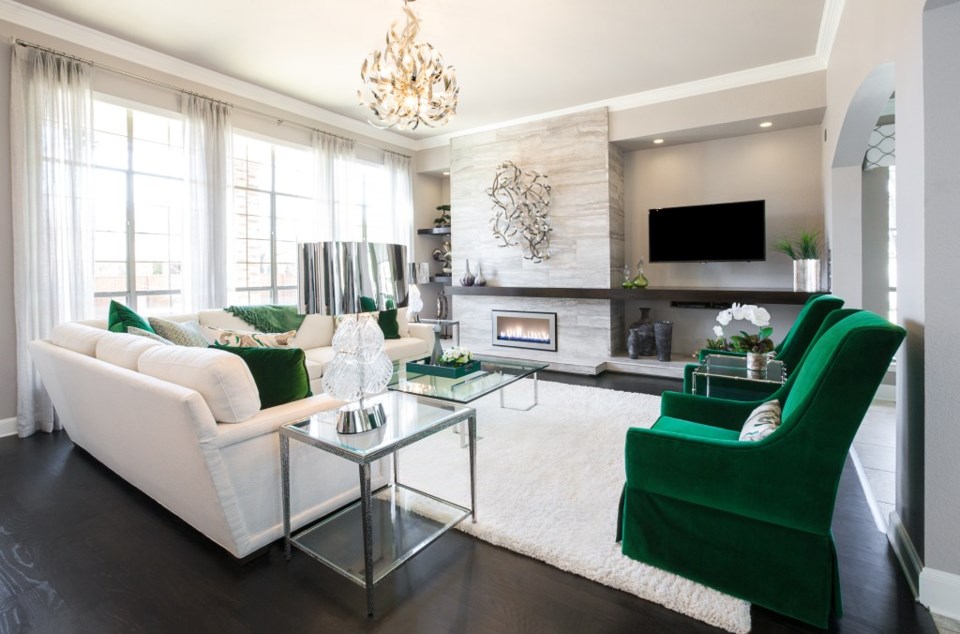 Interior Design
When Jeannine and her husband moved to Prosper, she wasn't crazy about the house. She hated the fireplace. She hated the countertops. But most of all she hated the kitchen cabinets.
"I hate dark cabinets," she says. "And these were custom-made—not manufactured—but I just didn't like them. They're in the garage now, and they've been painted white."
What started with dreadful cabinets turned into a renovation of the entire house, and for Jeannine it was a labor of love. Growing up, her family didn't have much. Her mother, a meticulous woman with a penchant for fashion, sewed her clothes and always made sure Jeannine and her siblings' rooms were pristine.
"Every year, our rooms got painted and we got new bedding. You never laid on your bed. A bed was made to sleep in, not for laying on. If you were that tired, then you needed to go to sleep," Jeannine states as a matter of fact.
Read more: Made in Texas: a Mitchell Gold + Bob Williams house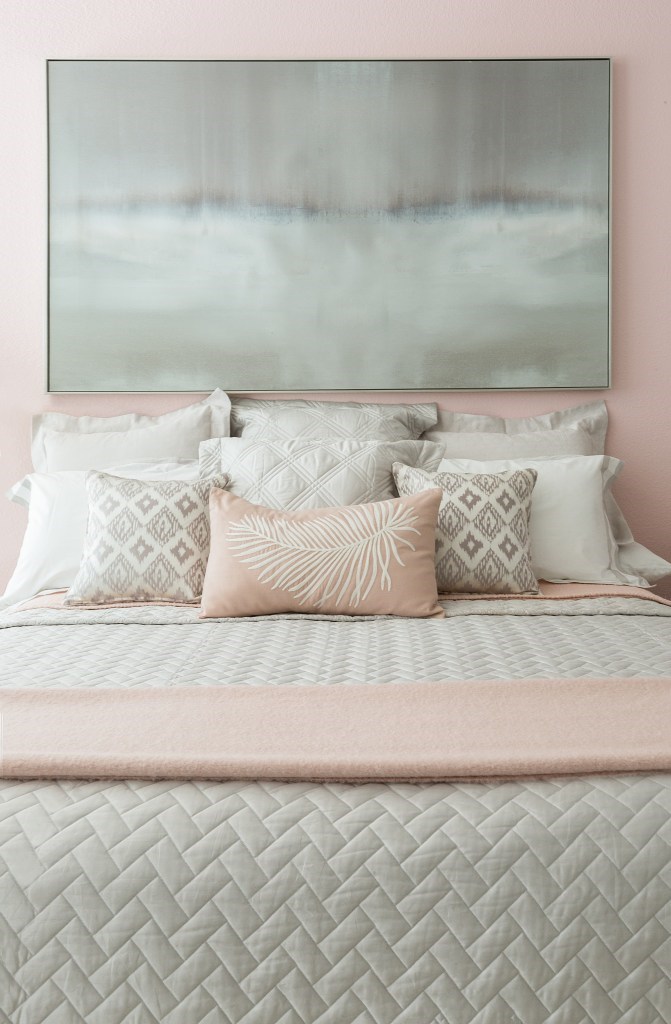 Why Redesign?
When Jeannine told friends about the redesign, at first they didn't understand why she would want to embark on such a time-consuming and costly project.
"People shook their heads. They think we're crazy for doing all this at our age, but we're not going to do this again in five years. I'm not dead. I wake up every morning, and I want to live. My husband still works, and we travel all the time. I want to come home and I want something that is me, that's us."
Jeannine knew exactly what she wanted down to the finest detail and designed the renovations herself. With her background in cosmetology and the help of contractors from VIP Services, Inc., she was a woman on a mission.
"I wanted it to be modern but not cold," she explains. "Because this is our home, and it's where our grandchildren come. I wanted it to be soft and contemporary."
New Design
She started by picking a new backsplash, granite and other upgrades in the kitchen. Then, she had outlets installed on top of all the cabinets to hide wires for Christmas decorations and light switches were replaced by a more modern design that matches the color scheme.
With a unique leather finish, the granite has a smooth, textured quality. Jeannine had seen this exact type only once before and was set on finding it in the perfect color for her kitchen.
"The granite guy explained that as they cut deeper into the rock, the color starts to change. They put each piece on this big machine and moved it, so I could see it in the sunlight. They were so good to me … I must have gone out there four times."
The end result is a backsplash with hints of blue, green and gray that varies depending on how much light is shining on it. The soft colors complement the decorative green dishes that sit atop of the cabinets and create a cohesive flow into the living room.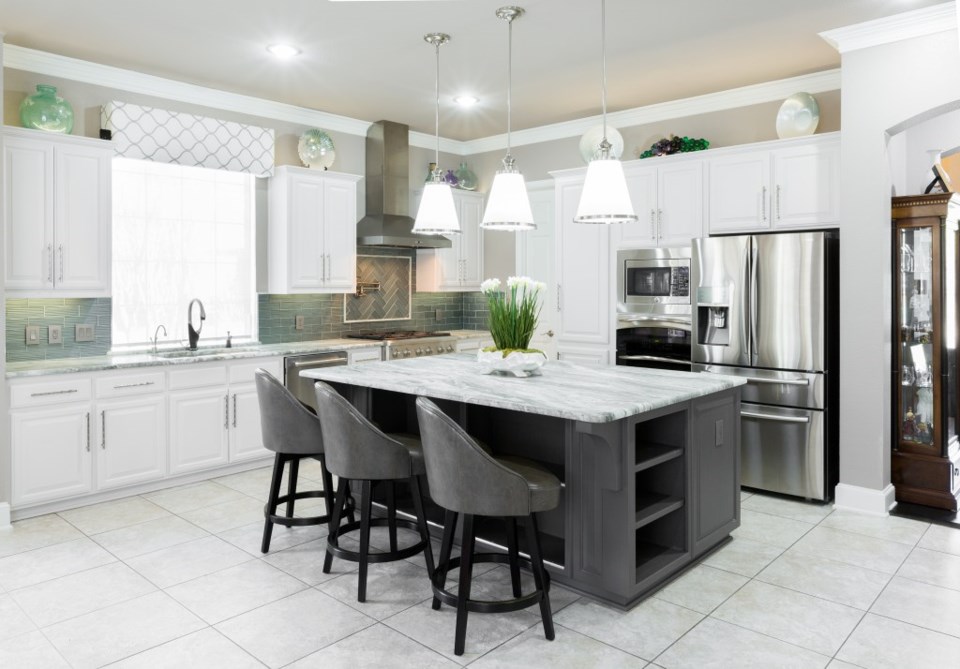 Emerald green chairs and jade accessories shine against a white rug and cool, gray walls. The living room lines are clean with little fuss. The glass side and coffee tables provide structure but allow the space to breathe. Lines created by the tables run parallel to the small, rectangular fireplace and long, black mantel.
Read more: Judy ZumBerge & Anita Bliss are The Designing Agents
The room's modern design is balanced by strategically placed plants like orchids and a Bonsai tree, along with a bowl full of succulents. Whimsical ribbons of metal above the fireplace and in the light fixture, along with curvy vases and lamps, add shape to an otherwise streamlined room. Velvet chairs, pillows and an exceptionally fluffy rug counter the tiled fireplace and dark wood floors. A large modern painting of brushed grays and blues sparkles with glitter.
"I love my kitchen and my living room," Jeannine says. "But my favorite thing is the fireplace. For the first few weeks, I would wake up in the middle of the night and go into the kitchen and living room because I was so excited to drink coffee there in the morning. I had a vision for my house and it feels amazing that it has come to life."

Special Notes
Thank you to The Designing Agents, Judy ZumBerge and Anita Bliss, for nominating Jeannine's home and for helping coordinate our interview and photoshoot.
This story was originally printed in the 2018 Home and Garden Edition as "Emerald Elegance".
Correction: The story was originally printed with the homeowner's name as Nancy and VIP Services Inc. as designers. We apologize for any inconvenience.