A refreshing breeze circles in off the Brazos River and onto a wide front porch complete with cushioned lounge chairs. Stairs meander down the dramatic rock face to a boat house, where folding chairs are stored for easy early-morning fishing. A timber-frame home on the water's edge is styled as a family vacation spot for drinking sun tea, gathering on barstools, comparing sunburns and watching boats glide along the river through Granbury.
Granbury, Texas settles into the curve of the river, where this breathtaking abode looks out over the water, just a few minutes away from downtown. Enamored with the craggy shoreline, the homeowners fell in love with the land long before they made it a home. Built to fit the land around it, this lake house is full of raw, rough wood and hand-hewn stone, unpolished marble and sliding barn doors. Fresh herbs and flowers grow in garden beds. It was constructed to be exactly what the owners wanted, a hands-on project from the lot to the lights. Fully realized, it is rustic with vintage touches, with a natural, even easy atmosphere. Fashioned and built almost from scratch, it retains a lovable "Do It Yourself" aura. It's a house that makes you want to stay a while.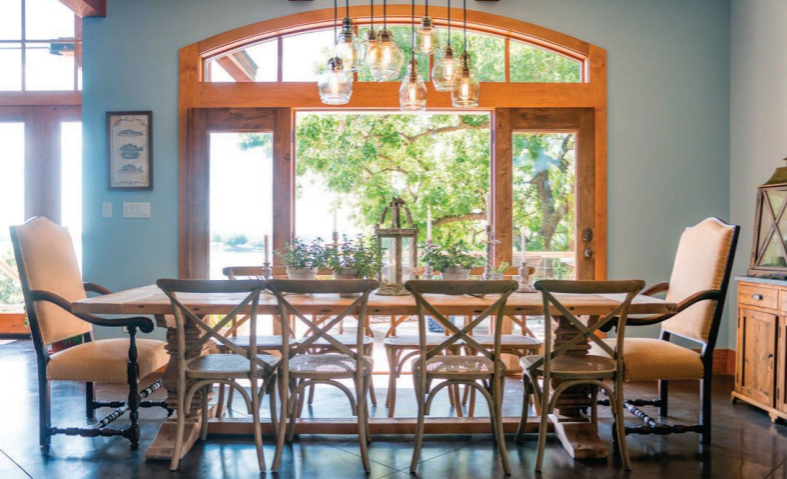 Sunlight floods in through huge windows. The decor is artful, a blend of carefully chosen pieces won from bargain hunts and Canton antiquing, that work together with singular harmony. Mismatched light fixtures—from antlered reading lights to simple Edison bulbs in glass jars—fill the rooms. One especially quirky chandelier, rigged up over a centerpiece pool table (yes, there's a pool table), resembles an industrial pulley system. Old books, pea-green succulents and delicate silver candlesticks lend the space a soft mood, brushed with Southern beauty. Weathered books sit here and there, along with Warm Beachwood candles. Summer break proverbs like "Life is better at the lake" and "A day at the lake is worth a month in town" abound.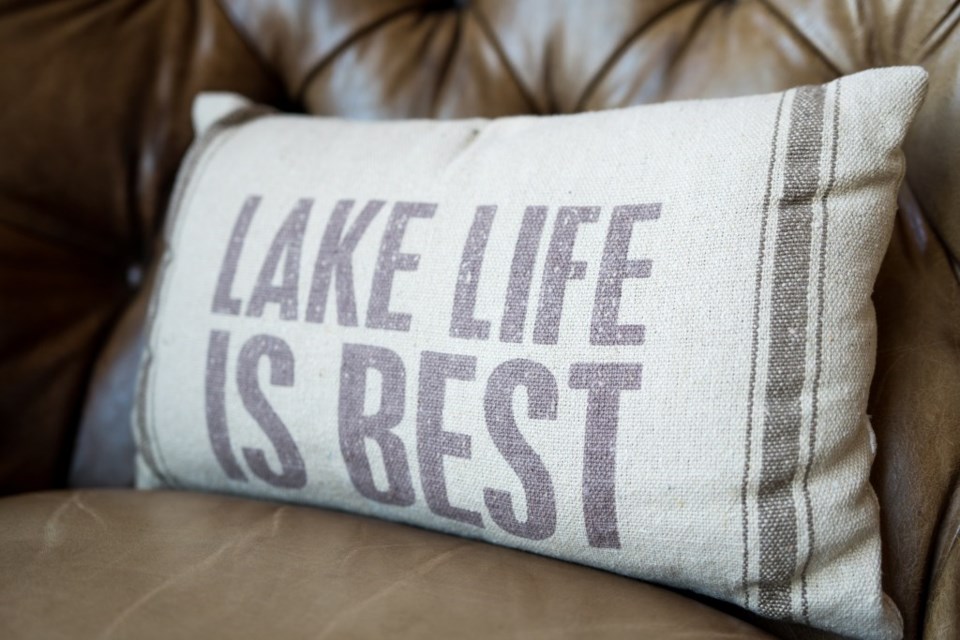 A lake house should be a place to unwind, a place for people to gather, and that philosophy is built into the very foundation. With an open floor plan, it's tailor-made for spending time together. There are two guest rooms, along with the master bed-and-bath, and a detached apartment above the garage for overflow guests and AirBnBers. On the ground floor, the entryway flows straight into an elegant sitting room around the fireplace and an intimate reading nook nestles in front of the biggest window with the best view. A TV is relegated to a corner. The master bedroom, adjacent to the sitting room, shares the view of the water. In a remarkably clever move, the huge walk-in closet includes a vanity and the washer/dryer, to make laundry day effortless.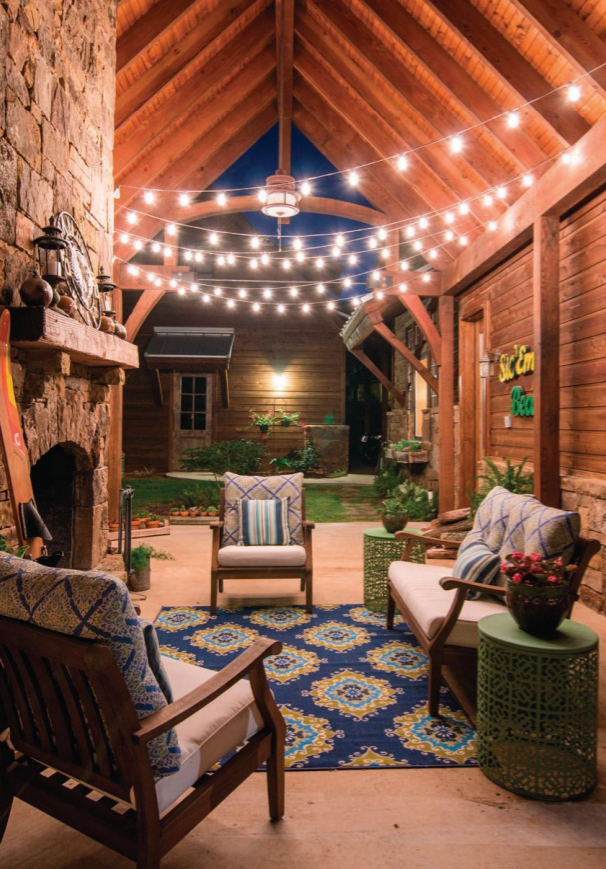 The kitchen features custom-made black cabinets and a fireplace, perfect for s'mores even on a rainy day. On a cowhide rug, an age-worn loveseat bridges the gap between kitchen and living area, ideal for a mid-cooking wine break and a chat. While delicious treats bake in the oven or over the industrial restaurant-grade stove, the cook can dip out to play a quick game of pool with friends without ever straying far.
Personal touches give the lake house character: a mother's day gift of a vintage wind-up kitchen timer, a collage of old-timey hand mirrors on a bathroom wall. The fishing gear in one guest bedroom once belonged to the owner's father, and his name is scribbled on each piece. Another bedroom is dedicated to antique linens, cotton-clean and full of reliable pieces that last, like a sleepy armchair with a view of the river and an outdoor awning, rescued from a market and repurposed to hang over the bed like a headboard.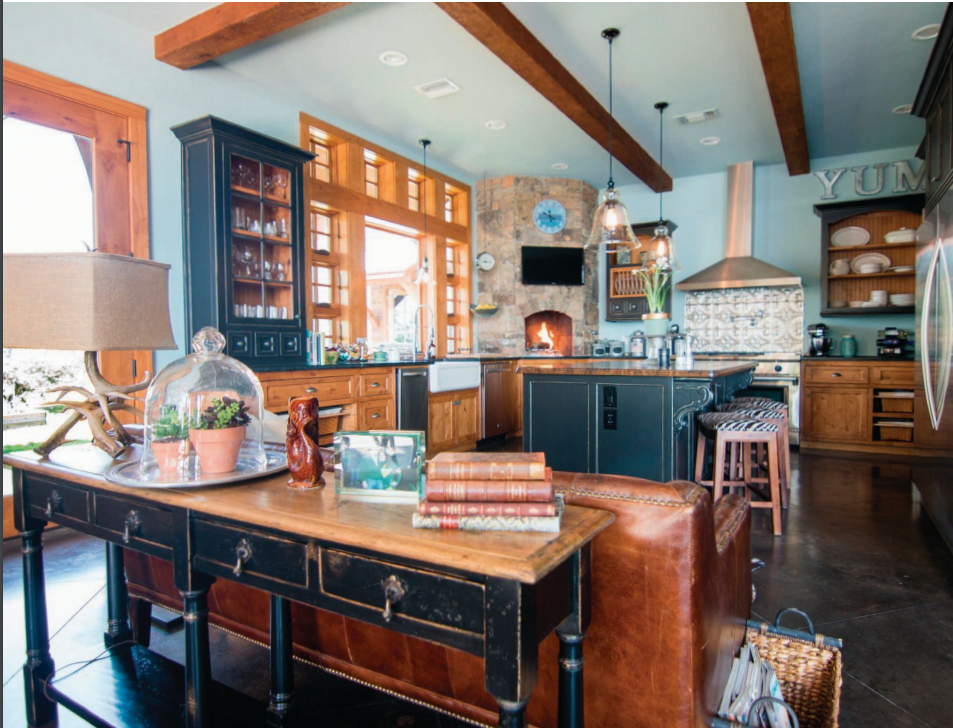 A home at heart, the place is well-loved and lived in, like a book with a page marked because someone has just put it down and is returning shortly to pick it back up. Fishing lures linger here and there for a Gone Fishin' feeling, totally at ease with the French antiques, lush leather couches and raw wood fixtures. While it's quiet in the morning light, after sunset the house takes on the atmosphere of an intimate party, encouraging guests and family to break out a few bottles of wine at the porch-side fireplace.
This lake house is a place for family and friends, the more the merrier. While the design is sleek, it's friendly, painted in undertones of blue, silver and green. The spirit of fun and hospitality lingers in the pillows, in the air, in the floorboard, reminding you to come inside, kick off your shoes, settle into an easy-chair with a good book and dream sunny days away in homey but utterly artisan comfort.