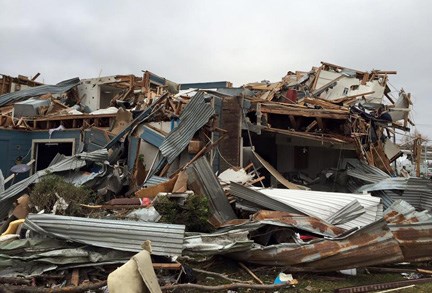 I wasn't there on December 26 when the tornado ripped through my friend's apartment in Garland, but I feared for her life as I tracked the deadly storm on the news. When she posted on Facebook that she happened to stay at her boyfriend's house that night, I felt relieved; her life was spared.
Eleven other lives in North Texas were not.
News reports are stating that the ferocious December 26 storm toppled 1,450 homes. I don't understand the randomness of tornadoes, why some homes and buildings are shredded into pieces and others are unshackled.
I don't understand the severity of losing a loved one from an uninvited, destructive weather storm.
But I do find comfort in the overwhelming support and relief efforts from volunteers and businesses, alike, including the City of Plano.
City of Plano Emergency Management officials—EM Director Carrie Little and Senior Emergency Management Specialist Matt Feryan—have been working tirelessly in the Garland Emergency Operations Center (EOC) to provide support. City staff members have joined in the efforts, daily, and will continue rotating staff as long as requested. They are providing logistical support, making contacts with outside organizations for services, coordinating documentation efforts in WebEOC, and providing support for development of planning documents, including situation reports and incident action plans.
Garland was hit the hardest with an EF-4, the second-most powerful class of tornado with winds of more than 320km/h. Eight people died, 15 were injured and more than 600 structures were damaged in Garland.
Plano's Community Emergency Response Team (CERT) was activated Sunday morning to provide damage assessment support for the City of Rowlett. Full-time and part-time emergency management staff accompanied CERT members and volunteered their time and service. The CERT members were primarily tasked with evacuation of citizens from the neighborhood surrounding the Martha water tower. The water tower took a direct hit from the tornado and City officials were concerned about the structural integrity of the water tower.
Plano Police and Fire-Rescue departments have also responded to the disaster. Plano Fire-Rescue was called to the City of Garland via mutual aid to provide assistance for search and rescue activities. The Plano Police Department has been requested to provide mutual aid for maintenance of security along the perimeter of the disaster site in the next few days. Recently, PD sent four officers and a sergeant, each in a squad car, to Rowlett, and they're working 12-hour shifts for security.
Finally, the City of Plano is also using its social media channels to spread awareness and offer help. Steve Stoler, Director of Media Relations for the City of Plano, has made a tremendous effort to garner support from his 8,000-plus Facebook fans and almost 3,000 Twitter followers. He's connected the Rowlett Animal Shelter to a Dallas veterinary clinic, who has more than 100 runs available. The Rowlett shelter is now directing tornado victims who don't have a place to board their dogs to the VCA Preston Park Animal Hospital, just south of the President George Bush Turnpike.
December 26, 2015 is now in the history books as the worst disaster caused by tornadoes North Texas has seen in 88 years. Governor Greg Abbott declared a "state of disaster" in Dallas, Collin, Rockwall and Ellis Counties.. Governor Greg Abbott declared a "state of disaster" in Dallas, Collin, Rockwall and Ellis counties. Utility poles were snapped; cars were mangled; homes were demolished…lives were shattered. Picking up the pieces will not be easy, but with our continued prayers, financial support and help, the survivors of this historic event can stand strong.
What can you do to help?
The American Red Cross, and various churches and ministries are taking donations.
Local radio stations, like 106.1 Kiss FM, are raising funds through celebrity auction items.
Tom Thumb is also taking donations.
Stream Independent Associate Vicky Gillispie has organized a benefit concert that will take place on Sunday, January 10 from 2:30–5 p.m. at the Granville Performing Arts Center in Garland. The concert will feature former Garland resident and country singer Sara Beth and funds will benefit The Salvation Army.
Together, we can make a difference.