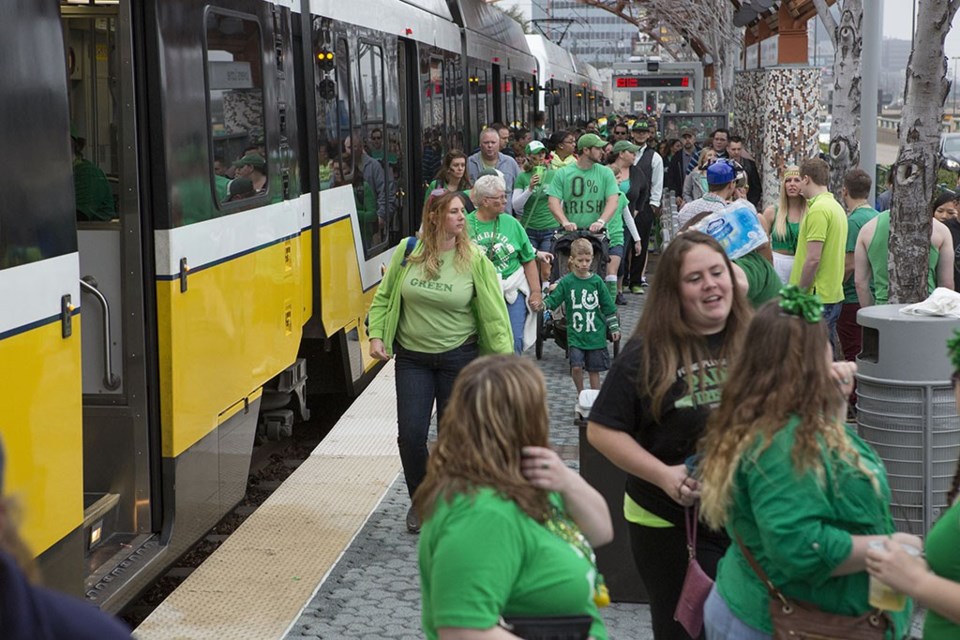 Everyone is an honorary Irishman on St. Patrick's Day. And the Dallas St. Patrick's Parade & Festival is the largest in the Southwest. Best of all, it's right on the DART Rail lines. This year's all-day festival is being held Saturday, March 19.
DART riders needing help with first-last mile connections during the St. Patrick's Day Parade and Festival can take advantage of car sharing services like Uber and Lyft. On March 19, Uber is offering $10 off the first two rides using the code RIDESPD16. Lyft is offering $5 off your first five rides using the code LYFT2DART.
St. Patrick's is one of the deadliest holidays on the road for drunk driving. Uber, Lyft and Mothers Against Drunk Driving are working with DART to help get people to and from the rail stations and anywhere else they need to travel. This transportation combination gives parade and partygoers a safe and reliable door-to-door alternative to driving.
St. Patrick's Parade & Festival boasts nearly 100 floats and more than 125,000 attendees each year. The parade route begins at Greenville Avenue and Blackwell Street, and then continues south to SMU Boulevard. Along the two-mile route, throngs of revelers are on hand to celebrate the occasion and cheer the outrageous floats, authentic bagpipers and colorful costumes. There are more than 1,700 Irish, part- Irish and not-so-Irish parade participants.
Parking at a DART station is always an option too – it's just a hot commodity with such a show of pride in the Emerald Isle. Luckily, DART's Parker Road and Downtown Plano stations are close to home and can take you right to Lovers Lane or Mockingbird stations which are right on the parade route. It's definitely the safest and most convenient way to reach the festivities, and a local day pass is only $5.
Grab your four-leaf clover, get your green on and go see how Dallas does St. Patty's! It all begins at 11 a.m. Local taverns and restaurants participate in a block party that runs into the night, so plan on a full day of spirited Irish fun.
Find out more at dallasstpatricksparade.com. For more information on DART, the lines and schedules, go here.