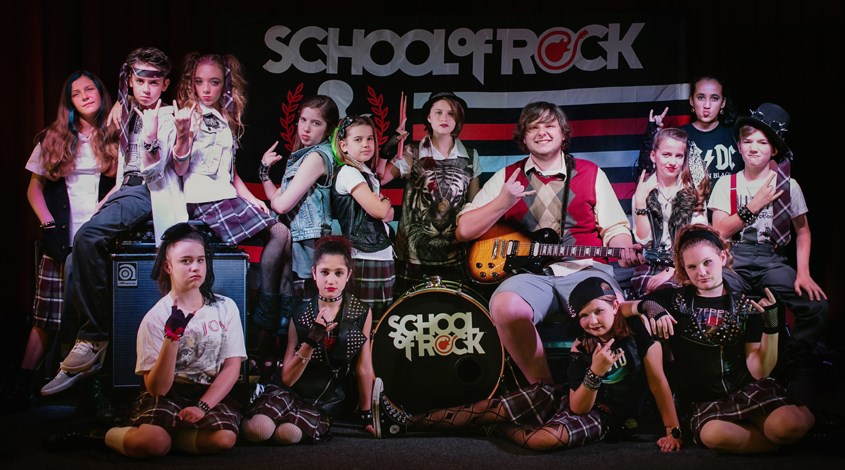 North Texas Performing Arts and its Frisco Youth Theatre (FYT) are bringing the currently running Broadway musical "School of Rock" to the Courtyard Theater in Plano, July 14–17. Managing Director Melinda Bellatti said it's very rare for students to be able to perform a currently running Broadway show. Rodgers & Hammerstein, the licensing company, has only made the opportunity available for student productions in a select number of theaters nationwide, Bellatti added. FYT's production of "School of Rock" is only the second production in Texas.
"This musical is entirely about empowering kids to rock out, so what better way to herald its arrival and celebrate its themes than to allow youth performances from coast to coast," Composer Andrew Lloyd Webber said in a New York Times statement. "This will allow young fans to engage with the material in a much deeper way."
Based on the famous Paramount film starring Jack Black, "School of Rock" follows Dewey Finn, a failed, wannabe rock star who decides to earn a few extra bucks by posing as a substitute teacher at a prestigious prep school. Completely disinterested in academic work, Dewey decides to create his own curriculum, turning his class into a guitar-shredding, bass-slapping, mind-blowing rock band.
In addition to the rare experience of performing a currently running Broadway show, the students also get the educational experience of getting to perform with a live band
accompanying them. Show Director and Choreographer Morgan McClure said the live student rock band is one of the key components to the overall success of the production.
To help the students perform at their best, FYT enlisted the help of the School of Rock Frisco. Joe DeMerritt, School of Rock Frisco music director, and McClure agreed on a collective goal for students: to enter the rehearsal process as individuals, but emerge as a unified rock band for the production. "Each musician started at different points in his or her journey; some have been taking lessons and playing for years, while others have picked up an instrument specifically for this production,"
McClure said. "Regardless of previous experience, all of these students are putting in countless extra hours of practice to hone the specificity and synchronicity required of a live rock band."
Performance tickets are available at friscoyouththeatre.org.
About North Texas Performing Arts
North Texas Performing Arts is a 501(c)3 organization that provides educational theatre programs to North Texas communities. NTPA is dedicated to developing the character of youth through quality performing arts education and family entertainment. For more information the organization and programs, visit our website at northtexasperformingarts.org or call the offices at 972.422.2575.