My Possibilities (MP), a nonprofit in Plano, was created to fill an educational void. Their services provide continuing education and vocational training for adults with disabilities with a wide range of diagnoses including Autism, Down Syndrome, Asperger Syndrome, neurological disorders, among others. All of these individuals that attend My Possibilities are lovingly referred to as HIPsters—Hugely Important People. Qualified staff provide education and therapy to more than 175 HIPsters every day and nearly 350 each week. Today, My Possibilities is considered a leader in the local community and throughout North Texas providing vocational training, socialization opportunities and independent living skills development for adults with disabilities.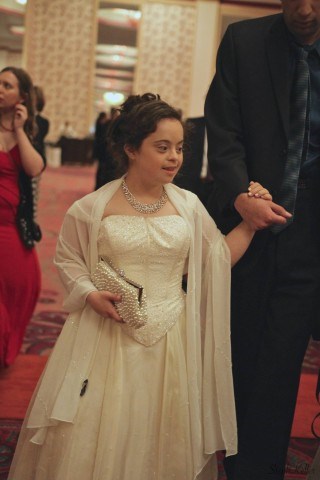 The HIPsters that attend MP are as young as 18 years old or as old as 72 with all ages in between, but they all share a love of live music and a dance floor. Back in 2012, My Possibilities held a traditional gala with community partners and donors in attendance in order to fund raise for the program. In addition to that event, there was a formal dance just for the HIPsters where they too could get dressed up in fancy gowns and tuxedos and dance the night away. Then, suddenly it dawned on the staff at My Possibilities. Why not include the HIPsters in the community gala and create one trademark fundraiser of the year?
From this epiphany came the Community Ball, and this year on Saturday, April 30, will mark three years since its inception. It will be held at the Embassy Suites in Frisco, and the entire community is invited to join the party. Last year's Community Ball was a tremendous success with over 875 attendees including sponsors, guests and volunteers. Even more participation is expected this year and you are invited to become a part of the excitement!
Let's be clear that this is not your typical charity fundraiser. It holds some elements of a traditional gala, like a live and silent auction, plated dinner, and cocktails. But what makes the Community Ball so special is that guests get to meet who they are raising money and advocating for. The HIPsters are given the choice to get a free formal gown or tuxedo in the weeks leading up to the Community Ball, and when they finally get to put their outfit on for the event, it's immediately apparent to those around them how special they feel. At the Community Ball, they are celebrated. The night is one big party with live entertainment provided by the Time Machine Band, and if there's one thing the HIPsters love to do, it's dance.
The goal for My Possibilities is to make this a premier, formal event for the entire special needs community in North Texas, and all individuals with cognitive disabilities are invited to join the event at a discounted price. Registration is now available for all attendees at MyPossibilities.org/CommunityBall. Sponsorship opportunities for the event are also available—e-mail [email protected] for more details.
Take a look at this video for a glimpse of the My Possibilities Community Ball 2015:
My Possibilities Community Ball
Date: Saturday, April 30
Location: Embassy Suites Hotel, Frisco, 7600 John Q Hammons Dr, Frisco, TX 75034
Time: 6–10:30 p.m.
Features: Live entertainment by the Time Machine Band, a plated dinner, raffle, silent and live auction, wine pull, awards, cocktails, and dancing. Dress is cocktail attire.
Tickets and info: $125 per ticket. Purchase tickets and sponsorship here.
Learn more about My Possibilities by visiting MyPossibilities.org and/or liking their Facebook page Facebook.com/MyPossibilities.