The subject of my interview is lying under the table at Starbucks. He's totally chilled out, even though a passing toddler just stepped on his tail. A big, black German Shepherd with a thick coat and sweet eyes, Trooper comes outfitted with a vest, his ticket past every no-dogs-allowed sign, and he's content to hang out while I speak with his Rebuilding Warriors trainer, Jacqueline (Jackie) Konold. He's on duty. Nothing—not the whirr of blenders, the excited kids that want to grab at him, the mixing coffee smells—phases him.
Trooper is a service dog, highly trained and socialized to become a companion to a veteran who has been diagnosed with PTSD. Some dogs, all from reputable breeders, are bred specifically for this mission. But not Trooper. Trooper, once a stray, is in the midst of his own redemption story, like his sister, Shaye, and a host of other abandoned dogs that Jackie has rescued and trained to be rescuers themselves.
Missy was picked up in Oklahoma and taken to an animal shelter, where they held her as long as they could. Suffering from heartworm and days away from being euthanized, she was transferred to the Plano Animal Shelter, where Jackie found her. She passed her evaluation with flying colors and now lives with her veteran and his family in San Antonio.
Storm was abandoned in Shawnee Park during a tornado warning. Wet and alone, she'd been tied to a tree, presumably so she couldn't follow her former owners home. She was spotted through the rain by a member of the Plano Parks Department, who called Plano Animal Services. Today, Storm is more than a PTSD service dog; she is a wheelchair assistance dog as well. She picks things up for her veteran, pulls his wheelchair, activates automatic doors and more.
At just 3 months old, siblings Trooper and Shaye were driven out to the Plano/Parker/Allen county border and left there in December 2015. They were taken to the shelter, and when no one claimed them, they were put up for adoption. Trooper and Shaye were petrified of being put in cars, and though she could never know for sure, Jackie suspected that they associated cars with the traumatic experience of being driven to an unfamiliar place and abandoned.
"I had my eye on them," Jackie admits. "And the day they were moved over, as soon as my shift was done, I ran for my purse and adopted them."
As a "puppy raiser" for Rebuilding Warriors, a nonprofit founded by Jeff Anderson, which provides service dogs to veterans, Jackie has a talent for spotting the traits it takes to become a service dog. Rebuilding Warriors trains dogs and provides soldier and companion with everything they need to embark on life together. Everyone, including Jeff and Jackie, work on a volunteer basis.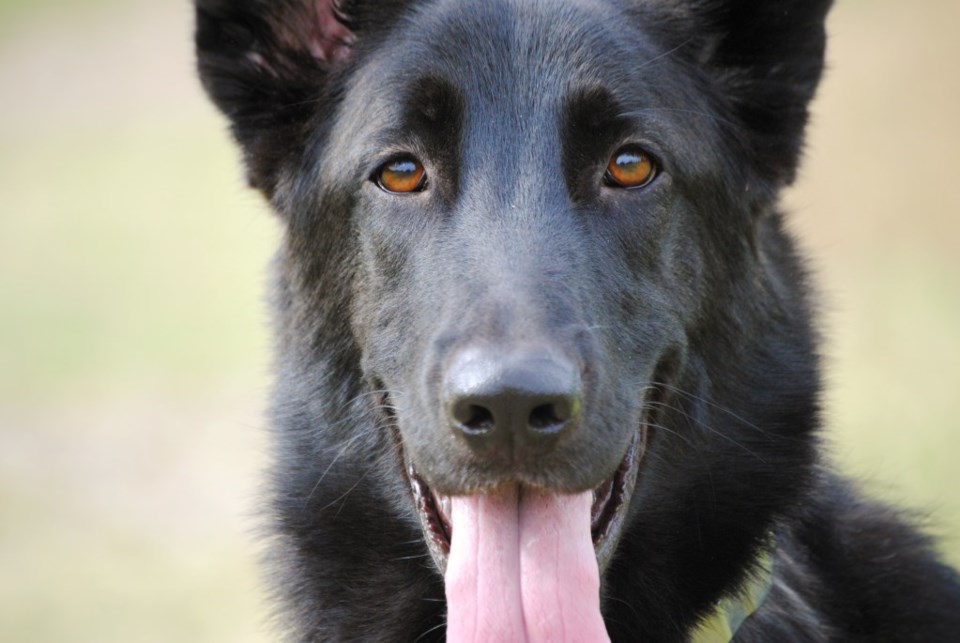 "A dog doesn't have to be calm to start with. I can teach that. But there are some traits you can't teach. They have to have confidence. They can't be dog-aggressive; they can't be people-aggressive. As long as they pass that part, they can do it."
Jackie almost exclusively trains German Shepherds, one of the most intelligent and versatile breeds. Trooper, like most of his breed, is exceptionally smart—although he went through a trying rebellious phase in his juvenile years. "He just pushed me to the limit. I had to redouble my efforts to train him because he was very stubborn while going through his rebellious period." Now, of course, Trooper has grown out of his rebellious ways and is ready to be paired with a veteran. His sister, Shaye, is now a registered military service dog paired with an active member of the air force. She recently ran a military 5K with her human—and they won.
"Service dogs are there to ground people," Jackie explains. "If a veteran suffers from PTSD, the dog can recognize when they're agitated and can respond to it." German Shepherds are naturally highly attuned and emotionally sensitive. It can't be taught. In order to break them out of their cycle, Jackie's dogs all have different ways of reaching out to their veteran, usually gently getting their attention and grounding them in the present. Trooper, for example, comforts his companion by putting his paw on their leg and licking their face.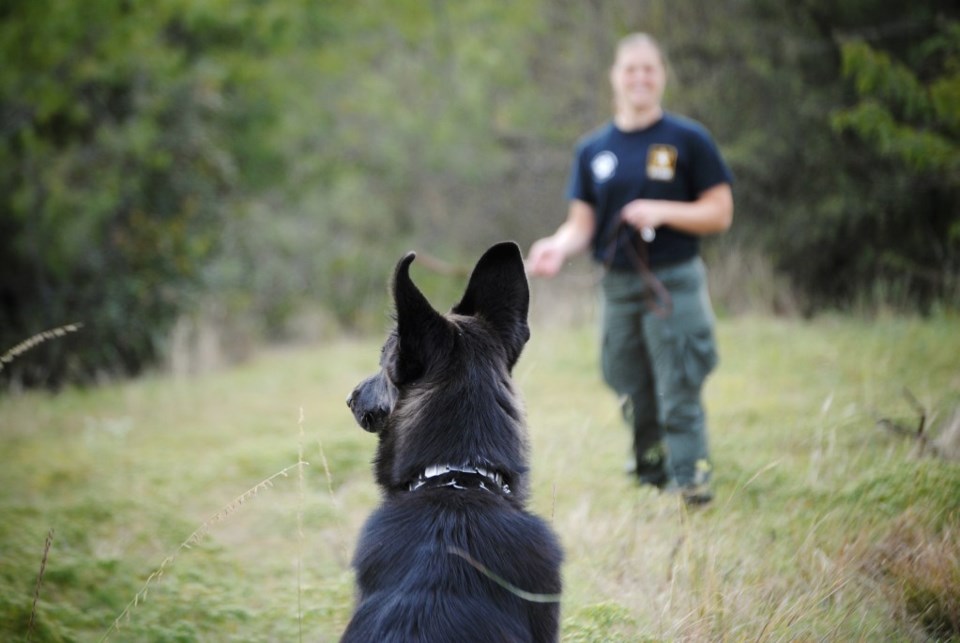 "They do it out of love, which is amazing," Jackie says as Trooper, who seems to know he's being discussed, sits up to cuddle with her. Trooper is a highly trained guardian who serves a life-saving purpose, but, at the same time, he's also a happy-go-lucky puppy who loves his squeaky ball and having his ears scratched. Dogs like him become an irreplaceable part of the veteran's family, something that Jackie's strays may have never had. For rescues, as well as veterans, Rebuilding Warriors means redemption. A second chance.
"People give up a dog because they did not have a thorough understanding of what's required to take care of a dog, or how much effort is required to train them. Sometimes, people think dogs can just go into the wild and live on streams and squirrels. That isn't how it works," says Jackie. Instead, abandonment, neglect and often abuse cause trauma and lasting trust issues. Faith has to be rebuilt between trainer and rescue. Often, these dogs will flinch back from a raised hand or a raised voice. Fixing those negative associations means lots of training and lots of exposure to new people, smells and environments. Malls are–surprisingly–excellent training grounds, perfect for introducing a cacophony of sights, noises and smells all at once, paired with shifting terrain like elevators and escalators. Rescues need this training, so they can begin to feel safe in as many unfamiliar environments as possible.
It takes time, training and kindness. "They need to be understood, to have a bond and a language between them," Jackie says of her dogs. "It's a game of trust between veterans who need someone to ground them and dogs who have been abandoned."
Rescues have rough beginnings. Yet, with their veterans, Trooper and the others are given new life and purpose and, for that, they're grateful.
"You can tell," Jackie says. "They have this look, like 'this is my second chance.' And they appreciate it."
Trooper said farewell to Jackie in November 2016. He's begun a new life with his veteran.
Read more: Rebuilding Warriors presents Service K9 Trooper to his veteran
Originally published in Plano Profile's December 2016 issue.