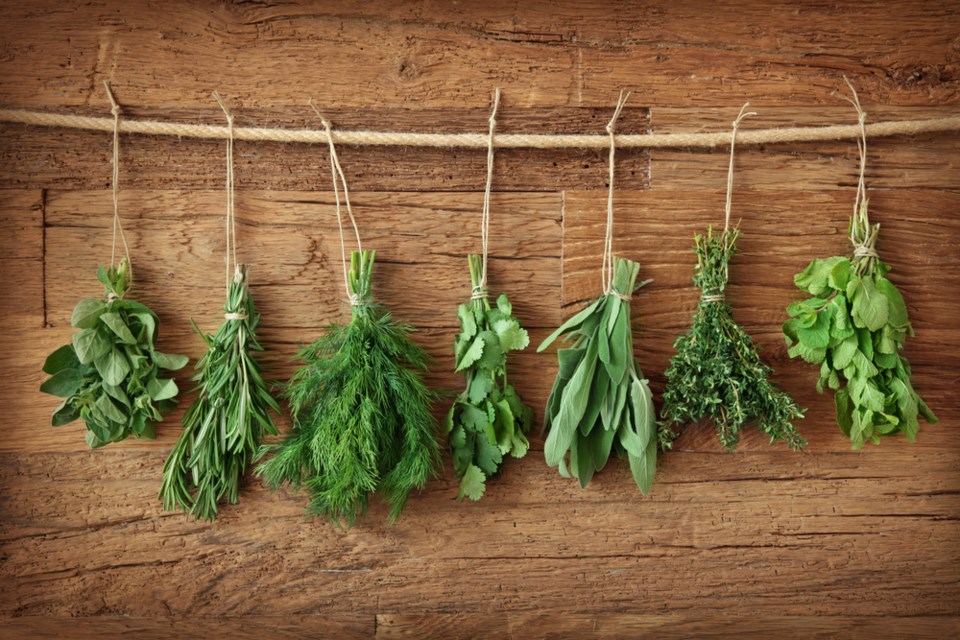 For those who follow this feature regularly, you may recall that I love taking cooking classes. In more than 35 years, I have either sat or cooked my way through countless demonstrations on various culinary subjects under the tutelage of professional instructors or chefs. is is how I first discovered a whole new world of flavors that I didn't grow up with, and how they can elevate a dish from average to extraordinary.
My mother was a simple cook and "highly seasoned" were not words in her vocabulary. Don't get me wrong, my mother was a good cook, but seasonings were used sparingly. So when, as an adult, I realized how herbs can enhance a dish, there was no turning back. And to also learn that herbs are plant foods that provide nutritional value—even better!
Herbs are the fragrant, edible leaves of a variety of annual and perennial plants. ey have been utilized for culinary and medicinal purposes for centuries. In fact, there are depictions of native animals and herbs on the walls of the Lascaux Caves in the Dordogne region of France. is prehistoric art is believed to date back to 15,000 BC. My longtime friend and sometime traveling companion, Jean Newman, and I had the good fortune of touring the caves on a trip to southwest France for…what else…cooking classes.
Like most leafy green plants, fresh herbs are rich in antioxidants, vitamins, and minerals, which provide health benefits. They transform a dish's essence without added fat and very little calories, making them a plus for anyone's diet. Because dried herbs have a more concentrated flavor, you should add only one-third the amount of fresh that is called for in a recipe. For example, if one tablespoon of chopped fresh basil is requested, substitute with one teaspoon of dried. And unless specifically stipulated in the directions, add dried herbs during cooking but fresh herbs at the end of cooking or as you are serving so you retain their nice bright flavor.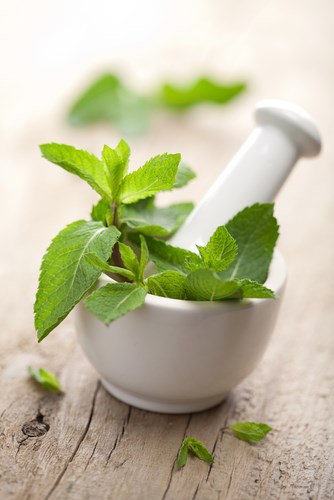 Although fresh herbs are readily available in most grocery stores, growing your own is simple and more economical. They flourish almost like weeds, needing very little care. I grow mine in pots on my back patio so I can go out and snip what I need at any given time. But they require very little space in your beds if you prefer to plant them there.
At the end of the growing season, preserving herbs is also easy. You can dry them by hanging upside down on a clothesline or drying rack, in a low oven on a baking sheet, or in small quantities in the microwave (cooking in 15-30 second increments). When totally dried, seal in an airtight container and they will last for months.
Herb butters are a fun, tasty way to utilize your herbs. e sky is the limit when it comes to flavor combinations. You might try Tequila/Oregano Butter or My Secret Herb Butter, recipes that I obtained years ago from local foodies, Etta Clark and Mary Nell Jackson. Infuse softened butter with whatever flavors you think you will enjoy, roll it into a cylinder shape in plastic wrap and freeze, then cut into disks as needed to put on top of freshly grilled steaks or chicken. Or you can refrigerate and spread on cooked vegetables or artisan bread.
To use up basil at the end of the season, I also like to make Garden Pesto, which freezes beautifully. Just be sure to add a little more oil on the top of it before freezing to prevent the pesto from turning brown.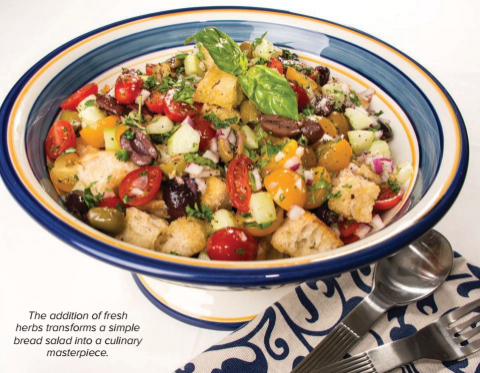 In the summer months, I prefer to make dishes that require little or no cooking. To me, adding fresh herbs completes a dish in a special way. One of my favorite recipes is an Italian bread salad, a combination of homemade croutons tossed with fresh vegetables, basil, parsley, and red wine vinaigrette. Sea Scallops on Summer Succotash is a one-pan wonder—so easy but oh so good. Saute scallops for a few minutes on each side, remove and keep warm. In the same pot stir fry a combo of fresh vegetables, finish with chopped fresh cilantro and basil, top with the scallops, and you're done.
Another go-to meal during the summer is tuna and bean salad made with good-quality canned tuna. I mix it with white beans, seasonal veggies, and fresh thyme. Dressed with light vinaigrette, you have a satisfying dish that will keep in the refrigerator for two to three days, at-hand for a quick bite. Not one but three herbs—mint, basil, and cilantro—add layers of tastiness to Vietnamese spring rolls stuffed with shrimp. Made with moistened spring roll wrappers, it's a cool, light dish for a hot night.
Savory dishes aren't the only ones that benefit from adding herbs. My friend Edith Hiett adds them to sweet treats as well, like her Tarragon-Sesame Crisps. These are so good, they were a finalist one year in the annual Dallas Morning News' cookie competition. Speaking of Edith Hiett, she is a charter member and past president of the Heritage Herb Club of Plano, which will celebrate its 30-year anniversary in October. The purpose of the club is to educate its members about growing, harvesting, and storing herbs, the history and lore of herbs, and their many uses in day-to-day life including culinary. It meets the second Sunday every month at 2:30 p.m. at Holy Nativity Episcopal Church, 2200 18th Street, in Plano. Check out their website at theheritageherbclub.com.
Want to spice up your meals this summer? Then I suggest creating tasty dishes that are herbal-icious. Enjoy!