Summer is here and tis' the season to create memories when you are vacationing! One of the most important and challenging parts about any travel is packing…. Since I was 13, which was many moons ago, I've always made a travel packing list way before its time to start packing. Initially, my list consisted of almost everything from around the house. As decades passed by, this list started getting smaller and more manageable. Now, I feel like I have finally got the hang of packing and I'm happy to share my tips & tricks.
Decide if you are checking a bag.
I prefer not to, but it doesn't always work out that way, especially if you're going longer than seven nights. For all my vacations less than five to seven nights, I have carry-on luggage.
Pack items that serve multiple purposes.
I am always thinking of multipurpose uses for most items when traveling. For example, I avoid carrying a purse. Instead, I carry a large tote bag with all my flight essentials and a small pouch for my ID, cash, cards, and passport. During the vacation, the tote bag serves as a beach/pool tote at the destination resort.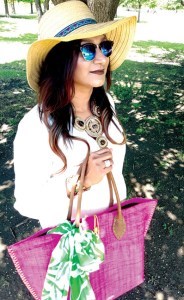 WONDERING WHAT'S IN MY TOTE?
Coin pouch
Cross-body Purse
Jewelry & Accessories
— Sunglasses – Try to carry a couple pair in case you break or lose one.
— Comfortable Socks & a Scarf – My feet get cold in the flight, so I always carry a pair of extra socks and a scarf in my travel tote.
Gadgets
— iPad, iPhone, headphones, chargers, portable Power Bank and a waterproof/shockproof camera
Personal Care/Make Up
Magazines

Snacks & Bottled Water – I carry healthy snacks and drink plenty of water to stay hydrated.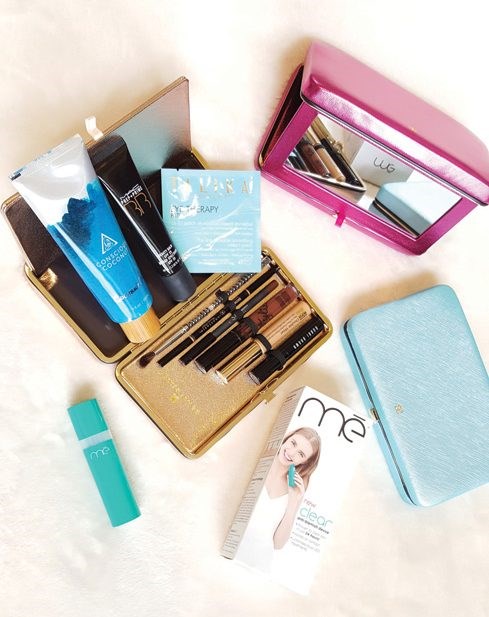 CARRY-ON BAG ESSENTIALS:
Invest in quality luggage with four rotating wheels to easily navigate busy airports.
Beauty/Makeup Clutch Bag:
Unless I'm traveling to attend a wedding ceremony, I try to go with minimal makeup. This multipurpose clutch from DOLLUPBeauty.com doubles up as a vanity, holds makeup, and works great as an evening clutch.
Anti-blemish Device – My favorite is from 'me-clear' which is proven to clear the skin in just 24 hours!
Multi-purpose Travel Tube – I love this Travel ready tube from ConsciousCoconut.com for the following daily uses: face wash, makeup remover, face/body moisturizer, hair conditioner, sunscreen, after-sun care, itch relief, and shaving cream.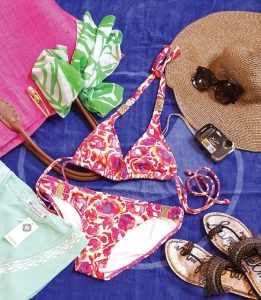 Clothing/Outfits/Beachwear:
Remember to plan clothing by day – basic T-shirts, shorts, PJs, jeans, undergarments, socks and dresses) and think multi-day use.
I like to carry a comfortable Kaftan dress as a cover-up. How fun when your beachwear can double up as a Kaftan evening dress! The Azul Black Kaften dress from Isalora.com is so comfy.
Footwear:
Comfortable pair Sneakers and add a couple extras based on the trip
Personal Care/First Aid Kit:
Feminine Hygiene, Band-aid, Tylenol, Claritin-D
Accessories:
Belts, Hat, Gloves
If you plan to check a bag, then pack one to two days' worth of emergency outfits in your carry-on. This extra outfit will come in handy, in case the checked bag does get lost or delayed.
FINAL FEW SUGGESTIONS
The outfit you wear to the airport, try to re-wear at some point on your trip or on the plane ride back home.
Carry a folder with hard copies of your boarding pass, hotel confirmations, rental car info, activities planned, etc. on the trip in case technology fails.
Pack some plastic grocery bags for dirty laundry.
I hope these valuable travel tips will make your trip more memorable. I would love to hear from you. Please comment & follow along with me on my blog: FashionBeautyDecor.com.
[print_gllr id=7658]
Photos by Avani Chokshi