H-E-B's steadfast expansion quest through DFW continues with three new stores in the works in the area, two of which are in Collin County. As the grand opening of Allen's 117,000 square feet store on Oct. 4, 2023, is getting closer, the company announced its plans to open stores in Melissa, Prosper and Rockwall.
As previously reported by Local Profile, in July 2022, the Texas-based retail giant bought a 19.78-acre patch of land on the corner of Frontier Parkway and the Dallas North Tollway in Prosper. At the time the company did not provide details on the plans for the location, but by the size of the lot, it was evident a new supermarket was on its way to the Collin County town. Less than a week later, The Dallas Morning News broke the news of the company buying land in the Southwest corner of John King Boulevard and I30.
The Melissa store will be located at the northeast corner of US 75 and Highway 121. In Mar. 2022, The Dallas Morning News reported that the San Antonio-based retailer filed a rezoning request for Melissa City Council's review. The spot is a 39-acre lot located next to a Buc-ee's at the entrance of Melissa.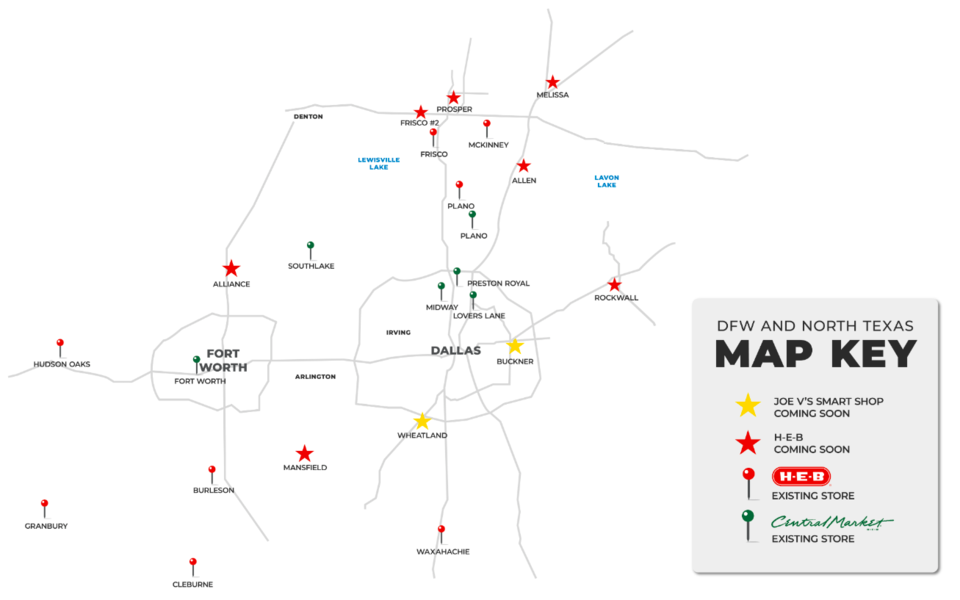 The opening dates and details of the three stores will be released at their respective groundbreakings in early 2024.
The Melissa and Prosper locations will be the fifth and sixth stores to open in Collin County in the span of two years following the opening of stores in Frisco, Plano, McKinney and, in the coming weeks, Allen.
Customers who want to get a head start before Allen's grand opening will be able to schedule orders for H-E-B Curbside pickup services beginning at 1:00 a.m. on Monday, Oct. 2, 2023. The H-E-B Allen store is located at 575 E. Exchange Parkway and will be open seven days a week from 6:00 a.m. to 11:00 p.m.