"I told him, 'It's in your blood. It runs in your body, all this kindness and love.'"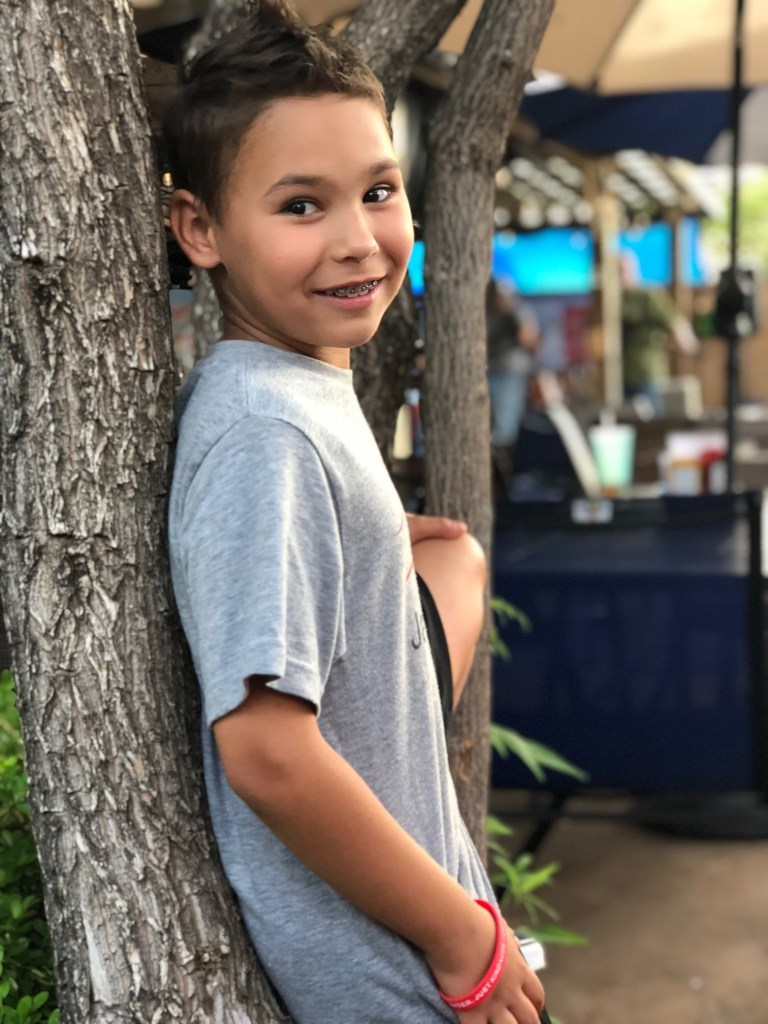 On the afternoon of Sunday, June 3rd, the outdoor patio of Stan's Main Street in Historic Downtown Frisco was filled with the steady pulse of live music and the lively chatter of people brought together by a worthy cause. Stan's, a local burger joint deemed by Trip Advisor as having the "best burgers in Frisco", was decorated with bunches of large, heart-shaped balloons. Several of Stan's customers, as well as the waiters, wore t-shirts with the same logo: two hands forming the shape of a heart. To top it all off, an energetic eight-year-old buzzed from table to table asking customers, "Would you like to play Lucky Pucks? If you win, you get to keep half the money. If you don't win, I get to keep the money for my charity." This eight-year-old is Jake Garrett-Mccann, founder of the nonprofit Jake's Heart, which donates care packages to the homeless community in Dallas.
Jake was three years old when he visited Austin with his parents and noticed the homeless communities living on the streets. Immediately, he started asking questions about who they were and why they didn't have any place to go. Right after reaching home, Jake, with the help of his moms, started putting together care packages to send out to the homeless. The operation grew quickly. Kimber, Jake's mom, told me that soon, they were receiving socks in their mailbox from all over North America. In October or November of last year, Jake's family officially founded Jake's Heart.
Read more: How Jake's Heart, a nonprofit that cares for homeless people, was founded by a child
When I spoke to Kimber, she told me that while Jake's Heart sends out most of their care packages to Dallas, in the past few months, they've started sending out packages to suburban communities like Frisco and McKinney as well. She told me about the impact and the difference that Jake makes in people's lives. "Anytime we go anywhere, especially downtown, we pull in, and they all know it's Jake, and they're just wanting to hold him, and love him, and kiss him, and say 'God, bless you', and be with him." When I asked her if it felt like Jake's Heart expanded their relatively small family, she said yes, and that a lot of that has to do with community support. Kimber said that the community, meaning Frisco, Plano, McKinney, Dallas, etc., has been fantastic. When I asked her how the public could help out Jake's Heart even further, she said to volunteer, spread Jake's message, and be able to help either monetarily or with supplies. Soon, Jake wants to expand his nonprofit to be able to help animals as well. To that, Kimber said, "We have to get some of this stuff structured a little bit more, and then we'll add to that, and make his wish come true." Jake's Heart is currently looking for corporate sponsors as well as continued community support.
Read more: Behind Suburbia: Homelessness in Collin County
Performers at the Jake's Heart Annual Music Festival
"You meet someone like Jake, who's only eight years old, and he's got this thing going, you know? Just this passion and this determination. It lights a fire in me."
Singers lined up at the festival to perform for the tight-knit Frisco community cheering from the patio tables. It was easy to see how close everyone was. When the Texas Bluetones, a five-piece band based in North Texas, introduced themselves from the stage, a large family sitting behind me yelled "Woo! Go Richard!" Richard Aronson, the Texas Bluetones' keyboard player, used to work with Kimber. He says that he met Jake at one of the Bluetones' performances, where Jake was "bopping to the music" and immediately could tell that Jake is a great kid. When I asked for his first impression of Jake, he was quick to answer. "Well-spoken and articulate. And he has a fire in his eyes."
Clint Buchanan, one of the solo country artists at the festival, is a family friend of Kimber, Jenny, and Jake. When I asked him what it was like to watch Jake grow up to do such great things, he said, "He's done a lot more than some adults I know. It's really impressive."
Jessica Grai is the last artist that I talked to. At the beginning of the day, I asked Jake who he wanted to see at future music festivals, and he said with pure excitement, "Jessica Grai!", so I was excited to meet her. When she arrived, it was a delight to watch her and Jake interact. "What do you want me to say in my interview, Jake?" Jessica asked.
"I don't know, whatever." Jake said lightheartedly.
Jessica laughed. "I'll say that you're the greatest kid in the whole world, how about that?"
Read more: What we learned about homelessness in Collin County at the Freedom Forum
Later, when Jessica performed, she dedicated the song "Heart of Gold" to Jake, who ran up to the stage and reached up to give her a hug.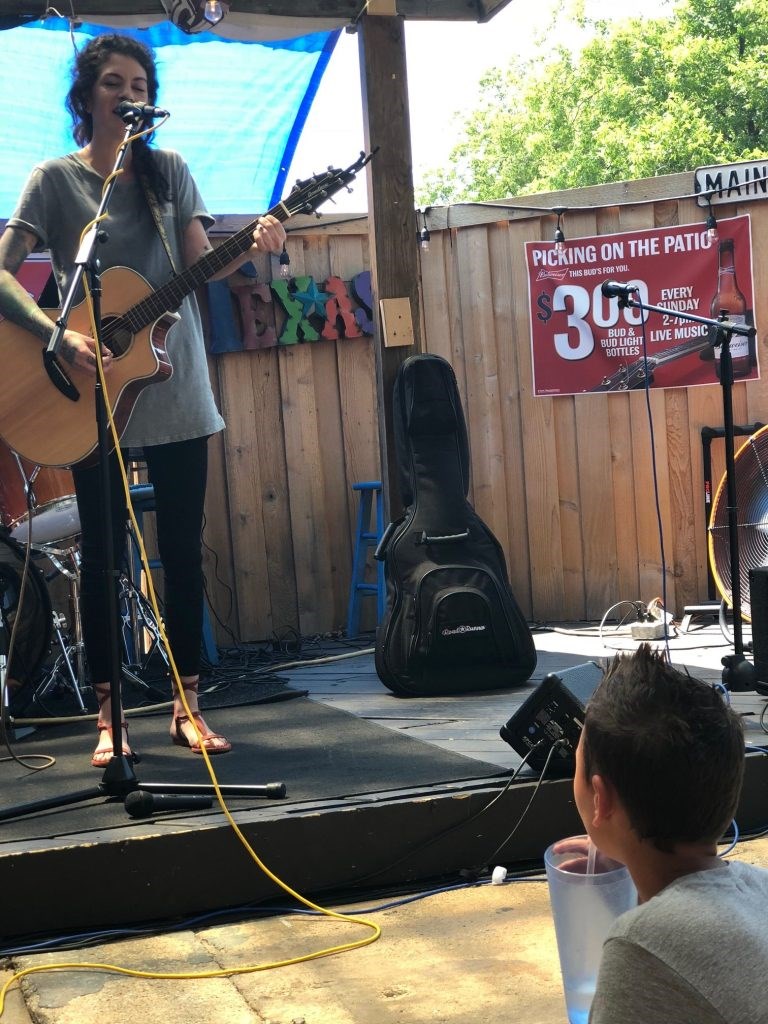 Jessica met Jake at Market Street, Frisco, when he came into her work with his moms. She said that she knew he was special by the big smile on his face. She talked to Kimber and found out about Jake's Heart. "That's when it all started," she said. "And now it feels like we (Jake and I) are best friends."
When I asked each of these individuals what they feel Jake has taught them, here were the responses:
Jessica: "It's hard to put into words. I guess just, the simple joys of things. You meet someone like Jake, who's only eight years old, and he's got this thing going, you know? Just this passion and this determination. It lights a fire in me."
Clint: "He's not afraid to talk to anybody. I just love that."
Richard: "It's never too young to have a vision."
Kimber: "Unconditional love. As you get older, you're set in your ways, and you have these ways that fit you, but there's always a different way, and Jake brings that to my wife and I. It's really interesting because it's all about love with him. There's not hatred, there's not discrimination."
Read more: McKinney affordable housing project advances

The Jake's Heart Music Festival is going to be an annual event from now on. Starting next year, Kimber hopes to work with Mayor Cheney from Frisco and the owners of the Star, the Dallas Cowboys World Headquarters to expand the event. They plan for the festival to run for two days in the future to accommodate the demand. "Our community's embracing us, and we want to embrace them," Kimber told me.
I was sitting outside in the shade of some oak trees outside Stan's, calmed by the music and the atmosphere, which was practically swelling with love, when I noticed one of the heart-shaped balloons decorating the area floating up and away. Call me cheesy, but I thought this was incredibly symbolic of Jake and his big heart spreading love and hope wherever he goes.
Jake's Heart Annual Music Festival 2018
Jake's Heart: https://jakesheart.com
Texas Bluetones: http://thetexasbluetones.com
Jessica Grai: https://www.jgrai.com
Stan's Main Street: http://stansfrisco.com