[media-credit name="Plano Mayor Harry LaRosiliere" align="aligncenter" width="1000″]
Nancy Lieberman Charities has teamed with the Ira Kravitz Family to donate to Plano, TX a brand new Kids & Cops Dream Court. The new Dream Court will be located at 3380 Sherwood Dr.
"I'm excited to have another Dream Court in the Plano Community. I have lived here for almost 10 years and the children are so vital to our growth. We're proud to be able to give them a safe play space. I want to thank my friend Ira Kravitz for believing in our dream to unite communities with local law enforcement with our Dream Courts," Basketball Hall of Famer, Nancy Lieberman said.
Read more: How Stronger than Espresso uniquely promotes healing after abuse
A dedication ceremony was held on Monday, June 25. Following the ribbon cutting, children participated in an open-court "shootaround" with Lieberman and members from the Plano Police Department.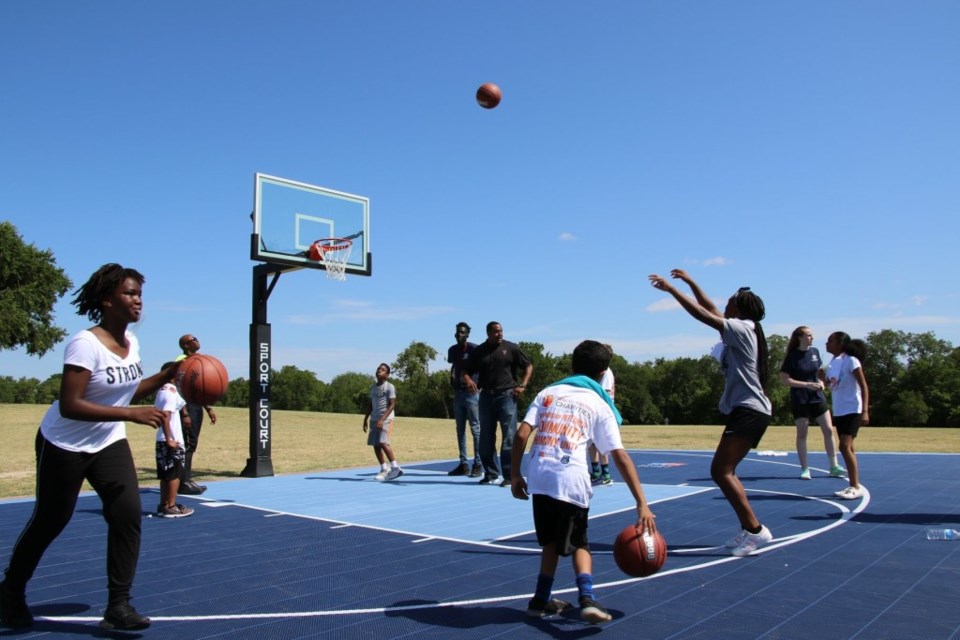 "Plano once again is fortunate to have Nancy Lieberman Charities open another Dream Court. These courts offer a kid-friendly place to exercise, have fun, and benefit from the life lessons of basketball," said Plano Police Chief Greg Rushin.

[media-credit name="Plano Mayor Harry LaRosiliere" align="aligncenter" width="1000″] [/media-credit]

The Dream Court is 45-by-75 feet with two brand new basketball goals and features a high-performance PowerGame surface from Sport Court in signature Kids & Cops in dark blue and steel blue colors. Its centerpiece is the Dream Courts logo, flanked by the brands of all four supporting organizations.

Read more: My Possibilities raised $1.5 million at annual community ball

Over two million youth play on Dream Courts in the U.S. and Sport Court has been the partner to Nancy Lieberman Charities since the first court installation in 2010. A total of 58 Dream Courts have been built to-date across the nation with each court serving approximately 100 youth per day, helping improve the lives of over 2.1 million kids a year.

For more information about Nancy Lieberman Charities, visit nancyliebermancharities.org

[/media-credit]