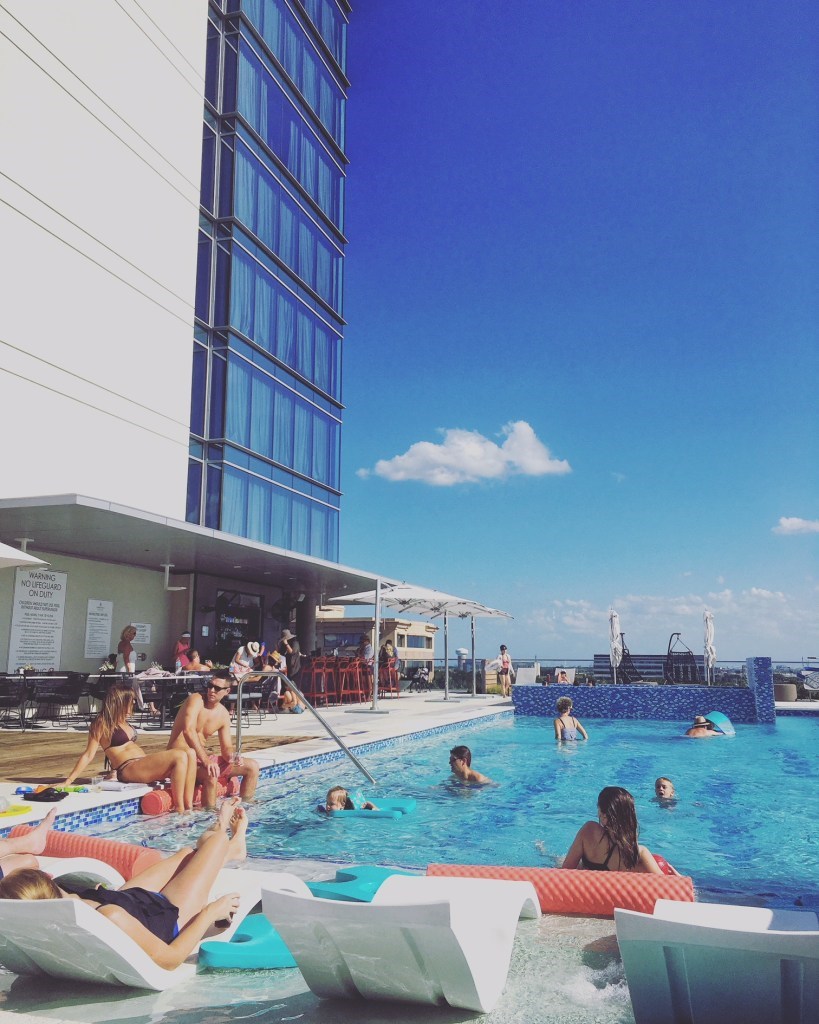 A staycation at Legacy West, Plano can be spent in one of two ways: an action-packed culinary adventure or a nothing-but-relaxation retreat. At nine months pregnant and in desperate need of a break, I choose the later.
After bidding farewell to our spirited toddler and driving a strenuous ten minutes from our home in central Plano, we arrive at our destination: the Renaissance at Plano Legacy West Hotel.
Read more: Fehmi Karahan on the American Dream and Legacy West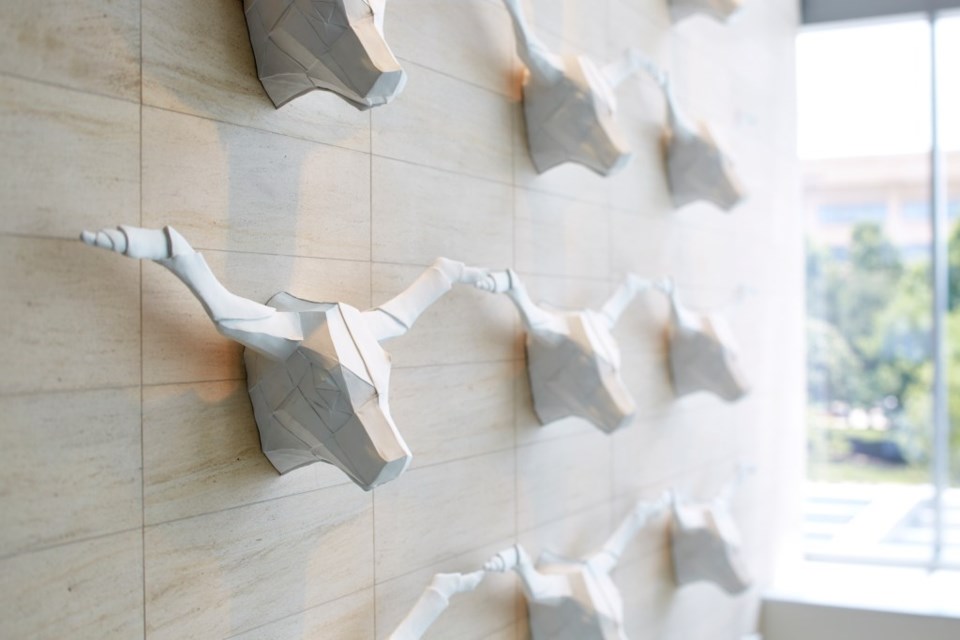 Opened in June 2017 and owned by Sam Moon, the Renaissance at Plano Legacy West Hotel is one of Collin County's top hotels: a 304-room, 15-story hotel at the southernmost tip of the $3 billion Legacy West multi-use development. Styled under the theme of West meets Zen, this unique Renaissance hotel boasts an eclectic range of artworks from a herd of 18 longhorn skulls sculpted to resemble origami to a collage of old floppy disks depicting both an Asian girl in traditional garb and a Texas cowgirl.
Read more: How Sam Moon became a real estate empire
In our room, a beautiful suite on the eastside of the building that offers a stunning view of Legacy West, a cowboy hat hangs from a hat stand and the soft white pillows welcome both a cowboy and a samarai. Sitting on the mantel below the TV is a maneki-neko, a traditional Japanese lucky charm, that resembles a waving cat.
While our room is lovely, we don't linger long. It's 5 p.m. on a Saturday afternoon and the pool beckons. Poolside, we laze in a cabana and treat ourselves to cocktails (a mock-tail for me, of course). Located on the roof of the third floor, the beautiful pool deck boasts a view west all the way to Lake Lewisville and is especially charming at sunset. At this time, the pool is bustling with activity, full of fellow-guests relaxing in the sun, sipping signature cocktails. We chat with a fellow from Missouri, a dentist who's spending a relaxing weekend before meeting his accountant on Monday. He comes at least once a year and the Renaissance at Plano Legacy West Hotel is his new hotel of choice, meanwhile Capital Grille at The Shops at Legacy is his top pick for dinner.
We laze at the pool too long and end up late for our dinner reservation. Fortunately, we don't have far to go; Bulla Gastrobar is literally right next door.
Read more: Plano Profile Pool Party at Renaissance Dallas at Plano Legacy West Hotel
Bulla is, I believe, Collin County's only Spanish restaurant. Their core menu is tapas, small plates meant for sharing. They also have an excellent offering of paella and signature sangrias, served by the glass or carafe. Philip and I order a total of seven tapas dishes: Chorizo de Cantimpalo, $6.50; Patatas Bravas, $6.50; Tortilla Española, $6; Gazpacho Andaluz, $6; Pimientos de Patron, $9; Croquetas de Jamon, $7; and Huevos Bulla, $10.50.
In a sea of deliciousness, because I love everything, my top picks, and what I will continue to order from now until eternity (or until they change the menu), is the Huevos Bulla and the Gazpacho Andaluz. Huevos Bulla, described simply as "eggs, homemade potato chips, Serrano ham, potato foam and truffle oil" is magical and not something I enjoyed sharing. Meanwhile the Gazpacho Andaluz, traditional chilled vegetable soup, is so blissfully creamy you'd swear it's full of cream, but it's not.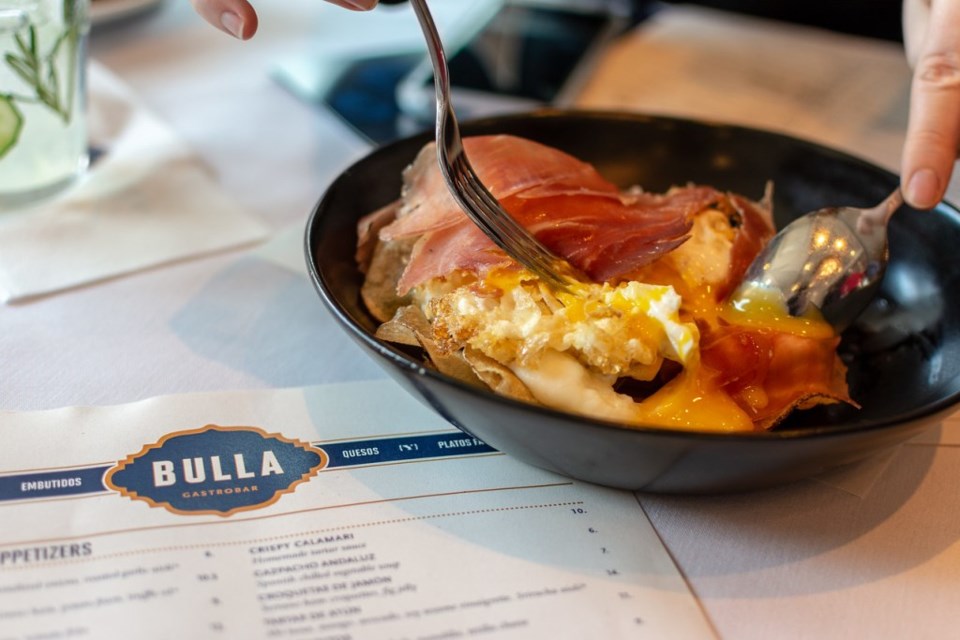 The following day, I dream of a waffle from Pressed Waffle Co. at Legacy Hall, but unwilling to walk there (remember I'm nine months pregnant) we opt for room service. We are not disappointed, the Smoked Salmon bagel is perfect and the Eggs Benedict are exactly what they should be: soft, creamy and bursting with flavor.
As we check-out and head home, we vow to return after the baby is born and experience all Legacy West has to offer: I'll shop, we'll relax by the pool and we'll have an epic night out. We'll have pre-dinner cocktails at one restaurant, Del Frisco's Double Eagle or Haywire perhaps, head to Taverna, Bulla or Toulouse for the main course and drift back to Tommy Bahama for dessert. We'll end the night at Legacy Hall for more drinks and to enjoy live music at the Box Garden. We may even sneak in a nightcap at the hotel bar, Whiskey Moon, which boasts an impressive collection of both bourbons and Japanese Whiskies. And, the next day we'll make that trek back to Legacy Hall so I can have that waffle: The American, topped with an egg, melted cheddar, bacon crumble and pure maple syrup.
Read more: 5 to 9 at Whiskey Moon
If you're in need of a break, or just want to enjoy a night out at Legacy West without having to Uber home, treat yourself to a staycation at the Renaissance at Plano Legacy West Hotel. Trust me, you need it.
The Renaissance at Plano Legacy West Hotel
6007 Legacy Dr., Plano
TX 75024
469-925-1800