If you are traveling by air for this year's Thanksgiving weekend, expect some company. On Nov. 15, 2023, Dallas Fort Worth International Airport announced it's getting ready for its busiest winter holiday season to date.
Beginning Nov. 16 until Nov. 28, DFW International Airport expects to see 2.9 million people for the Thanksgiving travel period. But the real peak will come during the winter holiday period between Dec. 14, 2023, and Jan. 2, 2024, when the airport is expecting 4.5 million customers. This means that between the two traveling periods, 7.4 million travelers will go through DFW International Airport alone, 6.4% more than the same period last year.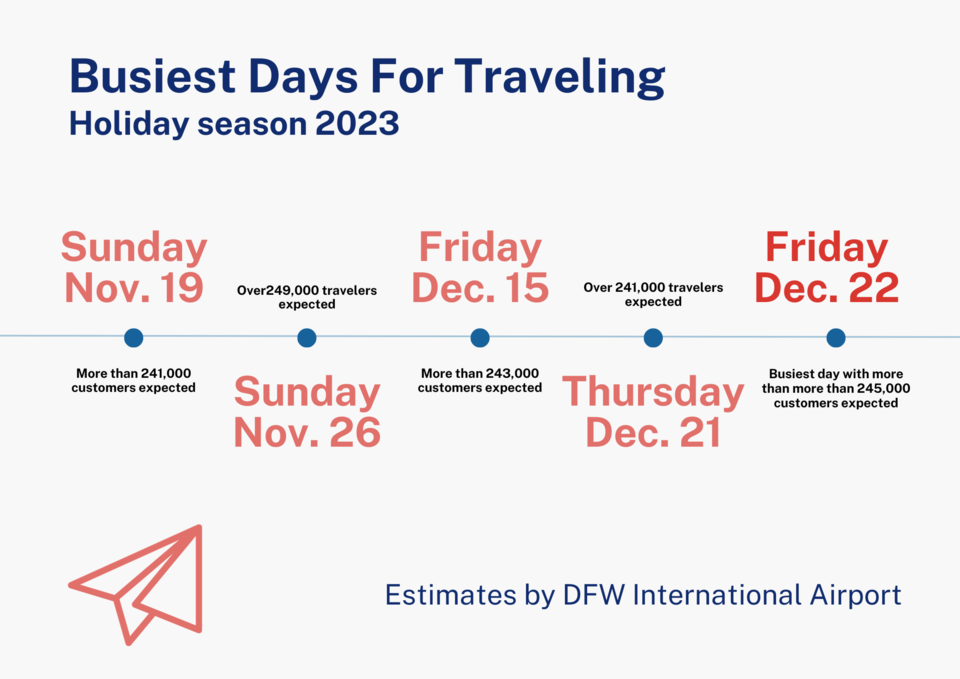 "Travelers should be prepared for the holiday rush by visiting the DFW Airport website or by downloading our mobile app before they head to the airport, planning their parking ahead of time and checking security wait times before leaving for the airport," said DFW International Airport Executive Vice President of Customer Experience and Revenue Management, Ken Buchanan.
To avoid any delays due to the increased holiday traffic, the airport advises travelers to arrive at least two hours before their flight in order to have enough time to park, check in, clear security and get to the gate on time.
But DFW airport is not the only one gearing up ahead of the winter holidays. According to CBS News, some 12 miles East, Dallas Love Field Airport staff is getting ready to receive record-breaking numbers of people traveling for Thanksgiving. The airport, which recently was ranked as the 5th worst airport for holiday travel by a study conducted by aGamble.com, warned customers of increased congestion as well as limited parking.
As reported by KRLD, airport officials expect half a million passengers will go through the airport in a span of 12 days, representing an increase of 15-20% from last year.