Ten years ago the glasses industry was in desperate need of modernization. Enter: Warby Parker.
If Warby Parker were flesh-and-blood and standing in front of you, he wouldn't be wearing cut offs and cowboy boots. He probably would not ride motorcycles or bet on boxing matches. Warby Parker would probably be a geek-chic locavore who exclusively drinks Earl Grey tea, speaks fluent binary and wears statement eyeglasses.
Warby Parker uses a simple business model. They popped up on the online scene in 2010 offering customers a new line of glasses. Warby Parker ships a variety of your favorites to your house free of charge. You try them on at your leisure in the comfort of your own living room. Warby Parker doesn't peddle other vision aids like contacts and LASIK. They do glasses, and they do them better than anyone else. Warby Parker has a reputation for exceptional customer service and a youthful outlook on what a business should be.
Glasses have been around for a long time and their fashion has certainly evolved before—if not, we'd all still be wearing monocles and pince-nez on a daily basis. But no one changed the glasses game quite like Warby Parker has in the last seven years.
Founders Neil Blumenthal and Dave Gilboa created more than an online marketplace. Warby Parker, which launched with a waiting list of 20,000 customers, is known as the Netflix of eyewear. They are fun, quirky and philanthropic. through a partnership with the nonprofit Visionspring they have donated several million pairs of glasses around the world. The brand is a textbook example of how selling style in the modern age requires more than online potential and good product. That's simply the start.
Fashion or function
So, does co-founder Neil Blumenthal consider himself to be in the fashion industry?
"Absolutely," he says. "We also consider ourselves to be within the tech startup community and social enterprise community. If you draw a Venn diagram, there'd be fashion design, tech startup and social enterprise. We'd be at the intersection of all three. We're a company that believes in beautiful and functional design, leveraging tech to create amazing customer experiences and that businesses can be good and moral." He conducts our 30-minute phone call from Warby Parker's New York headquarters, a necessity now that brick-and-mortar Warby Parker locations are popping up around the country—including Plano.
The brand launched online because as Neil says, "E-commerce enables a new brand to build a relationship with customers directly." With a direct relationship comes trust. Startups like Warby Parker are attractive to a generation of consumers in a century when big box stores like Walmart have effectively run many local mom-and-pops out of business.
Warby Parker is a moral company. They believe everyone has the right to see. Giving is a key tenent of their business. Warby Parker is also one of the only carbon-neutral eyewear brands in the world. By selling online, directly to customers, they believe they can offer more personal customer service and a more affordable price. They credit their popularity to these core business philosophies. As the website says, the founders once noted that the glasses industry was not just uncool but expensive. Warby Parker is an alternative.
Someone's personal style choices are never truly random; if you dress in all leather, you're going to get a different reaction from people than if you walk around in a period-appropriate Civil War uniform. But glasses are one of the few fashion statements you actually wear on your face. They can be a huge source of pride or shame and have a remarkable impact on a first impression.
Traditionally, however, glasses haven't been stylish. In literature bullied—but studious—outcasts wear glasses. Glasses-wearers are bookish, quiet people who have permanently strained their eyes with reading. "Four-eyes" isn't usually meant as a compliment. It's common to see people take off their glasses for pictures.
But right now, glasses are in. Sometimes people with perfectly good vision wear glasses without corrective lens, just for the sake of it. Many others own different pairs for different occasions. While Harry Potter's particular round frames go in and out of fashion, a whole generation of young readers are growing up with a bespectacled hero. It's a post-hipster and post-Harry Potter world, and glasses have reached a status of "cool" that they have never enjoyed before. Glasses are scientifically proven to trick us into thinking the wearer is smart and well-read. Supposedly job interviews go better if the applicant shows up in glasses.
But the real shift isn't in how glasses are perceived; it's how intelligence is perceived. Warby Parker has honed in on this phenomenon in every aspect of what they do, from the timeless frames, to the nonprofit angle, to the stores themselves.
Neil explains: "I think we're at a moment culturally where it's finally cool to be smart and to care, and that's what Warby Parker represents. Being a nerd has different connotations today than it did a couple of generation ago and hopefully it's here to stay."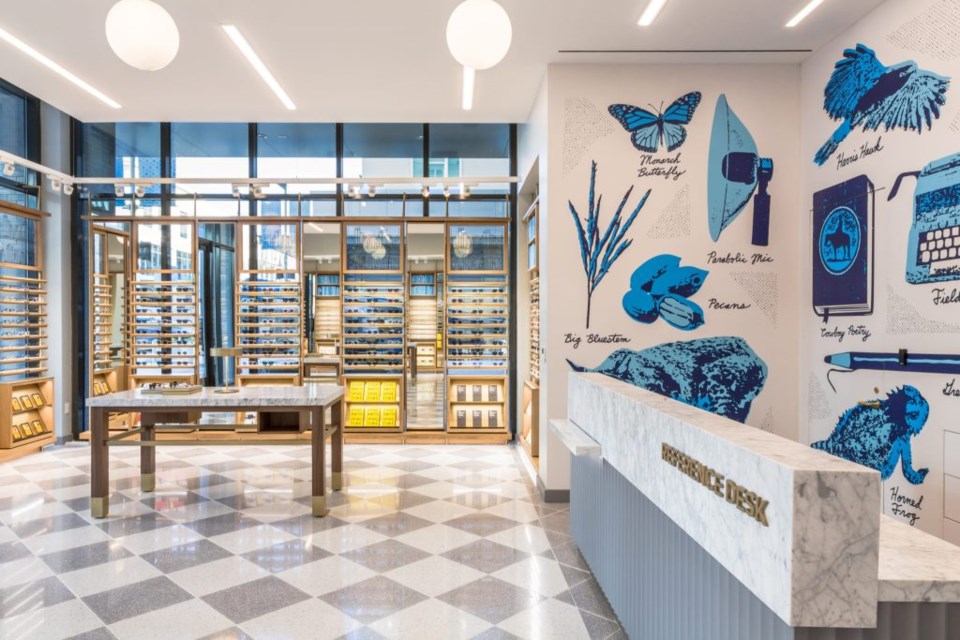 While most people were still buying glasses from their local Walmart, Warby Parker supplied a new market of glasses wearers with exactly what they needed: a stylish alternative with a personal touch. Warby Parker glasses stay above trends with classic frames that age well, feel comfortable and look good. People like wearing them. For example, one of my good friends, who owns a handful of Warby Parkers, bought a specific pair of royal purple Parkers to wear on her wedding day. If people love their glasses that much, Warby Parker is not just about utility.
Bare bones, Warby Parker's design philosophy is "don't design anything you'd be embarrassed by a decade later."
Neil goes on, "Our overarching principles are centered around fun, creativity and doing good. Those are timeless." They spend their time on chasing the elusive idea of a superior product. They draw inspiration from everything; glaciers and grandma's old reading glasses are both likely to come up on the Warby Parker vision board.
Screen or Store
Warby Parker may have launched online, but over the years customers have wanted to get closer to the brand. "People like to try them on," Neil explains. In the early days the home try-on feature was so popular that they ran out of inventory. People started calling them to ask if they could stop by the office to try on their favorite pairs.
"We were actually working out of an apartment," he recalls. "We told them they were welcome to stop by. The first store was in the living room, and the first cash register was my co-founder Dave's laptop."
The early days sent a clear message: the website was a great start, but demand for brick-and-mortar stores lingers. They opened a New York headquarters and famously built a pop-up store in a repurposed school bus that toured 15 different cities. Now, ovWarby Parker has opened over 50 stores. The newest, of course, is at Legacy West. While the stores are united under the brand, the local touches of each iteration are unique.
The Plano location features a hazy blue mural by Texas-based artist, Bryan Keplesky. His work captures the flora and fauna of the region. The sleek showroom is outfitted with Terrazzo flooring and polished oak shelves meant to resemble bookshelves. That's a fitting touch since two Jack Kerouac characters–Warby Pepper and Zagg Parker–inspired the name Warby Parker.
As vision gets more fashionable it's also getting more accessible. Customers easily test their own vision and order updated prescriptions on the Warby Parker app. The app on your phone pairs with a laptop or iPad, can measure how far away you are standing and provides vision tests using your phone as a remote. It sends results to your eye doctor who issues you a prescription.
"It's all about leveraging tech to make lives easier," Neil says. Spectacles are enjoying an upswing. Warby Parker has effectively hacked into our psychology by building a brand that we recognize—and like—on sight. All effective brands work this kind of magic. But no one had bothered to seize the day with glasses until Warby Parker. It's no longer a world of four-eyes and dorks. Glasses are smart. They're chic. They're cool. It's a world of Warby Parker.