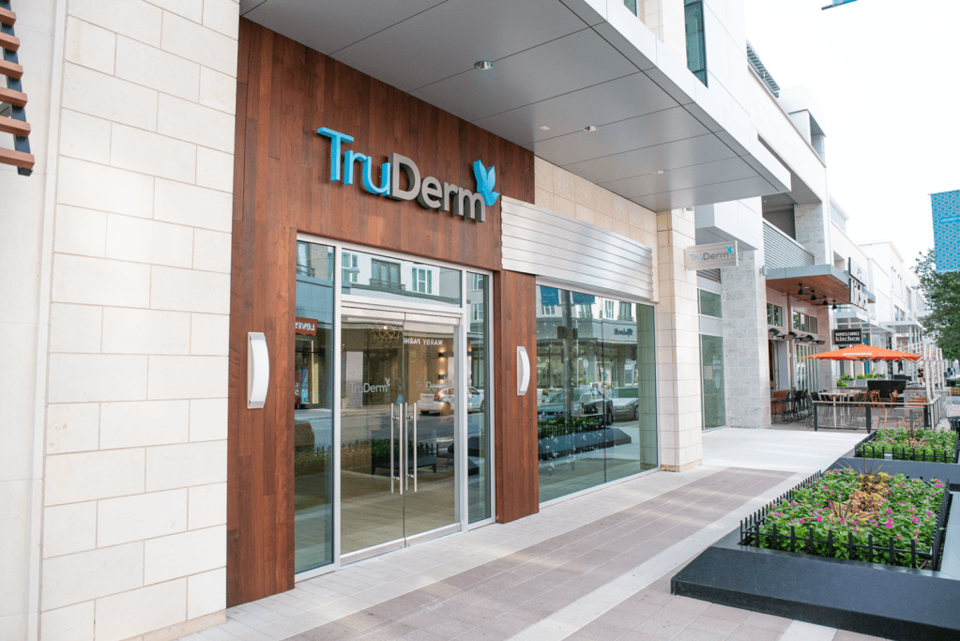 TruDerm, a growing medical and cosmetic dermatology practice offering skin care seven days a week, has just opened its second DFW facility in Plano, Texas at Legacy West. Located at 7700 Windrose Avenue in Suite G175, the new, 4,400-square- foot, retail-forward dermatology practice will offer medical and cosmetic procedures for patients of all ages.
On Thursday, July 19th, the company celebrated its Grand Opening with a fête of memorable proportions. Guests mingled in TruDerm's lobby: a clean, sophisticated space decorated with ambient lighting and aqua accents. While we chatted amongst each other, waiters from Toulouse Café and Tommy Bahamas came around with delectable appetizers.
For those who prefer savory dishes, Tommy Bahamas served macadamia crusted goat cheese, ahi poke crisps, and shrimp cocktails. Toulouse served chive and tarragon deviled eggs and mini quiches. Those with more of a sweet tooth could enjoy the mini malted chocolate pies and key lime tarts (Tommy Bahamas), or the chocolate truffles (Toulouse).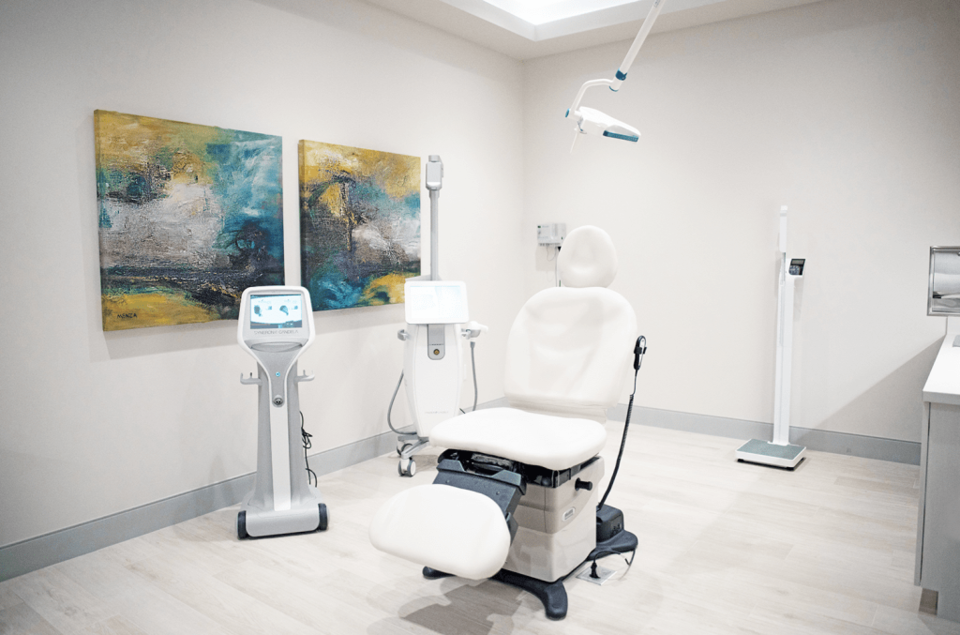 The event wasn't just for mingling and food. TruDerm also gave their guests a look inside their facilities with demos. In one room, a patient laid down on the treatment chair for a TruShape Body Contouring demo. As explained by the friendly TruDerm employee performing the procedure, TruShape is a nonsurgical method of fat and cellulite reduction that relies on ultrasound technology. As we watched, TruDerm's laser specialist ran the handpiece over the patient's abdomen. Simple and painless. In another room, guests could watch another patient get botox. Again, the patient only looked calm, and the employee was happy to answer any questions.
Read more: First look at Toulouse Café and Bar at Legacy West, Plano
Throughout the event, guests entered their names for an array of TruDerm raffle items. At the end of a night of good food and mingling in good company, everyone eagerly awaited the results of the drawing. However, even those of us that didn't win got to leave with a goody bag featuring two TruDerm travel-size goodies and a package of Sugar Lips gummies from Sugarfina, not to mention a network of new friends and connections.
TruDerm at Legacy West
TruDerm's focus on quality and convenience makes it a unique concept in dermatology care. The company is staffed by Board Certified Dermatologist, Dr. Max Adler, and a team of seasoned skin care professionals. They are conveniently open seven days a week and allow scheduled appointments and walk-ins to ensure optimal convenience for their patients. Additionally, TruDerm offers a full suite of medical and cosmetic dermatology services in a state of the art, spa-like atmosphere. The new Legacy West location hosts a Patient Concierge to provide the highest level of service with patient inquiries.
"You truly get the best of all worlds at TruDerm," says Dr. Max Adler. "With both medical and cosmetic dermatology professionals on site, our patients can have the reassurance of both perspectives for the best possible care."
"We couldn't be more excited about TruDerm's rapid growth and opening in one of the most coveted retail destinations with our flagship facility at Legacy West," said David Pyle, CEO of TruDerm. "We remain committed to delivering best-in-class dermatology care with convenient service and locations for today's consumers."
TruDerm opened its first location at Watters Creek in Allen, Texas in February 2018. Services at both locations include treatment of medical skin conditions, cosmetic injectables, nonsurgical body shaping, laser treatments, facials, and leading procedures for skin rejuvenation. For more information on the services and products available at TruDerm, or to schedule a complimentary consultation, call 972-635-3400 or visit .
Read more: The power of red lipstick
TruDerm Grand Opening