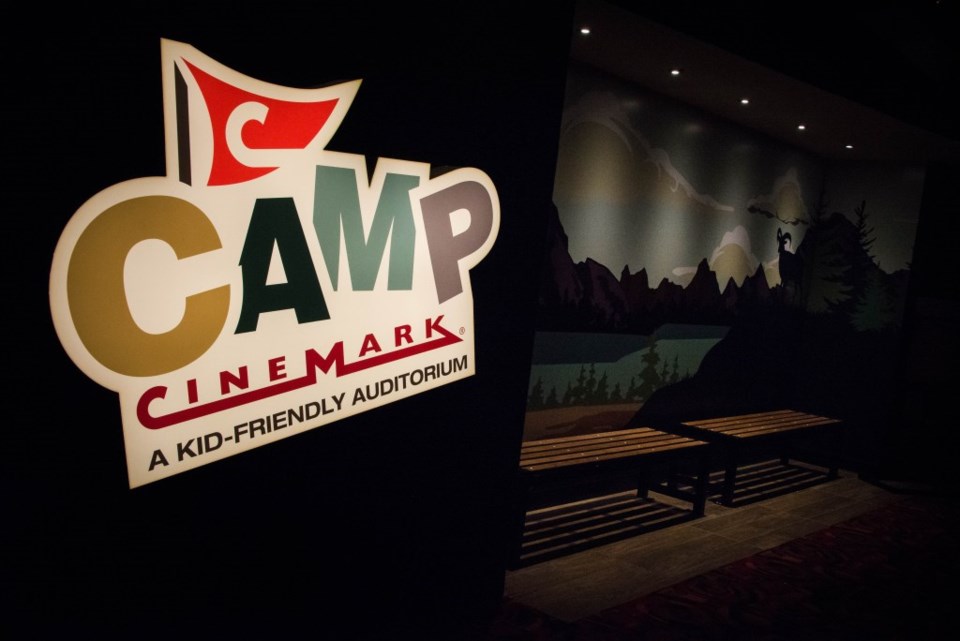 Last week, Cinemark, headquartered in Plano, celebrated the opening of their latest innovation—a kid-friendly auditorium!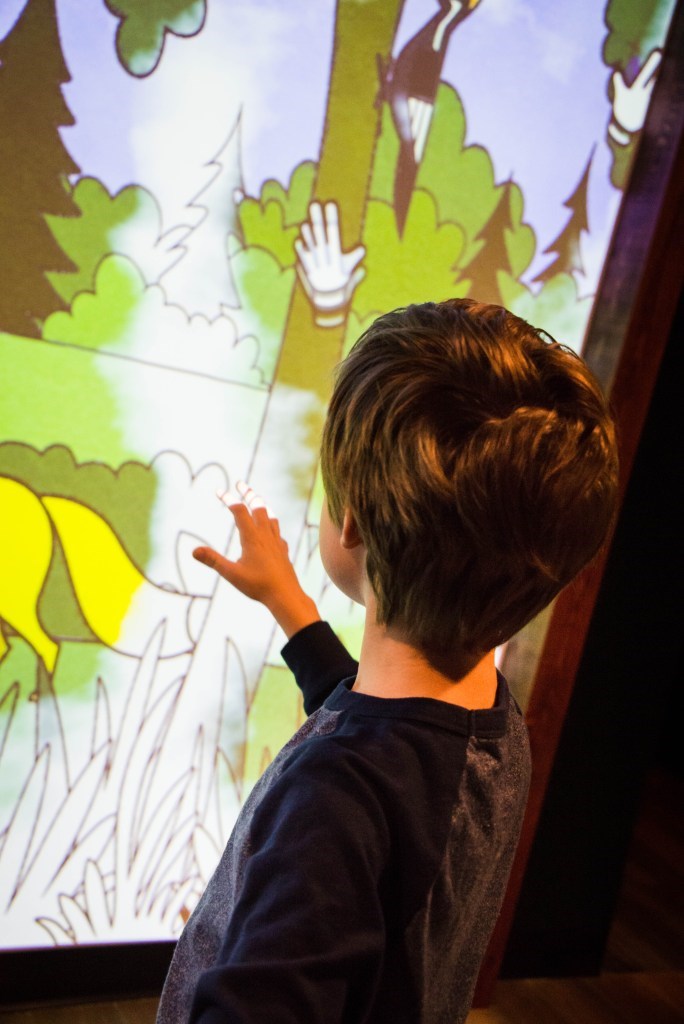 Lions, tigers and bears, oh my! Camp Cinemark at Cinemark Allen 16 is designed especially for kids and boasts an interactive coloring wall, bean bags and a range of fun, multi-colored seating options.
The fun begins even before you and your little campers sit down—outside of the main auditorium is a coloring zone. One entire wall is an interactive coloring wall, which little ones color literally with the wave of a hand, meanwhile there are also traditional coloring tables and lots of paper and crayons. In one corner, a hidden nook reveals a bear cave which your little monsters will love climbing in and out of, probably repeatedly.
The coloring zone area is designed for pre-show entertainment, a place for little ones to burn off energy before they sit down and watch the movie. But, it can also be used during the show. "It's great for kids that don't have the attention span for a full movie," Bryan Jeffries, VP of Marketing & Promotions for Cinemark, explains.
Inside the auditorium is equally exciting. Overhead, strings of bulbs twinkle like stars in the night sky, partitions are fashioned out of rope and giant pine trees tower down from either side. Meanwhile the seating, in bright orange, yellow, green and blue, range from extra-long loungers to squishy armchair-style seats and at the very back are some more traditional seats—aimed at the adults. In the very front, five giant bean bags are just waiting to be pounced on.

How does Camp Cinemark work?
Camp Cinemark functions essentially the same as any other movie auditorium, however there are a few things you need to know.
Adults must be accompanied by kids. No kids, no entry. Sorry! [Note: This rule only applies up to 9 p.m. after which adults are allowed into Camp Cinemark unaccompanied.]
Seating is open. Unlike other Cinemark auditoriums, seats in Camp Cinemark cannot be reserved. Campers and their parents simply choose their seats when they arrive.
Tickets for Camp Cinemark are the same price as all other Cinemark auditorium options.
Camp Cinemark is not a playground. "It's a new unique way for kids to watch movies, but we still want them to watch the movies," Bryan Jeffries, VP of Marketing & Promotions for Cinemark, says.
There are Camp Rules (see below).
Camp Cinemark would be great for a kids party, school trip or special event. Party packages are available and the entire auditorium is available for rent too. Email

[email protected]

for birthday party, special event or other rental details.
If you'd like to experience Camp Cinemark it's currently only available at Cinemark Allen 16 located at 921 SH 121, Allen. This week, Disney/Pixar's Coco is showing four times daily. Just make sure you choose the option "Camp Cinemark" when booking.
Photography by Stephanie Tann.
The following rules were provided by Cinemark.
Camp Rules:
Adults must accompany their little campers! And yes, that's right, all Adults must have a little camper with them to enter Camp Cinemark before 9:00pm daily!
Take care of yourself, all little campers with you, and your Camp gear, because Cinemark is not responsible for any incidents, injuries, damages, or lost items due to camper's negligence or non-compliance.
No running, horseplay, wandering around, jumping, standing on seats, or other monkey business while the movie is playing at Camp Cinemark! All campers need to stay on the straight and narrow!
Enjoy your time at Camp by placing your cell phones on silent or into CineMode when the movie begins! By purchasing a ticket to this auditorium, all campers have accepted and agree to follow all the Camp Cinemark rules.