Collin County restaurateurs Derek and Sheree Simms compare themselves to other power couples like HGTV's Chip and Joanna Gaines, saying they bring the same confidence and creativity to the hospitality industry.
The duo has already made a name for themselves in North Texas with the success of their Frisco restaurant J. Theodore, formerly known as Bonnie Ruth's Neighborhood Bistro, and the speakeasy Rare Books Bar that can be found inside, hidden behind a door disguised as a phone booth.
J. Theodore in Frisco. All photographs courtesy of Derek and Sheree Simms
Their newest, recently opened project follows the same business model of having two separate concepts in one place. Located at The Star in Frisco, Monarch Stag will be an upscale bar featuring a variety of exclusive scotches and a cigar lounge. Sheree describes the lounge as dimly lit with lots of leather and serious "Mad Men vibes." With a special filtration system, it won't be overly smoky and maintains an intimate atmosphere with just enough space for about 15 guests.
Monarch Stag's accompanying restaurant, The Glen, will feature a menu of standout seafood items like caviar, ceviche, tuna tartare, salmon carpaccio, oysters, prawn tacos and more.
"It's kind of a mixed bag of seafood that is really trendy and really fun," Derek says.
The eccentric menu is not the only thing that makes the new Frisco spot one of a kind. It will also have exciting entertainment such as aerial dancers, salsa nights, burlesque shows and "living artwork." Its interior will boast lush trees and ample florals
The couple also plan to host a Sunday night supper club in the soon-to-open space, where chefs will experiment with new dishes and offer a fixed menu at a single price, all while a rotating list of musicians, comedians and DJs entertains guests. Like the six nights a week of live music at Rare Books Bar, the excitement won't stop here either.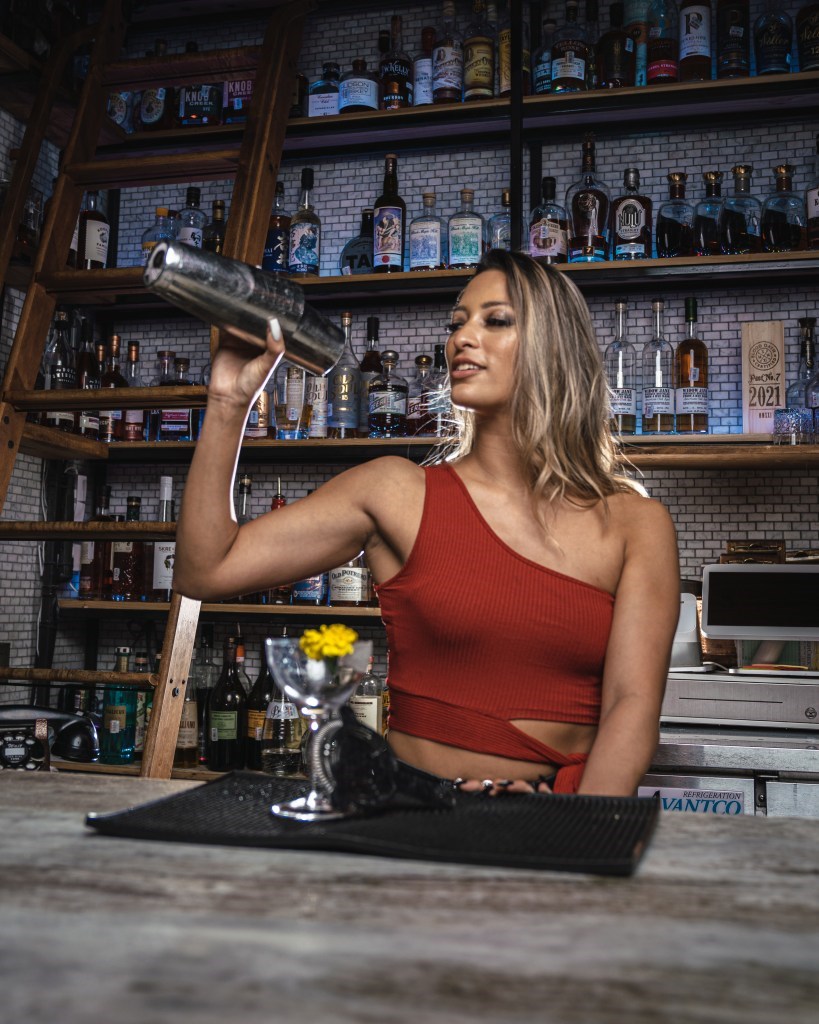 Rare Books Bar
"It will kind of be like this huge dinner party of people you don't know, that hopefully you will know by the end of the night," Sheree says.
The design elements for the Simms' restaurants are often inspired by the couple's teenage daughter.
"I'm not a huge social media person, but I obviously know that is what drives the market now," she says. "A lot of the inspiration I get from her, because she is cool. She is edgy."
Moreover, the spaces the Simms create are inevitably influenced by Southern California culture. Both were born and raised in Los Angeles, but the high cost of living prompted their move to the Lone Star State in 2013.
"The opportunities here in Frisco are bar none," Derek says, reflecting on how high taxes make it hard for entrepreneurs to turn a profit in California. "I think there's tons of people that have made their fortune and wealth here in Frisco and Plano and McKinney. But I think it's Texas and these cities that paved the way for that; otherwise it's not possible."
When they arrived in Texas, Derek thought the dining options felt a bit dated. While they love a classic steakhouse, he said the local joints just did not have the entertainment atmosphere that they were used to in California. Before they entered the restaurant industry, the couple, married 13 years now, often hosted elaborate holiday soirees for more than 150 guests.
"When we welcome people into our restaurants, we almost want them to feel like they are coming into a party," Sheree says.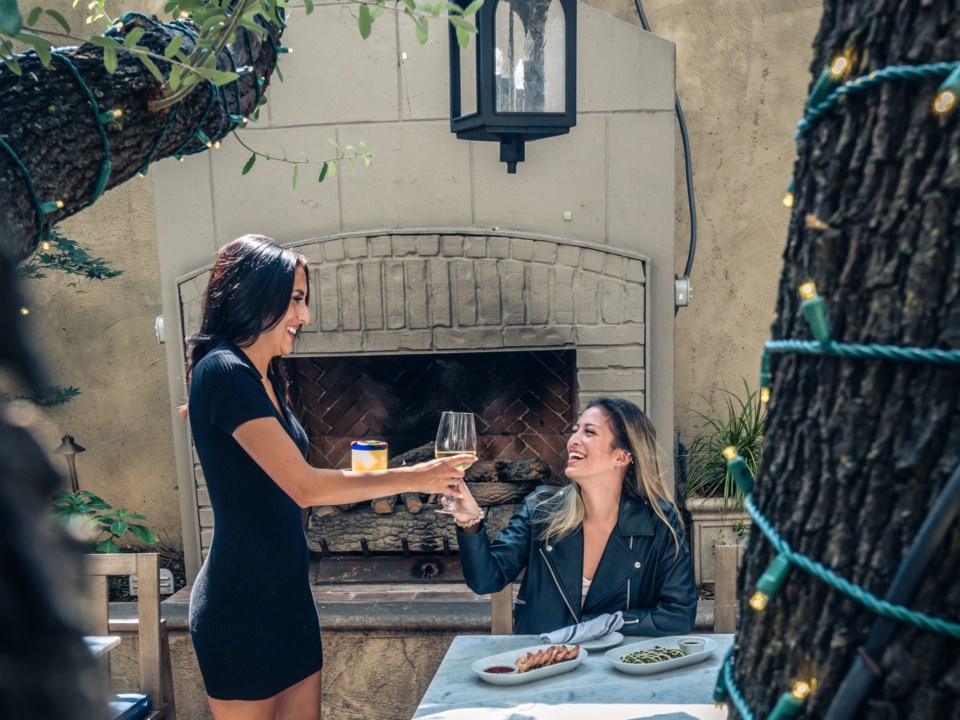 When the two are not captivating guests in their own establishments, they are out looking for dining experiences to enjoy themselves. Some of the local places they frequent include Town Hearth in Dallas' design district and Hard Eight BBQ.
"It is kind of our thing," Derek says. "My wife and I, our fun is going out and experiencing restaurants. She likes restaurants that have a social media following and that is her barometer for whether it is going to be good or not."
But from previous experiences, Sheree knows a lot of restaurants do not live up to the hype that surrounds them online, and she wants The Glen and Monarch Stag to be different.
"That is something that Derek and I strive for in this new restaurant that we are doing," she says. "It has got so much hype and it has got so much leg that I just want to deliver."
The couple considers themselves a single unit, but each brings specific skills to the table. Sheree plays a huge role in choosing and designing the spaces. With a background in real estate, she spent years helping people move to Texas when Toyota created more jobs in the metroplex.
Derek's decades of experience in technology have allowed the team to handle a large part of the business in-house. His work is primarily done behind the scenes, planning menus and creating the company websites.
The success of his tech company, iVision, which he recently sold, speaks to how digital and forward-thinking the Simms' businesses are. In fact, Derek invented a system of commercial text messaging that changed the way businesses can interact with customers. At iVision Mobile, a multibillion-dollar empire, he wrote the software that now allows companies to send automated text messages for things such as two-factor authentication. The company's clients have ranged from NBA teams to global brands including
KFC and Coca-Cola.
But the family does not measure success in dollars alone. Sheree says when her employees do well and grow, she sees it as an accomplishment within itself. The Simms currently have about 100 employees and are about to hire 100 more. She also adds that community perception is equally important.
"We do like to support the community quite a bit with donations to bands and all these other things," she says. "We are blessed to be in such a great city that really does still go out and enjoys life and supports one another. Frisco really does support small businesses like I have never seen."
Of course, smart investments have greatly contributed to the Simms' success. Their first business endeavor in the restaurant world was the quick purchase of Eight 11 Place, a wine bar in downtown Frisco. The couple bought it on a whim after being offered a unbeatable purchase price and it went on to grow from four to 59 employees. In addition, they saw gross sales go from $234,000 to nearly $2.9 million a year before they sold the business.
However, it has not always been smooth sailing for the Simms, and stories of failures and hardships have kept them humble. Sheree recalls one of the hardest days on the job — the opening night at Bonnie Ruth's Neighborhood Bistro. The restaurant was full and one of the servers spilled an entire tray of champagne on a customer.
"I just wanted to cry and crawl under the table," she said. "It was so embarrassing on so many levels that I often think back to that day and I think we have grown so much."
Despite growing pains and the stress of keeping their businesses alive through the pandemic, the Simms continue to find joy in what they do and reflect on the good days.
"About two months ago, Sheree and I looked at what we created with J. Theodore and what we are creating at The Star and really realized that we have a gift. We get to live for work, and we love that."