My friend Jim Dunlap died in April. The former Plano Independent School District science teacher had many friends in Plano, many who loved him and many who learned from him.
Hundreds of family members, colleagues and former students turned out for a memorial service April 25 on the campus of Plano Senior High School where Dunlap began his career in education in 1976.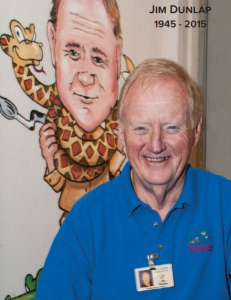 Jim and I first met when I was the managing editor of the then Plano Daily Star Courier. He was a man of many talents and interests, and one of them was writing. He wrote a column for us and, as in the books he wrote, it was all about animals. He was such a strong advocate I started calling him the old professor. He never said, but I think he liked that. Jim was just beginning to build a collection of reptiles, insects and
other animals to use in his classroom. It would eventually spark the idea for the Holifield Science Learning Center.
He wrote many feature pieces for this magazine, and Jim and I had many adventures together. From the very angry bobcat we went out to pick up in Parker, to the caiman crocodile that got loose in my photo studio, and the story on identifying snakes that got a little out of control, Jim was always all about protecting the animals and educating people.
It is said, and I believe it, that more than 100,000 PISD elementary students' lives were touched by Dunlap. His school visits were always a treat. Jim would load up his van with all manor of wild creatures, but always the favorite of the kids was Katy, a beautiful and much loved by Jim, Burmese python.
With Katy stretched out on a table, the students would line up to walk past and touch the giant reptile and truly learn the meaning of cold blooded animal.
In his 34-year career teaching Jim received many awards and recognitions, but one he was very proud of was being named the Humane Educator of the Year by the Texas Animal Control Association not once, but twice in 1993 and 2008. He was a true animal rights advocate who was surrounded by other like-minded volunteers and colleagues like longtime friend and associate Tammy Welch who spoke at the memorial and, like Jim, would always go the extra mile, sometimes literally, to ensure an injured or lost animal was returned to a place of safety.
Anyone reading this who knew Jim I'm sure would agree, he was a man of good humor, always with a smile, a jokester. At the memorial service both his old bosses, former PSHS principals Sherman Millander and Dr. Doyle Dean, recalled his "corny jokes" and I would have to agree. Many were corny and a little dumb, but you just couldn't help yourself, you had to laugh. A particular favorite of Jim's and one he played on me one afternoon after a photo session in the Jim Dunlap Living Materials Center went like this. After a visitor was ready to leave and Jim was walking out with them, he would say, "Did I give you my card?" and hold out a white business-size card. Printed on one side in capital letters was MY CARD and nothing else. That was Jim. Rest in peace, professor.