Minnie's Food Pantry, founded right in the heart of Plano by Cheryl "Action" Jackson, has distributed more than seven million meals in 10 years to our community. But Minnie's gives so much more than food. The pantry is nationally lauded for the way the staff and volunteers uplift everyone who walks in the door, providing for them not just in terms of quantity, but quality as well. Their policy is: "Treat people how you wanted to be treated when you were hungry."
"Hunger has no zip code. It can happen to anyone at any moment." -Cheryl "Action" Jackson
Or, as Oprah Winfrey put it on a recent trip to Plano for Minnie's annual Feed Just One Gala, "Nobody should be humiliated because they're hungry." Meet some of the many people who rely on Minnie's to make ends meet.
Dawn Clark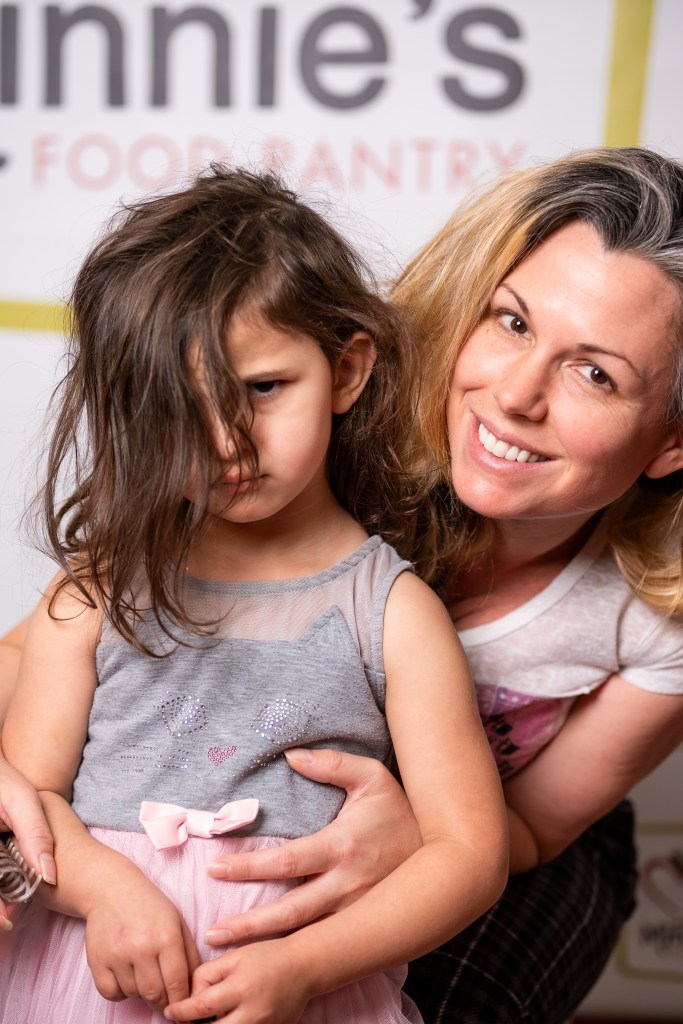 I've been in Plano for three years. I'm a single mom with four kids, so Minnie's helps a lot. I stayed at Hope's Door New Beginning Center's domestic violence shelter back in 2015, then we were in their transition program. Now we're on Section 8. Food stamps only give you $500 a month for five people. Well, one of those people is a teenage boy and he can eat a whole rack of ribs himself, so that's just not enough. When we run out, we have to get food from other sources.
I can't really work right now because my baby is three weeks old. So I dog walk through apps on my phone which is more flexible than a traditional eight to 10 hour work day. I just can't do that when I have four kids. My parents passed away, and I have no brothers or sisters. It's literally just me and the kids. I only come to Minnie's if I run out and it helps me make ends meet.
We go through a lot of food. If I want to go to Wendy's, that's a $30 drop just like that. My teenager will eat 3 cheeseburgers. If I want to get something to drink for myself, I can't with all these kids. People tell me to take care of myself before my kids and I'm like, uh that's not an option for me. I put shoes on four other people before I put shoes on myself.
Peggy Broughton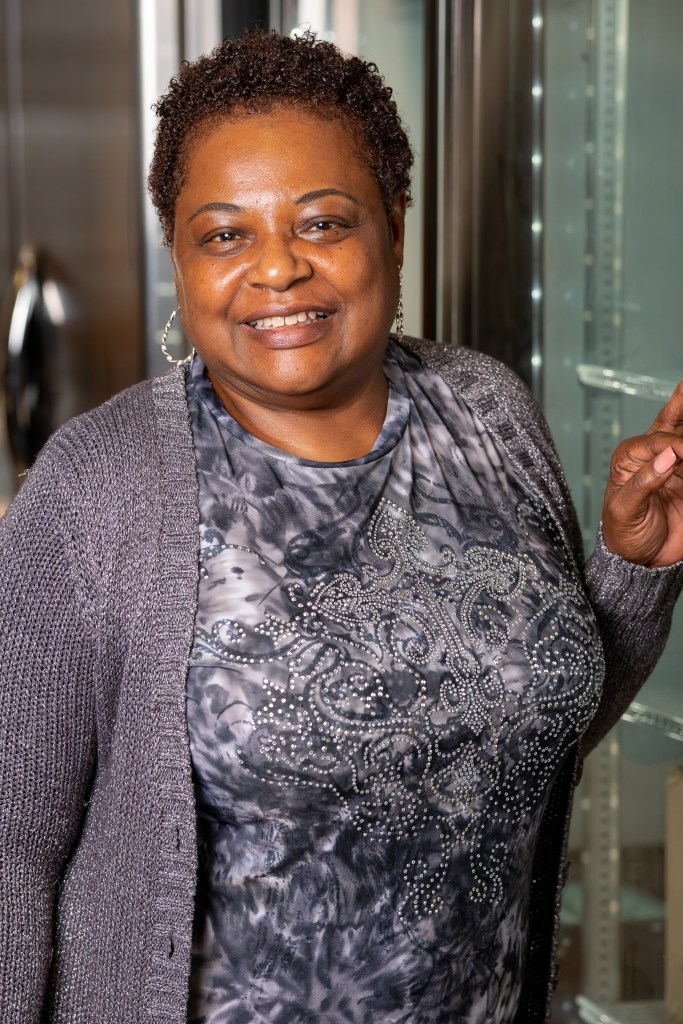 I'm 65, my husband is 75 and both of us are sickly but I don't like to claim the sickness too often. I think I'm a young 65.
I've had two breast cancer surgeries and two spine fusions. I'm not supposed to be able to walk but God gave me grace. In the meantime, I've taken care of my four grandkids from birth to age seven, when I gave them back to their mothers. I put them in football, kept them busy, kept them out of trouble and it went very well. Just lately, CPS is back in their life again. They were living in a bad situation with their mom, so as of Friday I'm back with my grandkids again. They are 12, 11, eight and six. I love those kids. I'll raise them forever if I have to.
I actually live in Dallas but I make the effort to come up here to Minnie's because it's hard for me to feed all those kids. When you go to the pantries in Dallas you may come back with a big bag of something but mostly it's canned goods, not real food like you can get here.
I've been around a lot of corners and down a lot of streets, in the valley and all of that. I had my first daughter at age 15. My grandmother raised me and my daughter so I could finish school. I am so grateful for my life right now. I know who I am. I didn't used to know who I was, but today, I know who I am and it helps me be a better grandma. I'm blessed, I really am.
Alherod Newhouse Jr. & Ken Adams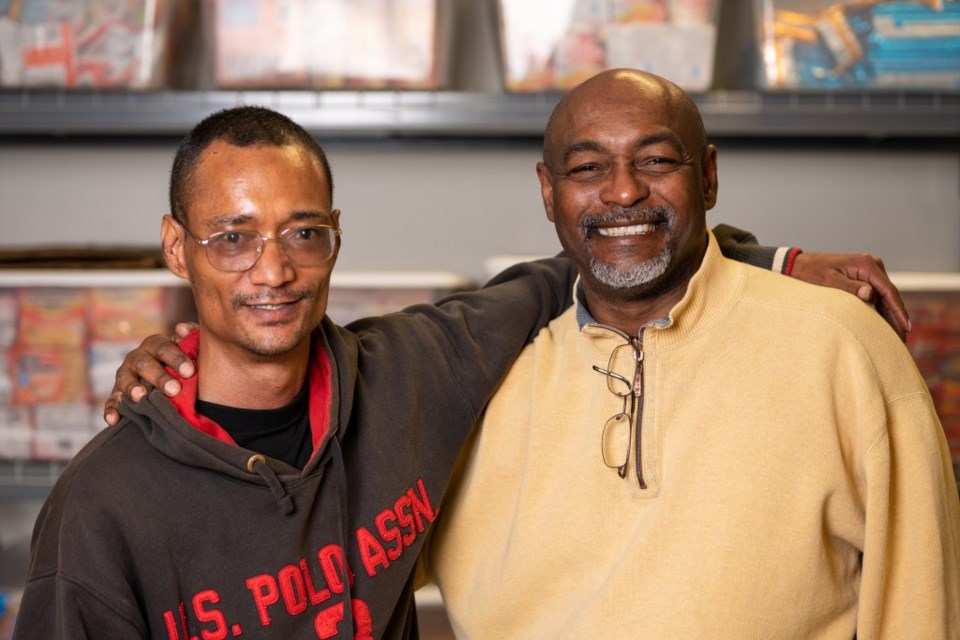 Alherod: We both live in McKinney, uncle and nephew, and I've been coming to Minnie's for two years. It's Ken's second visit. I need food for the house. Not just me but what if my grandkids come over and I don't have anything to eat? Especially Sundays; I like to cook a big Sunday meal. Minnie's helps fill in that spot for me.
I worked for UPS for 27 years, but I got hurt and they retired me. I lost my house and a lot of other stuff because I had no income for seven years. I had to wait until I got old enough to start getting social security. Everything changed for me. If you have nothing, people treat you like nothing. I'd see people at church, people I worked with and they'd act like they couldn't even speak to me. You find out people you thought you could depend on, really aren't your friends.
Shopping for Louis Vuittons inside the Minnie's Resale Boutique
Ken: I'm on social security for mental issues, and I get food stamps but even that isn't enough. All my money goes to my bills. The bit I do get doesn't last a full month. I'm not where I want to be but I'm sure not where I used to be. I'm a lot better off. I have a cousin and now she's hungry and sick. I know what that's like. She's too far away to come to me, so sometimes I buy some food with my food stamps to take to her. There's such good food here and great portions too. They make sure you get full and stay full for a while. And the thrift store they have down there—I can pick up paper towels, toilet paper, toothpaste, razors—that's just as helpful as food.
A: I like that little thrift store they got down there. You can't beat that for the little stuff you need. I got some paper towels months ago that I'm still using, and it's all in my budget. God has been good to us. I live by these words: This too shall pass. Whatever you go through now, it'll pass. At Minnie's they don't care where you live or who you are. You can come and get food.
Sonia Sanchez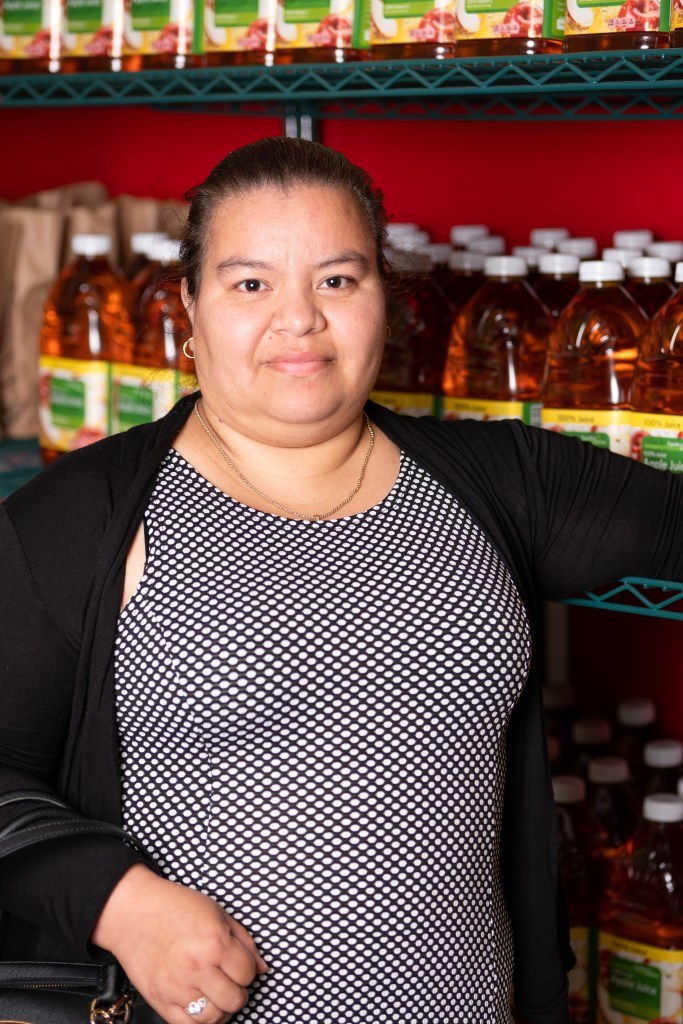 I'm originally from Guatemala, but I have been in the U.S. for 34 years, so I speak a little bit of English. My language is Spanish. I have four children. Three are in band and my youngest son is a Boy Scout. One plays tuba, the next does trombone, and my daughter plays trumpet. It gets busy, busy, busy. I have been here a long time, I have lived 16 years in Plano. My kids grew up here. It's my home, my life, my kids' lives.
Teenagers eat all the time, cookies and meat and everything, all day. I've been coming to Minnie's once a month for four years because we don't have enough money for food. It's so expensive now in the stores. I have maybe $100 each week. That's nothing. We're very happy here though. We feel welcomed at Minnie's every time. We get meat, cookies, water, soda, Gatorade. The people are amazing. They help me so much, they are always at the door, smiling, saying good morning.
Robin Morales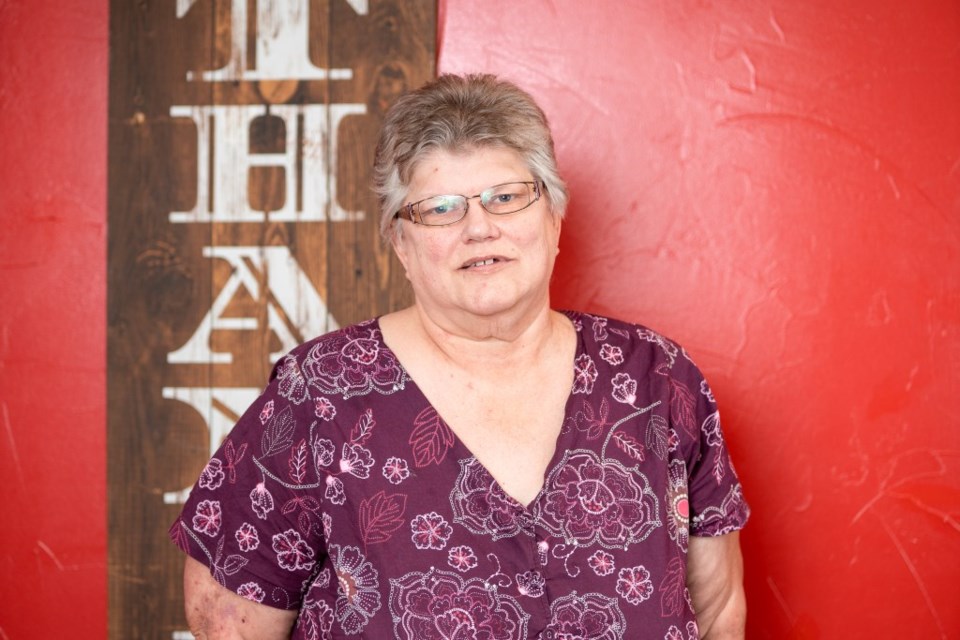 I've been here in Plano for three or four years now. I like it up here, I really do. We live in the center of Plano not a mile away from my daughter, where it doesn't feel like a big city. I was raised in a very small town in Midlothian so I enjoy that.
I moved here from Ellis County for my daughter when my health started getting bad. I've had strokes, and if something happens to me she can get to me easily. I have my 16-year-old grandson as well; I've had custody of him since birth.
I have $1,190 in the bank. My rent is $1,173. That doesn't leave anything. I get $500 from my son for child support. So that pays utilities and that's about it. But in this day and age, you have to have internet for school and you have to have a phone. After all that, I have nothing left over.
Some months we do better than others. In the winter months, the bills aren't as high because unless it gets really cold, we can bundle up in blankets and clothes. But in the summertime, the electric bill goes up and we just can't make it. That's when we would go hungry if it wasn't for Minnie's. I hate to come if I don't have to. I'm country; I can make a meal on red beans and cornbread. Most of the time I figure what I'd get would be better used by someone else. Some months, I don't need it, so I don't come. But this month, I truly need it, so here we are.
Maria Castillo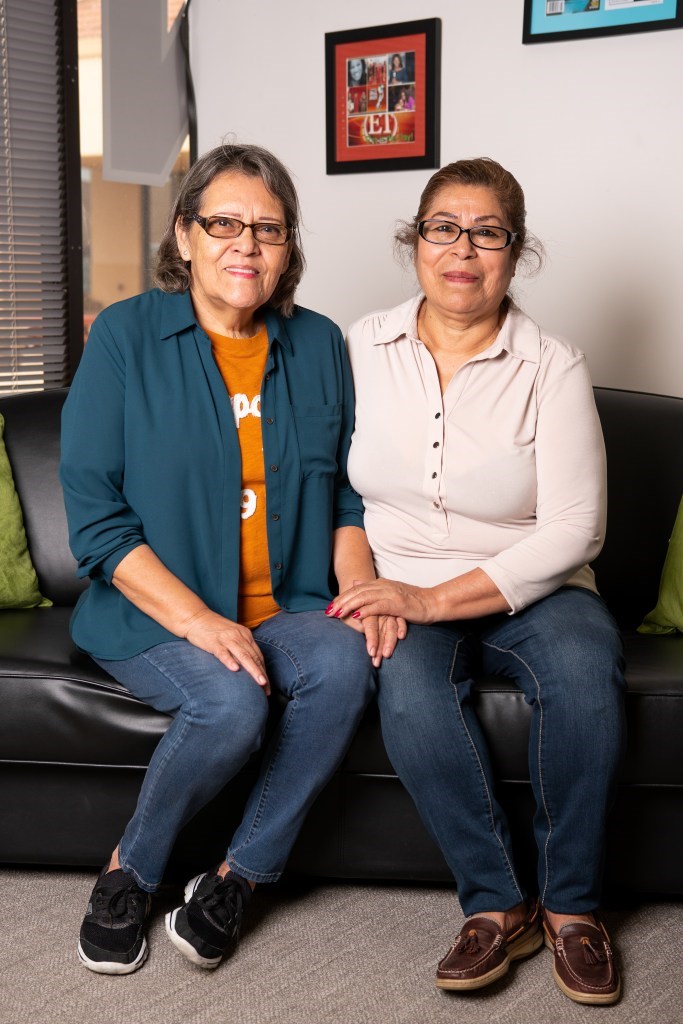 I came from Florida and have lived in Dallas for years. I'm retired now. I had cataract surgery on my left eye and soon I will have it on my right. I have 36 pins in my spine. The price of living gets higher and higher every day and food, everything, is so expensive these days. Social security gives me less than $1,000 a month. That's why I'm looking for food.
Today, I was excited to come here, even though it's hard to come all the way from Dallas. I drive myself and Carmela once a month. We live in the same apartment buildings near Fair Park, senior apartments. When I can't come, Carmela has no one to drive her.
Highway 75 is always so busy now. It didn't used to be so busy. We're especially happy today because we just noticed that the boutique has very nice clothes and they're inexpensive. But what's most important is to get food. There are other people in our building who have no one to drive them. We give them things we don't eat. You know it costs $4 for milk now? So I get powdered milk. It doesn't taste the same, but it helps.
Carmela Rodriguez
In 2006 I had a stroke, and 2008 I had another. Half of my body was paralyzed. My husband has a broken arm. It's just me and my husband. Our kids are in Houston. Personal things, like clothing, all that we get second hand. But I'm grateful this place exists and grateful to my friend, Maria. She is a wonderful friend to drive me. I get bread, fruits and vegetables here. I am diabetic and though my doctor prohibits a lot of things, I can make whatever I want. I cook it all, put it in the freezer and after coming to Minnie's, we can eat for weeks.
Thomas Wilkins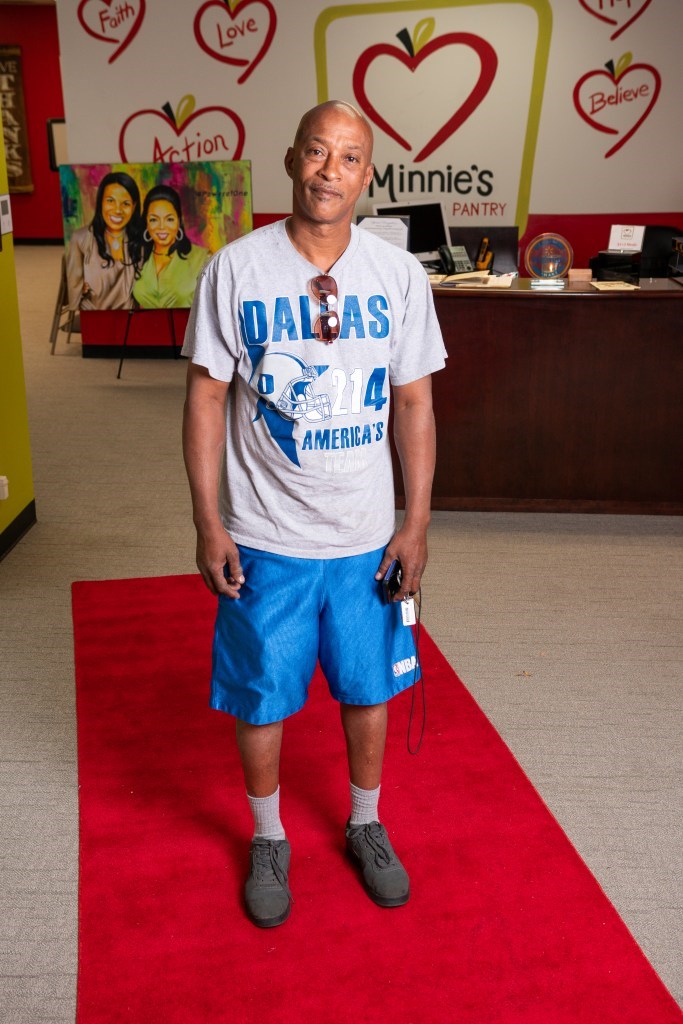 I used to be a mechanic. I loved it. But I've got a bad back, scoliosis. The scoliosis is spreading, all the way up to my skull, the doctors say. I can't get up and down under the cars anymore so I can't work. A lot of people, they look at me and ask what's wrong with my back. They can tell by the way I walk. They always comment on it. I don't want to have any more surgeries if I can help it. I'm tired of knives.
This is my second month coming to Minnie's. I like the hospitality here. You're never treated like a stranger. They greet you at the door and pretty much take you by the hand.
I'd heard about it from a friend. She said to me, 'Thomas, they give you everything that you want.' See, a lot of places give you a lot of canned goods and things you don't want and you either have to throw it away or give it away. Not at Minnie's, they give you bread and meat and fresh stuff. I found that to be true last month so this time, I brought a lady with me who's struggling too. She lives really close to me; I'm on the Garland side of 635 and she's on the Dallas side. Her entire paycheck goes to her rent, so I brought her with me. Come to find out, today is her birthday.
Kimberly Cassell and Hayley Henderson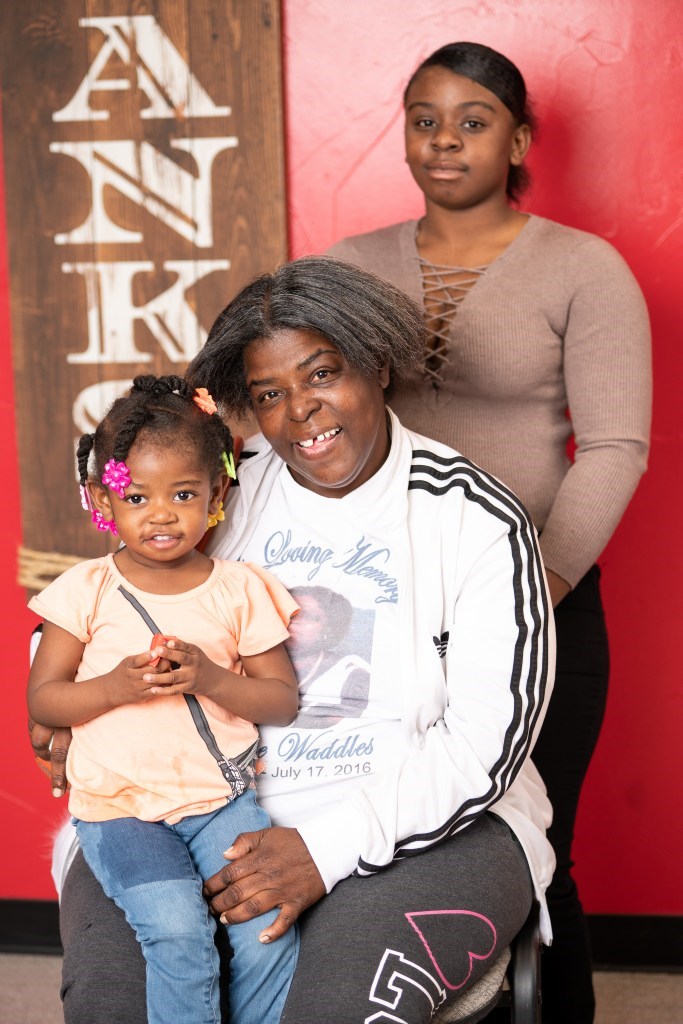 Hayley: We don't have food at home today. We live in Allen and there are a couple of food pantries there, but we were up here in Plano this morning because my daughter was at the dentist and so we thought we should find a food pantry here.
Wonder Women: A kick-off event for Plano Profile's 17th Women in Business summit
Kimberly: If you need food and you're hungry, you need it now. We're just hungry. We called here and I told them that we had to get food today. They asked if we had ID. I said we did and they told us to come on down.
We're here today because we're hungry. Not because we want to be here, but because we need to be. We'll go back home and we'll have something to eat. I'm a single grandmother. I'm raising my grandkids. I've been having kids since I was Hayley's age. But I want Hayley to get her GED. I want her to have something to fall back on. I'm 53 now and that's the main thing I want, for Hayley to get her GED and go to college.
She's going to make it. I tell her, 'Hold your head up and you can do it. It's hard but that's life.' We'll make it. As long as I got my strength, we're gonna make it and we're going to come back and tell you, 'She made it. Remember us? She made it.'
Originally published in Plano Profile's July 2018 issue