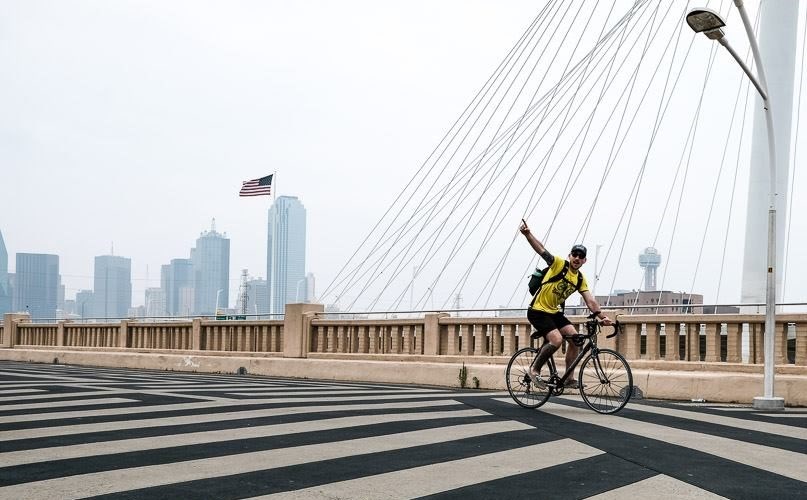 Every other Saturday, rain or shine, a group of intrepid explorers—beer hunters if you will—pedal across the Trinity River and into the mysterious depths of the Dallas Design District, a.k.a the Dallas Brewery District, on a quest to find the best craft brews in town. [Note: The 2018 season runs March through October, reservations are now open.]
We joined them on a sunny afternoon in May. 6-Pack Trail is a 9.5-mile bike cruise and craft beer tour that takes bikers of all skill levels from one craft brewery to the next, while enjoying a responsible amount of beer (and cider) along the way.
The tour is BYOB (Bring Your Own Bike) so we opted to rent bikes from Richardson Bike Mart who loaned us snazzy helmets and sleek, light-weight bikes perfect for easy pedalling.
We met with our Beer Guides and fellow participants at Trinity Groves where we pinned on race numbers retrofitted with detachable drink tokens for each stop on the tour: Bishop Cider Company, Nobel Rey Brewing Company, Peticolas Brewing Company, Community Beer Company and Texas Ale Project.
With the promise of a cool crisp cider ahead and a blue plastic 6-Pack Trail beer mug dangling from our handle bars, we ventured forth.
The first leg of the tour is the most challenging—a four-mile jaunt that takes you over the Trinity River. Surrounded by the last bloom of wildflowers and with the Dallas skyline as our backdrop, I could almost forget the burn in my thighs and the unmistakable ache in what a fellow rider eloquently referred to as her "underbutt". Thankfully the subsequent rides from brewery to brewery took only five to 15 minutes, nothing more strenuous than a mile or two on a bumpy road.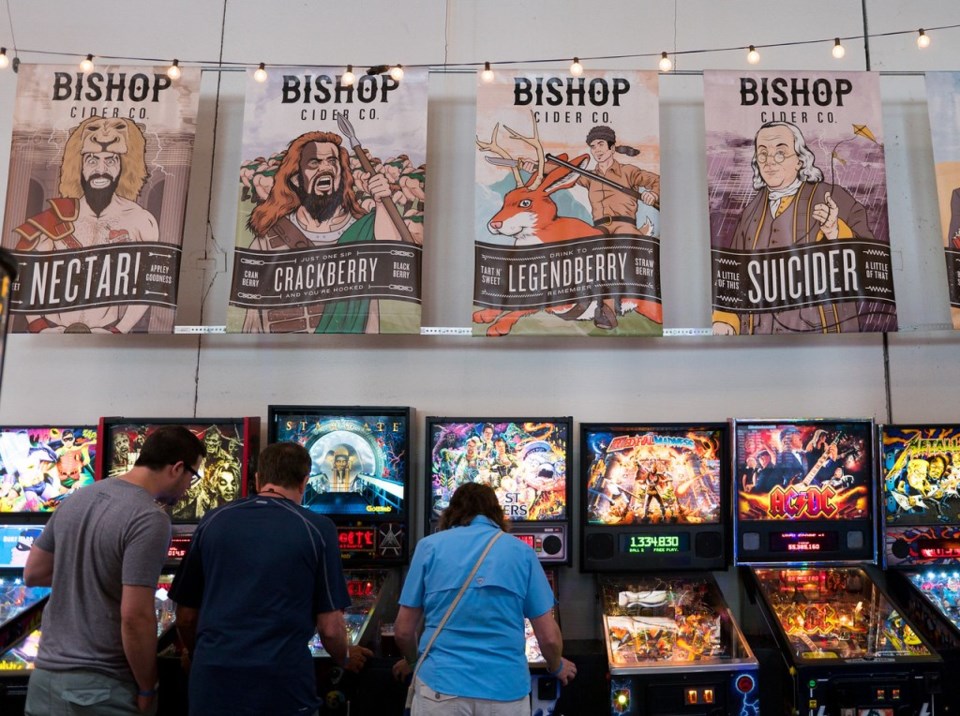 The day whizzed by in a blur of wobbly wheels, cider, beer, a Grub burger, beer, live music, granola and more beer. We ended the day on the patio at LUCK in Trinity Groves, a craft beer inspired kitchen with over 40 beers on tap.
We visited five breweries in all, but there are plenty more to see in Dallas—Four Corners Brewing Co., Deep Ellum Brewing Company and Oak Highlands Brewery are among the best. In fact, Texas is home to around 200 microbreweries. More than 30 can be found right here in North Texas.
Update: Since we did our tour, a sixth brewery has opened and it has been added to the 6-Pack Trail. The sixth brewery is Pegasus Brewery.
In Collin County there are eight. McKinney has Franconia Brewing Company, TUPPS Brewery and Harvest, a farm-to-table restaurant in downtown McKinney, makes their own brews. In Allen, there's Nine Band Brewing Co., Richardson has Four Bullets Brewery, and Good Neighbor Brews is in Wylie. In Plano there's Gordon Biersch at The Shops at Legacy, Unlawful Assembly Brewing Co. on the top floor of Legacy Hall in Legacy West and Union Bear at The Boardwalk at Granite Park.
Further afield—but certainly worth a visit—is Rahr & Sons Brewing Company, Martin House Brewing Company and the Collective Brewing Project, all in Fort Worth, and Revolver Brewing in Granbury. Lakewood Brewing Co. in Garland and Grapevine Craft Brewery are worth a visit too.
A word of warning though: you won't be able to stock up your beer fridge. Texas is the only state that doesn't allow a brewery to sell their products to consumers for off-premise consumption. Unless it is being enjoyed in their taproom, beer garden or cidercade, Texas breweries cannot sell their own beer. The Texas Craft Brewers Guild is fighting to change that, but until they do, them's the breaks.
Bike your way through Dallas' breweries. You just might find a new favorite craft beer—and even if you don't, what other workout lets you drink while you sweat?