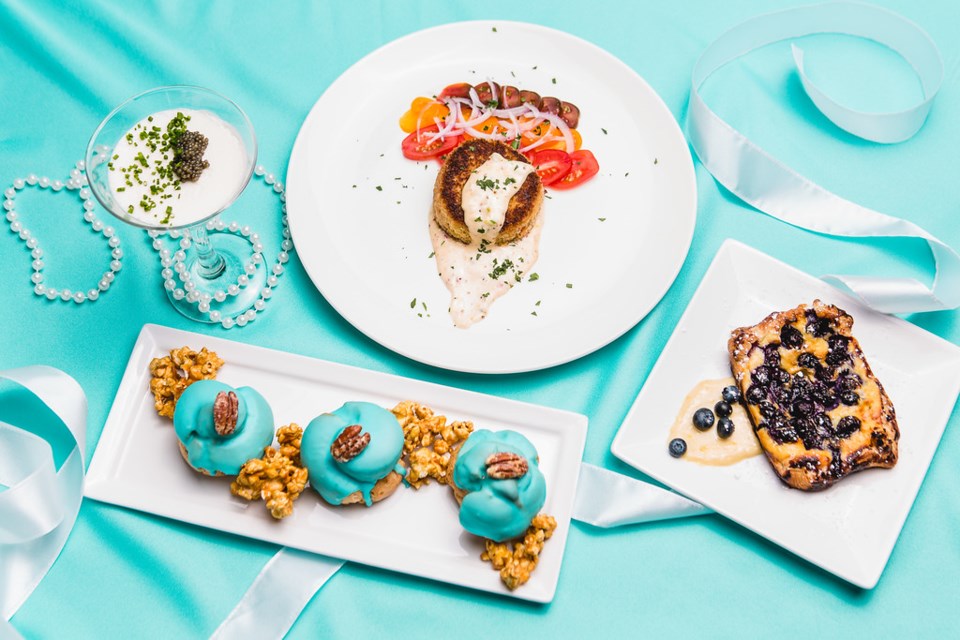 Mom. Brunch. And Tiffany's.
Looking for something different to take mom to this Mother's Day, May 8? See the classic Audrey Hepburn flick Breakfast at Tiffany's while biting into a cleverly paired brunch. This may seem ironic since Hepburn's iconic character Holly Golightly doesn't eat much in the classic film, but Alamo Drafthouse in Richardson put on their creative caps to plan a special Mother's Day event.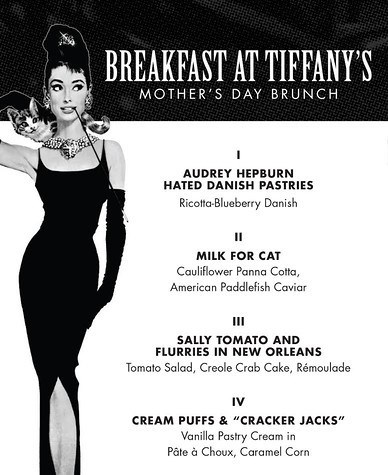 Enjoy the movie-themed, four-course brunch starting with a ricotta-blueberry Danish because Hepburn, unfortunately, hated Danish pastries. Move on to dish number two: the purely white cauliflower panna cotta topped with American paddlefish caviar, representing milk since it's the only thing Holly seems to keep in her fridge. A weather report on New Orleans by Holly's buddy, Sally Tomato, inspired the next dish: a crab cake with a spiced-up Cajun rémoulade, accompanied by a tomato salad. Cracker Jack and Tiffany blue had to be touched on, so a dessert was born in the form of glazed cream puffs and house-made caramel corn.
The brunch and movie ticket combo is $45 and is available only at 1 p.m. for its one showing, tickets will be sold online and at the box office. Arrive 30 minutes prior to the showtime to enjoy Alamo Drafthouse's custom pre-show and to meet your server before the lights go down. Sip on a mimosa, a glass of wine, or choose from a 32-draft tap wall featuring mostly local beer at the bar Half Glass Full, for an additional charge.
Moms deserve a lot more than a treat of an event like this, but this sure would be a good start!
BREAKFAST AT TIFFANY'S MOTHER'S DAY BRUNCH
When: Sunday, May 8, 1-3:10 p.m.
Where: Alamo Drafthouse Cinema Richardson, 100 S. Central Expwy., #14 Richardson, TX 75080
Cost: $45 for Breakfast at Tiffany's movie and four-course brunch
We recommend purchasing the tickets online, so you can definitely get a seat!