We could learn a lot from the Spanish. On the wide imperial boulevards of Madrid, locals and tourists alike fill tiny, unique-as-fingerprint bars. While American bars have cornered the market on communal bowls of wasabi peanuts and mini pretzels, Spanish bars do tapas. Those who order a generous pour of sangría or collemocho (red wine and Coca-Cola; no that's not a joke) also enjoy a complimentary bar snack: olives, dips, open-faced sandwiches—that sort of thing. Over the years, the tradition of tapas has been expanded into tapas-style, or pinchos-style, restaurants like Bulla Gastrobar. The small plates may still be small, but they aren't quite so simple. And they definitely aren't complimentary.
Tapas are intrinsically tied to drinks, so that's where most people begin. Skim the Spanish wine menu or skip to the Lemongrass Collins: Bombay Sapphire revitalized with St. Germain, lemongrass, floating cucumber slices and the soft perfume of rosemary. But take note of the sangrías. Bulla Gastrobar is particularly proud of their signature sangrías. One, Sangría De Cerveza, feels particularly apt in the land of beer and barbecue, since it pairs lemon and pear purée with Hoegaarden. Then, drink in hand, move on to the food. If splitting an onion blossom starter or a marvelous sharable cheese plate is your favorite part of a meal with friends, then you're in luck. Tapas are basically a three-course meal made of nothing but appetizers, and then dessert.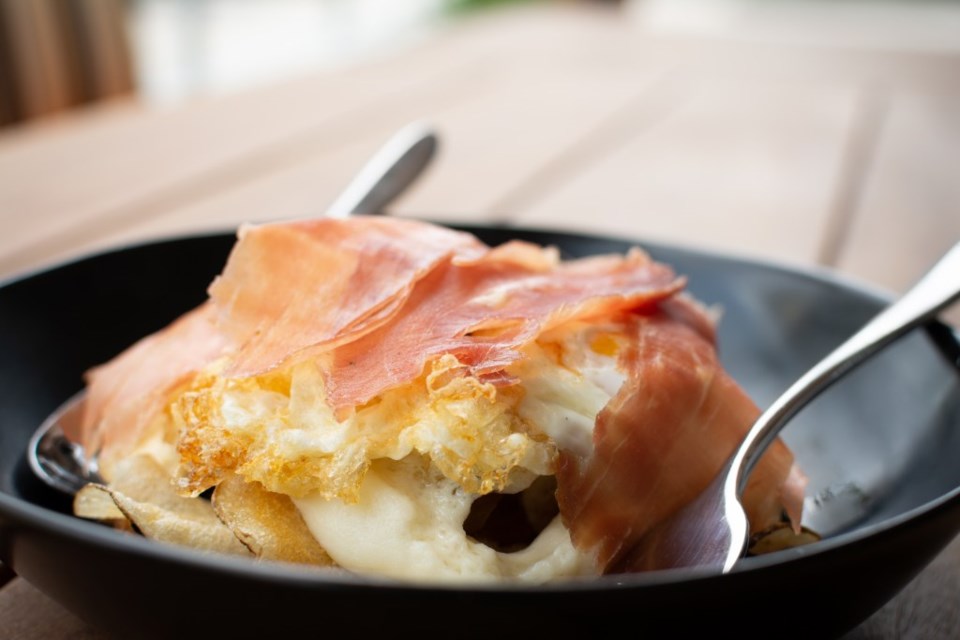 The restaurant's namesake, Huevos 'Bulla,' tastes simpler than it actually is. Wafer-thin homemade potato chips and Spanish fried eggs, basted until they're fluffy, are dressed up with truffle oil and serrano ham. Keep a look out for the delicate potato foam—not as weird as it sounds, really just creamy and curious. The touch of truffle is subtle, letting the serrano ham play leading man.
Dry-cured ham is a Spanish staple and a deeply loved tradition, so it's nice to see it at the very beginning of the meal. At Bulla, guests can order from a selection of intriguing meats and cheeses and divert wildly into self-made boards. Serrano ham, aged 15 months, is as common at the table as napkins. The best way to sample it purely is to order a few cuts shaved translucently thin. Everything is around the same price except an order of Paleta Ibérica De Bellota Fermín, the most refined cut on offer. From acorn-fed Iberian pigs, it's aged at least 24 months until it's velvet.
For pairings, idiazábal, a sheep's milk cheese, is mild-mannered with a smoky flavor that smells heavier than it tastes. But murcia al vino, a goat cheese with a purple wine-cured rind, might be more exciting. Murcia is a softer cheese, nowhere near a brie's texture, but gentler than either an idiazábal or manchego. It flirts with the idea of sweetness but remains savory and weightless.
Speaking of cheese, the Montaditos small plate is a great way to test out tetilla cheese, the most meltable on Bulla's menu. Four slices of bread line up, topped with a spoonful of juicy brisket, a particularly melodic tomato marmalade and slivers of guindilla peppers. Warm, buttery cheese waterfalls down the sides.
I tear myself away from the meat and cheese selection for Gazpacho Andaluz, a chilled vegetable soup made primarily of tomatoes that has been pureed, strained and pureed again. Diced tomatoes, onions and bread crumbs offer the only contrast here. Without even a touch of cream or visible spice, the texture is pure silk, so soft that there's nothing to do but taste. It's lovely next to Ensalada de Pulpo, a delightfully colorful salad starring octopus. It might not be for the faint of stomach; those proud purple suckers jut out on each meaty hunk of grilled tentacle, impossible to ignore. Roma tomatoes, croutons and cucumber form a refreshing foundation for Ursula's second cousin, draped in lemon, herbs and sliced red onion. Succulent with a rich sear from the grill, it and the gazpacho are both refreshing summer dishes, cool on the warmest day.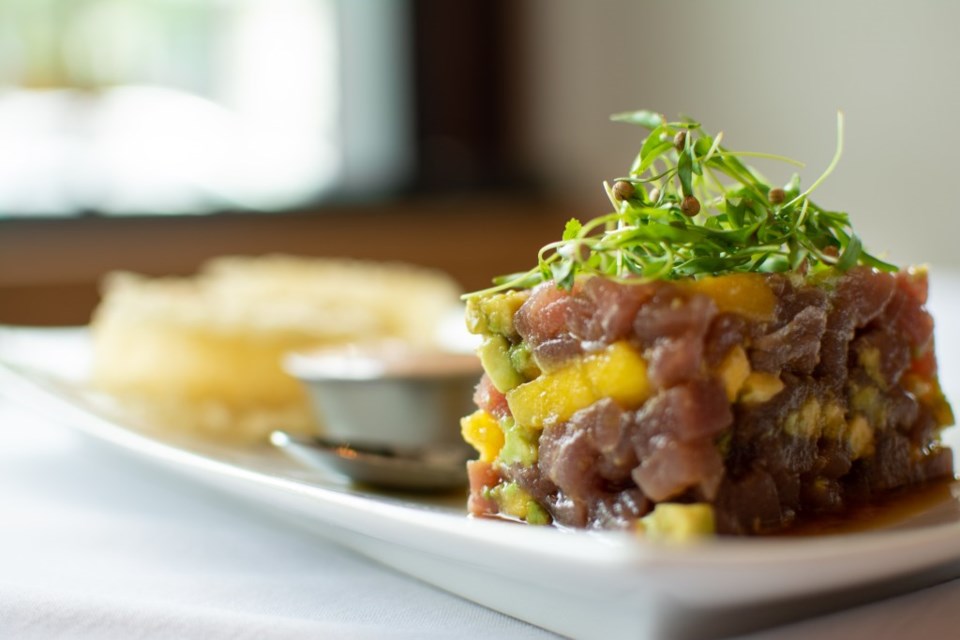 While the Tartar De Atún's soy and sesame aroma isn't what I expected to find on Bulla's small plates menu, this pop of Asian fusion is definitely welcome. Ahi tuna, diced and molded with mango and avocado, comes with tiny, crisp wonton shells and a vivacious Sriracha aioli. Different nuances, from oily sesame to crisp salt to ripe mango, peek out one after another, at their best when they blend.
On the polar opposite side of the spectrum, you'll find Croquetas de Jamón. Croquettes are traditionally rich, filled with some combination of potatoes, meat, fish or vegetables and some kind of sauce—something molten. Savory serrano ham tidbits stirred with béchamel have been whipped, breaded and fried to glorious golden brown. They arrive with a deep dish of harmonious fig jelly. It's going to be hard to forget this one.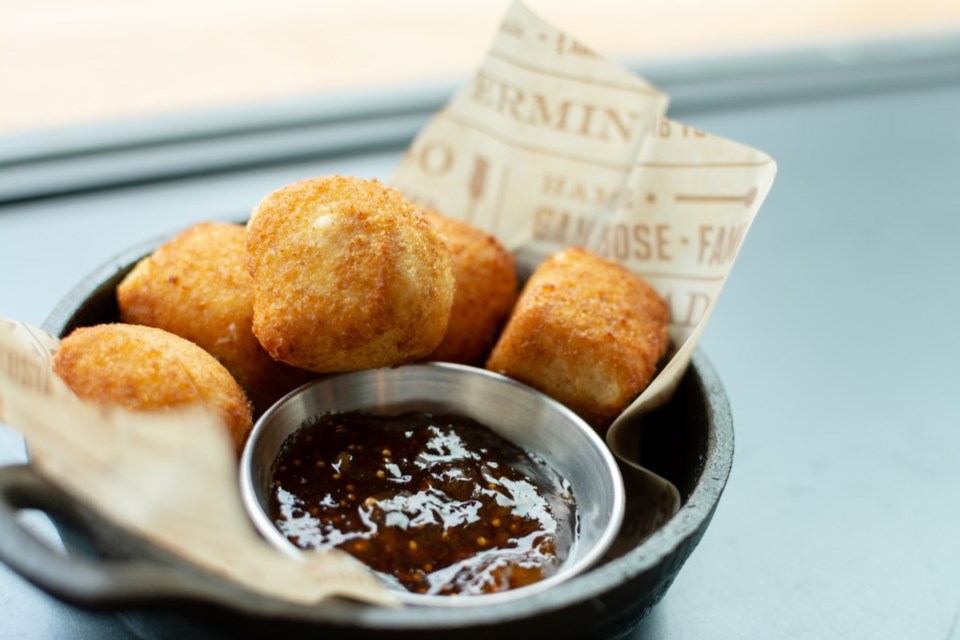 If you find yourself in the mood for something especially classic, it's hard to go wrong with paella.
Actually, scratch that; it's easy to go wrong with paella. Thankfully, the Bulla chefs seem to know what they're doing. Valencia-style rice, calamari, brine-bitter clams and shrimp all tossed in a dazzling red sofrito is served exactly as cooked, steaming hot in the pan. Taste it in super slow-motion and this rice-based wonder will layer saffron on cayenne on cream in each complex spoonful. And remember, at a tapas place you'll get dozens of dishes at once and one sample of each, so each bite really has to count.
Once you're done to the dregs of your sangria and the murcia al vino has all been divvied out, it's time for dessert. Opt for something elegant like Flan de Coco. Custardy bliss infused with coconut, it's satisfyingly creamy and the passion fruit sorbet on the side is a delightful touch. Its size is really the only downside; though it's beautiful and delicious, this particular dish looks like it's made for one, not a table.
Churros con Chocolate is so much more than fried dough. Though it's hardly a fair comparison to Bulla, I distinctly remember the first time I saw them made fresh at the Texas State Fair. Pale dough twigs were cranked out of an industrial sized cookie press straight into boiling amber oil. Bubbles churned around them as each ripened to a crunch. Then they were pulled out and drizzled with Hershey's chocolate sauce. The basic idea is the same at Bulla, but the execution is much more graceful. Each warm sugar-dusted churro has its own slight homemade curves from its time in the fryer. The chocolate sauce is barely sweetened, a dark contrast to dulce de leche. They play off each other like a bass and a violin.
Fun fact: Bulla (Boo-ya) comes from the Spanish colloquialism for "chatter". Bulla Gastrobar serves a parade of flashy miniature dishes, ordered by the dozen to create a flagrantly diverse meal that a group shares. It is an experiential and energetic way to dine: food and drink to talk over.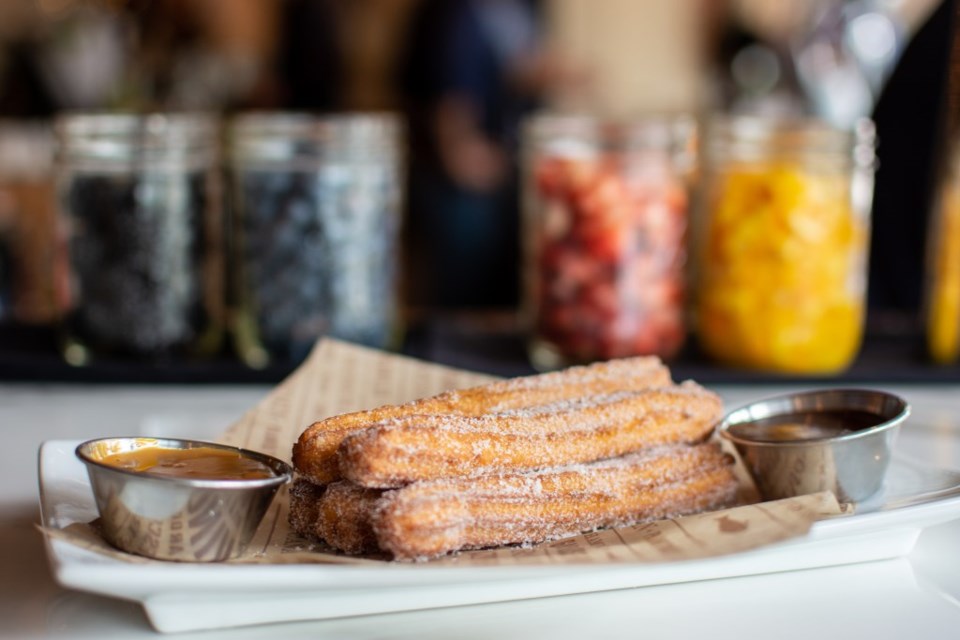 Bulla Gastrobar
Hours:
Mon – Tues | 11 a.m. – 10 p.m.

Wed – Thurs | 11 a.m. – 11 p.m.

Fri – Sat | 11 a.m. – 12 a.m.

Sun | 10 a.m. – 10 p.m.
Where: 6007 Legacy Dr. Ste. 180, Plano
More: 972.805.4590 | bullagastrobar.com