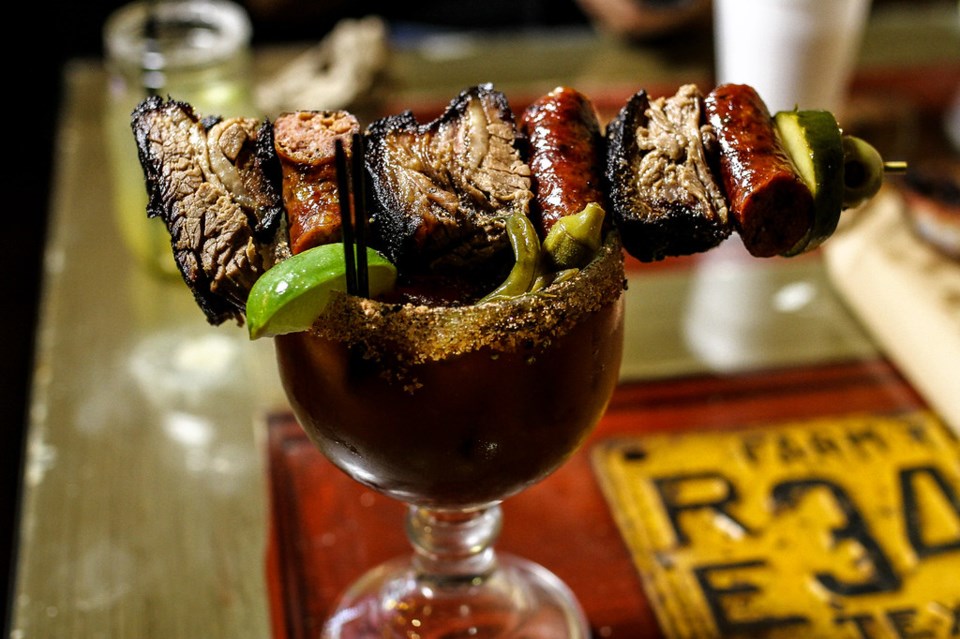 Forget fluffy pancakes and fancy French Toast topped with blueberries and cream. Real men brunch at Lockhart's Smokehouse in downtown Plano. The Burnt End Bloody Mary, $13, comes with a skewer of meat the size of a small meal and enough pickled vegetables to count for at least one portion of your daily greens. "It's our version of brunch" says Chris, Lockhart's beverage manager, a.k.a The Lord of the Drink.
"We use Zing Zang as the base, but it's also got our barbecue sauce, Sriracha and agave nectar. It's definitely something you won't find anywhere else," says Chris. Even without the stack of steaming meat, this Bloody Mary packs a punch. Made with a generous serving of Tito's Texas Vodka, it's spicy and bursting with flavor. The house pickled vegetables, sourced from Georgia's Farmer's Market down the road and seasoned with Lockhart's secret beef rub, add their own je ne sais quois to the mix.
However you choose to devour your meat skewer, we promise you'll find it more satisfying than a maraschino cherry. First there's the brisket cut from the tip so that it's both crisp and moist, oozing with fat. Then there's the Kreuz Market Jalapeno Cheese Sausage, a Lockhart family recipe, sourced from their cousins' at the world-famous Kreuz Market in Lockhart, Texas. Chase it with a sip of Bloody Mary and you'll be ready for round two.
NOTE: Burnt ends are little bits of barbecue heaven made when the fatty tip of the brisket is chopped into cubes, returned to the smoker and cooked until the fat is rendered. The Burnt End Bloody Mary is only made with actual burnt ends on Thursdays and while they last—which is almost no time at all.
Pro Tip: Ordering a Burnt End Bloody Mary is the only way to get food without waiting in line. Take a seat at the bar and be the envy of all your friends.