There's a reason Dee Lincoln is known as the queen of steak. You don't get that title by being timid. Or even polite, though Dee is plenty charming and welcoming.
Dee Lincoln, the woman behind the Del Frisco's brand, is a female firecracker blazing a trail a mile wide in a male-dominated business: steakhouses. She's swept up all the awards: Texas Restaurant Association's Restaurateur of the Year Award, Savor Dallas Spirit Award, Nation's Restaurant News Fine Dining Award and the Restaurants and Institutions Ivy Award–and a bunch more that would take too long to list. Now she operates the Dee Lincoln brand, bearing her name and her unique style. Most recently she opened Dee Lincoln Prime Steakhouse at The Star in Frisco.
I get the sense she didn't hold back because Dee Lincoln Prime isn't so much an experience that you have, but an experience that has you.
The steakhouse is low-lit with high, satin booths and gargantuan chandeliers. Wood pillars dominate the space and spread a geometric canopy over the ceiling, a precise wood pattern that was installed by hand across the entire restaurant floor. The word that springs to mind for me is opulent.
Dee Lincoln has retained a lot of the same staff over the years, with many employees that are like family. We were particularly happy to see an old friend, Carlos, who came out of retirement at Dee's request.
Get to know Carlos. He's the best.
He brings out a Sashimi Platter. Just because it's a steakhouse doesn't mean it has nothing else to offer. This is a veritable rainforest, complete with real flowers, herbs standing in as trees and yellowtail blossoms, finished with plumes of dry ice.
Read more: Hookline at the Boardwalk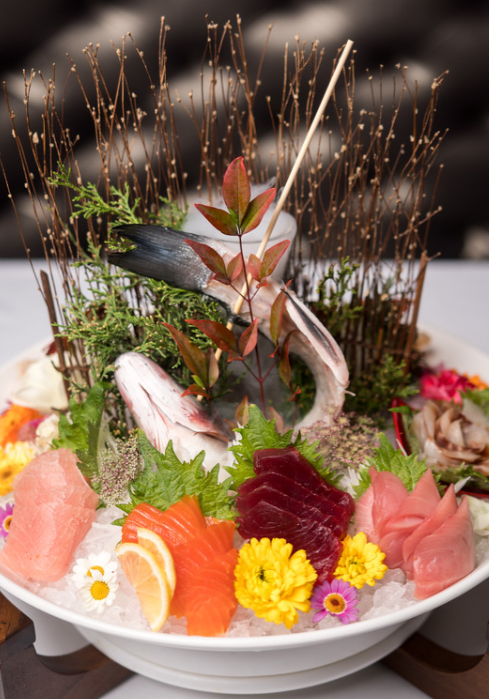 The sheer variety here is almost as good as the vibrant presentation. From rainbow trout, yellowtail and tiger prawns with Bloody Mary cocktail sauce, to Opah, blood-purple ocean trout and the true delicacy, Italian Seabass–the platter provides both dinner and a show. You'll try some things you might not have had yet and even if you have had them, well, you haven't had them the way Dee does them.
Sashimi isn't the only surprise in store. Slanting French, we turn to Seared Foi Gras. I must be honest here: I liked this dish. My dinner partner did not. Liver is stubborn. It won't change, it won't adapt and it might not be all that graceful on the palette. But skillfully handled, it's one of the most delicate of delicacies, the peak of cultured cuisine. It's a little funny that way. Only the French could get away with that.
At Dee Lincoln Prime, it's seared and placed atop pumpkin french toast. The plate is garnished with balsamic reduction and stripes of jalapeno marmalade. From the moment our waiter set it down, we could smell warm sweetness and just a hint of a smoky sear.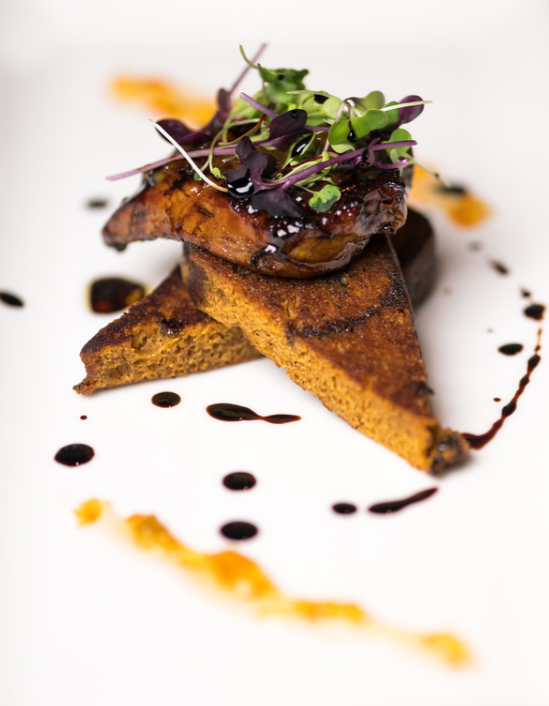 Marmalade and pumpkin toast are a strange pairing that work and overall, this is a weirdly satisfying dish that leans sweet rather than savory, bringing out a whole new character in this French dish. Hint of sear for a smokiness that complements the bread. It's oddly satisfying, sweet instead of savory. It is not for everyone and it's not necessarily a good testing ground for liver skeptics. But if you've met this French dish before and fallen in love, then get ready to greet it anew.
Read more: Feel the burn at Red Hot Chili Pepper
It isn't all liver. Dee has plenty of crowd pleasers too, like Tiger Prawns, served tails up in creole remoulade and cherry tomatoes. Their fry is eggshell-thin and the blue seaglass serving plate makes it one of the most charming dishes on the menu.
If you're looking for something healthy, look no further than the roast beets and crispy goat cheese. With fennel and arugula and a citrus vinaigrette, yellow and red beets form a checkerboard and balanced out with a hunk of goat cheese, huge enough to inspire foodie dreams for days afterward. Lovely. Or, Heirloom Tomatoes and Burrata, with avocado and arugula and a crostini, is the perfect blend of fresh and savory, softer and milder in character.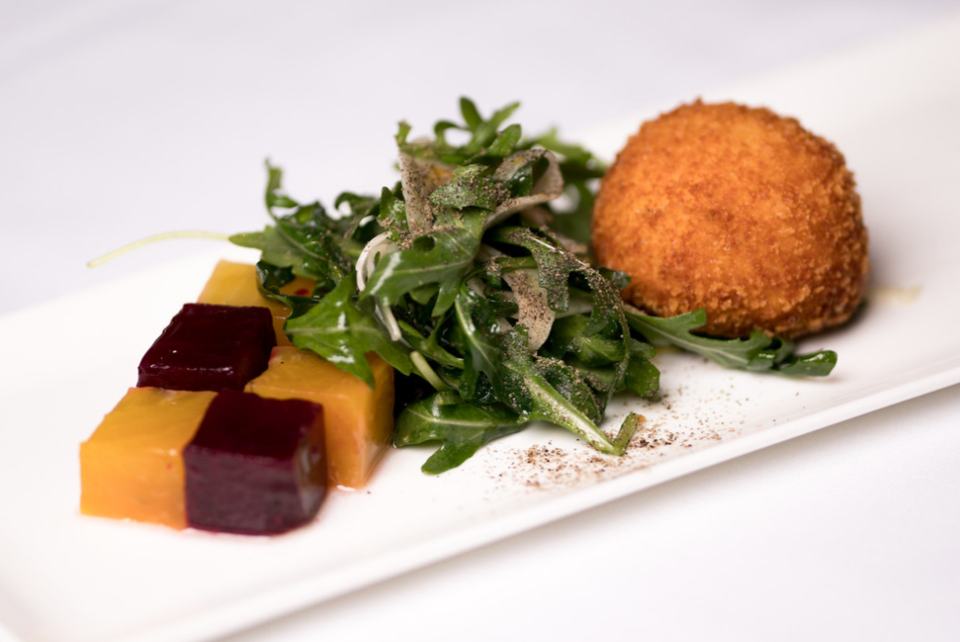 Before entrees, let me take a detour for something gold. Whatever you do, check out the expansive and frankly luxurious cocktail menu. You won't look far to find the Dee Star. This, Dee Lincoln's namesake, is sweetly blue and sprinkled liberally with 24-carat gold.
The Whole Snapper Fried is an event. This fish, curves around a giant bowl of cajun fish. The meat of it, tempura fried, rests there, cut into easy pieces for convenient sharing. There are three dipping sauces to eat with it: chimichurri, a lemon butter hollandaise and creole remoulade. You might need to share it, for your own safety.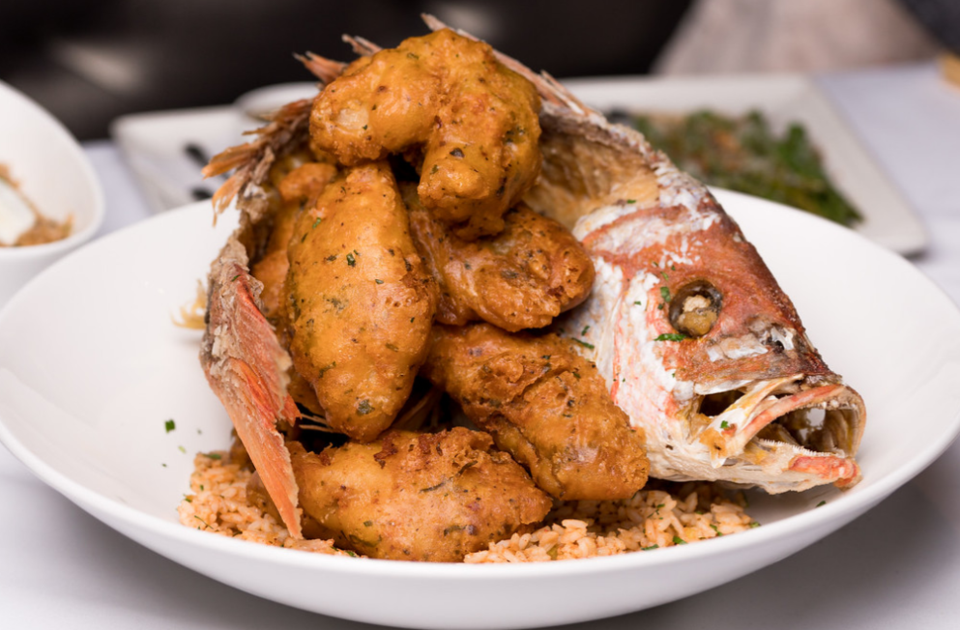 Now, however, it's time for the dish we've all been waiting for. If you aren't in a food coma by now–you might be–Dee Lincoln's real treasure is in the name. You've got options, from the Prime Cowboy Ribeye, 22 ounces, to "The Chairman Of The Board," a 35-ounce Dry Aged Prime Porterhouse plus Long Bone Lamb Chops, carved at your table. And of course, it's probably been awile since you had a steak like this.
I wasn't kidding. Dee Lincoln Prime doesn't mess around.
Of the desserts, the clear standout is Coffee and Donuts, bite-sized fried dough paired with a little cup of coffee pot de crème, topped with a chilled, whipped froth that keeps it light, stunning and decadent.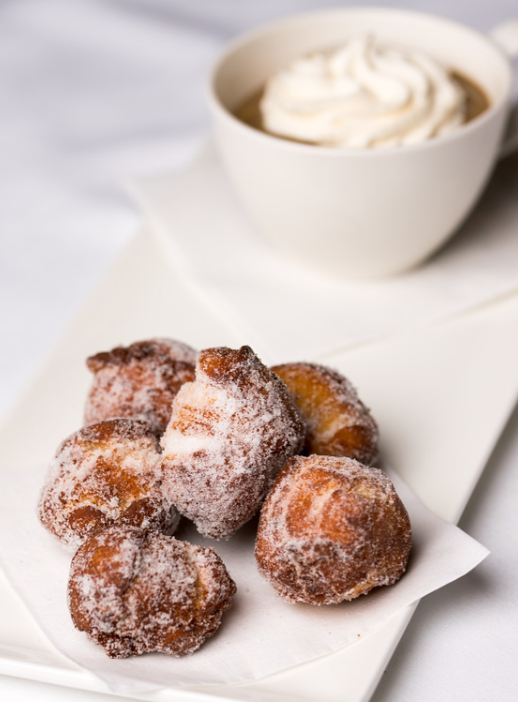 Like everything at Dee Lincoln Prime Steakhouse, much of this dish's pleasure comes from its presentation. You'll leave full, loaded down with leftovers and to be honest, a little in shock. The queen of steak has done her title proud.
Dee Lincoln Prime Steakhouse
Hours
Mon – Thurs | 4 – 10 p.m.
Fri – Sat | 4 – 11 p.m.
Sun | Closed
Where: 670 Winning Dr., Ste. 400, Frisco
More: 214.387.3333 | deelincolnprime.com