Sometimes the best barbecue, burgers, sno cones and coffee can be found off of the beaten track. These six meals are worth the drive.
Bumbershoot
Argyle isn't exactly a tourist destination, but there are a few excellent reasons to visit on an empty stomach. First, there's Bumbershoot, a barbecue outpost hidden in the trees. Bumbershoot has turned its piece of land into a live music venue with a covered stage and picnic tables under billowing umbrellas. Paint is provided so that kids and adults alike can color over the once-white picket fence, contributing to their ever-changing, collaborative art project. If you're lucky, you might spot Gertrude, Bumbershoot's pet chicken. A few months ago, she hitched a ride on the back of a farmer's truck and escaped into the trees, where she still lives.
Get a whole platter of hickory- and pecan-smoked goodness courtesy of Pitmaster Jason Ramey and Chef Chad Kelley. Take special note of the brisket, candied ribs and inventive sides like baked beans and coleslaw. Bumbershoot baked beans were adapted from a family recipe for charro beans and they retain a certain cowboyish flair. They come with a rib sticking out of the middle like a log lodged in a grotto. The coleslaw is lighter than most, built on a rice wine base in lieu of mayo, and slices of tart green apple. But you can't leave without going head to head with the Haas Tots. The regular plate of loaded tater tots is already a juggernaut: one pound of golden-fried tots piled with a half pound of sliced beef brisket, cheddar cheese, sour cream, barbecue sauce, and copious jalapeños. Haas Tots add on a half pound of sliced sausage. It was invented by, and later named for, a local fireman. Overall, Pitmaster Ramey estimates that they sell 2,000 pounds of tots every month.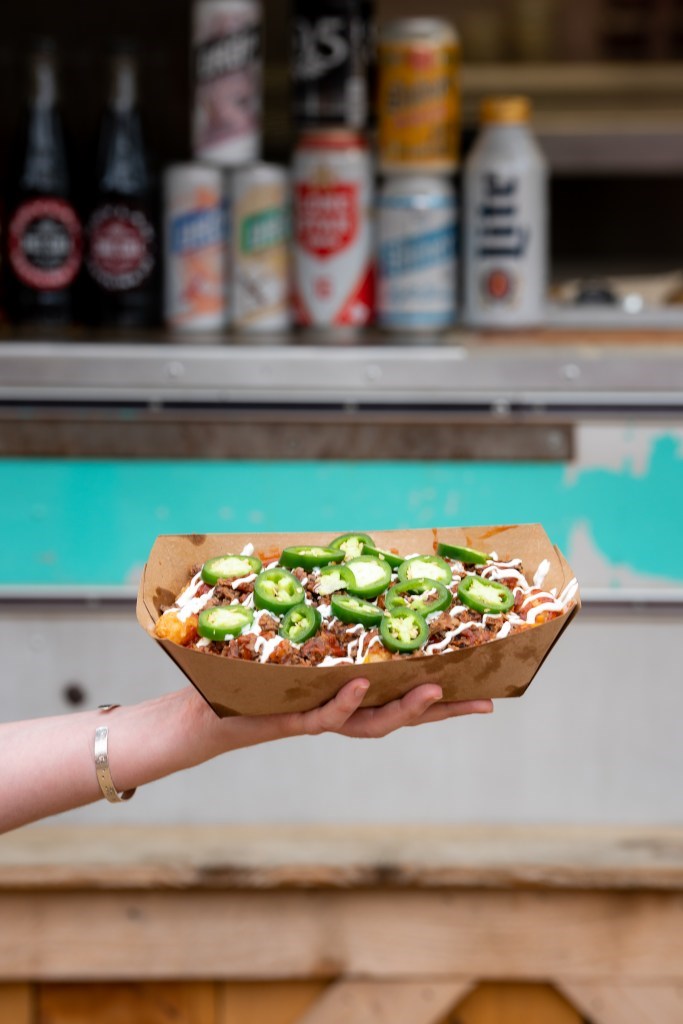 Bumbershoot, by the way, is old-timely American slang for "umbrella". The word fell out of fashion before the 20th century, but gaze up at the canopy of trees offering shade and shelter from the rain, and you'll understand the name.
Bumbershoot || Every day | 12 p.m. – 12 a.m. || 425 US-377, Argyle || 940.595.1782 | bumbershootbbq.com
Gnome Cones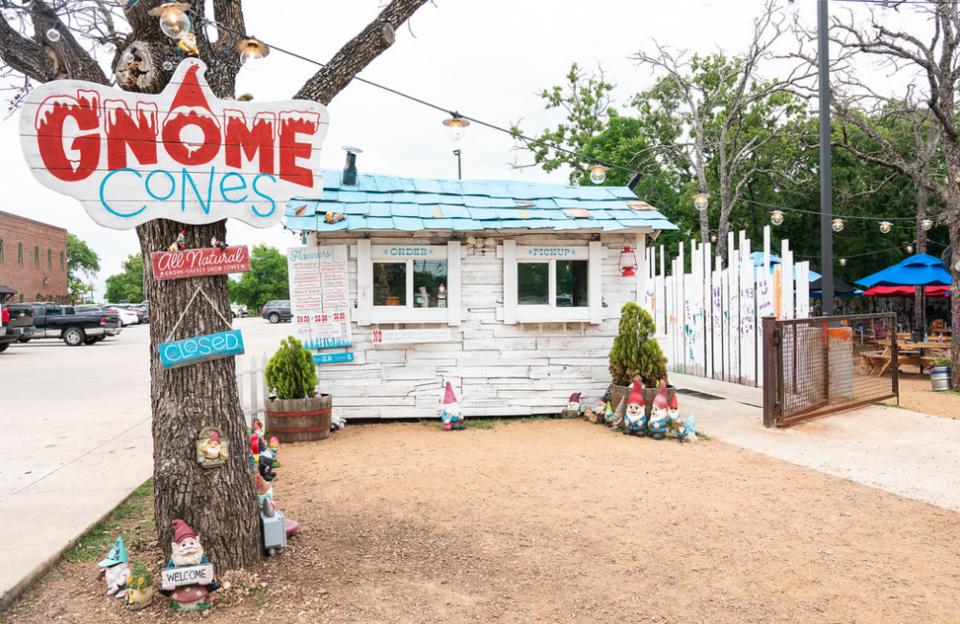 Leave Bumbershoot, walk about two feet and you'll arrive at Gnome Cones. On the weekends, this corner of Argyle—known by locals as "The Corner"—is the place to be, with pizza, tacos, barbecue, coffee and sno cones all within reach. Gnome Cones at first seems like an offshoot of Bumbershoot. It's not, but the colorful, quirky shed shares the canopy, the live music, and the painted picket fence. If you've eaten too many hot sausage links and jalapeños, Gnome Cones offers cool refreshment right next door.
The cofounders of Gnome Cones, Alex Sparks and Bret Hawkins, are sno cone enthusiasts and experts, who create their own syrups with real juices, teas and coffees and no dyes or preservatives. Every morning, the day's worth of syrups are stirred up.
Classic flavors like Tiger's Blood, strawberry and Piña Colada can all be found at Gnome Cones, but these aren't the real stars; these can basically be found at any sno cone place anywhere in the country. It's better to go for some of the more fun flavors, which range from sour lemon to chai and green teas, birthday cake, cold brew and their top seller, apple pie. Cones can also be augmented with cream. For example, green tea with coconut cream is a winner and every regular knows to get an apple pie cone with fresh cream.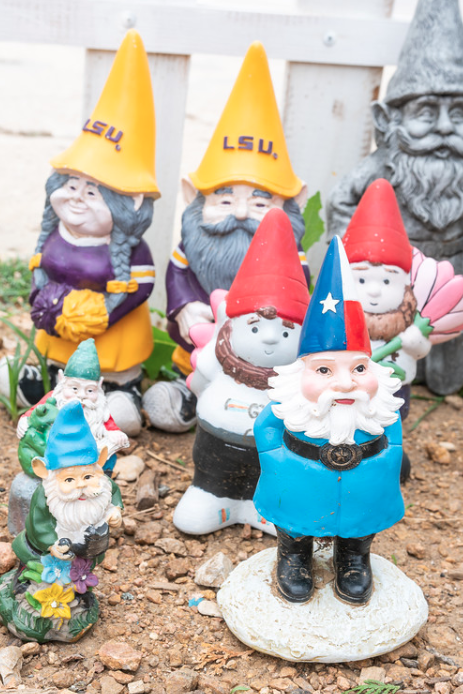 Take note of the garden gnomes. The Gnome Cone staff treasures their sno cone guardians and green-thumbed namesakes. In fact, bring them the gift of a new garden gnome and you'll receive a free gnome cone.
Yes: the cups have gnome faces printed on them. And yes: the cones are shaped like hats. It's great.
Gnome Cones || Every day | 12 – 9 p.m. || 421 US 377 S, Argyle || 940.320.9439 | gnomecones.co
Prohibition Chicken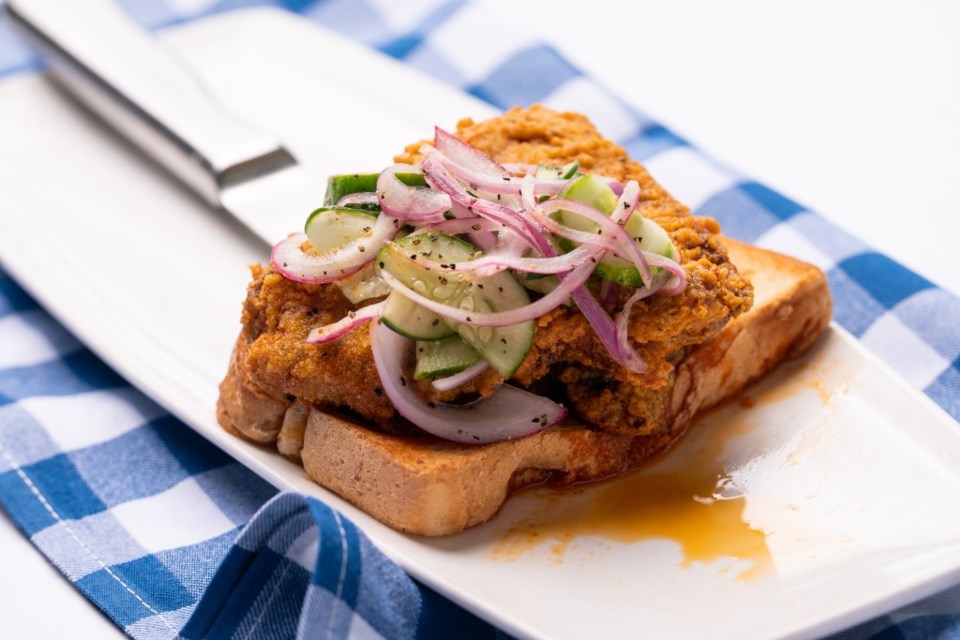 Up in Lewisville, Prohibition Chicken draws in visitors from all over the metroplex, coming hungry for fried chicken and whiskey, and, of course, hoping for a peek inside the secret speakeasy, The Volstead Room.
You'll find The Volstead Room through the antique red telephone booth. If you know what to do—and if there's room—you can sneak into a sleek red-lit lounge. TV sets show visions of historic Lewisville and old framed photos around the shadowed booths show actual bootleggers. Though The Volstead Room serves all of Prohibition Chicken's food, the bar has its own separate cocktail menu. Options include the Original Gangster, built around a fine Japanese single malt, and the small but mighty Berry 75, springy with champagne and gin.
At Prohibition, it's hard to go wrong with either classic or Nashville hot chicken. Nashville hot-style chicken gets its name from the city where it originated and its signature blistering red hue from dangerous amounts of cayenne pepper. One of their most popular dishes is the Nashville Hot Chicken Sandwich, an open-faced beauty on Texas toast, gentled with pickles, red onion relish and a creamy house-made herb ranch.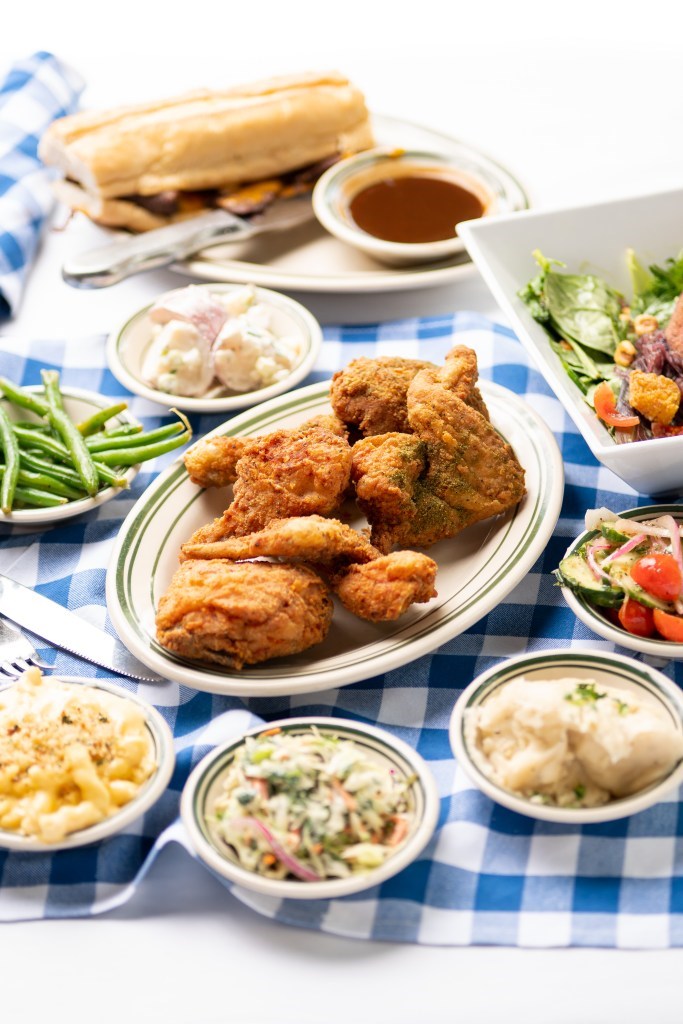 Whether it's on a sandwich or not, Prohibition's chicken is crisp on the outside, flavorful and moist on the inside. Pair with family-style sides such as smoked cheddar ale mac-n-cheese baked with breadcrumbs, or smashed potatoes, seasoned with parsnips, cream and black pepper.
Finally, stick around for their signature bread pudding, made from sticky buns and candied pecans. You'll be glad you did.
Prohibition Chicken || Sun – Thurs, 11 a.m. – 9 p.m. | Fri – Sat, 11 a.m. – 10:30 p.m. || 201 W. Church St., Lewisville ||214.222.3302 | prohibitionchicken.com
LSA Burger Co.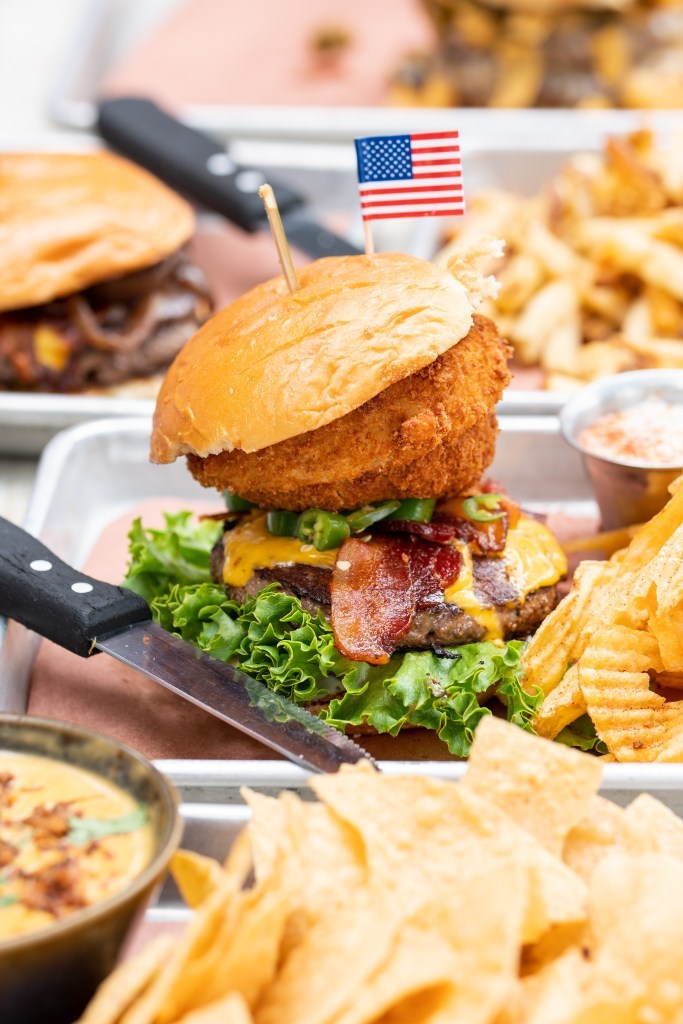 If you visit Denton on a warm Friday night, you'll surely hear the party raging on LSA Burger Co.'s rooftop patio because music is the heart of LSA (Lone Star Attitude) Burger Co. In order to love LSA, you've only got to be excited about two things: Texas musicians and wild burgers.
It's easy to be a restaurant with live music but LSA prefers to be a live music venue serving very, very good food. Every night, they celebrate music and culture, from Open Mic Monday to Real Texas Radio Tuesday, to Friday and Saturday night live bands. Most people expect country twang, but musicians of all kinds are welcome onstage. LSA has been known to host groups playing Rockabilly, funk, '70s covers and polka. But they're all from Texas. In fact, the only artists ever played at LSA are Texans: Willie Nelson, Selena, Selena Gomez. There are even daily Beyoncé and Kelly Clarkson "Power Hours."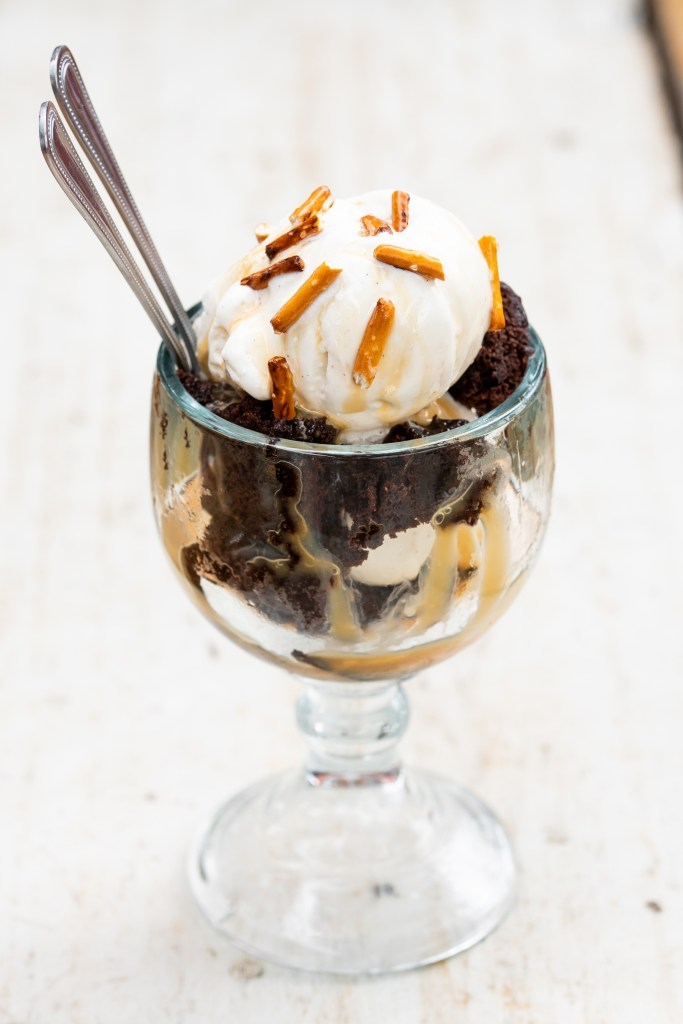 Order a shareable platter of garlic parm fries with a house aioli dipping sauce that whispers of horseradish and indulge in LSA's creative burgers, which are ambitious enough to push the boundaries of the bun. Case in point: the Double Trouble has two patties sandwiching melting havarti and Copperhead Lode cheeses, guacamole and a sprinkling of Fritos. It's incredibly balanced considering how many flavors are in play; the Fritos add a fun crunch.
The best pitstops to hit when you're traveling in North Texas
The Spirit of a Hero burger is somehow even more daunting, in part because it changes periodically, so you never know what to expect. When I first visited, I met a six-layer tower of American cheese, bacon, lettuce, tomato and jalapeños crowned with a hunk of fried mac-n-cheese and an onion ring. The proceeds for the Spirit of a Hero burger—whatever incarnation it may be—go to the Spirit of a Hero nonprofit.
LSA Burger || Sun – Tues, 11 a.m. – 10 p.m. | Wed – Thurs, 11 a.m. – 11 p.m. | Fri – Sat, 11 a.m. – 12 a.m. || 113 W. Hickory St., Denton || 940.383.1022 | lsaburger.com
Wood and Time Smoke Smoke House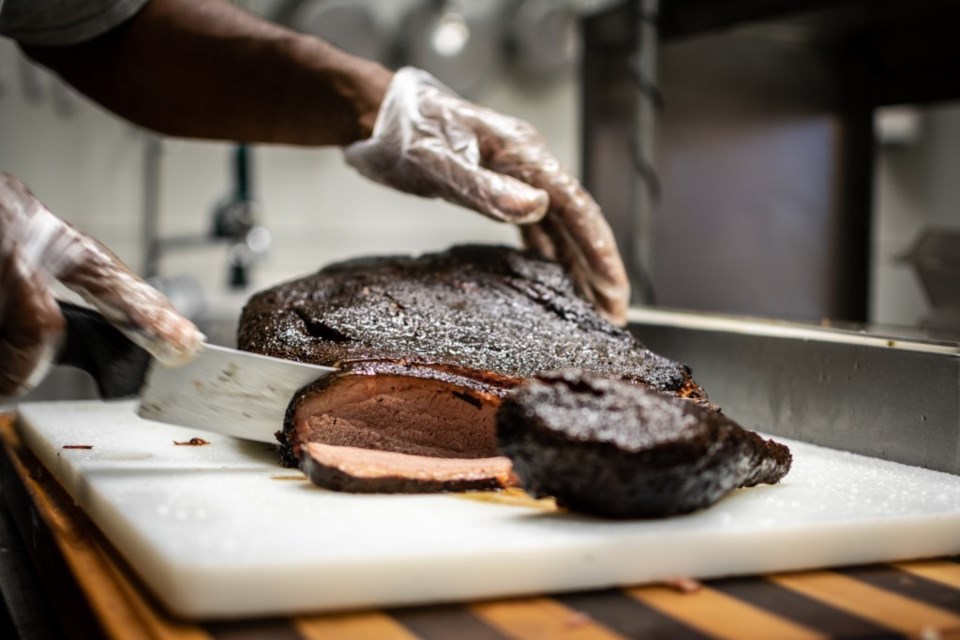 Where there's smoke, there's barbecue. For the past several years, Pitmaster Charles Pressley and his crew—a family operation—have served Texas-style barbecue from a gas station in Lavon, Texas. Wood and Time Smokehouse sits close to the center of town inside a Chevron. It's the kind of place you wouldn't visit if you didn't already know it was there so it's no surprise that most people find Wood and Time because someone they know raved about it.
Though their operation is small and primarily to-go, their customers are fiercely loyal, traveling from all over the metroplex to fill the few tables set up inside, choosing between brisket, ribs, sausage and chicken. They also have a spectacular catering service for corporate clients.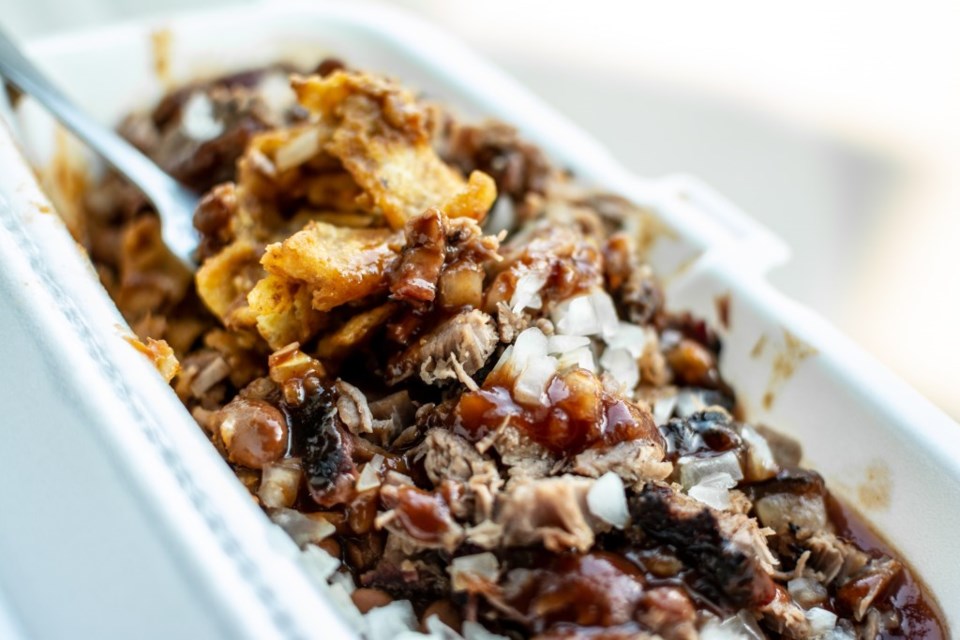 Wood and Time serves food from 11:30 until they're all sold out. Their classics include straight up ribs, briskets, sausage and more, as well as hefty sandwiches. The chopped brisket sandwich, huge chunks of brisket soaking in a house-made sauce, spicy or regular, on thick-sliced bread, is particularly popular. Wood and Time is also well known for serving up new combinations. Sometimes the pitmasters feel creative and whip up new ways to serve barbecue like their baked potatoes with brisket or their most famous meal, Brisket Frito Pie. It's exactly what it sounds like and more.
Wood and Time Smokehouse || Wed – Sat | 11:30 a.m. – sold out || 400 TX-78, Lavon || 214.585.1589 | woodandtime.com
Kimzey's Coffee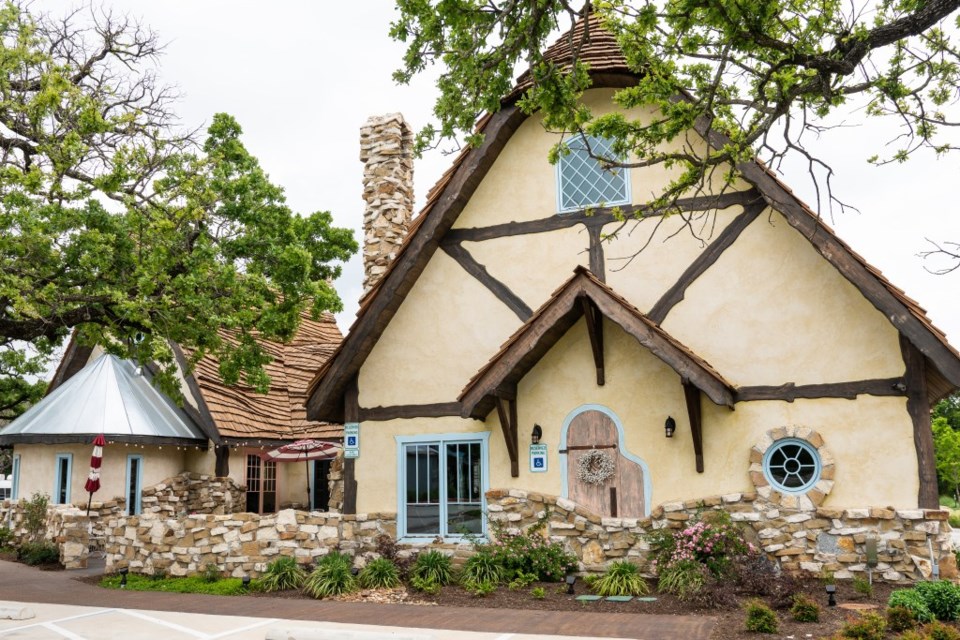 Once upon a time in Argyle, a coffee shop opened inside a quiet fairytale cottage, where patrons could sip espresso in wingback armchairs or linger at tables for two over lavender honey lattes. Most coffee shops these days favor sleek modernity and bright, natural light. Kimzey's, in contrast, is cluttered with whimsy, offering a few different sitting rooms. You'll want to relax, read a favorite book and possibly move in.
George Coffee + Provisions is a good reason to go to Coppell
The cobblestone fireplace and hand-painted designs makes it feel like a relic of another time, cute and personable as the robin's egg blue mugs. It's easy to wander into a secluded place to sit, from the long tables in the main room, where customers line up to order, to a sunlit hallway lined with small tables, to the expansive patio. Friendly touches of wood, round windows and mismatched furniture keep the atmosphere quirky. It's adorable around Christmas when wreaths go up on doors. It also happens to be right next to Bumbershoot and Gnome Cones.
While you're there, indulge in a warm cinnamon streusel loaf, brownies and crusty thumbprint cookies. The food has natural, homemade imperfections and may change with the seasons. Signature coffee drinks are made with Milk and Honey espresso, but for something lighter, you can't go wrong with the barista specials. For example, the Honeypot is utterly unique: iced tea with a splash of coconut milk, infused with honeydew melon. Kimzey's also recently added milkshakes to the menu and they're half-off during happy hour. Go classic with vanilla or chocolate or stray into the woods with the seasonal flavors.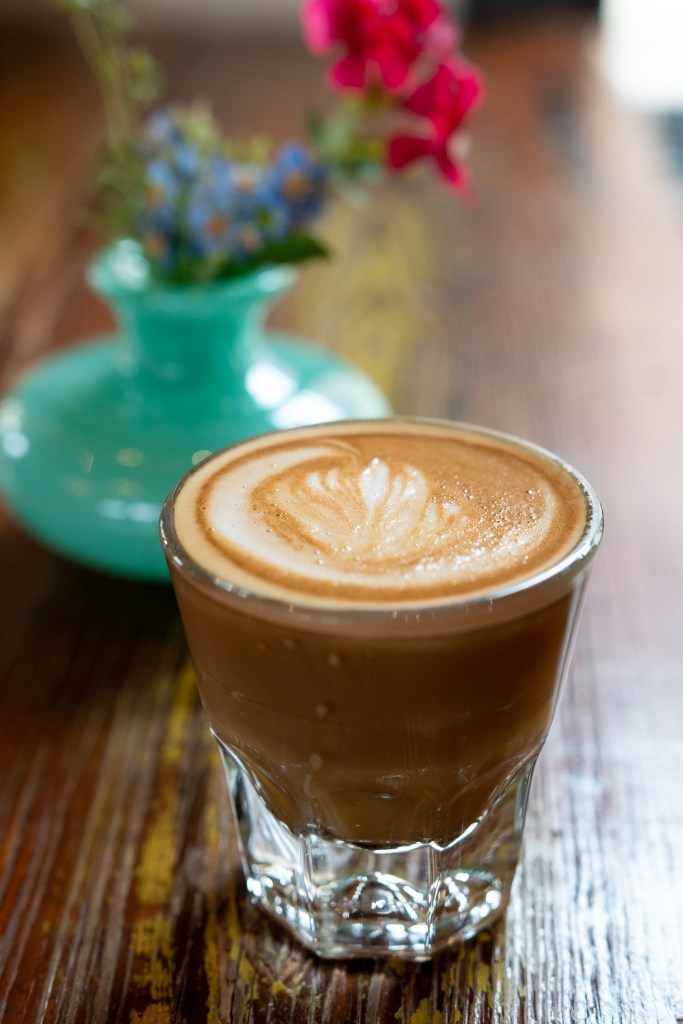 Kimzey's Coffee || Mon – Fri, 6:30 a.m. – 9 p.m. | Sat – Sun, 7:30 a.m. – 9 p.m. || 429 US-377, Argyle || 940.240.1001 | kimzeys.com
Originally published in Plano Profile's November 2018 issue under the title "Destination: Food"