Eight|11 Place can be found in one of Frisco's historical houses, dating back to the 1830s at least. With every step on that timeworn wood floor, the glasses and little four-person tables rattle. Eight|11 Place has become a beloved spot for those seeking a good, long chat, live music or, weirdly enough, baby showers.
"I've never worked at a place that has so many baby showers," Chef Susan Benton said to me, bemused. "Wedding showers too."
In a little blue house on Main Street, Eight|11 Place is most recognizable due to the big red "Wine" sign, a beacon to all weary passers. Inside the bright red doors is a sizeable collection of wine bottles and local craft brews, a patio complete with live music and individual s'mores roasting pits at each table.
Rustic wood cabinets, built into the walls, hold all the utensils, glasses and various other restaurant paraphernalia. It's also where the owners stash funky shirts that they design themselves. One has a corkscrew and the tagline "Screw it." Sometimes they contain wise proverbs such as "Save water. Drink wine." Some employees have been here for so many years, they've built up collections of 50 or more. Everyone, regular and staff member, has a favorite. Sometimes the owners—four best friends who moved from L.A. to Frisco together—circle back around and reprint a particularly popular one.
Though Eight|11 Place is elegant enough for wedding showers, it's all very DIY and low on frills. They don't even have a walk-in refrigerator.
Lively energy buzzes between Chefs Travis Blakeley and Susan Benton, who conspire in a corner about some new local beers they're bringing to the table. As they explain it, every single restaurant in the metroplex has Deep Ellum Blonde and Revolver Blood and Honey. They're updating their drink menu to include equally local craft beers that are harder to find.
It quickly becomes clear that this is a friendly, social place. You go there for conversation, food and drink served also. Regulars are well-known. One, waiting at the bar for his pizza, becomes an impromptu taste-tester for a soup still in the R&D phase. The staff, wandering through at a relaxed but frequent pace, is always excited to get feedback and offer up their favorite recommendations.
The menu fits that feeling. There's no raving competition for James Beard awards here; no one is seeking to change the world. They aren't doing anything particularly revolutionary with kale. But sometimes you just want to enjoy life and have a good, honest meal. That's when you should find yourself at Eight|11 Place. That's not to say the menu won't surprise and delight you, especially with such devilish temptations as the Sugar Bacon, Raspberry and Goat Board.
I order a middle-of-the-road red blend, since it's Thursday, when blends and brews are half-off during happy hour. The Caricature is like a good pair of jeans; it'll go with anything Eight|11 throws at me.
In true wine-bar-fashion, about half of the menu is taken up by various boards. Cheese boards, meat boards, hummus boards, even a dessert board which I'll get to later. The sugar bacon board is basically everything good. Toasted slices of French baguette on the side.
Served elegantly in a parfait glass, its vibrancy immediately catches your eye. Generously heaped with fresh-sliced basil, the goat cheese and raspberry jam pair beautifully, but the true star here is the sugar bacon, diced up small.
Rumor has it that one of the owners is famous for this very sugar bacon. When she makes it, fans can smell it a mile away and come running. Employees and customers alike beg her to make it for Christmas dinners. Those two words presented together, sugar and bacon, sound like manna from heaven. All three layers of straight-up-delicious are easily spread onto a slice of bread, flavors cycling from sweet to fluffy and savory, and back again all in the course of one bite. You might dream about it later.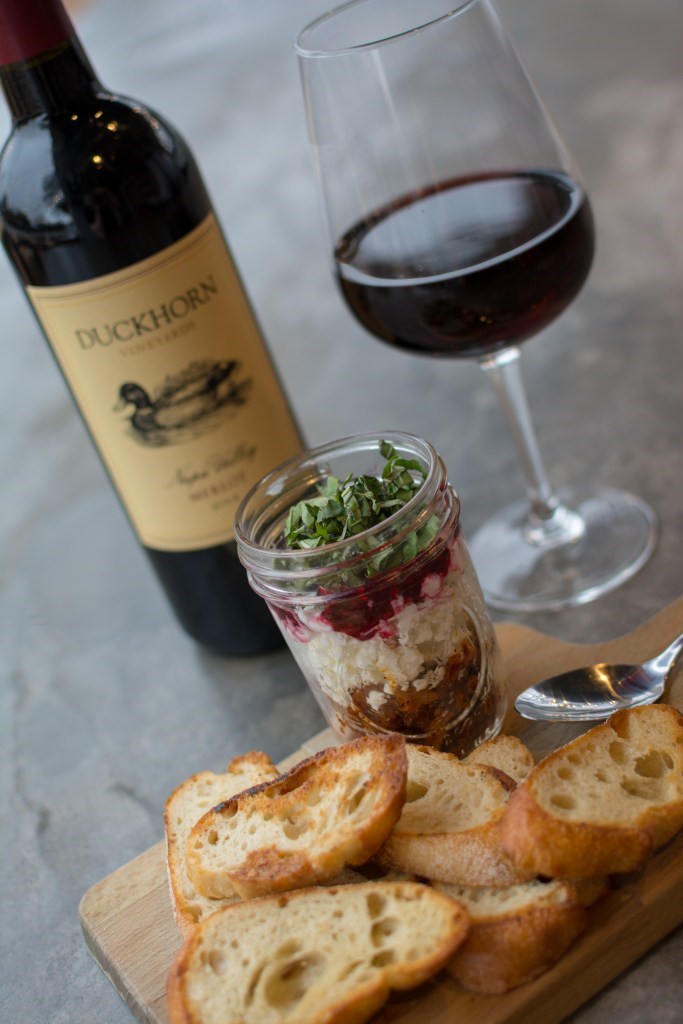 The Smoked Salmon Board hurts your diet less than anything else on the menu will. Smoked salmon with dill along the edges, sits in rolls on a bed of arugula, sprinkled with capers. Plentiful tomatoes, red onions and cucumbers come on the side, along with two slivers of cream cheese. To me, the cream cheese is awkward, two fat white sticks that cross each other on the board like afterthoughts, especially when compared to the pretty picture those five rolls of salmon create. But as for the taste, it's simple and satisfyingly clean. The salmon needs very little decoration beyond the dill and the bright vegetal pairings.
Eight|11 Place revamps the menu as the seasons change. One of their newest items is the Rustic Meatball Board. This is sort of like a deconstructed meatball sandwich, tiny, bite-sized meatballs in a house-made marinara sauce that tastes as if it's been simmering all day and then smothered in cheese. Miraculously, it's not nearly as messy as it sounds. Fresh basil once again makes a welcome appearance and pushes it all to new heights. This is one to savor. And, perhaps pair with a local beer.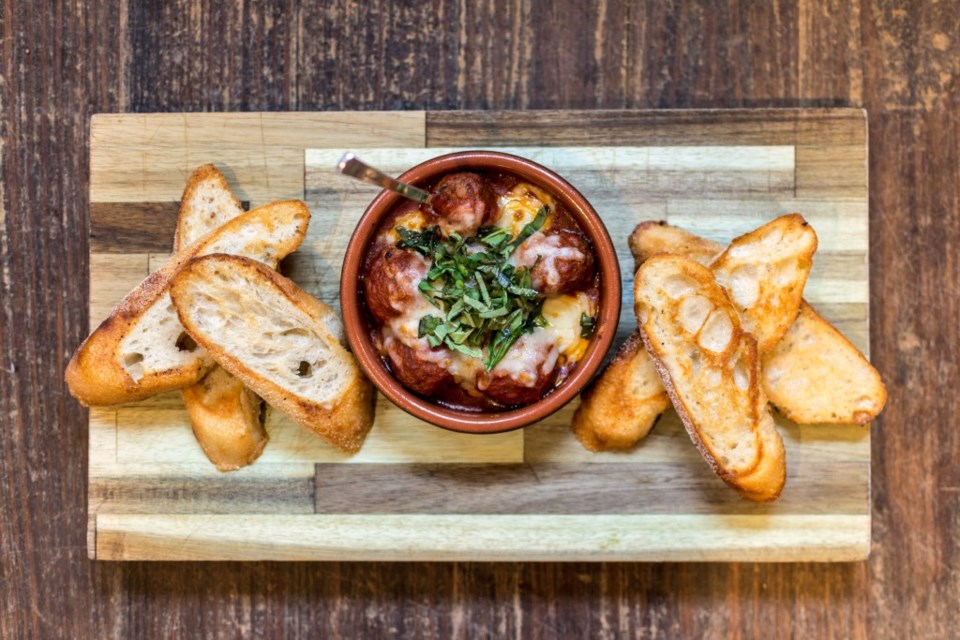 As for sandwiches, one clear winner is chicken, with apple slices and warm brie. Sandwiched in warm ciabatta are thick slices of chicken with a grilled, smoky edge that highlights the mild nature of brie and honey. Granny Smith apples, shaved thin, are a great choice, tart enough that the sandwich doesn't lean too hard into its sweet side. It's an easy spring sandwich.
But Eight|11 Place offers more than boards, light sandwiches and wines. They're also a pizza and beer kind of a place. In fact, they're one of the few restaurants in the area that does a beer flight. But it's not typical. Their samples aren't served in shot glasses, but tiny custom-ordered snifters, downsized pints and tulips the actual size of real tulips. They offer a changing selection of local beers and you can order four, making it the ideal time to find a new local favorite.
Besides, if you order the Pineapple Pig pizza, you'll need Peticolas Velvet Hammer to cool the fire in your mouth. Piled with pulled pork, a sweet barbecue glaze, red onion and pineapple, this heavy hitter gets its final flourishes from diced jalapeños and whole leaves of cilantro. Those diced peppers hide under the cheese, zapping you now and then and keeping an otherwise sweet dish from losing its edge.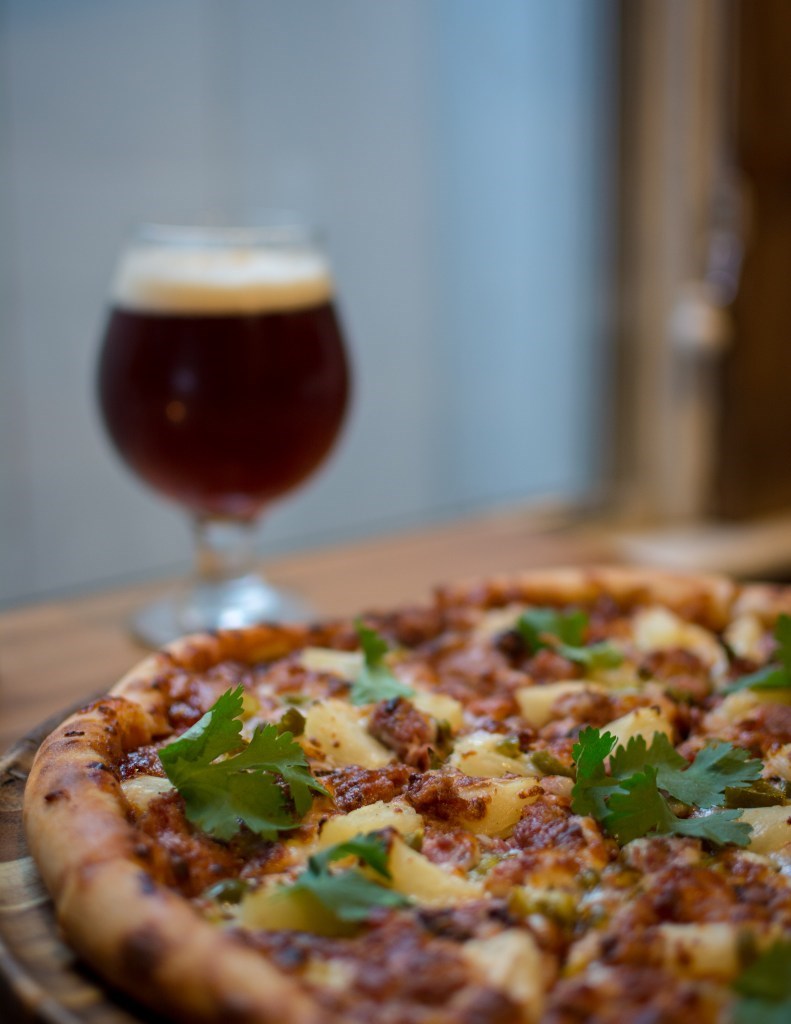 The Chicken Pesto pizza trades in red heat for verdancy. A delicious swirl of pesto and balsamic reduction drizzle along the top and the aroma of basil and garlic waft over the table. Goat cheese reappears here, spangled with diced tomatoes and chicken sliced to the size of peanuts for extremely easy devouring.
Eight|11 Place's most fun dessert might be the s'mores you roast at your table. This board is literally just s'mores. No frills, no games, no utensils. But you don't order s'mores to be blown away with their artistry. You get it to relive sticky, imperfect childhood, for trying to roast the entire marshmallow equally, getting impatient, and shoving it deep into the heart of the flames until it goes up like dry twigs and you must, excitedly, blow it out.
Haywire at Legacy West, a massive ode to Texas
If there's live music, you can sit outside with a complimentary blanket and roast your own dessert at your table, each of which has its own fire pit. If you're inside or it's drizzling, the board comes with a personal little pit the size of an indoor succulent, full of wax.
There is a new dessert in town worth some praise: cheesecake, sprinkled with lime zest. Whipped within an inch of its life, it's nearly as airy as the whipped cream dolloped on the side. The homemade raspberry coulis that pours down both sides was lovingly crafted with house red wine and lime juice which draws a sharp, ruby line under that snowfall of zest, elevating it to heavenly levels. By the last bite, you're weightless or tipsy. Or both.
Eight|11 Place is little and lovely, the entire experience clearly geared toward a date or chat with a longtime friend, to a backdrop of live music. This is the kind of restaurant that becomes a "usual place," where customers grow into regulars. It's built for savoring stress-free spring evenings.
Eight|11 Place
Hours
Mon–Wed | 11 a.m. – 10 p.m.
Thurs | 11 a.m. – 11 p.m.
Fri – Sat | 11 a.m. – 12 a.m.
Sunday | Closed
Where | 7080 Main St., Frisco
More | eight11place.com