Hookline, now open at The Boardwalk at Granite Park, is related to Dallas hit Hook Line and Sinker, but they're more like cousins than twins. While the same po' boys, Cajun tastes and fried plates that made the original famous have carried over to Hookline, the new Plano location has a different vibe going on.
Gone is the fisherman's cottage aesthetic, with its boat motors in the parking lot. Also gone are the rough but warm patchwork of pictures, the spare parts and the big fish on the walls. Hookline has traded all of that in for a modern, watercolor design. The tables are long, weathered white wood for easy family-style sitting and pallet booths with blue accents. One solitary boat engine, polished to a shine, ornaments the raw bar and a weathered anchor with ropes as thick as arms hangs on the wall. It might look a little more yacht club than Hook, Line and Sinker does, but don't be fooled; it's still got all of its go-with-the-flow charm.
Under the direction of Executive chef Aaron Nelson, Hookline's menu at a glance has plenty of good surprises. If its brunchtime, you're in luck. Because bottomless mimosas. With a keg of champagne and a wide variety of fresh juices, Hookline does mimosas right. Pineapple, Louisiana strawberry, Texas peach, watermelon–these aren't your grandmother's mimosas.
Oysters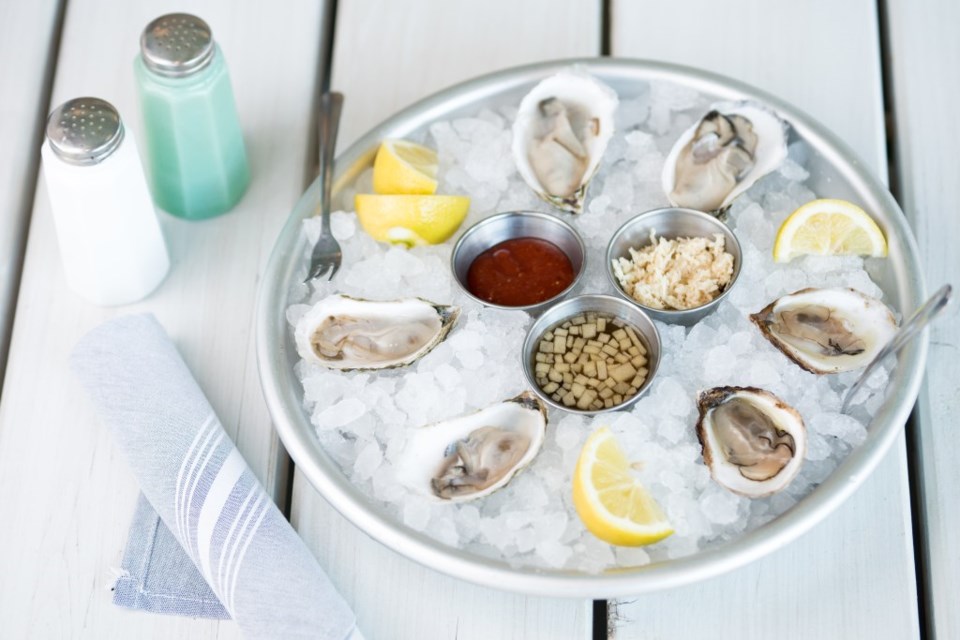 Whatever you do however, try the oysters. Oysters are a big deal in Hooklike. Our waitress told us a story about a customer who claimed he didn't like oysters. She bought him a plate of chargrilled ones with her own money just to prove him wrong. Hookline's chargrilled oysters make a very compelling argument, drowning in garlic-herb butter and gooey parmesan gratin with slices of French bread. Oysters are hard not to love served like that.
But then there's Hookline's raw bar.
Oysters are like wine. Depending on where they're from, they can have vastly different profiles. They're also very finicky. Hookline knows the story behind every single plate and exactly where their oysters are coming from. Go on, test them. You'll hear some pretty cool stories.
Hookline takes a page out of sushi's book and provides a little card, where you can view your raw options and mark what you'd like to receive. We opt for three: Murder Point—reportedly so good you'd kill for them—White Cap from Cape Cod, and Pink Moon from Prince Edward Island. They arrive in ice with lemon, cocktail sauce and horseradish. Sampling a few varieties one after the other is probably the best way to seek out their subtle individualities for yourself.
Or, for a down-the-hatch approach, get a round of oyster shooters: a single raw oyster floating in house-infused horseradish & lemon Dripping Springs Vodka and Bloody Mary cocktail sauce.
Read more: Bulla Gastrobar brings Barcelona to Plano
Appetizers
If oysters still aren't your thing, that's fine. There are pimento cheese fritters with Mississippi comeback sauce. These little devils come in dollops of a homemade fried green tomato jam that surprisingly steals the show. Even with fried cheese on the plate, those tomatoes still manage to shine, simmered down, preserved and blooming with so much cinnamon they could be stuffed into a pie.
But of course, there's always gumbo. The Hookline team have been playing around with gumbo and they finally have a recipe they like. It's a little unconventional, ditching hunks of chicken and sausage for baby ice shrimp, lump crab meat and gulf oysters. It takes care, attention and sweat to do gumbo right and while this one isn't entirely traditional, it'll charm purists and novices alike.
Entrees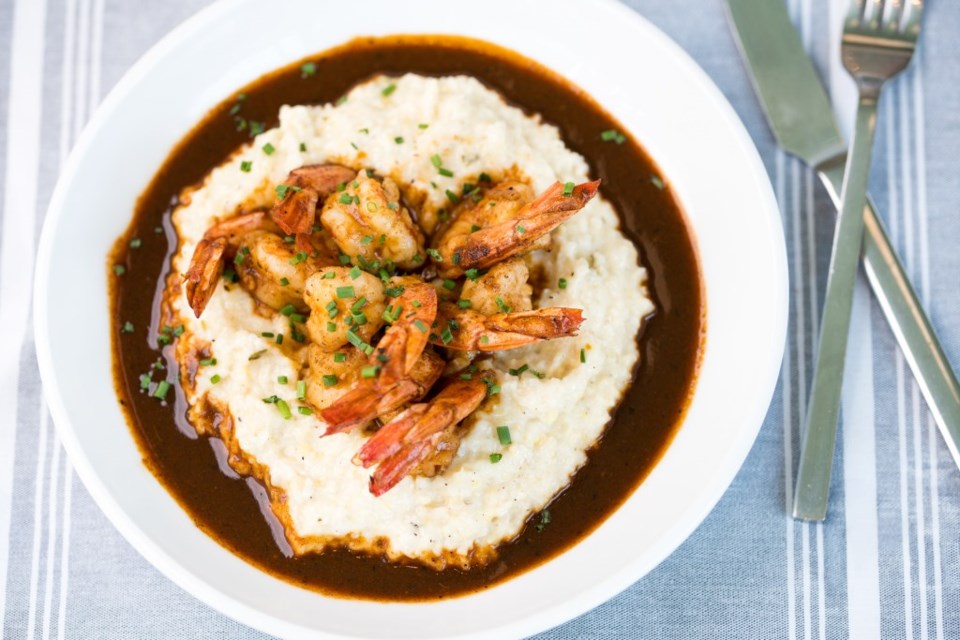 Along with fried baskets, legendary hushpuppies and boils, Hookline also sports a sophisticated set of dinner selections like Southern Shrimp-n-Grits, Scallops and Country Ham and a "Low Country" pork chop. (That last one is way better than a seafood place deserves. It's just not fair.)
Chef Aaron is famous for his shrimp-n-grits, a dish that's probably always going to be included on his menus. Ruby red shrimp shine in the Nola-style barbecue sauce on Homestead Mills Jalapeño cheddar grits. It's a total knock out.
The scallops are without a doubt more complex. Pan-seared diver scallops sit on individual fried green tomatoes, sprinkled with crispy Lady Edison country ham, pickled dragon beans and fried parsnips. Red-eyed gravy is the secret star, made from that same thin-sliced ham and spooned onto the plate to quietly, artistically pull it all together.
And, as previously stated, Hookline has a magnificent bone-in pork chop for all the land lubbers out there, grilled to perfection in a maple bourbon glaze and served with a huge spoon of sweet potato mash, collard greens and a hunk of sweet cornbread.
Read more: New restaurants coming to The Boardwalk
Finishers
From seasonal cobbler topped with a huge, doughy biscuit instead of pie crust, to bread pudding, reinvented with croissants with white chocolate in the layers, to Low Country Coffee with Bailey's and homemade whipped cream and rock candy—let's not ruin all the surprises Hookline has in store. You'll just have to go and see for yourself.
Hookline
Hours:
Sun-Wed | 11 a.m.-9:30 p.m.
Thurs-Sat | 11 a.m.-10 p.m.
Where: 5872 TX-121 Ste. 104, Plano
More: 214.297.3474 | hooklineplano.com