Dude, Sweet Chocolate is not your average chocolate shop. It's hilariously irreverent with a bare-bones appeal that lets the true star—the chocolate—shine. They aren't heavy-laden with sweet peppermint or cherry cordial, but are odd little bits of genius: Love Potions, Irish Car Bombs and Hippie Crack. They get their crunch from garbanzo beans and their kick from tequila, whiskey and Ethiopian dark roast coffee.
"It's not too serious. The biggest goal was to have a chocolate shop that was fun," Chef Katherine Clapner says. She isn't too serious either. We meet in the downtown Plano store while customers buzz in and out and the staff cut samples and give pairing advice. It's considered wildly impolite to leave without trying something.
"I don't have a normal palette so I don't make traditional chocolates," Katherine goes on frankly. "They're traditional in what they are and the methods and the kinds of chocolate … But we're not those [traditional] people. We don't want to be those people. There's enough of that."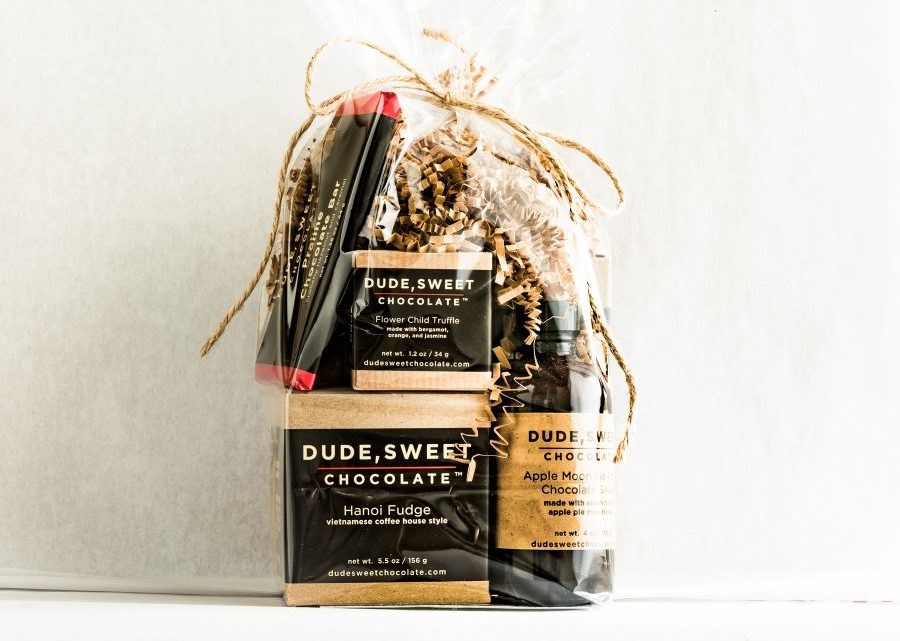 Katherine graduated from the Culinary Institute of America in New York and worked for three years at The Savoy, one of the most prestigious hotels in London. For 20 years, her specialty was pastries, but after a commission to do chocolates for a friend, she switched gears. "My taste buds had changed, I'd been influenced by the chefs I'd worked with over the years and chocolate had changed," she explains. "I enjoyed it so much that I started playing with it more and off I went. We opened the store a year later." Make no mistake, she could whip up a traditional chocolate turtle that would make angels sing, but she finds deviation from the norm far more engaging.
Driven by interest, imagination and the offbeat sense of adventure that first led kids to drop Mentos in Dr. Pepper, Katherine has more in common with a scientist than a business tycoon. "I'm not making raspberry chocolates. I'm not making salted caramel," she says. "I don't come from a chocolatier background. I come from a chef background and I think that has a great deal to do with it."
For example, the Albatross fudge contains blue cheese. "I wanted a salt and an acid. Cheese is salt; bleu cheese is a very particular kind of salt … If I add garbanzo beans and sesame sticks, it's because I need something crunchy that's not a nut. I'm always looking. I'm looking in shelves, I'm looking in restaurants, I'm looking at what chefs are doing." Albatross fudge, incidentally, has a subtle tang from the bleu cheese without being overwhelming, a delicate riff of chocolate cheesecake.
"A lot of stuff is just play," Katherine shrugs. "I'm curious. I want to see how it works. Can you make pig ears taste like chocolate tea and cinnamon? You can. And you can fry them and they're delicious … It's just fun. I went to an Indian restaurant in New York and I can't wait to play with the stuff I saw. I'm sending the chef chocolate to get him to tell me [what he uses.]"
As with any scientist, failure is a part of the learning process. Not everything has been a success. Her wormwood experiments have never seen the light of day. "But I think it was the wormwood," Katherine adds. "I used a dry wormwood, not the fresh stuff. I made it, tasted it, trashed it."
The first of her four Dude, Sweet Chocolate locations has just celebrated seven years in business in DFW and her inventions have entranced the metroplex. She's sought after for deals and endorsements; both Jameson and Laphroaig have commissioned her to use their products. In downtown Plano, the Dude, Sweet Chocolate attitude fits right in. She describes the brand as a little rough around the edges, but really freaking good. "We always wanted to be that. The good stuff. I can't say I'm farm to table—I'm chocolate—but if there's a fruit, I've made a jam. I bought it at a farmer's market or farm. If there's a vinegar it's been made out of that fruit when I'm done." For those who are willing to pay, they'll be rewarded because they aren't just paying for Katherine's ingenuity; they're paying for top-notch quality and ethical sourcing too.
"Chocolate isn't cheap," she says. "There's no getting around it. It doesn't start cheap when it hits my back door. It's always been expensive in my world … but we can trace all of our stuff. I know where everything I find comes from." Eighty-five percent is Valrhona, a highly sustainable brand that has helped save the white bean in Peru and whose sales help provide water to those plantations. Katherine has also set aside 10 pounds of a unique chocolate from the Dominican Republic, the purchase of which rebuilt a school. "A lot of practices with chocolate are deplorable. I have to know where it comes from. If it's treated well, it's in the taste. You know it."
Someone tries to leave the store who, it transpires, hasn't had a single sample. Katherine cuts off the conversation immediately to get her a piece of a C3PO (coconut) marshmallow, made with egg whites, not gelatin. "We spend a lot of money at the sample table," she continues. "That's our advertising. You could read a label and think it sounds fantastic but you might bring it home and it doesn't end up being what you wanted. That's all you'll remember … we want people to get what they like, not what they think they might like."
Dude, Sweet Chocolate is uncomplicated in presentation, but each piece is a wild experiment in flavor. It all evolves in Katherine's head until she can get out one of her pots, sprinkle in something new and go with the flow.
"I'm trying to carbonate something at my house but I think I'm going to have to put it out on my porch in case it explodes," she adds with the electricity of Einstein. "We'll see how it goes. If it goes well I think I'm onto something. Who knows?"
Originally published in Plano Profile's January 2017 issue.