It all began in 2012 with one woman's dream. Not just a vague hope or a wild idea. A real sleep-dream. When she had the same dream the next night, she knew something was up. "I woke up that morning and told my husband Chris about it," said Ruth Thompson, Founder and President of Hugs Café in McKinney. "I'd dreamed—twice—about starting a restaurant staffed by special-needs adults, people born with developmental and intellectual disabilities. And Chris replied, 'We've got to do this!' It wouldn't have happened without him."
Ruth brought plenty of experience to her new dream. Before she and Chris moved to McKinney in 2004, she had been the executive director of an organization in Colorado that provided services to families with special-needs children. After relocating to Texas, she taught at Market Street grocery's cooking school in McKinney, where she also started offering cooking classes for special-needs adults in 2006. That program was so successful, it eventually expanded to several independent school districts in the area, with more than 100 special-needs students taking classes each month. "We were teaching them an important life skill, how to cook for themselves at home," said Ruth. "But then we also saw that they really wanted to find fulfilling work outside their homes, too."
After Ruth retired from Market Street in 2013, she became involved full time in making her special dream come true. But it took even more work than she'd imagined—putting together a board of directors, raising funds, obtaining official non-profit status, finding a location for the restaurant, getting equipment and training the staff. Finally, in October of 2015, Hugs Café opened in the former location of Brother's Pizza restaurant on Virginia Street in McKinney, just a block from the city's historic downtown square. "It wouldn't have happened without tremendous support from the community," said Ruth, "family, friends, colleagues, fundraisers, donors, volunteers, people from our church [St. Andrew's Episcopal in McKinney], and especially Elke Marsh, one of our board directors, who is also the owner-operator of Elke's Market Café in Allen."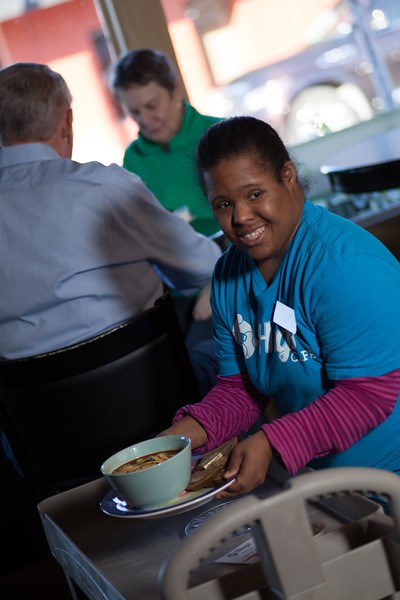 Hugs—which stands for "Helping Us Grow Strong"—is now staffed with 23 special-needs adults, some of whom are HIPsters ("Hugely Important People) from My Possibilities, a unique continuing education program for disabled Texans who have aged out of secondary education. There are four certified culinary professionals who supervise the operation. One of those is Maria Caccavali, previously a sous-chef at Market Street's cooking school. Community volunteers come in to help out, too.
All the special-needs adults who work in the kitchen have to train for, and pass, the state of Texas food handlers' certification test. Then, they're eligible to work at the café as preparation cooks, line cooks, baker's assistants, or dishwashers. Others greet customers at the door, serve food, and clean the tables. Known as "teammates" at Hugs, all are paid employees who range in age from 20 to 43 and come from all over the local area—McKinney, Plano, Allen, Wylie. There's even a waiting list of others who want to work there. "We're giving them a chance," said Ruth. "It's not only a dream come true for me. It's a dream for so many of the employees, too."
Hugs Café serves lunch six days a week, Tuesdays through Sundays, from 11a.m. to 3 p.m. The menu was developed by several chefs and restaurant owners who volunteered their time and expertise to making Hugs happen. The current menu offers a selection of eight different kinds of sandwiches on a choice of four different breads, plus three large entrée salads, six side dishes, and every day two different soups, such as Creamy Chicken Tortilla, Country Lentil, Green Chili Corn, or Tomato Basil. Desserts are especially popular items on the menu, from extra-sweet, almond-flavored Wedding Cake Cookies to warm Apple Strudel.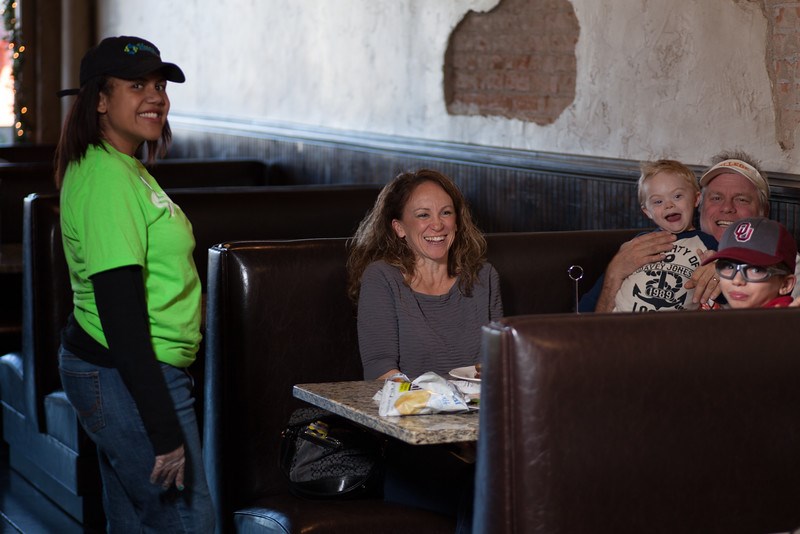 But it's the teammates who work at Hugs that really make this restaurant special.
Kalyn Bradley of Plano originally took one of Ruth's cooking classes at Market Street and later at Plano West High School. She now works four days a week as a baker's assistant at Hugs. "I love to bake a lot," said Kalyn. "I've been baking for five years at home. I like to bake cupcakes and cookies, brownies and big cakes. I got really, really interested in baking and now I'm here. I bake the Wedding Cake Cookies," she added, "and the Chocolate Chip Cookies, and the Signature ones, too"—the chewy cranberry-walnut-oatmeal cookies.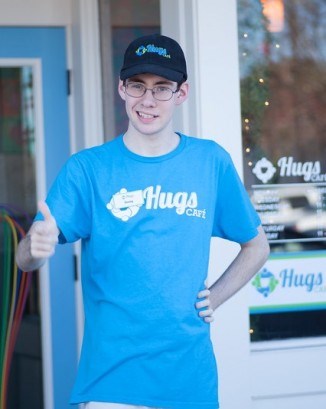 Danny Sigler works two days a week at Hugs, as well as three days at Anytime Fitness in McKinney. "Right before Hugs opened, I started helping make Wedding Cake Cookies and giving away free samples at Oktoberfest," said Danny. "Now I pre-wash and rinse the dishes and put them in the dishwasher to sanitize them. I'd like to try being a server, too, taking the foods to people at the tables."
"The food here is really good," Danny added. "For lunch we get half a sandwich, a soup or salad, and a drink. I really like the 'Peach Gobbler' sandwich made with turkey, cheddar cheese, bacon, and the house-made peach chutney."
Paula Sigler, Danny's mother, was delighted when he was hired to work at Hugs. "I like the fact that there's a place where special-needs kids can go to work, where they're not discriminated against," she emphasized. "When Ruth said she was going to open the restaurant, it just warmed my heart. The kids have fun working there, too," she added. "It's a great environment. It makes you feel good to be there."
With his sunny disposition and can-do attitude, Blaine Hardin of McKinney is typical of the teammates at Hugs. He's another employee who started his culinary career by taking the special-needs cooking classes at Market Street. "Ruth, Maria, and Jill Lipka really got me interested in this," said Blaine, who also holds down a second job at a local Rapid Refill ink and toner cartridge store. At Hugs he prepares ingredients for cooking and also makes sandwiches and salads. "I do the serving sometimes, too," said Blaine, "and busing tables, dishwashing, greetings—whatever they need. The best thing about working here is making everyone happy." [print_gllr id=3950]
Photography thanks to David Ochoa, david8a.com
Hugs Café
224 E. Virginia St., McKinney, Texas 75069
469.301.6900
[email protected]
hugscafe.org
Hours:
Tuesday–Sunday, 11 a.m.–3 p.m.
To make a donation click here.
1st Annual Hugs Celebration & Benefit
The 1st Annual Hugs Celebration & Benefit will be held Saturday, February 6, 2016 at 5:30 p.m. at The Sanctuary (6633 Virginia Pkwy. in McKinney). The gala event includes a dinner, open bar, silent and live auctions, with music by a local high school jazz band and a string quartet. For information about reservations, sponsorships, or auction items, call Tracy Self at 469.223.7590 or email [email protected].