It feels like home inside The Keg. Maybe it's the low, warm lighting, maybe it's the fireplace crackling in the corner, or the low key yet upscale atmosphere. Most likely, however, it's the steak.
The Keg is about hard work, good service and family. Ever since the Canadian company set up shop in Plano, it's become a favorite for everything from birthday dinners, relaxing Sunday night steaks and business meeting done over a French Martini or Burnt Orange Old Fashioned..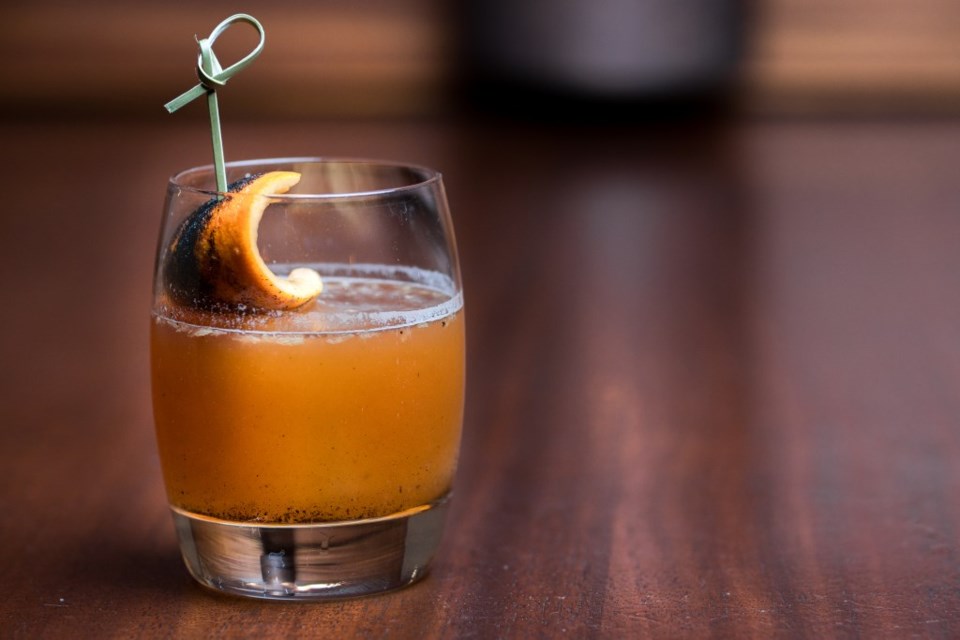 Every guest is made to feel known. Regulars are welcomed by name, usually by a server who remembers their favorite appetizers. Those little things matter at The Keg.
As the general manager describes it, The Keg is an intimate place with a compact menu that focuses on steakhouse classics. "We focus on those things we can do perfectly. People come in and feel welcome."
A glance at the menu reveals tempting appetizers such as Tuna Tartare, Calamari and Shrimp Cocktail, the sorts of standbys that feel right in a nice steakhouse like The Keg. Calamari, for example, is never a bad choice. The Keg fries it particularly well, coated in graham cracker crumbs which add a surprising hint of sweetness, perfect in the Greek feta dip.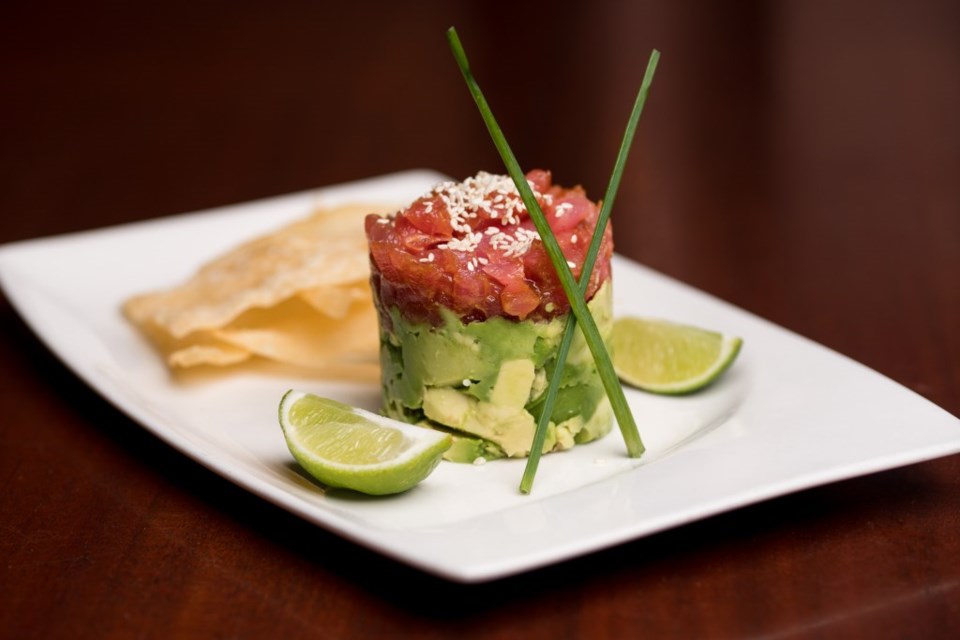 As for Tuna Tartare, the star is its sesame soy vinaigrette. Some regulars love it so much, they ask for the recipe. The vinaigrette, applied with a light hand, softens and sweetens the tower of fresh tuna and diced avocado. The wontons on the side are almost forgotten about in the face of a dish that balances simplicity and indulgence so well.
Similarly, shrimp cocktail is a faithful steakhouse appetizer. Giant, barely-butterfly shrimp curl around the rim of a single martini glass surrounding a pool of martini cocktail sauce. Everything you'd get in a martini—onions and Bombay gin, for starters—is in the sauce, making it richer and more complex than typical cocktail sauce.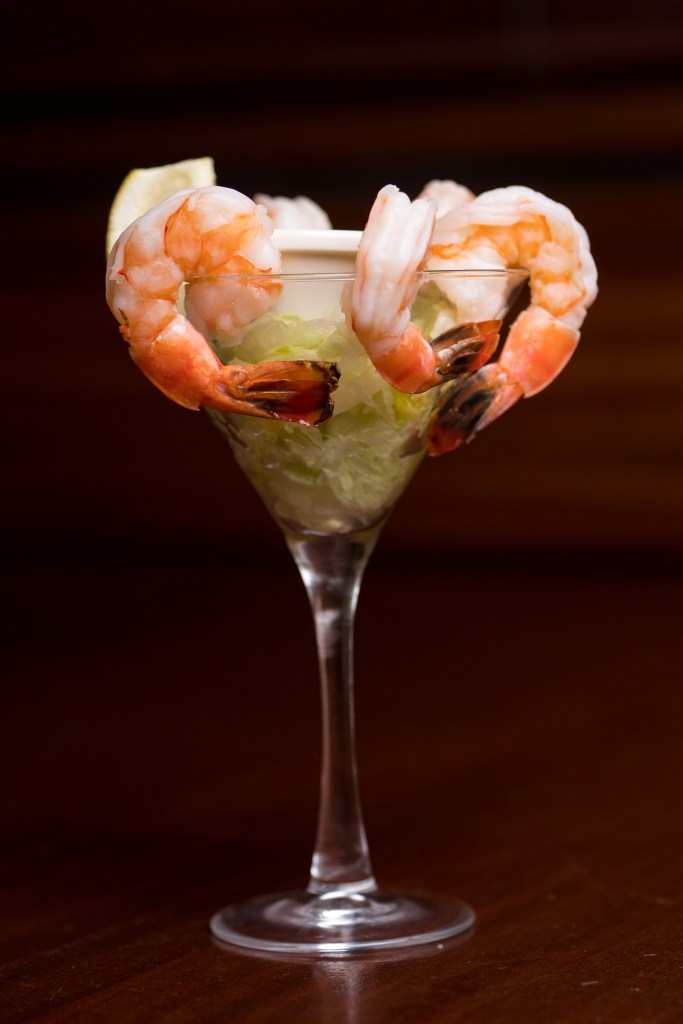 Lobster bisque is one of my all-time favorite dishes. The Keg serves it at its best. A word to the wise: lobster meat is already mixed into the bisque. For those who are used to a dollop right on top, it's good to know that beforehand. The bisque itself has a strong sherry lilt, infusing every spoonful with delicate flavor. Pair it with a seasonal salad like Burrata with heirloom tomatoes. Topped with fresh basil, it's mild and pleasant as a spring morning.
Of course, steak lies at the heart of The Keg. Whether it's a 44-day aged peppercorn steak served with a whiskey sauce or a baseball filet, The Keg's pride and joy, without a doubt, is steak.
Peppercorn New York strip isn't for the faint of heart. The intense spice from its crunchy coating is only tempered by whiskey sauce as thick as gravy. Extra sauces like Bearnaise are free of charge.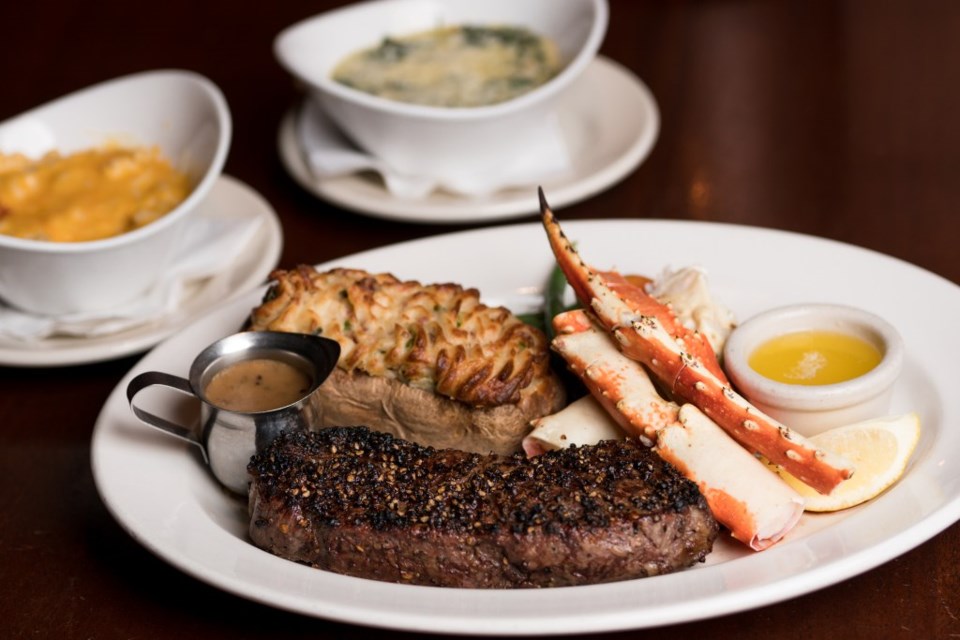 It's hard to be the Baseball Top Sirloin, roughly the size and shape of a baseball. It's more than enough for some leftovers and so thick that the kitchen can't cook it further than medium rare. Pair it with fresh crab or lobster tail.
We were surprised by the Bleu Cheese Filet, filet mignon wrapped in applewood smoked bacon with a crisp golden crust of bleu cheese, dotted with garlic cloves. If you love bleu cheese, this has to be one of the best ways to taste it. Even if you don't, The Keg's bleu cheese filet might convince you otherwise.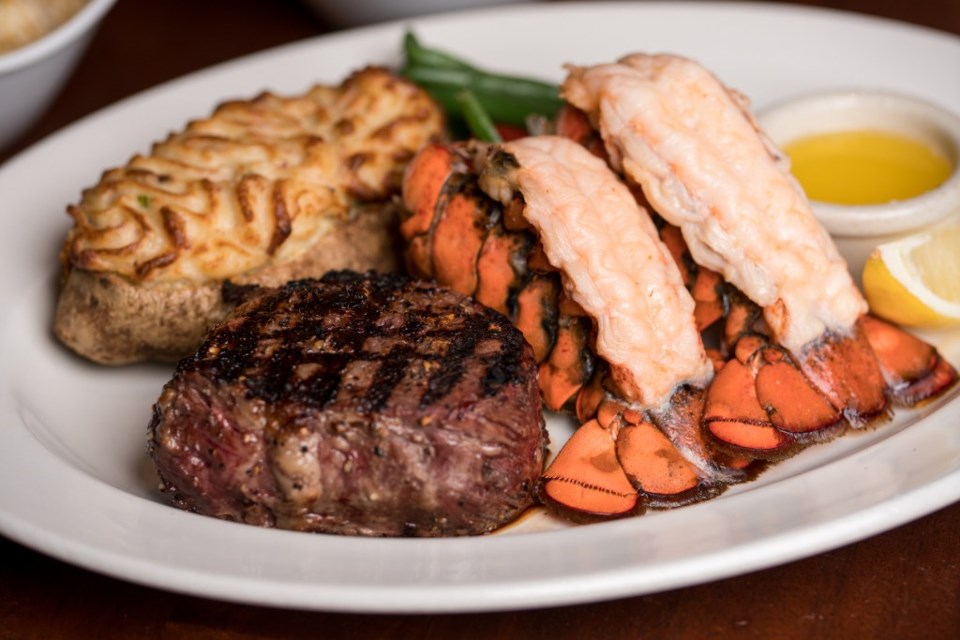 For dessert, The Keg's Billy Miner Pie is hard to beat. It's named after a famous train robber from the 1900s and it's about as dangerous as its namesake. Mocha ice cream sits on an Oreo crust, creamy with just enough rich coffee flavor. Chocolate and caramel drizzle freeze in place halfway down the generous slice. It's the perfect shareable finish to a wonderful meal.