Easily overlooked or dismissed as just another casual eatery, Conky Joe Restaurant sits on Highway 75 just southwest of Park Boulevard and has deep Caribbean roots providing some authentically delicious dishes that make this an excellent option for lunch or dinner. The owners, Jose Luis Martinez Amor and Mechelle Martinez Amor, come from Spain and the Bahamas respectively, and opened in Plano earlier this year with the goal of sharing their favorite flavors.
So with our offices very close to them, we ventured out to see if this might not be a good place to go for a quick lunch, or maybe an outing with a colleague or client… turns out, it really is. The atmosphere is more sophisticated than you would imagine, while still remaining casual. With an extensive beer and wine menu, this is also a pretty good place to get together with friends for a casual happy hour, Monday through Friday from 4–8 p.m. Enjoy $9.99 Wings & Fries; $7.99 Conch Fritters; 2-4-1 Conky drinks; and 30% off all wine. Buckets are $15/domestic and $20/imported.
So what about the food?
Conky Joe Sampler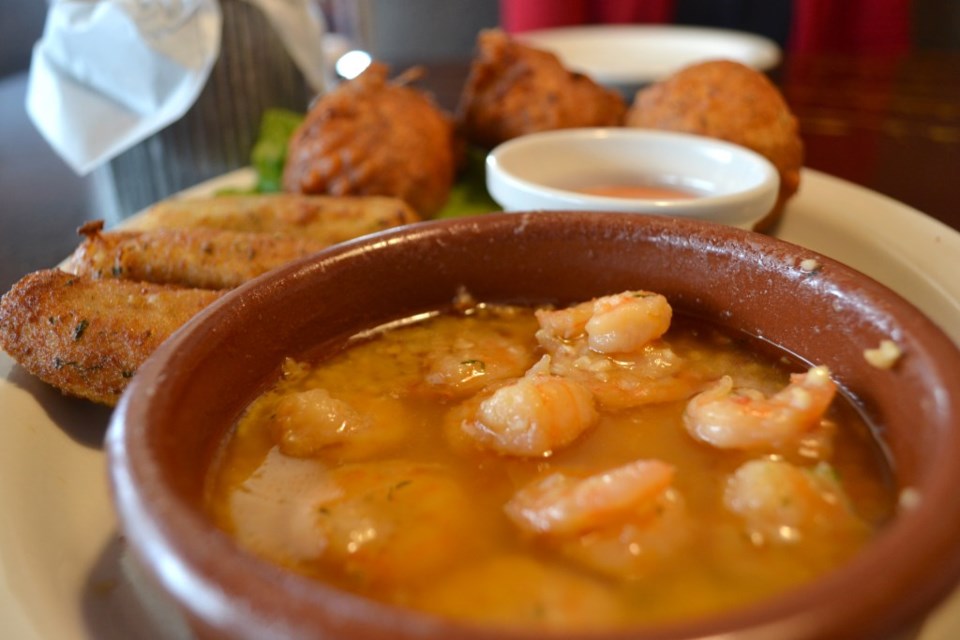 Loved this dish, which delivered some really delicious Spanish croquettes that were delightful a blend of bechamel and either finely chopped salmon or prosciutto. The conch fritters were quite flavorful, apparently the way the Bahamians like it… as did we. Then we had the garlic shrimp, sitting in a bath of olive oil and garlic, another clear influence of the Spanish owner. You might need a breath mint after, but totally worth it.
Tropical Salad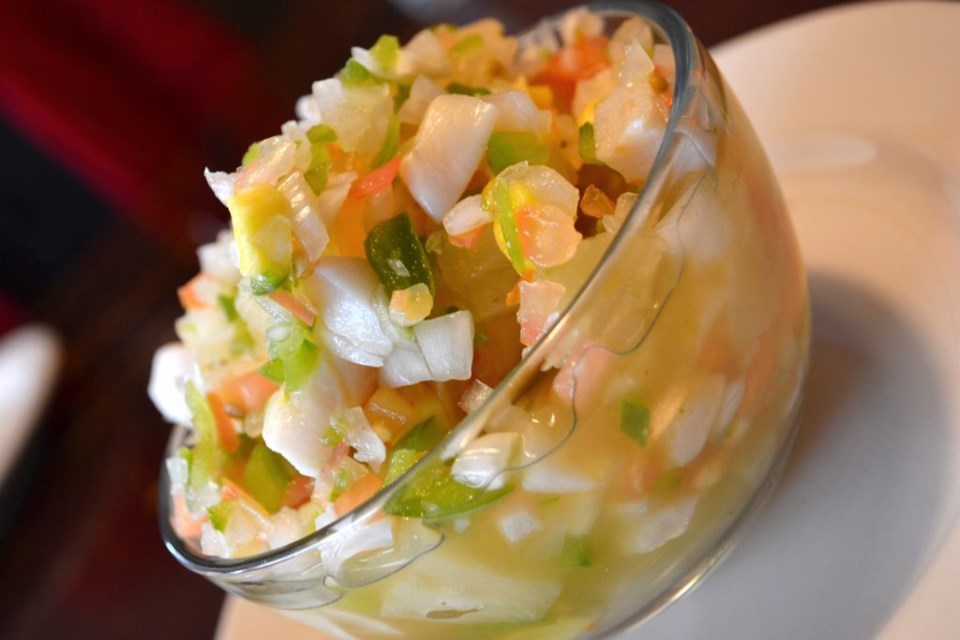 A Bahamian take on ceviche, this delicious dish was a tropical delight of flavors that mixed well and had all you would expect from a delicious conch salad, with an ever so slight touch of heat which, upon request, can be intensified. While eating this, I swear I could hear the ocean in the distance.
Jerk Chicken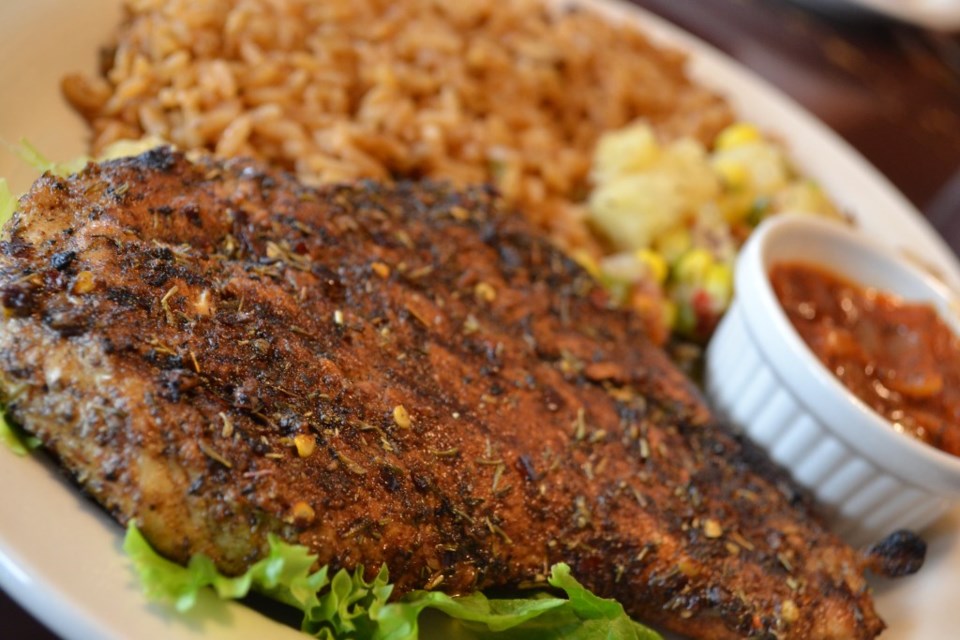 Not your typical arroz con pollo, this was a new twist on jerk chicken, again Bahamian-style. A boneless breast that was jerk-seasoned, which for the uninitiated is a seasoning consisting of 25 different herbs and spices, and served with rice, potatoes, and "steaming," a warm tomato and onion compote that was ideal to give the rice a bit more flavor.
Guava Duff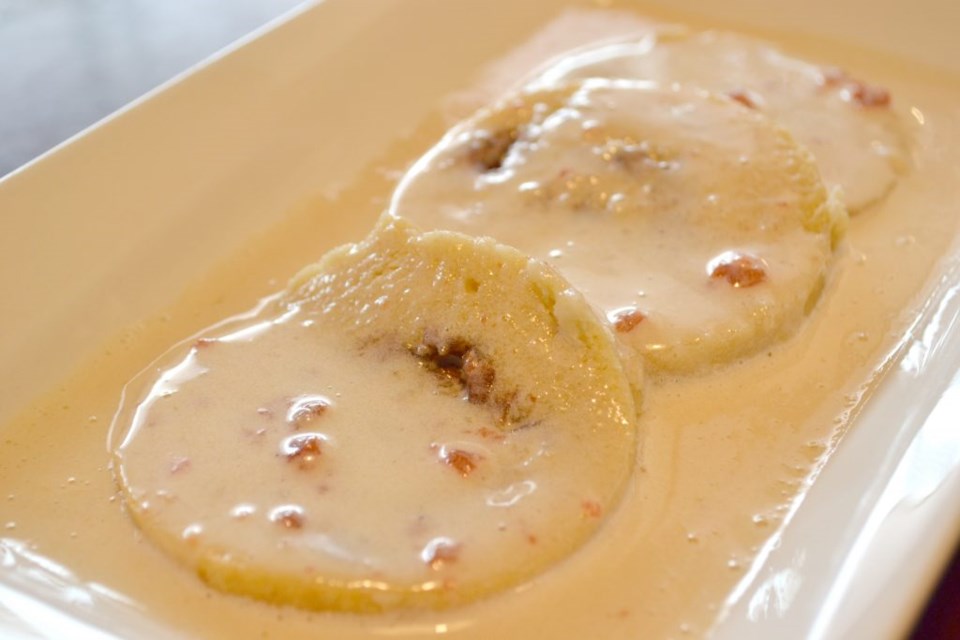 A duff is another Bahamian treat, which Wikipedia describes as "a Bahamian cuisine dessert dish made with fruit in a dough. Fruit is folded into the dough and boiled, then served with a sauce. Ingredients include fruit, butter, sugar, eggs, nutmeg, cinnamon, cloves, flour, rum, pepper, and baking powder." Our version used red guava as its main star, and brandy instead of rum. A beautiful end to a great meal. It should be noted that this is not on the menu, but is something they serve "usually near the end of the week."
Though Conky Joe has until now flown under our radar, it offers so much more than meets the eye. It serves up some deliciously different flavors, heavily influenced by the Bahamian and Spanish owners. In conclusion, Conky Joe's will be a permanent fixture in our business lunch portfolio based on its delicious flavors, accessible prices and location.
Conky Joe Restaurant |1861 Central Exwy. Suite 125, Plano, TX 75075 | 972.424.5888 | conkyjoe.com
Out to Lunch is an ongoing series that explores restaurants in and around Plano that offer some non-standard fare in an environment that is ideal for a casual business lunch with colleges or clients. We love to eat, so why not eat well while working? Have a suggestion, email us at [email protected].