The moment the weather gets cold–or at least slightly mild–comfort food is season. Bread bowls and pastas beckon, hearty chilis and ramen become utterly cozy and as long as it's warm and toasty, I'm sold. Tom + Chee is all of the above and appears in Richardson like an answer to prayers.
Legend has it the first Tom + Chee was launched at a public square in Cincinnati, Ohio with the simple notion that winded, chilled passersby would appreciate the warm crunch of grilled cheese served with a cup of tomato soup for generous dunking. Tom + Chee (Tomato and Cheese) has since been a phenomenon, even seen on Shark Tank due to their grilled cheese donuts (more on this later). It's open in CityLine, a stone's throw away from the fountain and State Farm's headquarters.
Tom + Chee is chill. The dominant colors are red and yellow and seating area is pretty open, with plastic chairs and bar stools at the window for people-watching. Options for dining are expansive, yet always on theme. Specialty sandwiches include the Pep+Chee, pepperoni, tomato sauce and mozzarella on hearty white, and even a selection of sandwiches with chips on them like BBQ+Bacon.
For soups, you've got Classic Tomato Soup, Creamy Tomato Basil, Chunky Tomato and other seasonal offerings. Soup is served in bowls, cups or little soup dippers for those who want a high grilled cheese to soup ratio.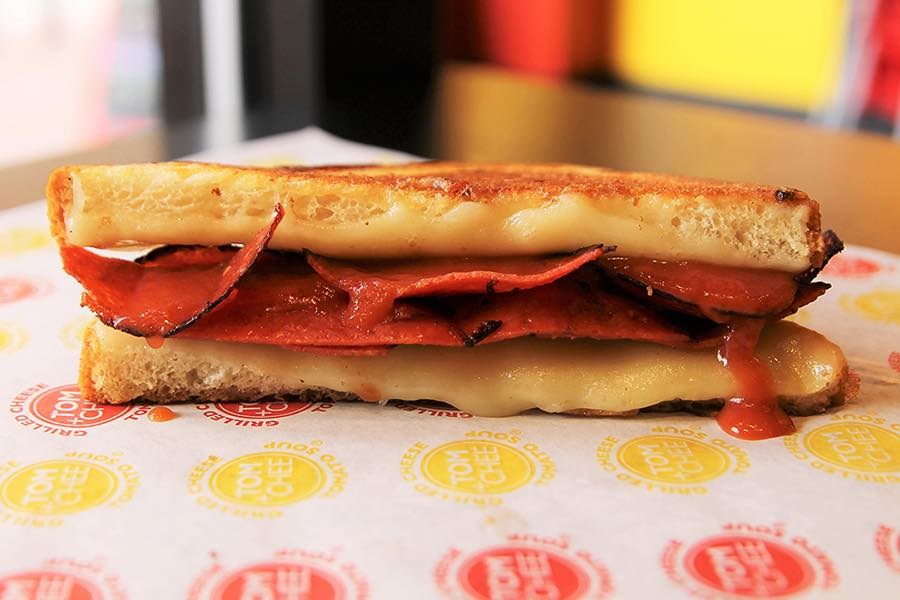 Though the Pep+Chee looks pretty tempting, I opt for building my own, which I highly recommend, since diners can create their ideal grilled cheese experience. On hearty white, for example, I paired cheddar and smoked gouda with basil pesto (made with sunflower seeds) and added tomatoes and peppers to trick myself into feeling healthy. I also got Creamy Tomato Basil, their most popular soup.
My sandwich comes with drippy cheese all around the edges, just enough to give it a baked-cheese crunch. The soup is filling and flavorful with lots of basil and a side of oyster crackers. A cup is just the right amount for a sandwich. Though the sandwich is pretty thick, it's evenly heated without the bread getting burned or the middle being lukewarm. The bread is generously buttered, just as it should be. There's even gluten-free bread available. It's filling, it's fun and it's perfect for winter.
One sandwich is plenty, but the grilled cheese donuts are worth a trip. I won't lie, they look like a heart attack served with a smile, but they put Tom + Chee on the map. An inside-out donut is placed on the grill with your choice of cheese, and finished with complementary toppings. Visitors can go simple with Cheddar Cheese+Glazed Donut, or go wild and try the Strawberry + Lemonade Grilled Cheese Donut.
Comfort food at its most indulgent, Tom + Chee is awesome.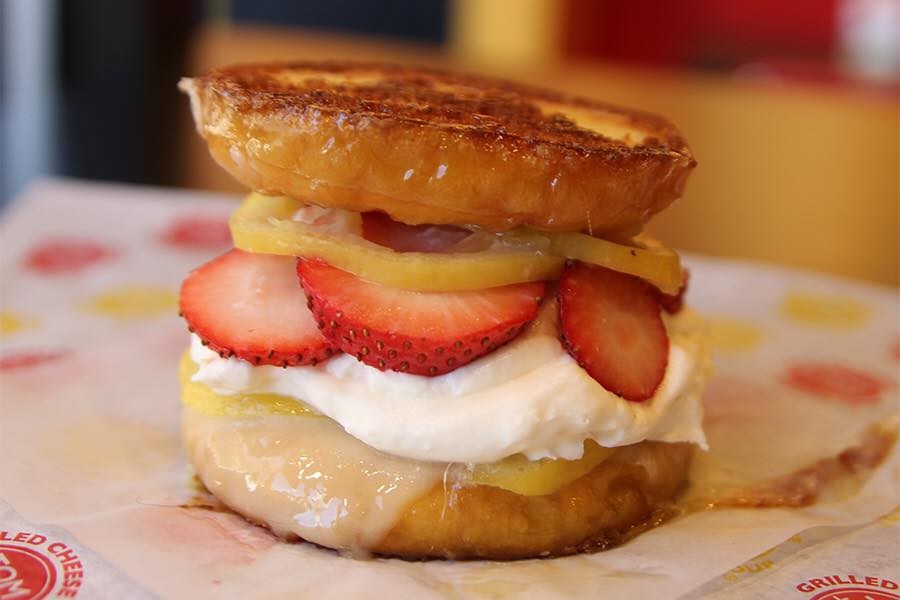 Tom + Chee at CityLine
Hours: 11 a.m. – 9 p.m. | Daily
Where: 1251 State St. Richardson, Texas 75082
Phone: 972.677.7482
More: tomandchee.com