Yatai Ramen Izakaya brought something truly wonderful to Plano. Serving ramen, udon, soba and more, finding a favorite noodle dish there is no simple task. The vast menu includes 14 possible ramen options such as Spicy Shoyu Ramen and Go! Vegan Ramen. That's in addition to the appetizers, 13 Tempura Fry options, 6 Udon and Soba opions, 11 Rice Bowls, and even more options at dinner. There are extra toppings and sauces, a Japanese after-meal menu … you won't leave hungry.
The decorations are tasteful, hints of cheery red and lots of wood. Each table comes with extra seasonings: Sesame seeds, chili oil, chili powder and of course, soy sauce.
We suggest you get the lunch special which comes with Yatai Salad, an appetizer and your choice of either Shoyu Ramen (flavored with soy sauce) or Tonkotsu Ramen (pork) or Miso Ramen (fermented bean paste). All this, for just $11.90.
Yatai Salad
Yatai Salad is simple, lettuce and shredded carrots mostly. But it was very fresh with an awesome ginger dressing. Paired with some color and sweetness from the carrots, it's overall a lovely start to wake up your appetite.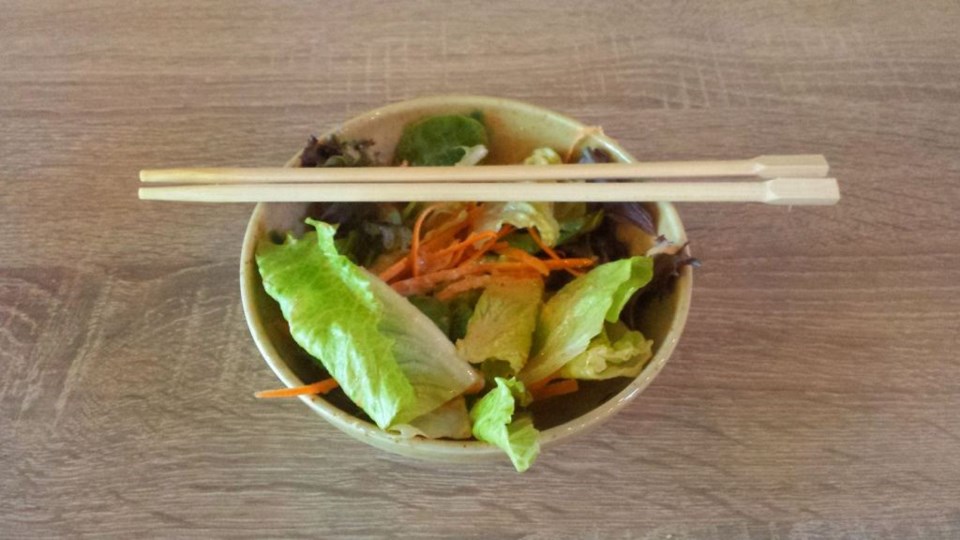 Agedashi Tofu
This felt adventurous when it arrived, but was extremely approachable. It's fried tofu topped with seaweed in a fish-based sauce with cooking sake, mirin and soy sauce. It was pleasantly subtle so that with the flavor of the seaweed could shine. It's best when it's fresh and has some crunch, but as it sits in the sauce, it soaks it up like a crouton, which is also great.
Soft Shell Crab
The Soft Shell Crab is fried and served with spicy mayo. Yum. The breading is satisfyingly crunchy and it's got a solid kick from the spicy mayo. Soft shell crab is indulgent, with real crab inside if you take a peek.
Tori Karaage
Tori Karaage is fried chicken and it's served with a creamy dollop of sauce and a slice of lemon. It came very hot, fresh from the kitchen and each bite was tender, not at all stringy. A spritz of lemon makes it perfect.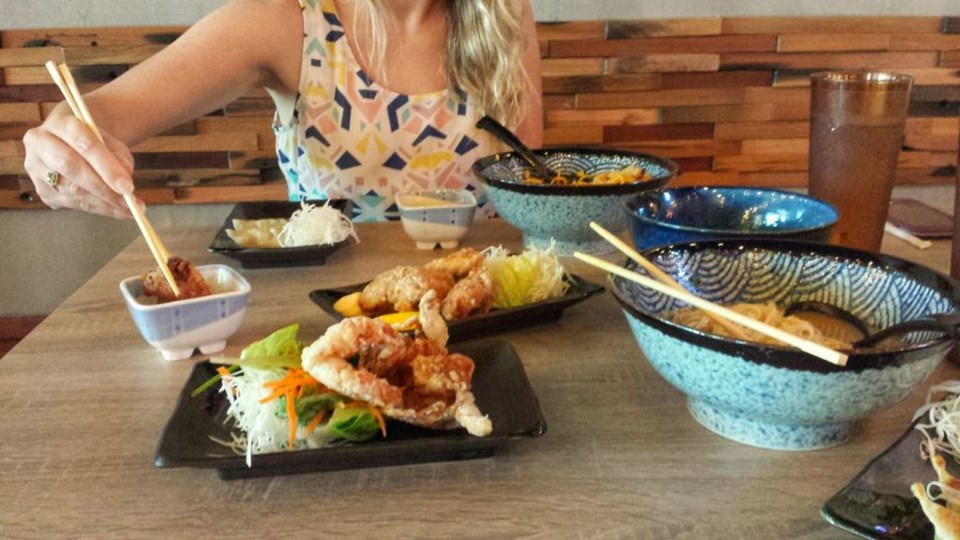 Pork Gyoza
The pan-fried pork gyoza aren't at all soggy but crisp with scorches from frying that add flavor and just enough crunch. Served with a tart dipping sauce, they're satisfying and generous, five to a plate. This one is a sure bet.
The highlight of Yatai Ramen is, predictably, the ramen. Ramen tends to be a fairly thin noodle served in hot broth and can be noticeably more golden in color than udon or soba. Cheap instant ramen can be bought for pocket change at any grocery store, but those little packets pale in comparison to a bowl of fresh noodles, topped with pork belly, mushrooms, chopped scallions and a rich broth made from slowly-simmered pork bones. The college kid in me cried happy tears when it arrived.
Miso Ramen
Miso Ramen has a miso base, clearly, with pork and chicken. Any ramen can be ordered extra spicy, like this one was. Note the red chili paste in the upper left-hand corner. Served hot and hearty, this felt especially authentic, so be brave and get it spicy. You'll want to eat everything while it's hot, since many ramen chefs say that perfect noodles last only five minutes in the broth before they become overcooked.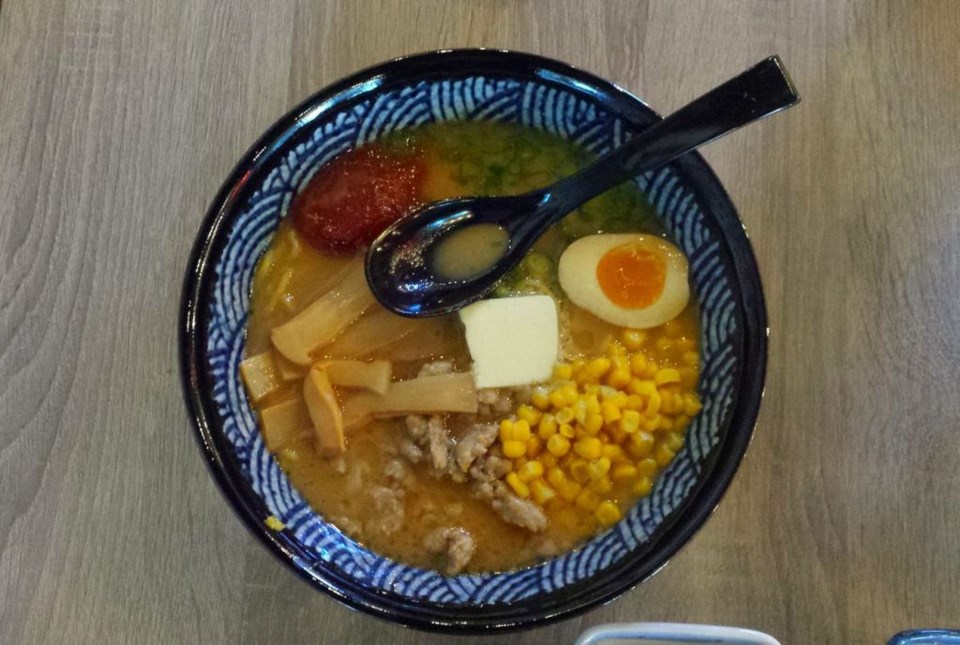 Tonkotsu Ramen
Tonkotsu broth is made from boiled pork bone. It's hugely popular, for good reason. It has a full and rich flavor, the perfect introduction to real ramen. It came with generous slices of mouthwatering, tender pork belly and, of course, a soft boiled egg with a creamy yolk. You can order extra egg and believe me, you'll want to!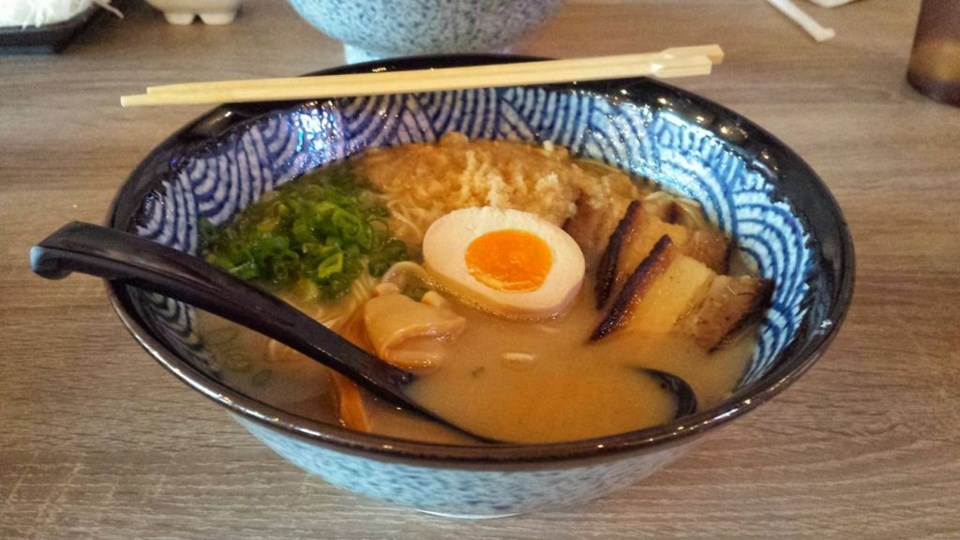 Mochi Ice Cream
End with mochi ice cream, ice cream covered in a smooth layer of slightly chewy mochi (pounded sticky rice). Yatai Ramen has all sorts of flavors available like green tea, mango and chocolate. The green tea ice cream was light and floral and won't make you feel bloated. The mango is equally kind to a full stomach with a much brighter, sweeter taste. The gummy texture of mochi is a little similar to gummys or Swedish Fish, so fruity flavors like mango are be especially good for mochi-novices.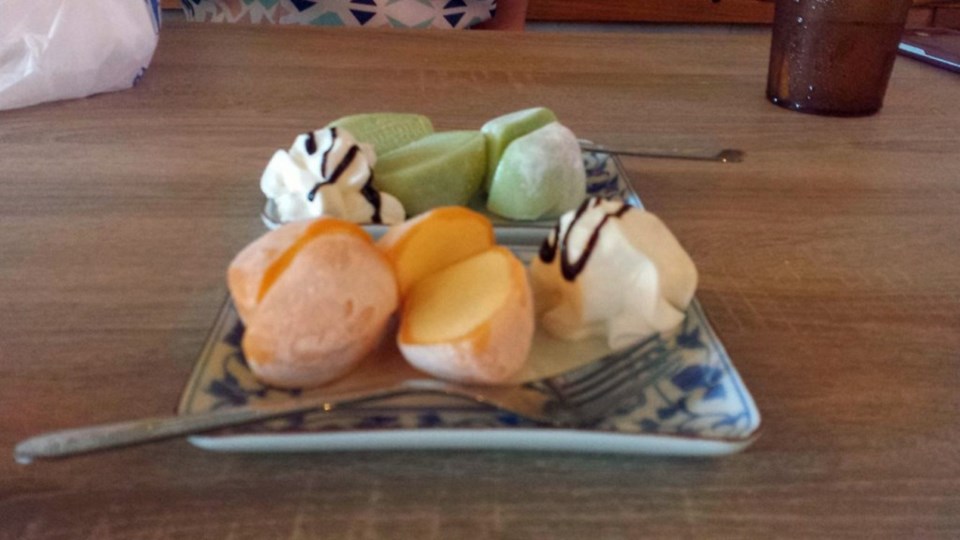 Yatai Ramen definitely impressed and I'm excited to go back and work my way through every single Ramen. Tsukemen, Tan Tan Men and Kimchi Bacon Ramen are all calling my name.
Some helpful hints
Yatai Ramen serves noodles many different ways. Some are hot, some are cold, some are dipping noodles and some are dry. Thankfully, the waitstaff is knowledgeable and there's also a key on the to-go menu, letting you know what each dish is like.

Go! Vegan Ramen is one of the few vegan ramen dishes that can be found in DFW.
Don't forget to check out the toppings that can be added to ramen such as egg, kimchi, bean sprout and Kaedama (extra noodle).
Yatai Ramen Izakaya
Hours: September 15
Tuesday-Friday | Lunch: 11:30 a.m.-2 p.m. | Dinner: 5:30 p.m.-10 p.m.
Saturday-Sunday | 11:30 a.m.-10 p.m.
Monday | Closed
Where: 2001 Coit Rd., Plano, TX 75075
More: yatairamen.com