When spirits are aged in a barrel, it's inevitable that a little bit will be lost to evaporation. This phenomenon is what brewers and winemakers call "the angel's share" and it encapsulates the idea behind Sixty Vines: To celebrate the knowledge and traditions of Napa Valley and provide a platform for the simple joy of sharing something spectacular.
Sixty Vines is Plano's newest place to unwind with a glass of wine, poured and served at its best thanks to a state-of-the-art free-flow tap system.
Walking into Sixty Vines, I had the immediate sense of space, courtesy of a high ceiling and an open floor plan. The color scheme is clean and neutral with hints of green, and the natural sunlight pouring in shows off the modern, clean lines of the long tables. The true star is the back wall, where New York artist Felix Sockwell was commissioned to paint an intriguing mural representing a day in the life of a vineyard.
The Wine
The crowning centerpiece of Sixty Vines is the long wall of wines on tap, so that each is served at the perfect temperature. Regardless of your palette and preferences, you can't go wrong. Wine can be savored by the bottle, the glass, the half glass or in flights of three. It's a surprisingly good deal on an offer that excels both in quantity and quality.
Visitors to Sixty Vines should take special note of any wine labelled "Vine Huggers," because these are especially unique. Vine Huggers wines are all from private labels, available exclusively at Sixty Vines.
The Food
The Salumi & Cheese board ($18) came with generous slices of Texas and California cheeses, little ivory towers beside thinly shaved salami and prosciutto, local sausage and accoutrements, such as dates and marinated olives. It's small, but the combinations seem endless. The cheddar with dates was perfect when paired with a Pinot Noir. The olives with goat cheese was also a delightful match.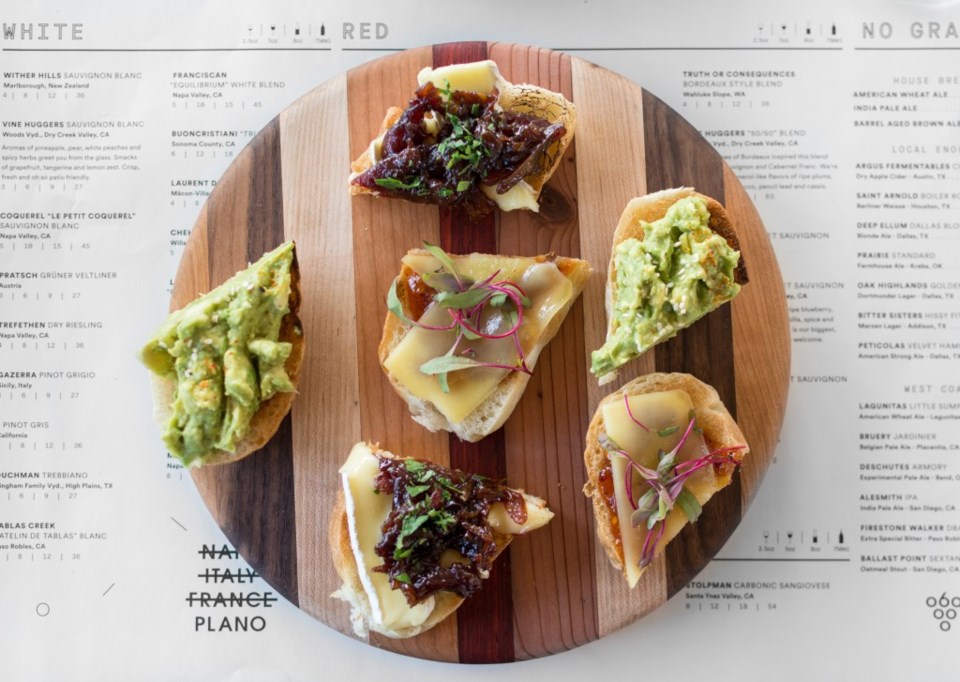 Assuming healthiness and deliciousness are mutually exclusive, the Crispy Zucchini ($6) is one of those dishes that sounds purely healthy. Yet, the masterminds behind Sixty Vines create healthy cuisine without compromising on flavor. The zucchini is flash fried but very light, dusted with tapioca and served with peppadew peppers and cilantro. It's finished with a sweet chili vinaigrette. Though the presentation wasn't spectacular, the overall taste was. The sweet chili vinaigrette was applied with a light touch: Beautifully enhancing the zucchini without drowning it. The light breading was even gluten-free.
With six bite-sized slices of sea salt ciabatta and three totally unique spreads, Toasts ($10) will make all other toast underwhelming. There are three different tastes on one plate: Avocado & togarashi, brie & candied dates and raclette & tomato bacon jam. The brie and candied dates was particularly exquisite. After a long day, this one, in particular, felt like a reward.
The scrumptious, seasonal Squash Blossom pizza ($11) is topped with white sauce, mozzarella, and lemon-herb goat cheese. The bright, cheery squash blossoms bloom up from the cheese, almost too curious to eat. The goat cheese was exceptionally fresh and was complemented by just enough zest from the citrus.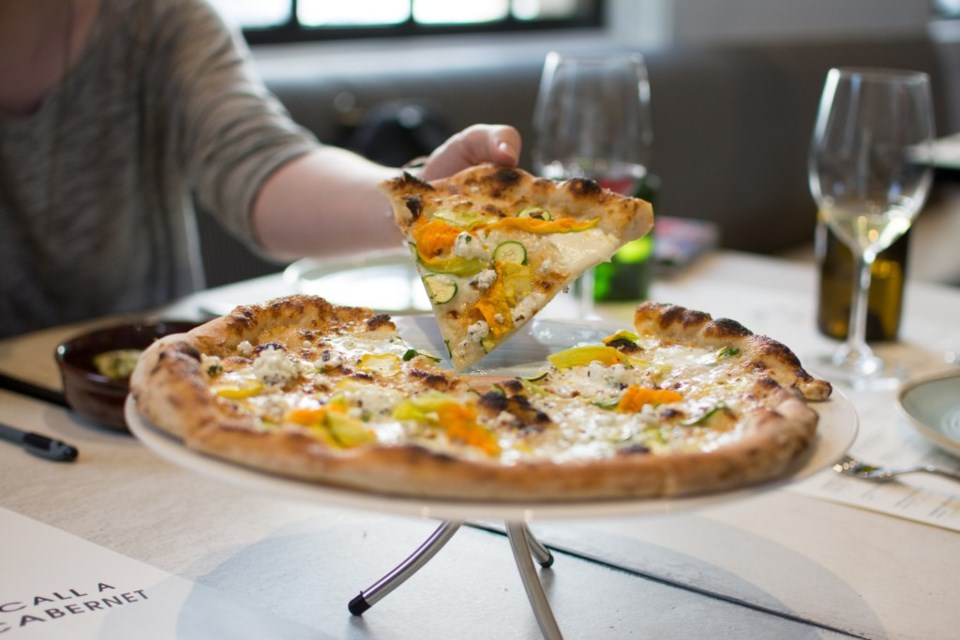 It's my belief that an egg makes everything better and the Fettuccine ($12) was no exception. With butternut squash, a sunny duck egg & cracklin's, sage butter and pea tendrils, this Fettuccine had a stunning presentation and lived up to its own hype. Herby and rich, even if you're stuffed at this point from Crispy Zucchini and Toasts, you'll probably clean your plate. I rarely order pasta at a restaurant, but if they were all this good, I'd order it every time.
My Ken Wright Pinot Noir had notes of lime, ideal when paired with the Steelhead Trout ($21), an oak grilled fillet, seasoned with tarragon, garlic and coriander butter, served atop a chilled heirloom bean salad. The bean salad was oddly satisfying, not at all mushy, and the fish was remarkably flavorful, crisp and seasoned on the sides, but flaking off in tender, moist layers.
This was a wonderful realization to have as we turned in the firmly unhealthy direction of dessert.
The Dessert
Deviled Affogato ($6) is devil's food cake, underneath a generous scoop of salted caramel ice cream and drizzled with coffee caramel. It's finished with a nitro cold brew coffee shot, a technique that produces an especially creamy shot.
If Deviled Affogato starred in a movie, it would be in a film noir thriller about a no-holds-barred detective treading just on the wrong side of the law, dangerous and all the more enthralling because of it.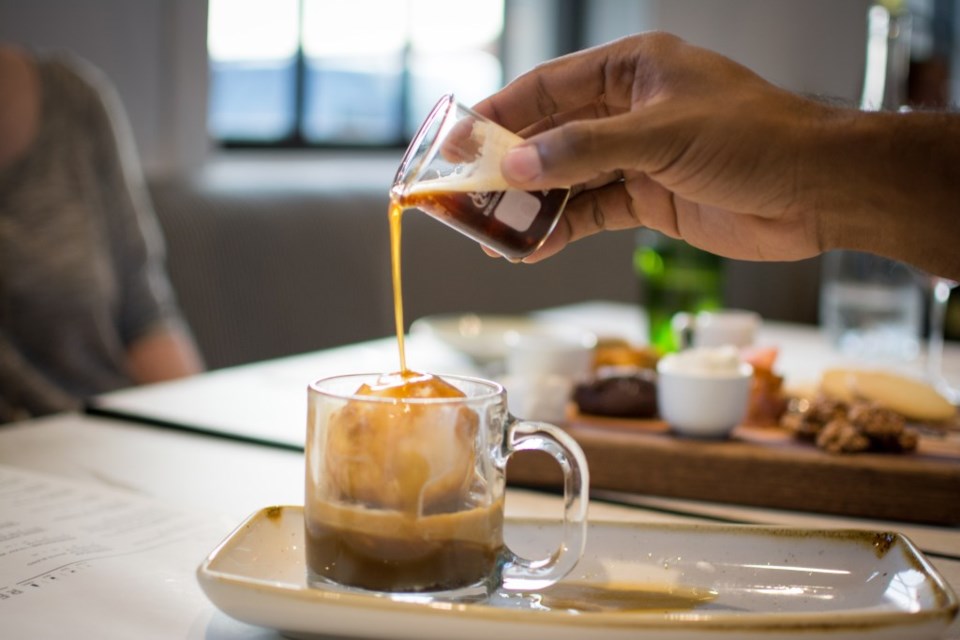 The Sweet Board ($9) is the more whimsical cousin of the cheese board, perfect for a wide variety of palettes and for pairing with a port wine or ice wine. There was quite a bit on one plate: Matcha castella cake, fruit leather, sea salt shortbread cookies, bittersweet chocolate ganache, candied walnuts, pear butter, mascarpone, lavender honey caramel and a slice of brie. With infinite combinations, each and every bite was unique and fresh, as adventurous as the taster is.The sea salt sprinkled on the chocolate ganache lifted it to a new level and would be fantastic with a nice red wine.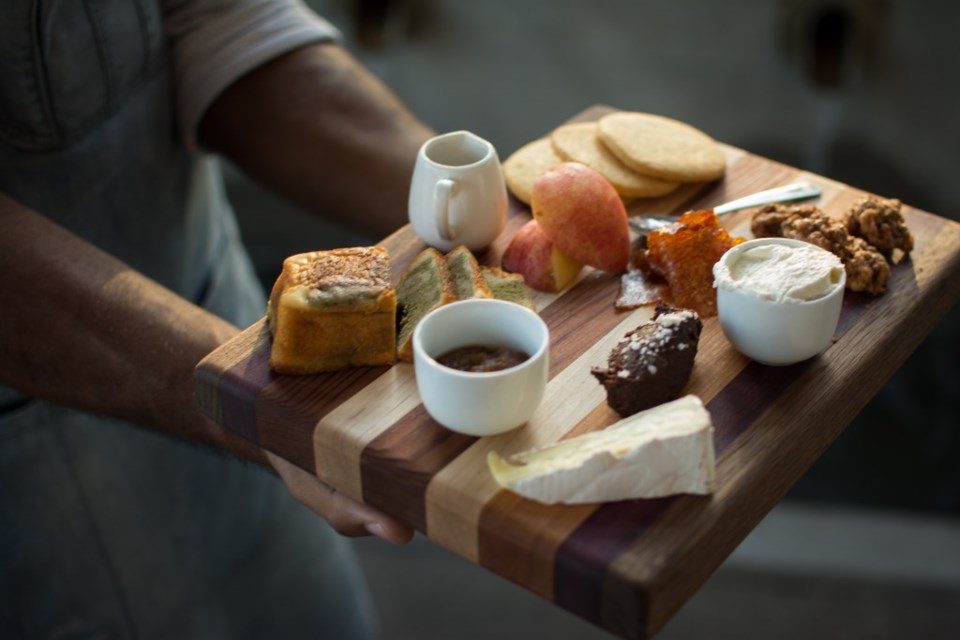 The candied walnuts were made sublime with a drop of lavender caramel honey and mascarpone. It all blends magnificently for a grand finale.
The best food can be eaten without thinking too hard about it. It can be enjoyed without disappointment or wariness, like a peach without a pit. At Sixty Vines, there's nothing distracting you from how good it all tastes. You'll keep dreaming about it long after you've gone home.
Sixty Vines
Hours:
Monday–Friday | 11 a.m. – 10 p.m.
Saturday-Sunday: 9 a.m. – 10 p.m.
Where: 3701 Dallas Pkwy., Plano
More: 469.620.8463 | sixtyvines.com