Italian food—homemade pasta, simmering sauces, fresh Parmesan—is a classic crowd favorite. Where would we be without it? Diners flock to Italian restaurants for comfort and a sense of passion that has been passed down through generations. In Texas, Taverna is one of the best and biggest names in Italian cuisine. Finally, we have a Taverna in Plano, bringing us all the warmth and welcome we've come to expect from Italian food.
Something about Taverna feels just barely rustic; perhaps the light blue and white napkins, or the hint of wicker in the patio furniture, perfect for sipping martinis. Since it's a Lombardi restaurant, immediately the staff make you feel comfortable, waiters greeting you in Italian.
While you peruse the menu, order something bright and fresh like the Torino 75. Made with gin, Italian liqueur, crushed mint and Prosecco, garnished with raspberry and a lemon twist, the Torino 75 is as light as air and not overly sweet.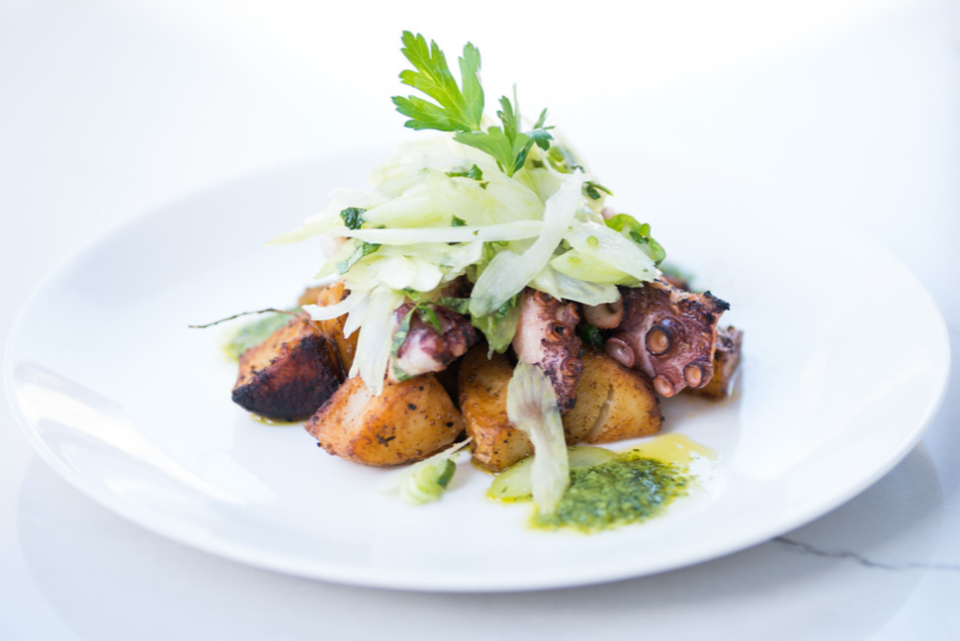 The menu has all the classics. The Antipasti menu ranges from Beef Tenderloin Tartare to Charred Spanish Octopus and everything in between. There aren't any bad choices here. Beef tartare and diced avocado combine for a smooth, easy dish that's great for sharing. Green onion enhances the tender meat, along with the barest hint of microgreens and a generous parmigiano scale.
Charred Spanish Octopus unabashedly shows off its tentacles, particularly in a region used to breaded and fried calamari. Here, however, violet-hued hunks of charred tentacle rest against each other on the plate with roasted potatoes and shaved celery, surrounded by dollops of salsa verde. The charred preparation gives each bite of tender octopus a smoky edge.
Taverna has two risottos on the menu and it's hard to resist the Seared Diver Scallops. The scallops have a lovely, crisp edge, starring on top of a rich risotto made with prosecco wine, shallots and braised leeks.
Another delicious option is Paglia e Fieno, straw and spinach tagliolini tossed with wild mushrooms, rotisserie chicken and truffle cream.
However, no matter what you do, try the Lasagne. Taverna Legacy West serves a very traditional Northern Italian lasagne, made the way it is in Bologne. Instead of ricotta cheese, they use béchamel. Taverna serves a huge slice made of layers upon layers of thin homemade pasta in a bubbling bolognese and creamy béchamel. The bolognese takes about a day and a half to prepare and it tastes like it.
Dessert includes tempting favorites like cannolis and tiramisu. The Panna Cotta is especially good. Clean and chilled with berries and a sprig of mint, it lingers pleasantly, the perfect end to an elegant meal.
Taverna Legacy West | 7400 Windrose Ave., Plano | 469.969.0099 | tavernabylombardi.com