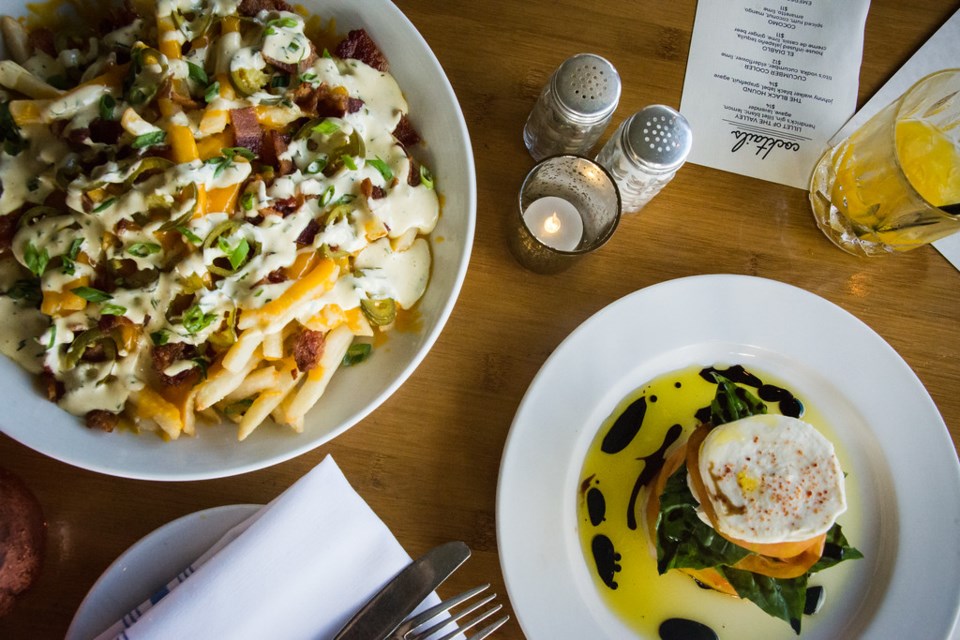 Everything is good, great even, at The Heritage Table in Frisco, but what really stands out are the fried pies.
Located on Main Street in Frisco, The Heritage Table is a beautiful historic 1917 home transformed into a quaint home style eatery. There's two wooden swings at the entryway and ample outdoor seating on the wrap-around deck. A large bushel of rosemary sprouts in the flower bed below the deck and multiple stings of lights dangle from the rafters. It's perfect for date night, but also fun for a night out with friends or family.
We arrive early and stroll through the main dining room before settling at a table on the porch. We pass two ladies eating fried pies with whipped cream. From that one glance I'm thoroughly underwhelmed. The plate is monochromatic and the pies look exactly like every other fried pie I've tried before. Yet, thanks to the recommendation of a friend who insisted they were "the best pies in the whole world," we order one as soon as we sit down. I had to—according to that same friend, they sell out every night.
Read more: Discover burgers and Texas music at Denton's LSA Burger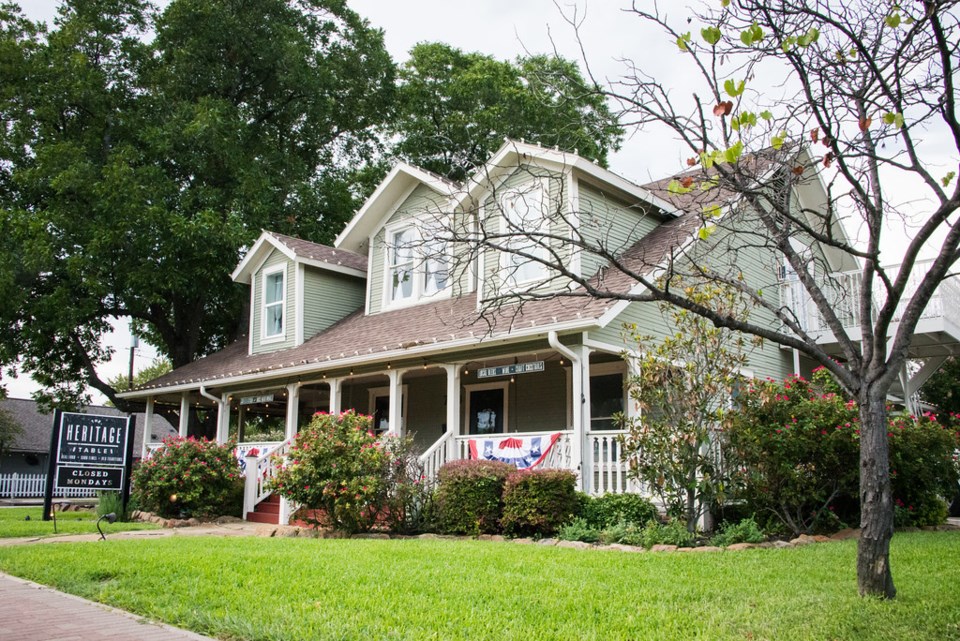 It's date night so we begin with cocktails. I opt for the Cocomo with spiced rum, coconut, mango, amaretto and lime. It's one of their best sellers and I can absolutely taste why: it's perfectly balanced, light and a little sweet. It tastes like a vacation. And just like a vacation, its over too quickly. My date for the evening selects El Diablo with house-infused jalapeño tequila and ginger beer. It's a neat twist on a mule, topped with a couple of blueberries and served in a copper mug.
It's a rare treat to get out without the kids so we take time to peruse the menu, enjoy the atmosphere and relax. The Heritage Table is a scratch kitchen in the truest sense of the word. "We do make everything—dressings, breads, cured meats, etc. from scratch," says Rich Vana, Pitiless Tyrant at The Heritage Table and former Managing Editor at Entree Dallas Magazine.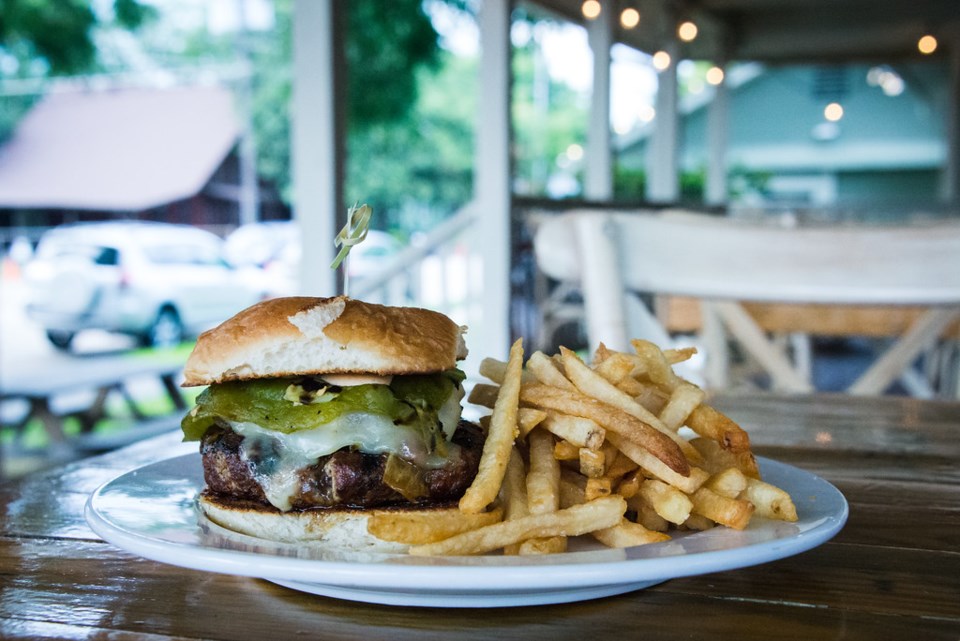 Read more: Enjoy authentic South-Indian food at Malgudi Garden in Plano
Featuring a constantly evolving menu that showcases some of the best local ingredients, there's a few things you should know about The Heritage Table:
All their meats are cut, cured and smoked in house. (Well, except the bacon, they go through "so much of it that would be impossible," Rich tells us.
A pastry chef comes in daily to make their fried pies, burger buns and sandwich rolls, biscuits, cheesecake and all other pastries.
Many of the herbs they use they grow themselves in their garden.
They also do brunch every Saturday and Sunday—undeniably one of the best brunches in Frisco. Brunch items include eggs benedict with house-cured, pecan-smoked ham and French toast made with homemade brioche dipped in custard. They even have beignets.
Almost everything is locally sourced. The Heritage Table is committed to sourcing locally, but they're also practical, and honest. When asked, Rich makes sure we understand that they use local ingredients, but not exclusively. "For instance, we go through about 350 pounds of potatoes and 300 heads of romaine every week," he explains. "There just aren't local farms that can produce that volume of food consistently through every season."
They have their own house-made bitters and infusions which they use to create their cocktails such as the Maple Old Fashioned, which is created with peach and pecan-infused bourbon, or the Brunch HT Cinnamon Brew, which features homemade chocolate bitters.
They are about to open a Biergarten! Very soon the back patio at The Heritage Table will be open with its own special menu and drinks.
To begin, we order the Cheddar Fries and Caprese Salad. Perhaps you're asking yourself, "What kind of person goes to a scratch kitchen and orders cheese fries?" Well, I do, and it was one of the best decisions of the night. I'd love to say something cliché like, these are not your ordinary cheese fries, but actually they are: fries, topped with cheddar, bacon, chives and ranch. Nothing extraordinary about that. Yet, and without exaggeration, these are the best cheese fries I've ever eaten. Seriously. They're so good I've decided to swear off eating cheese fries from any other establishments. No matter how many margaritas I have there is just no way I could ever enjoy a mediocre version made from frozen fries smothered in a questionable cheese substitute. At Heritage Table the cheese fries are made with fresh locally sourced ingredients—and you can truly taste the difference. It's also massive, enough for four to share and still have left-overs.
The Caprese Salad is just as good, made using a tomato that actually tasted as good as it looked, and basil picked fresh from their own herb garden.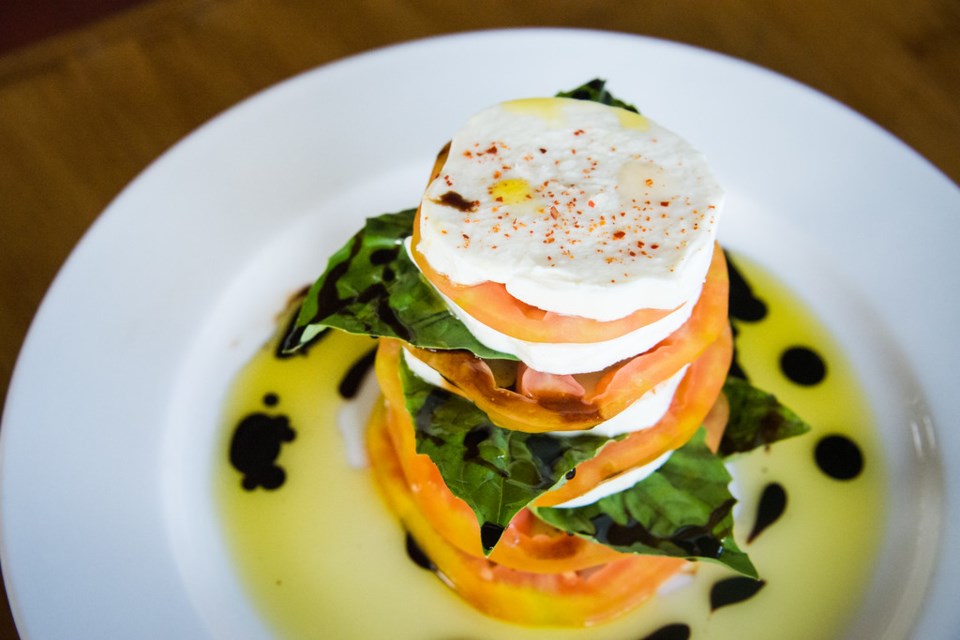 Already stuffed, we take a break from the food and relax with another cocktail. I try Lillet of the Valley, which turns out to be as cute as it's name—made with Hendricks gin, lillet blank, lemon and agave—it's served in a martini glass with a sprig of lavender clipped to the rim with a teeny tiny clothes peg.
For our entrees we go big. I order the Hangar Steak Chimmichuri served with crispy smashed fingerling potatoes and blistered tomatoes. It blows my mind, so good I'm reluctant to share even one bite. The steak is perfectly cooked and the fingerling potatoes are perfectly golden, crispy and not at all greasy. A twist on this same dish is available on their brunch menu served with two fried eggs.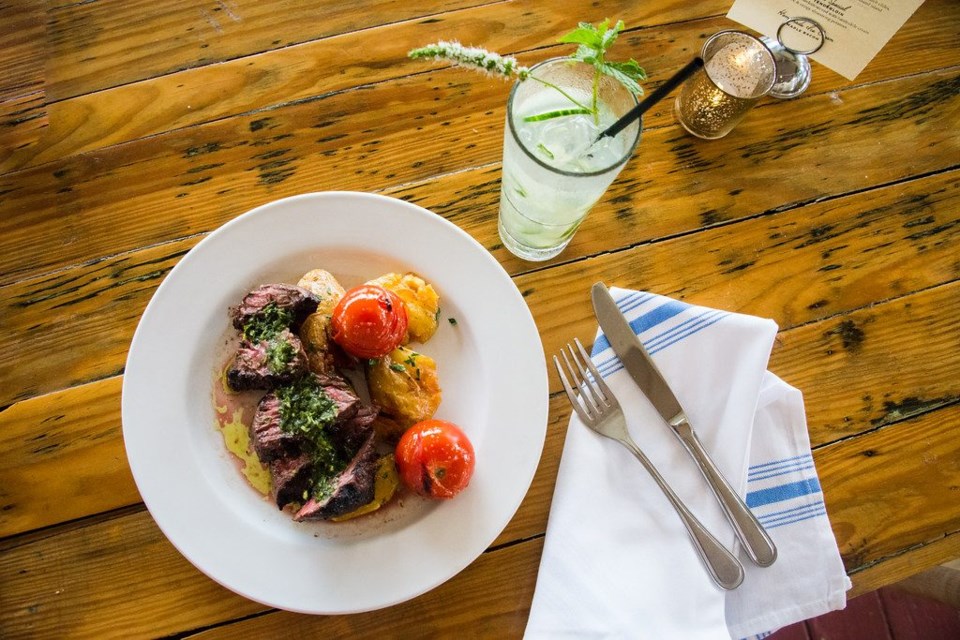 My companion opts for the Hatch Chili Burger on the R & D menu. With a creative chef and a commitment to seasonal local ingredients, The Heritage Table's R & D menu changes every week. Today, they've been experimenting with hatch chili and this burger packs a bunch.
Last, but not least, comes out the pre-ordered fried pie. Served with house-made ice cream and a dollop of house-whipped cream I'm curious to see if it lives up to the hype. It doesn't. It actually exceeds it. We instantly regret ordering just one and try to order another, but they're sold out. While the dough is so white it looks like it might be under-cooked, it's perfect: light, crispy and not too sweet. The filling, peach on this occasion (of course, it changes with the season) is divine. Put the two together, add a dash of whipped cream and you've found heaven. Is it the best fried pie in Texas? I couldn't say, I've certainly not tried them all, but if I had to guess I'd say it certainly stands a chance.
The best way to measure home style cuisine is how it makes you feel. At the end of our meal we leave feeling happy and full of love.
The Heritage Table
7110 Main St, Frisco, TX 75033
(469) 664-0100
theheritagetable.com
[print_gllr id=21140]