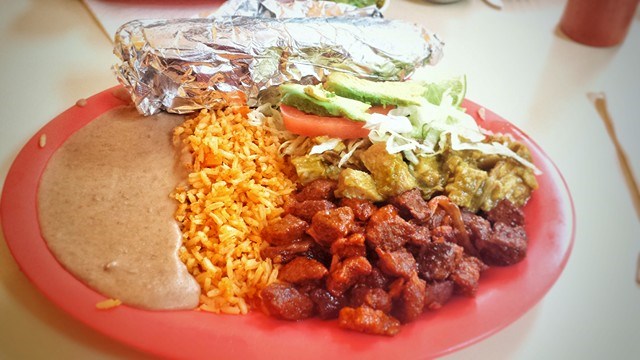 It isn't particularly well-advertised, but East Plano has more than just our city's oldest Dairy Queen and a wonderfully surprising Asian food scene. In scattered pockets, eaters can actually find a slew of ultra-authentic mostly-cash-only Mexican food joints that you'd never seen coming.
The streets between Jupiter Road and Central Expressway hold a veritable scavenger hunt for holes-in-the-wall. Two iconic examples are gas station spots like long-time favorite Jamal's Convenience Store, or the Plano outpost of La Salsa Verde Taqueria (conveniently right next door to each other).
The Dish: Huevos con Salchichones at Lily's Cafe
Or, there's Tortilleria La Sabrosa, a relatively unknown sit-down place right off of Park Road and K Avenue. Small and unassuming, it has gumball machines for the kids, about 10 tables and a beautiful counter of fruit where you can order Mango Entero, Arroz Con Leche and fresh fruit juice. It's got zero frills and sometimes the soda machine is broken. Last time I was there, it smelled faintly of bleach. But the food is worth it.
You can order a whole chicken for dinner, or sit down with a plate and have enough for a couple of meals. But order in and grab a seat and they'll bring you some glorious chips. They arrive at your table warm, some might have subtle char marks, and will leave a subtle oily sheen on your fingers. Clearly made in-house and clearly fresh, these suckers are bubbly like a good east-coast pizza crust, the way store-bought chips can never be. They're sturdy enough for nachos but flake apart in layers when you bite down. These are the real deal.
Speaking of nachos, theirs come absolutely loaded with almost molten cheese and your choice of meat. Guacamole, pico and sour cream on the side. Fajita meat lends it all a smoky heft. It might take a couple of chips before you realize that refried beans are subtly layered onto the chips. There's just so much on top of them, they're almost invisible. Tortilleria La Sabrosa is beyond generous with the toppings, careful to make sure everything is evenly distributed and no chips are left behind. They hold firm under all that food, not giving or getting soggy–it's magical. These are what inferior nachos dream of being.
Another good option is the Number 1 plate. This plate of two meats comes with rice and beans, salad topped with fresh-cut verdant slices of avocado and fresh tortillas. While barbacoa is tender, chicharron or pastor offer something a little more interesting. Pastor is pretty traditional, thick hunks of meat marinated in various chiles, pineapple, onion, garlic and cinnamon until it turns a bold crimson, with a rich peppered edge.
Pastor is leaner than chicharron, but if you order chicharron, you know you aren't getting anything lean. You're getting fried pork belly. Marinated in salsa verde, this is a fresher, lighter twist on pork than the pastor. It's perfect for wrapping up into a tortilla. None of it is all that spicy, but Salsa Verde and Salsa de Chile de Arbol come on the side. Apply at will.
Tortilleria La Sabrosa has no frills. Just fresh, authentic food.
Tortilleria La Sabrosa | 1160 E. Park Blvd., Plano | 469.573.9955