Along the Appalachians, in swampy Florida waterways, rivers and South Carolina ponds, the prized Ogeechee tupelo tree grows. Beehives nestle along the banks where bees can feast on the pollen. They produce certified, uniquely pure tupelo honey. It's one of the most expensive honeys on the market, loved for its amber color and mellow taste.
Tupelo Honey has opened its first Texas location, their biggest restaurant ever. It's no shock they chose The Star in Frisco, the new home of the Dallas Cowboys. Tupelo Honey has its own sleek vibe with soft brown leather chairs, wood serving boards and huge windows that provide front row seats to Tom Friedman's Huddle sculpture and the buzzy noise of the Ford Center. The expansive patio holds benches I'd like to nap on and beside the semi-open kitchen, guests can view the charcuterie bar, with storage for dry-aged meats. A chef slices and assembles Seafood Towers and Southern Charcuterie Boards as they're ordered.
You'll find bees flying through the wall art, past artful paintings reflecting DFW culture like the red pegasus and a cowboy boot. Another wall displays the repurposed antique farm equipment that any southern restaurant is required to have. Foodies will be right at home.
Just like you can't have football without tailgates, you can't have southern food without biscuits. Tupelo Honey whips up Cathead Biscuits the size of softball halves, dotted with poppy seeds. They pile in a bowl, daintily golden-brown on the edges. Homemade blueberry jam and rich whipped butter swirl together like Yin and Yang in a tiny mason jar, the kitchen's signature serving dish. The jam is delicious and lumpy with blueberries. It's sinful as pie, but if you'd prefer you can smother a biscuit in whipped butter and finish with a drizzle of tupelo honey, or buy a bottle to take home.
For something savory, Chef's Mason Jar Dip provides a variety that ranges from classic to eccentric. Options are: pimento cheese; bacon and blue cheese; creole roasted eggplant; and roasted apple, tahini and hominy. Curly tri-color carrots and a pile of hand-cut potato chips wait to be dipped. Pimento cheese is an easy crowd pleaser, with very fine grated cheese, parsley and little-to-no mayo. Granted, it's sturdy stuff. This dip will shatter chips and dodge around carrots without catching. But the taste is more than worth the challenge. As for bacon and blue cheese, this one might be my favorite, in part because it's cool and light on the blue, sprinkled with fresh-chopped hunks of bacon and a final impression of green onion. The eggplant creole, a cheery burnt orange, could honestly use more spice, but nonetheless, it's pleasantly creamy. As for apple tahini, this is the most bold and thus, most surprising. Tahini doesn't overwhelm or vice versa. Instead, it's a refreshing break, fruity with a mild nuttiness. Also, the hand-cut potato chips are showstopping.
I went wild with an order of Bacon Pralines. At first, it's disappointing to see there are only two strips in the tin cup. But each bite tastes like bacon candy. Brown caramelized sugar and toasted pecans have been unevenly, but generously, painted onto two thick strips of bacon.
Brown sugar gathers in every nook and cranny. Half of one piece jumpstarts an instant sugar rush that has me reaching for coffee. I realize why each order is just two pieces: that's all you need. In fact, any more might be deadly. But still. Worth it.
It's impossible to resist charcuterie, particularly Tupelo Honey's Southern Charcuterie Board.
Those same hand-cut potato chips and carrots sit on a wooden platter accessorized with Goodnight Brothers country ham prosciutto with whipped lardo, lamb rillette, cajun alligator and pork sausage, seahive wildflower honey cheese, and an assemblage of pickled green tomatoes, okra and red onions. A grainy dollop of house-made tomato mustard waits to be spread on a cracker; the only disappointment is that on this entire glorious platter, there is no pool of tupelo honey for the cheese to swim in—or better yet, a curl of honeycomb. Yet, it's beautifully laid out and certainly not lacking for taste.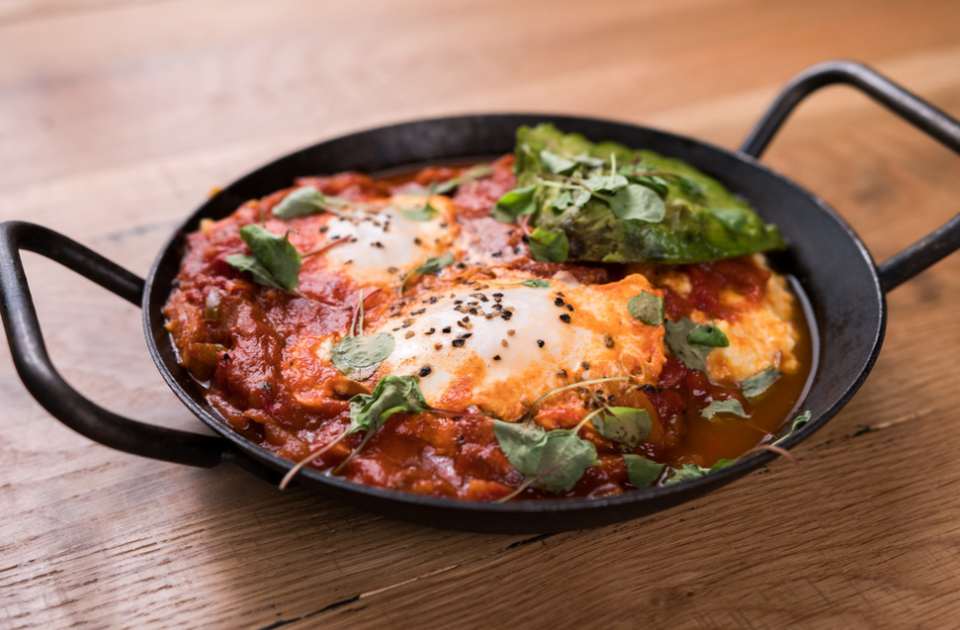 Tupelo Honey's lunch menu is very brunchy. For example, take Southern Shakshuka, a spicy, tomato-and-egg mess. Traditionally, this Middle Eastern dish is made of poached eggs floating in a sauce of tomatoes, chili peppers, and onions. Ingeniously, Tupelo Honey pairs it with goat cheese grits and slices of avocado. At the poke of a fork, over-medium egg yolk spills into cheesy grits like a hallelujah chorus, spiced up with a creole tomato sauce.
Read more: The Day's Catch at The Keeper, Plano
Shoo Mercy Sweet Potato Pancakes come in a fluffy three stack, finished with two crisscrossing strips of apple cider bacon, fried chicken and butter pecans. Sides include two sunny-side up eggs and a baked apple filled with pickled blueberries. Smother them in maple syrup. On first bite, warm cinnamon bursts over the tongue and suddenly the world is okay. There are no taxes. War has been abolished. Neighbors are friends and we all truly can just get along. The fried chicken must be seasoned with magic.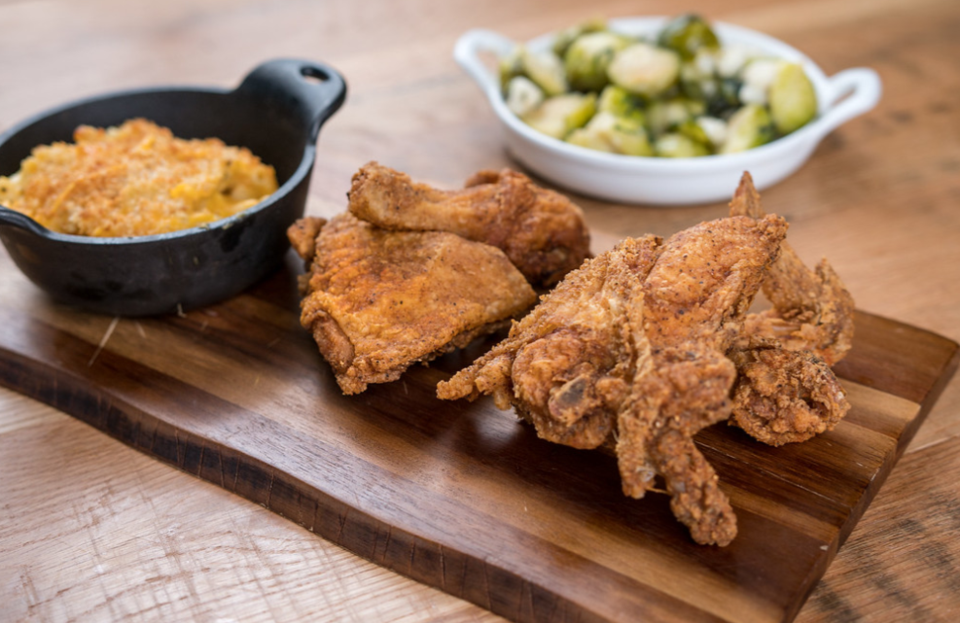 Honey Dusted Chicken might be Tupelo Honey's most famous entree. It's a half bird, brined for a whole day and then fried and brushed with their signature "bee dust," dehydrated honey, and presented with two sides of your choice. Fried chicken can easily fail by being either not crispy enough or too greasy—or worse, both—but this is neither. The layer of fried skin is thin but with that signature crunch only great fried chicken offers. Underneath, the meat is flavorful and tender, leaving just a subtle greasy shine on the fingers. With a New Orleans Sour and cast iron mac-n-cheese, it's heavenly.
Mini-Mason Jar Desserts are more than just delicious; they're Instagramable. Getting one is the perfect finish to a meal. But ordering four for one person is a tempting, Icarian challenge. (Get four; go wild.) The four varieties are: banana pudding; blackberry and thyme crisp; decadent peanut butter mousse and chocolate ganache with salted pretzel crumbles; and gooey butter cake with crème fraîche and candied strawberries. There is no loser here but the gooey butter cake's salty-sweetness might make it the frontrunner.
Modern, rustic, localized and inventive, Tupelo Honey is a lovely place to find yourself for a long, luxurious business lunch or an even longer, more luxurious weekend brunch. The menu delicately balances southern indulgence with a trim waistline. It's not altogether traditional—meaning, basically, that they don't serve fried catfish—but gracious and creative with plenty of sweet touches.
Tupelo Honey | 6725 Winning Dr., Frisco | 469.403.2160 | tupelohoneycafe.com
Originally published in Plano Profile's January 2018 issue under the title "Oh, Honey."