We meet with Leonard Firestone and Troy Robertson less than a week after the first batch of TX Straight Bourbon was bottled at the Firestone & Robertson Distillery in Fort Worth. More exciting, is that, as we lounge on the antiqued green leather couch in Troy's office, we become the very first people, outside of the company, to taste their new creation. It's an honor we hadn't anticipated and a moment which was equally memorable for Leonard, Troy and Head Distiller Rob Arnold. "This is five years of work and we've never sat down and talked with anyone about it," Leonard confides. The trio are both visibly nervous and excited to gauge our reaction, or rather, Philip's reaction.
Philip, publisher of Plano Profile and my husband, could best be described as an aspiring whiskey connoisseur—something he claims will take years of practice and dedication. His preference is Scotch whisky. Although, since moving to Texas he's taken the time to get well acquainted with all types of bourbon as well as Texas whiskey. The TX Blended Whiskey was his drink of choice during our wedding week in the Stockyards of Fort Worth and our honeymoon around the Hill Country.
For that reason, he didn't miss a beat in accepting the invitation to a private tasting of the new TX Straight Bourbon, but the fact that the product is aged just 1700 days, a mere four and a half years, gave us reason to pause.
We shouldn't have worried—Philip is an instant fan. "The flavor's spectacular. Surprisingly intense, something I would expect from a much older whiskey or even a Scotch. This is something I'm excited to share with some of my whiskey friends." Before the interview is over he's asked for more—and even compared the experience to the birth of our son. "First the baby, now this."
Read more: Whiskey Moon at the Renaissance Dallas at Plano Legacy West Hotel
Smooth and bursting with complexity and unique flavors, it's hard to believe that it's such a young whiskey.
The secret, it seems, is in the heat of the Texas summer.
Troy explains, "Inside the barrel the wood is like a bunch of straws. When it's cold those straws are contracted so you can't really get anything through those capillaries; when it starts to warm up and when it's hot they're wide open, allowing all the distillate to penetrate deep into the wood—picking up the flavors we're looking for."
They even did an experiment to investigate the affect heat had on the taste. They first sampled a barrel aged from January through March and compared it to one aged June through August. The difference was remarkable. "The one that was barreled in January, that had sat for three months in a cold warehouse, maintained so much of the flavor of the raw product. The White Dog as we call it; the 'off the still', you know. It's as white as vodka, pretty rough, pretty raw. But the barrel that sat in the summer for three months picked up so much vanilla and oak flavor and color," explains Rob.
It stands to reason then that a whiskey aged in Texas would mature much faster than a whiskey aged in Scotland, where the summer highs are comparable to the winter highs here in the Lone Star State.
As our tasting continues, Rob suggests we add a splash of water to open up the flavor. "If it's neat, you get caramel, coconut, real rich oak. When you add a little water you get these dark fruits and spices … Christmas spices like nutmeg and cinnamon. The thing that is really cool is that it brings these flavors that you don't always get in bourbon. You might find them in a sherry or Scotch or something, but we're bringing these flavors just using traditional bourbon techniques. It's the Texas environment, the Texas ingredients, the heat."
The Texas ingredients are the second piece of the puzzle.
"We use predominantly all Texas ingredients with the exception of our malted barley, purely because barley doesn't grow well here, but Texas corn, Texas wheat, Texas water. All those things impact the flavor and that's what ultimately makes our product unique," says Troy.
But what makes the product special is the yeast. It's the final piece of the puzzle.
"We developed our own proprietary yeast which is a super cool and a very unusual thing to do in contemporary times because you can buy it from an agricultural company or a yeast lab. It's what all the famous brands from hundreds of years ago did, they all have their own proprietary yeast—it influences the taste," explains Leonard.
Rob, who studied microbial fermentation and analytical chemistry at UT Southwestern Medical School in Dallas, chimes in, "A quarter of the flavor comes from the yeast. The yeast consume the sugars from the grains and the bi-product is alcohol. But it also makes flavor compounds as a bi-product. Fruity flavors, floral flavors, spicy flavors, a lot of times those flavors come from the yeast. We're the first distillery to isolate and utilize a new line of yeast to make whiskey since Jim Bean did it in the 30s post-prohibition."
"We're the first distillery to isolate and utilize a new line of yeast to make whiskey since Jim Bean did it in the 30s post-prohibition."
Back when owning a distillery was nothing more than a dream and whiskey was a shared passion, Leonard and Troy made a pledge that when they did age their own bourbon it would be with their own proprietary yeast. In a previous life Leonard was an advance man for President George H. W. Bush and later launched his own television network with his brothers. Troy, on the other hand, had a successful career working on the financial side of the energy business. With no experience in the whiskey business, the pair were united by a determination to create uniquely Texan expressions of classic whiskeys. Developing their own proprietary yeast was central to their vision.
Read more: Whiskey Cake's The Little Rye Lies
Fast forward a few years spent in research, development, raising capital and finding the perfect location for their distillery—a reclaimed prohibition-era warehouse just south of downtown Fort Worth—Troy, Leonard and Rob found themselves on a wild yeast hunt.
Their quest took them to a ranch in Glen Rose, Texas, about an hour southwest of Fort Worth. There they collected over 100 different types of yeast from fruits, nuts, seeds, soil and bark … one of which would become the proprietary yeast of TX Straight Bourbon.
"On a blind test we unanimously agreed on the one we wanted to go with. It came from a pecan, so that sounds like a marketing bulls**t story but that's what really happened. The pecan aspect is just a neat nuance. It's not like we're adding pecans to the process, but this yeast that's proprietary to us makes a really unique bouquet of really fruity and spicy flavors. To some extent we have a proprietary level of flavor because of that—no one else has it," explains Rob.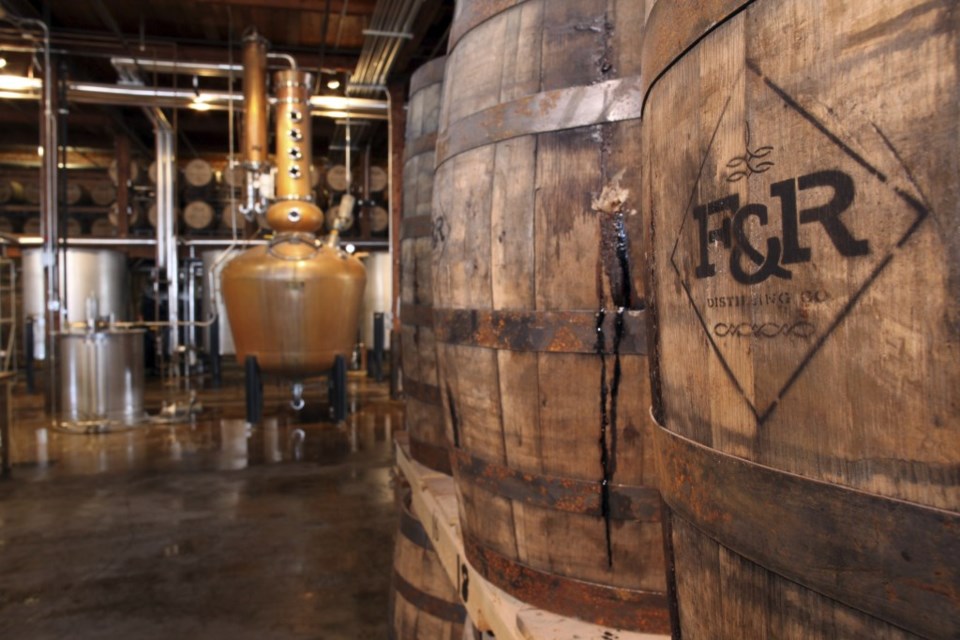 As for what's in the future for Leonard, Troy, Rob and Firestone & Robertson Distilling Co.—the first artisanal bourbon and whiskey distillery in North Texas—a new facility, 20 times the size of their current one, is already under construction. Located on a golf course just eight miles from the existing location, the future home of F&R is scheduled to open later this year. [Update: The Whiskey Ranch is now open.]
"I can only imagine you have a few other things cooking that'll come out in five, maybe 10 years," prompts Philip.
"Yes we have a few surprises," replies Troy as he takes a sip of the first bourbon ever to be aged in North Texas. We're sure it won't be the last.