When you're craving some good ole' fried chicken, biscuits, and homemade mac and cheese that'll make you wanna slap your momma—we guarantee these restaurants will fix your hankerin'
---
Babe's Chicken Dinner House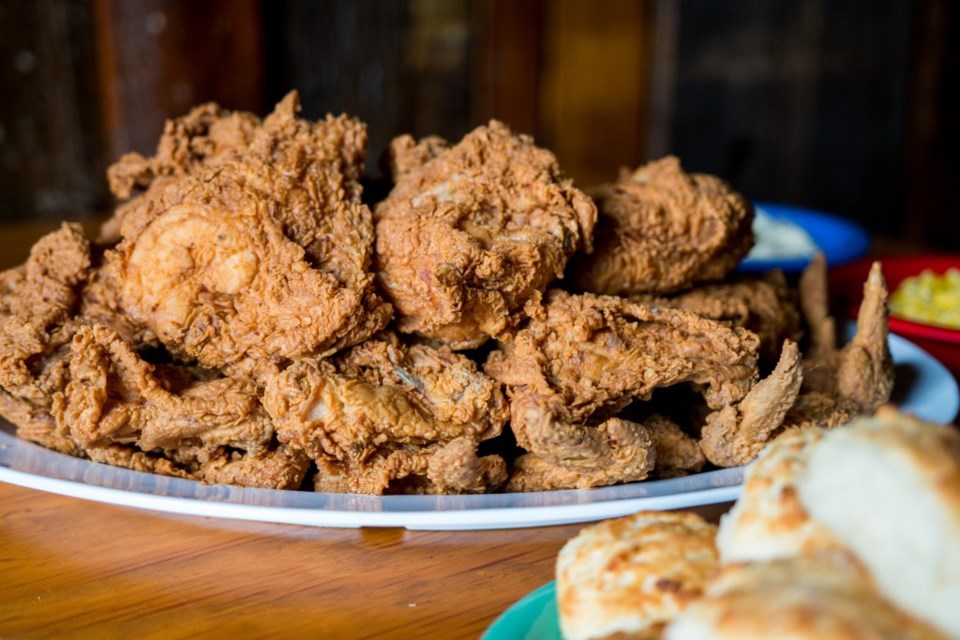 Babe's is a local staple; family-owned and staying that way according to part-owner and son of the founders, Joel Vinyard. They are self-proclaimed "Grandma Approved". Joel explains to me why their restaurants are so successful: "We're simple and classic. We use Grandma's recipe and haven't changed a thing." Babe's is so simple they don't have menus, instead your waitress tells you your options of sides and pieces of chicken—all served family style.
The restaurants resemble farmhouses with plenty of farm animals lining the walls as well as various pieces of framed art featuring chickens. The meat is always fresh, never frozen, a phrase many restaurants tout with pride these days, but they have been doing it that way since opening their doors in 1993. The chicken is marinated for 24 hours in a simple salt water mixture and fried to order; the kitchen rarely uses heat lamps.
My eyes widen as a larger platter of piping hot chicken arrives. Every bite is a perfect combination of crunchy fried-goodness and tender chicken. No meal is complete without their homemade sides which are made in small batches so they're always fresh: buttery biscuits, creamy mashed potatoes, mac and cheese, green beans and fruit cobbler.

Chicken Moto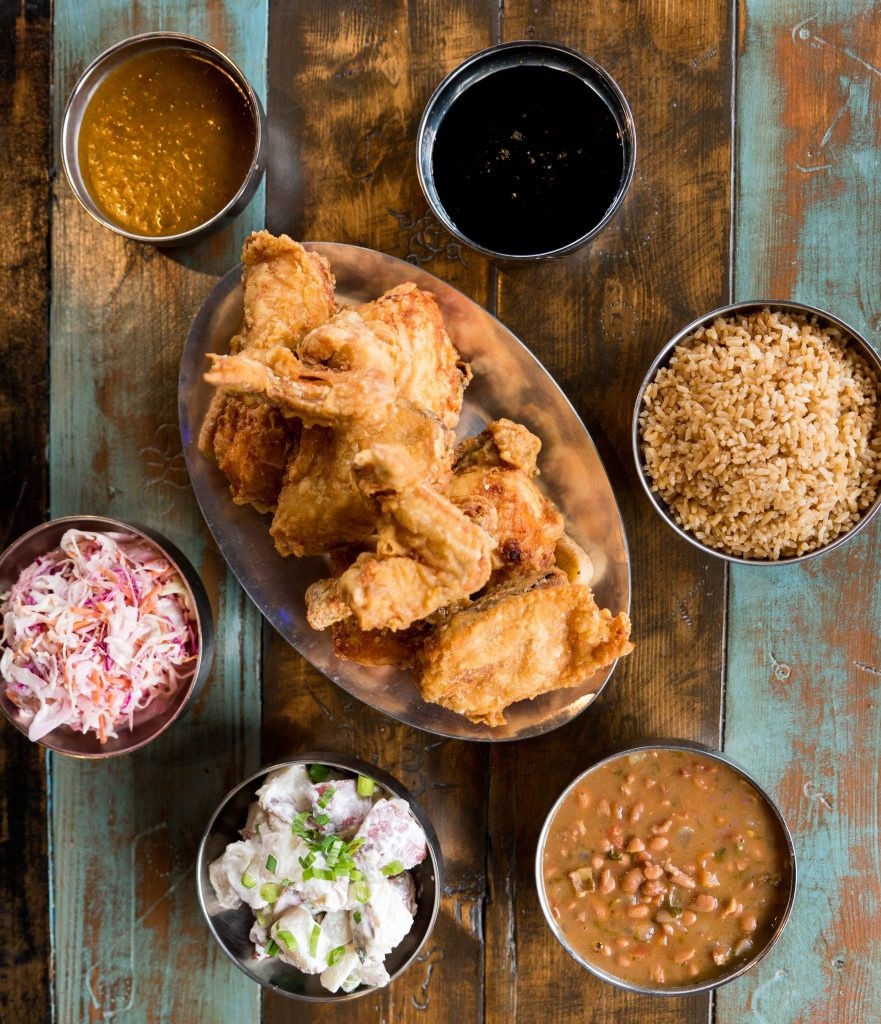 The team that brought us Bbbop Seoul Kitchen in Dallas is now giving Southern fried chicken a Korean twist at Chicken Moto in Richardson. Chef Sandy Bussey says the Korean Fried Chicken is so popular at their original restaurant they created Chicken Moto, inspired by fried chicken restaurants in Korea where they deliver meals on motorcycles and vespas. Sandy's team went all out with the theme. A motorcycle hangs from the ceiling in one corner, a clothes rack with leather jackets are just waiting to be used, helmets adorn the walls and a giant chicken greets guests in the entryway.
The chicken and sides are served family style with your choice of sauce: soy-ginger or sweet and spicy chili, both family recipes. The chicken is twice fried, with a light and crispy outside. The rice and coleslaw are tasty, but the other sides garner most of my attention. The potato salad is made of larger chunks of potatoes with a light, creamy dressing which I find a refreshing change from classic recipes. But it's the charro beans who are the winner; perfectly seasoned, I could make a meal out of them.
Whistle Britches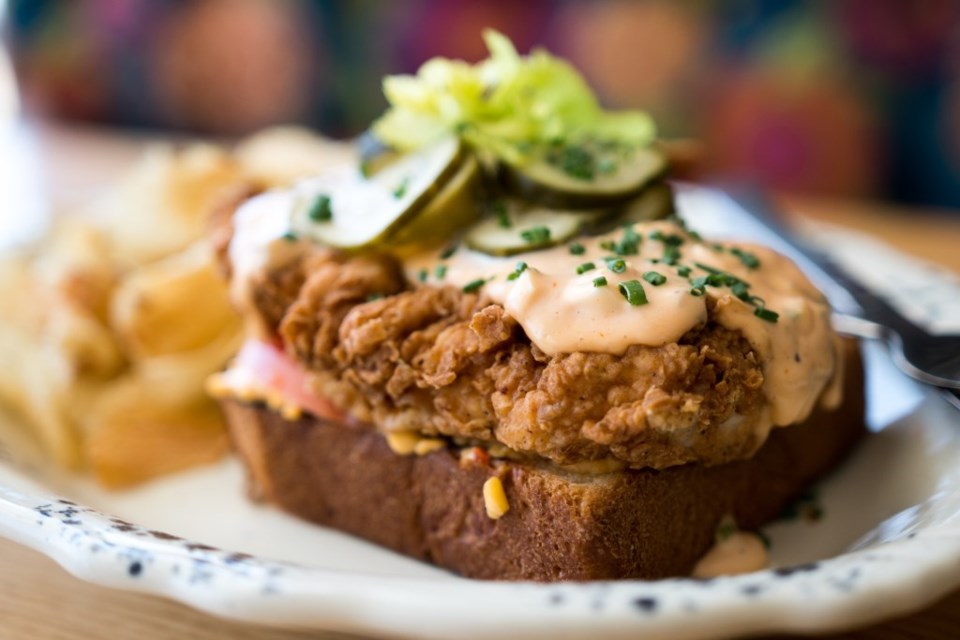 Walking into Whistle Britches feels like walking into a fried chicken place from Mad Men. The vibe is '60s mod meets farmhouse; hippy floral patterns have been upholstered to mod furniture, and white, wooden baskets are reused as lamp shades. The restaurant concept and menu were created by the chef behind the successful Casa Rubia in Dallas, Omar Flores, who frequently updates the menu with seasonal dishes.
I start with the "Deviled" Farm Eggs, which aren't truly deviled but rather hardboiled eggs cut in half and topped with Kewpie Mayo, Country Ham, dill and pickled mustard. It's a fresh and delicious take on a classic. I also try the Auntie Louann, an open-faced chicken sandwich on toasted white bread with pimento cheese, dill pickles, tomatoes and Thousand Island dressing, served with homemade chips. One bite and I'm hooked. The flavor combination and pickled-spiced brine truly makes it unique. Also try The Whistle Britches sandwich, fried chicken on a buttermilk biscuit with honey butter and jalapeño jelly. It's definitely comparable to Whataburger's Honey Butter Chicken Biscuit (but to avoid committing blasphemy, I'll let you decide which one is better). Pair with a craft beer or one of their inventive cocktails to complete the meal.
Sissy's Southern Kitchen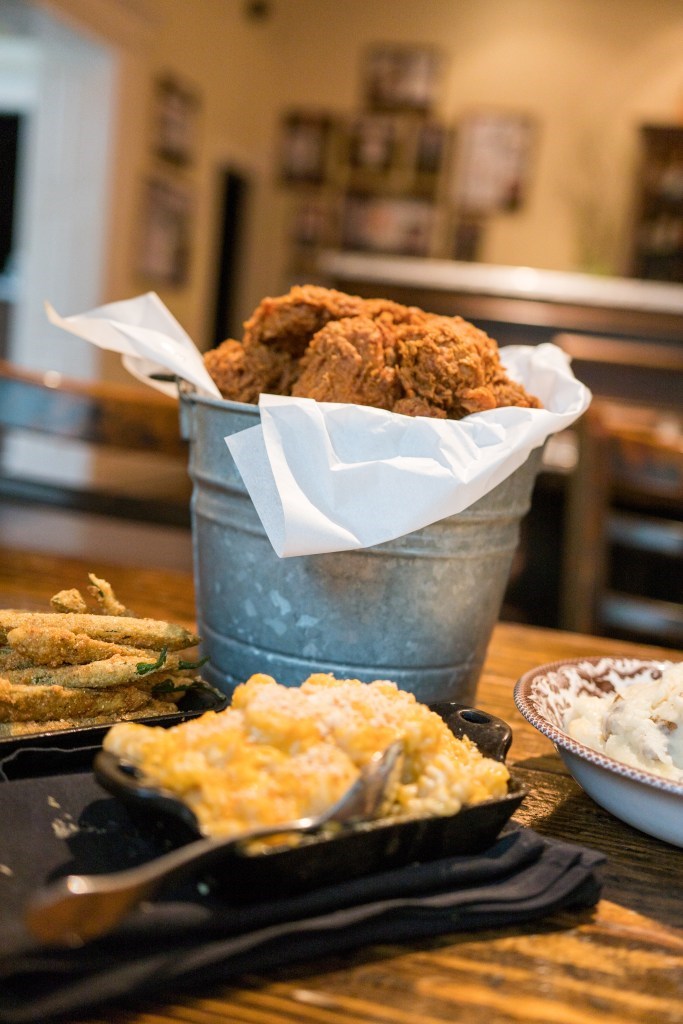 Tucked away on Henderson Avenue in Dallas is Sissy's Southern Kitchen & Bar, owned by Frisco-native and The Next Food Network Star competitor Lisa Garza. Sissy's pays homage to traditional Mississippi Delta food and culture. The restaurant feels like an old Southern mansion, with antique chandeliers and furniture to complete the look.
The chicken is spiced with a special house recipe, buttermilk-soaked and pressure-fried, served in a rustic tin bucket. The outside is thick and crunchy but not greasy. It's pure and delicious. I order the whipped potatoes and gravy, made with the skin, a personal preference I greatly enjoy. Don't miss out on Sissy's Mac and Cheese made with radiatore pasta; basically a grown-up version of any novelty-shaped pasta designed after a cartoon character. Another favorite, the fried okra. Instead of chopped up, it's fried whole; they're sticks of Southern goodness. And definitely don't pass up dessert (I hear calories at Sissy's don't actually count). The "Better Than Sex" Chocolate Cake earned its name for a reason. The cake is topped with a dollop of whipped cream, but the star is the crunchy peanut butter sauce at the bottom which adds just the right amount of saltiness.
Max's Wine Dive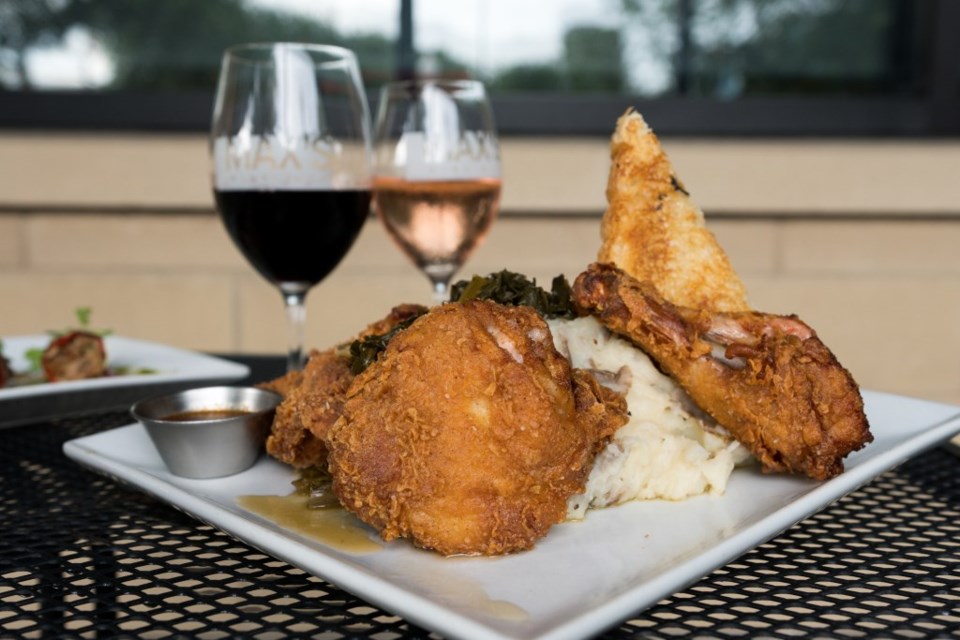 "'Fried chicken and champagne, why the hell not?!'" is Max's infamous tagline, enticing wine and fried chicken lovers alike. The inside of Max's is dark and cozy, but on the rainy day I'm there I choose to sit on their spacious patio. The best time to go to is definitely during happy hour, Monday through Friday from opening until 6 p.m. Go for the select wines—$5 house wine is a great deal—but skip the margarita.
First up is the Pulled Pork Stuffed Peppers, a delightful taste of tender pulled pork and Cotija cheese, topped with chipotle aioli and cilantro chimichurri. Max's award-winning jalapeño and buttermilk marinated chicken arrives next. Sitting on a heaping serving of mashed potatoes and collard greens, it's made to share family style. The outside is crispy—but not as thick as other restaurants—with just the right amount of spices and greasiness. Max's also offers a Gluten Friendly Fried Chicken (but not certified gluten free because of cross-contamination that can happen in the kitchen). The Mac 'N Cheese is made with cavatappi pasta in a truffle cream sauce with provolone, gruyere, parmigiano-reggiano and white cheddar. Paired with a nice red wine, you'll never feel classier while eating fried chicken.