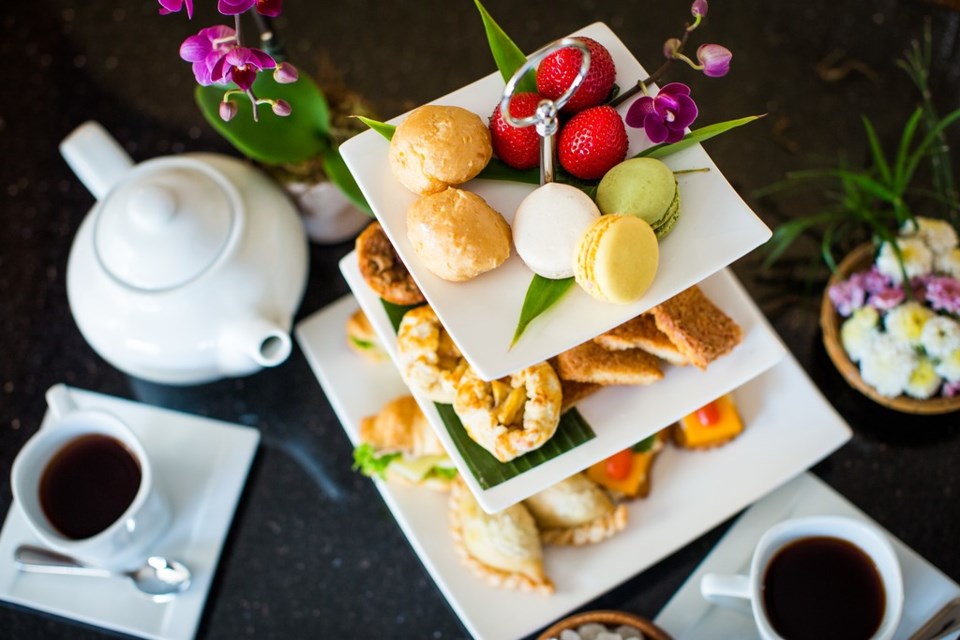 As a Brit, the idea of Afternoon Tea is always appealing. It's a ritual we Brits really do observe in every day life—and so when the opportunity to try an Afternoon Thai Tea popped up, I responded with an enthusiastic "Oh golly gosh, I'd love to!"
The Afternoon Thai Tea in question is the brainchild of restaurateurs and sweet couple Joe and Sunny Pumphaung. Having just opened their second Thai restaurant, Bangkok at Beltline in Richardson (conveniently located just off 75), they describe their offering as, "A casual Thai restaurant serving authentic Thai cuisines with an added fun and elegant Thai twist to the traditional afternoon tea on Saturdays."
Once Joe and Sunny came up with the Afternoon Thai Tea concept, they knew they wanted to work with Pastry Chef & Co-Owner Tida Pichakron of Haute Sweets Patisserie on creating desserts with a Thai flair because Tida was local, Thai-American and because of her award-winning experience in creating desserts for the Adolphus Hotel's afternoon tea and pastries for the Mandarin Hotel in Las Vegas.
It's teatime!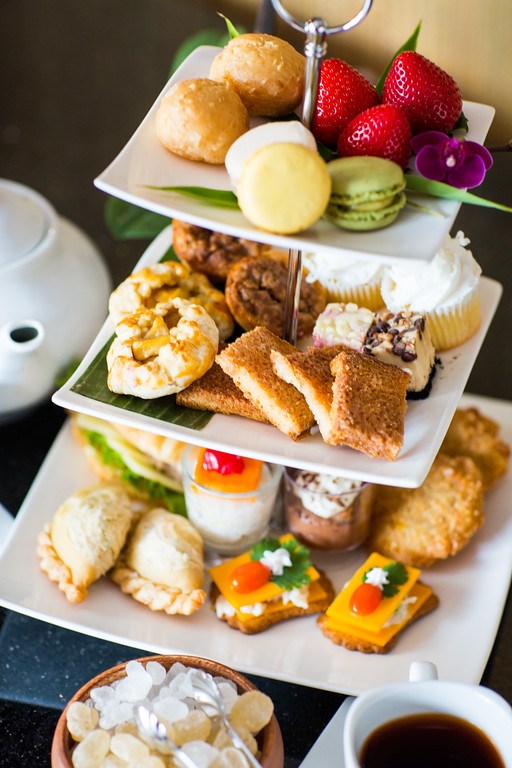 So how did a Brit feel about this non-traditional twist on an almost sacred ritual? Honestly, I loved it. Elegantly served on a three-tier cake-stand, the arrival of the delicious mixture of sweet and savory light bites conjured fond memories of Afternoon Teas enjoyed on many a cold and rainy day in London, and yet there wasn't a scone or cucumber sandwich in sight! Instead, we devoured the most delicious curry stuffed dumplings and Thai-inspired mini-sandwiches, before continuing the feast with desserts like the Coconut Panna Cotta (coconut custard with oven roasted vanilla pineapple), Chai Tea Panna Cotta (Chai tea-infused custard with housemade berry jam), Thai Tea Macarons and Passion Fruit Caramel Chocolate Ganache Tartlette!
Accompanied by three different Thai Teas, the experience was delightful and one I hope to repeat very soon.
Served only at 2 p.m. on Saturday afternoons, Afternoon Thai Tea is an intimate affair, offered on a reservation basis to the first 20 guests. For reservations, call 469.930.9755.
Bangkok at Beltline
Bangkok at Beltine officially opened their doors on Saturday, December 12, 2015 and are located in the same shopping center as Alamo Drafthouse.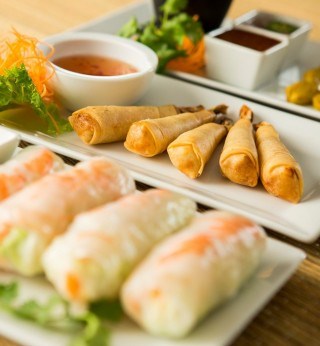 Bangkok at Beltline is a family-owned restaurant run by family and staff who have been with Joe and Sunny for the past decade. They picked a butterfly for their logo to symbolize their second location, their new chapter, the beauty and details in the food presentation, the friendships formed at their restaurant, and the sense of happiness that they want their guests to leave with when they dine at Bangkok at Beltline.
Since 2005, Joe and Sunny have "served happiness" and welcomed diners to their Bangkok City restaurant on the corner of Greenville Avenue and SMU Boulevard, (no association with other Bangkok City restaurants). A couple years after Joe took ownership of Bangkok City at Greenville Avenue, Sunny and him had got married and have been running the restaurant business together. Both have a love for cooking and for sharing their Thai culture and food with their guests who they call family. Joe's family had a restaurant in Thailand and while there, he studied and trained at the Royal family's culinary school where floral arrangement and food presentation, like fruit and vegetable carving, were equally as important as the cooking and taste.
Expect the usual traditional Thai noodle, curry and rice dishes, like their popular Pad Thai or crabmeat (real crabmeat) fried rice on the menu, but also try the Afternoon Thai Tea. This concept is their way of serving Thai food in a modern style but enjoyed in a classic manner. Guests can truly sit back and enjoy Thai teas and food. [print_gllr id=2985]
BANGKOK AT BELTLINE
100 S. Central Expressway, Suite 108
Richardson, TX 75080
(Located in the same shopping center as Alamo Drafthouse;
it faces Beltline Road and is next to Masumi Japanese Restaurant)
Business hours:
Monday–Friday 11 a.m.–10 p.m.
Saturday–Sunday 12–10 p.m.
Walk-ins are welcomed but reservations are recommended by calling 469.930.9755.