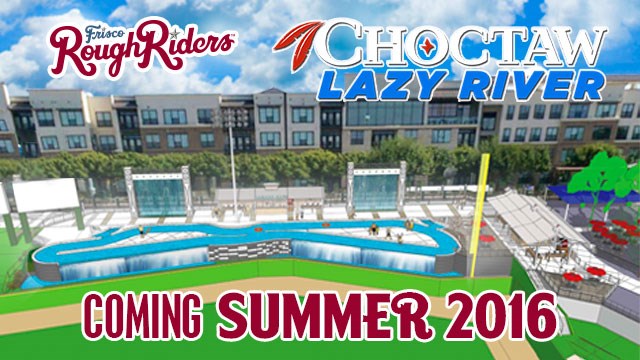 One of the most unique viewing and entertainment experiences in all professional sports is being built at Frisco RoughRiders' Dr Pepper Ballpark! Coming early June 2016.
The 12,000-square-foot party and group hospitality area, sponsored by Choctaw Casinos, will become home to a 3,000-square-foot lazy river called Choctaw Lazy River. It will be located behind the right-field wall of the Double-A affiliate team of the Texas Rangers. The lazy river will include a cascading front waterfall, mirrored water curtain structures, and two open-air cabanas for a complete relaxing environment.
The gentle flowing river will stay at a consistent 3 feet of depth and span nearly the length of a National Hockey League ice rink. Recycled water will cascade over an infinity pool edge, totaling over 100 feet, creating two 8-foot waterfalls that will fall into a reservoir behind the outfield wall. A pair of rain curtains will be 23-foot tall with a water drop of 18-foot tall by 20-foot wide, providing another massive water feature immersing fans even more into an aqua world. The two cabana areas will offer food and beverage service, and the larger of the two, called Cabana Bar & Patio, can be rented and will feature a built-in bar, buffet tables and private deck space. Additional space surrounding the water remains for the general public to lounge and picnic.
The project is estimated at $1.5 million in total. The Choctaw Lazy River trumps both the end zone pools at EverBank Field in Jacksonville, home of the Jaguars, and well-known outfield pool at Arizona Diamondbacks' Chase Field.
Groups of at least 200 people are eligible to reserve the entire 12,000 square feet of space six days a week, except Thursdays. Groups of at least 50 people can reserve the Choctaw Lazy River six days a week. Small groups of 25 can enjoy the area for their party Monday through Wednesday. Exclusions are holidays and reservations are based on availability.
All groups and Choctaw Lazy River guests will enjoy full 360-degree river access, a two-and-a-half hour all-you-can-eat buffet, complimentary Dr Pepper products and a pair of RoughRiders' sunglasses. Beer and wine is included for groups who purchase either Cabana Bar & Patio or the entire area. Interested in booking a Choctaw Lazy River group? Contact the RoughRiders front office at 972.731.9200 or [email protected].
Thursdays is a day dedicated to singles and millennials (although it's not a requirement to fit those categories!) Only $39 per ticket gives access to the new "Thursday Night Pool Party," including fun in the Lazy River, pregame live music, and all-you-can-eat hot dogs, brats, chips, peanuts and Dr Pepper products. Bonus! Every Thursday is "Thirsty Thursday." Enjoy an evening of $1 select domestic drafts and $2 craft beers from 6–8 p.m. for a 7:05 p.m. first pitch. Thursday Night Pool Party tickets will go on sale along with all single-game tickets for the upcoming 2016 season on Monday, March 14 at 9 a.m. Only a couple weeks away…
More details and plan layouts of the Choctaw Lazy River: