In a letter sent out today, U.S. Congressman Sam Johnson of the Third District of Texas announced he will not seek re-election for his seat in 2018. Below you can read a full copy of the letter from the congressman. Congressman Johnson was on the cover of Plano Profile back in November 2016, and you can read his feature story here.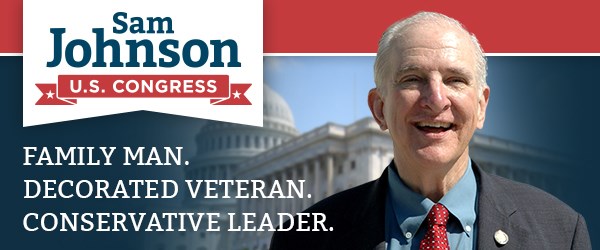 To My Fellow Patriots:

I come before you today with a heart full of gratitude. I thank you for putting your trust in me – time and again – to serve as your commonsense, conservative voice in Congress. It is not a responsibility I take lightly, and it has been a great honor to serve you and strive to be the kind of representative the people want, need, and deserve.

After much prayer, I have decided I will not seek re-election to serve the Third District of Texas in the U.S. House of Representatives in 2018. This will be my final term in the appropriately named "People's House."

Scripture tells us "There is a time for everything, and a season for every activity under heaven." For me, the Lord has made clear that the season of my life in Congress is coming to an end.

I have always considered the citizens I serve as my extended family with whom I have a special bond. And what a journey we have shared together! Words can never express my gratitude to those who fervently prayed for me and stood by my family during the almost seven years I spent as a Prison of War in a place so dark and desolate, it could only be referred to as Hell on Earth. The celebratory homecoming parade thrown in my hometown of Plano upon my return from Hanoi will always rank among one of my most treasured memories, encapsulating all that I love about America – faith, family, and freedom.
So many of you have also supported me during times of personal loss, especially when Shirley – my beautiful bride of 65 years – passed away about this time last year. Just as I have stood foryou, you have stood by me – and for that I sincerely thank you.
It has been a distinct honor and privilege to work on your behalf all these years. From passing laws, to helping constituents with problems like obtaining their military service medals, making a difference is what motivated my service from my very first day.
As a 29-year Air Force veteran and POW, one of my greatest honors has been to serve as a champion for our service members and veterans. I have fought to make sure our service members have the support they need to protect our freedoms – at home and abroad. Likewise, I fought for our veterans to see they are provided with the care they deserve. This included getting the VA Community Based Outpatient Clinic in Plano.
During my time in Congress, the Lord has generously blessed me with many opportunities to help my home District. I'm proud of my efforts to address major problems facing North Texans, whether it was repealing the punitive Wright Amendment or fighting for the federal approval of a much-needed new water reservoir for our rapidly growing region.
One of my highlights was establishing the Republican Study Committee, a House caucus charged with advancing conservative principles, which include promoting a strong military, fiscal responsibility, traditional values, and limited government. After these past eight years, it is clearer than ever that these core principles will provide needed solutions to get our country back on the right track.
Besides serving as a conservative leader, I've also been privileged to stand by our seniors, most especially when it comes to Social Security. I've made it a mission of mine to make sure that Social Security is there not just for today's seniors, but for tomorrow's workers.
Make no mistake – there is still much to be done, and I intend to focus my last two years on helping Third District families and veterans until my final day in office.
I want to give whomever my future successor may be ample time for his or her family to pray about serving in public office. To make an analogy, much like officers in the Armed Forces, you do not step down from your duty station until your replacement has arrived.
Recently, someone asked me how I could remain the eternal optimist in this day and age. The answer I gave
sounded simple, but it is true: Hope and Faith. I have boundless hope for America, and I know in my heart our best days are ahead. I have no doubt our future shines bright if we hold fast to the core principles our Nation was founded upon. And of course my faith is what sustained me throughout my darkest days in captivity. I am grateful to a loving God who spared and redeemed my life and provided this wonderful opportunity to serve others.
I have devoted many decades of my life as a public servant to this Great Nation. Giving back to our country I love so much truly feels like America gave me the gift – the gift and honor of serving each one of you. I look forward to serving you in the next two years. Thank you from the bottom of my heart. God bless you and God bless America. I salute you – one and all.
Sincerely,


Sam Johnson