It is no surprise when dancing greats visit the Dallas area. Often called "one of America's most celebrated male dancers of ballet," Edward Villella will journey from his home in New York City to Plano, Texas, to guest teach master classes at Chamberlain Performing Arts.
"The chance to study with a ballet icon, such as Edward Villella, is unparalleled," offered Carter Alexander on faculty at Chamberlain. "His journey is such an amazing story."
Amazing because his dance training started with an accident: Edward Villella was knocked out by a baseball, while playing with friends. Afterwards, his mother took 7-year-old Edward with her during his sister's dance lessons. Young Edward soon began taking class, and at age 10, he and his sister continued their ballet studies at George Balanchine's School of American Ballet (SAB).
Edward Villella - a dream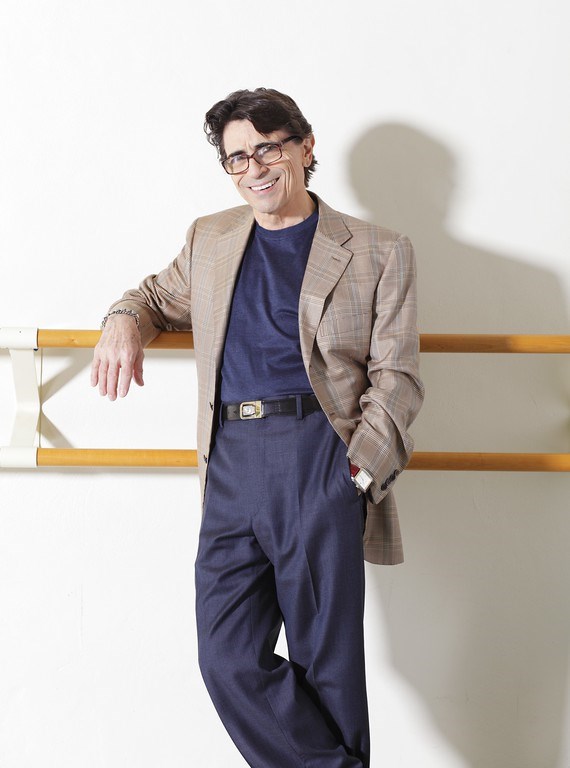 Edward's dream was to become a professional dancer, but his father demanded he go to college. Four years later, Edward graduated from New York Maritime Academy, while lettering in baseball and emerging as a welterweight boxing champion.
But the draw of the dance floor was too much, and Edward Villella was soon sneaking off to dance class.
He would return to SAB, after a four-year absence in training. Balanchine offered him a position with the New York City Ballet (NYCB) in 1957. Edward was promoted to soloist one year later, and by 1960 was a principal dancer.
His position offered him the opportunity to work with two incredible choreographers, George Balanchine and Jerome Robbins, and he was the original male lead in many important ballets in the NYCB repertoire, including Tarantella, the "Rubies" section of Jewels, Harlequinade, Symphony in Three Movements, Dances at a Gathering, Watermill, Bugaku, and A Midsummer Night's Dream, as Oberon. One of his most famous roles was in the 1960 revival of Balanchine's 1929 masterpiece, Prodigal Son.
His physicality, quite simply, "changed the way men danced in America and the way they were perceived."
During Edward's dance career, he toured extensively, and worked to bring greater exposure to ballet through television. He danced in two television versions of The Nutcracker, a ballet film version of A Midsummer Night's Dream, and in a 1966 TV production of Brigadoon. During the 1960s, he and his dancing partner, Patricia McBride, often appeared on The Ed Sullivan Show.
His influence on television audiences is not to be understated. Kathy Chamberlain, founder and artistic director of Chamberlain Performing Arts, credits Villella with her interest in ballet. "I saw him on The Ed Sullivan Show. He and his dance partner, Patricia McBride, made me want to dance. They were my first inspiration."
Edward accomplished many firsts in his dancing career. He was the first American male dancer to perform with the Royal Danish Ballet. He was the only American ever to be asked to dance an encore at the Bolshoi Theater in Moscow. He danced for President Kennedy's inauguration and for Presidents Johnson, Nixon, and Ford. He has been honored by President Johnson, President Clinton, the Kennedy Center; and in 1999, the Dance Heritage Coalition named him one of the first 100 of America's Irreplaceable Dance Treasures. He was also awarded a fellowship to the Academy of Arts and Sciences in 2009.
After retiring as a dancer, Villella turned his passion for dance into a passion for direction, beginning as an artistic coordinator for Eglevsky Ballet, then artistic director for Ballet Oklahoma (now Oklahoma City Ballet), and finally, founding artistic director of Miami City Ballet. He would go on to build Miami City Ballet into an internationally known repertory.
He and his wife, Linda Carbonetto, a former Canadian Olympic figure skater, moved back to his native New York City in 2012. He currently serves on the Board of Trustees of the School of American Ballet.
"We are honored and thrilled to host this amazing American icon. What an unbelievable opportunity to study and learn from a legend," exalts Carter Alexander.
Villella will travel to Plano to teach master classes March 10–13 at Chamberlain Performing Arts. He will also hold lectures on his work with the famed Balanchine and Robbins and on his life working in ballet, television, and film.
For a chance to train with a living legend, contact Chamberlain Performing Arts at chamberlainperformingarts.org.