Golden Corridor Republican Women (GCRW) celebrated their 25th anniversary among the company of various elected officials at the Marriott Quorum Hotel. The luncheon included guest speakers Lt. Gov. Dan Patrick and Att. General Ken Paxton who addressed the 300 members and guests in attendance. Presentations to GCRW President D'rinda Randall were made by US Congressman Sam Johnson, Senator Van Taylor, and Texas Federation of Republican Women President, Jody Rushton.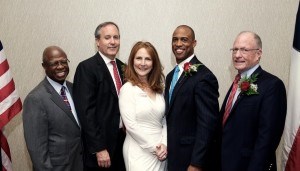 Golden Corridor members actively volunteer and support many causes, including, Refuge City, pregnancy centers, projects for veterans, Toys for Tots, Celebrate Freedom and Asian Fest. The organization also hosts candidate forums. Because of their leadership and contributions, they consistently win state and national awards. In 2012, they were awarded the highest award by the Nation Federation of Republican Women for the most volunteer hours by any club in the nation.
"The Golden Corridor is a powerhouse of members involved to improve their communities," stated Lt. Governor Dan Patrick.
Videos from national and of state officials, including US Senator Ted Cruz, US Congressman Louie Gohmert, Governor Greg Abbott, TX State Comptroller Glenn Hegar, Railroad Commissioner Ryan Sitton, congratulated the members of Golden Corridor. County GOP Chairs Wade Emmert, George Flint and Diane Edmonson also congratulated Golden Corridor on 25 years, stating "The influence of the Golden Corridor members is far reaching, educating and motivating it's members to be a strong voice for the Republican Party of Texas."
Other leaders attending the luncheon included Texas Supreme Court members, Justice Debra Lehrman, Justice John Devine, Senators Bob Hall, Van Taylor, Representatives, Jeff Leach, Scott Turner, Jodie Laubenbery, Matt Saheen, Linda Koop, Matt Rinaldi, Ron Simmons, State Board of Education Tincy Miller, judges, commissioners, mayors, and school board trustees.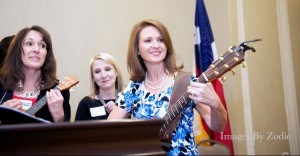 Event Chair Suzanne Blackstone added, "The program was ignited with creative videos, elected officials singing their version of 'Deep in the Heart of Texas,' and Angela Paxton's hilarious song, 'Pistol Packin' Mama.'"
The Golden Corridor Republican Women includes members from Dallas, Collin, and Denton Counties. The club began under the leadership of Debbie Terry in 1990 with 17 members and has grown to more than 500 members. For more information, visit gcrw.org.